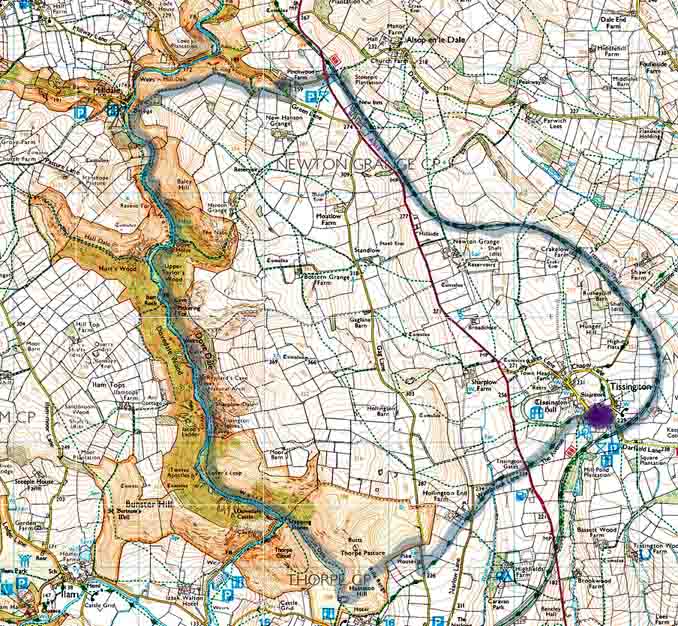 Cold and sunny: the best weather you can get for White Peak walking. Hiking buddie Sue and I now live forty miles apart but an hour's drive north for me, the same south for Sue, brought us to Tissington. Parking by the disused railway track that is Tissington Trail, we walked north by north-west – there's a film title in there somewhere – before swinging due west at top of Mill Dale, taking its southern ridge down to the Dove.
At the packhorse bridge into Mill Dale Village we followed the east bank of the river south, through Dovedale at its most scenic: its steep valley sides punctured by limestone caves, studded with towering buttresses – including a tellingly named Lovers' Leap – and the river course itself a platform for rock needles that thrust phallically skyways into the blue.
At Thorpe's picture postcard stepping stones, where south-east flowing Dove changes its mind to swerve south-west, we headed up the dry valley of Lin Dale, and at the top began a broadly north east trek past the foot of Hamston Hill to pick up the lane by abandoned but snowdrop fronted Pike House. Still heading north east, we crossed the A515 and back into Tissington.
Here are the pics, all on the phone. I had Canon 7D Mk II and 70:200 f2.8 lens on my back, but never saw fit to use 'em.