What do they say about feeding the monster? Back in December, Labour MP Chris Williamson publicly opposed Islington Labour Party's decision to ban saxophonist Gilad Atzmon, an Israeli Jew labelled "antisemitic", from a Christmas gig. In the face of orchestrated attacks from the unholy alliance of an Israeli lobby led by Labour Friends of Israel and Jewish Chronicle, with right wing Labour forces willing to use all and any means to unseat Jeremy Corbyn, Williamson recanted.
That was not only weak but foolish.
Far from being mollified, that alliance, ably facilitated by deputy leader Tom Watson, has now secured Williamson's suspension on ground of antisemitism. The Guardian, still a credible source to the insufficiently attentive, yesterday ran a Jonathan Freedland piece opening thus:
Credit to Chris Williamson for originality. Not many have suggested that Labour's chief problem with antisemitism within its ranks is that it has been too apologetic to the Jewish community, that it has shown an excess of concern and contrition.
As a matter of fact – not that Nakba apologist Freedland is overly concerned with such things – Williamson has suggested that the problem is a Labour left too apologetic, not to a 'Jewish community' conjured up to meet the requirements of Freedland's prejudices, but to those forces identified in my own opener. Any problem of antisemitism within Labour is, as Jonathan Cook and Jewish Voice for Labour (below) show, vanishingly small. Far smaller, to be sure, than tory antisemitism.
I welcome yesterday's defence of Williamson by two writers, Glen Secker and Alan Madison, from Jewish Voice for Labour.1 Here's an excerpt:
… there is no record of the thousands of abusive messages MPs like Ruth Smeeth claimed to have received, alleging most emanated from the Labour Party. The source of these might well have been traced to the ten fake twitter accounts masquerading as Labour Party members, unmasked by journalist Asa Winstanley. But to our knowledge, such numbers have never been submitted for investigation.
Margaret Hodge MP was informed by [Party General Secretary] Jennie Formby that of the 200 dossiers of cases of antisemitism she had submitted, only 20 were found to be by Labour Party members. In other words, her allegations of antisemitism in the party had been exaggerated tenfold. And single handedly she accounted for approaching one fifth of all referrals.
Headlines proclaiming there was "no safe place for Jews in Corbyn's Labour", or that Labour needed, in the words of Marie van de Zyl, when vice-president of the Board of Deputies of British Jews, to "drain the cesspit of antisemitism", have been shown to be contradicted by the evidence.
Secker and Madison go on to say:
If the facts are at such odds with the accounts of leading politicians and mainstream media, there can be only one explanation – these accounts are driven by ulterior political agendas. Other forms of racism, for which manifestations in the UK are 70 times more prevalent than those for antisemitism, barely get a mention. At the last election Labour fell short of becoming the government by a few percentage points. The next election is predicted to be as close. The damage to the party inflicted by the allegations of antisemitism is calculated to impact on this tipping point – to keep the party out of office.
Full piece here. Meanwhile, this comment below an OffGuardian post nails it.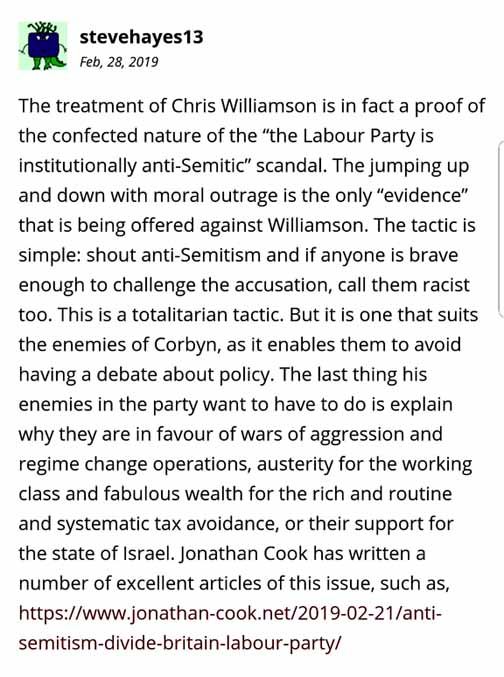 The Labour left, Williamson included, has indeed been over apologetic in the naive belief these McCarthyite witch hunters can be placated. They can't, and as others have noted, you can never win by playing the game of constantly rebutting smear; of spending inordinate amounts of time and resource seeking to show it as inaccurate. To go down that road is not only to stoke the monster's appetite. It is to allow a cynical enemy to define the terms of engagement. Jeremy Corbyn, besides rejuvenating a moribund party, is the first Labour leader ever to stand up for the people of Palestine. Time to go on the offensive and show ethnic cleansing apologists like Freedland for who they truly are. And to show those who would return the party to neoliberal 'values' for who they truly are. Appeasements made on the back foot, to that which cannot and should not be appeased, must stop.2
One final point. Secker and Madison pull their punches. In confining their criticisms to "leading politicians and mainstream media" they let right wing Labour – the Tom Watsons, John Manns, Frank Fields, Margaret Hodges and Gang of Nine3 – off the hook. Since Labour's inception, that right wing has repeatedly shown itself as preferring a Tory government to a left led Labour one. One instance being Frank Field's 1987 call, from his Birkenhead constituency to Labour voters in next door Wallasey, to give their cross to Tory incumbent Lynda Chalker. She was defending a slender majority and Field's explicit aim was to keep out left wing Lol Duffy, whose team had worked like demons to build up the Labour vote. Chalker scraped home by 279 votes, and Duffy was later deselected in the rigged ''by-election panel' which parachuted in Angela Eagle, the nonentity who would later challenge Corbyn for the leadership.
Field's call was of a piece with a century of Labour history. See Ralph Miliband's excellent book, Parliamentary Socialism. (Shame neither of his sons read it or, if they did, digested its message.) Yes, I do 'get' Secker's and Madison's reluctance to broaden the counterattack and, yes, I thank them for their speedy, "not in our name" rebuttal of charges so malevolently intended. But I fear that unless the party, energised by two resounding leadership victories and the confounding of Corbyn's critics on June 8, 2017, deals with its Enemy Within – Watson for starters – we'll see a slow, then not so slow, ebbing of its current fortunes.
* * *
Just yesterday, Jewish Voice for Labour was forced to cancel the screening of a documentary acclaimed by film makers Mike Leigh and Peter Kominsky, both Jewish, on the "antisemite" witch hunts within the Labour Party. Full story here.
In this context special mention must be made of Owen Jones, whose 'unpersoning' of Chris Williamson is subject of a Kit Knightly piece in today's OffGuardian.