In Walking the Erewash I composed a limerick to steer readers past the pitfall of pronouncing the eponymous river as 'earwash'. Pairing it with 'very posh' I thought to spare embarrassment, should ever you find yourself in that neck of the woods.
But what began as a heuristic device1 has taken on a life of its own, Yes, I'm afraid it's true. I'm now an addict, in thrall to this deceptively simple verse form.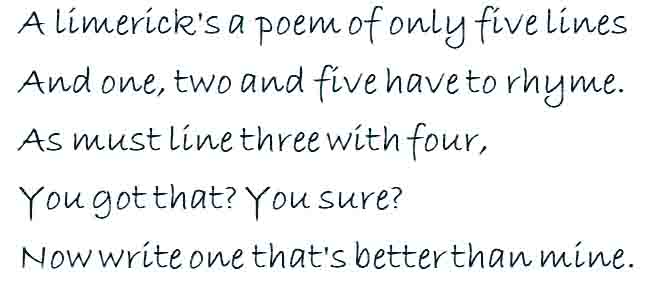 Some say the three long lines must have eight or nine syllables, the two short ones five or six …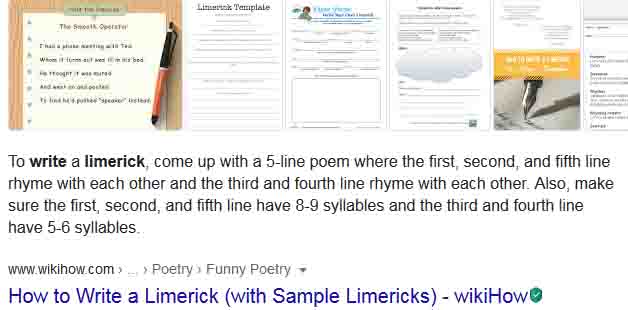 … but that's not entirely accurate, as this classic of the genre shows:

Lines one, three and four follow that wikihow precept, but lines two and five have ten syllables. As for my own effort, the opening line has twelve syllables, though we can get the count down to ten by squeezing the word 'limerick' from three to two, and 'poem' from two to one.
I reckon it's best to rely on your own sense of rhythm. Verse structure is AA-BB-A, and the word music – as if you didn't know – goes like this: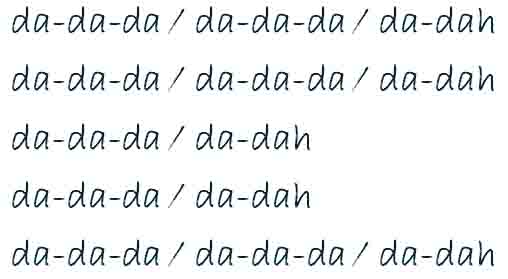 So how is it possible to get away with ten or even twelve syllable lines? The answer has to do with stress. Consider this:
Several things to note here. Though I say so myself, it trips off the tongue quite nicely. But how? The first line is nine syllables, the paired second ten. The third line has seven, the paired fourth just six. But you try evening things out – by removing 'hot' from line two, say. And by changing 'Charlie' to 'Charles'.
It doesn't work, does it? 2 But the biggest clue comes when you try – as I did while composing this last night (see how quickly we teachers become experts!) – to rejuxtapose those two verb phrases, "she moans" and "as she comes".

What a pippy show! It's as if, with the Cumberland Reel nearing its crescendo, the fiddler had seen fit to throw in a jazz lick of his own. The upshot is mayhem. The dancers collide.
It's much the same with your tongue, even in the silence of the mind. The gear change from "as she comes" to "she moans" is harder than that from "she moans" to "as she comes". Your tongue's position – tongue's position! – after "moans" allows a seamless segue, a downward arc that slaps effortlessly onto the "as". Not so with "comes" to "she". That tongue move, an upward arc, slows us down just enough to throw the line out.
How did I know this? I didn't. All I knew, intuitively, was that my initial juxtaposition didn't work but the final one does, despite syllable count staying constant. Only when I spoke to a pal in the smoke, a drama teacher, did I learn about the stress thing.
And when you think of it, just as a dancer fast on her feet might cope with that fiddler's left-field move, so might a seasoned reciter make a virtue of that awkward, original juxtaposition in Ode to Mingus. But that's not the point, is it? The Cumberland Reel's meant to be footstomping fun for all, not an ordeal to snare and humiliate the doubly left footed.
And the limerick's supposed to trip lightly off the tongue, as easy as the three line blues. Duke Ellington nails it: it don't mean a thing if it ain't got that swing.3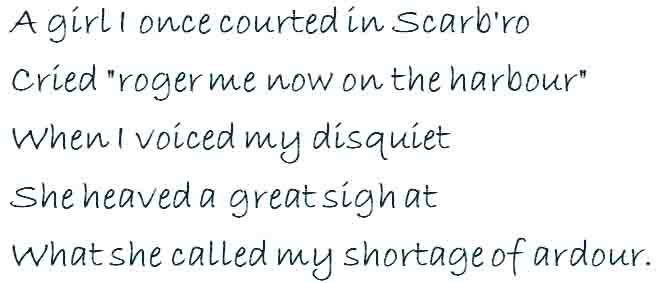 The bounce along simplicity – da-da-da/da-da-da/da-dah – hardly lends itself to serious topics, but you didn't need me to tell you that either. Or that it's a natural for pairing comedy and sex.4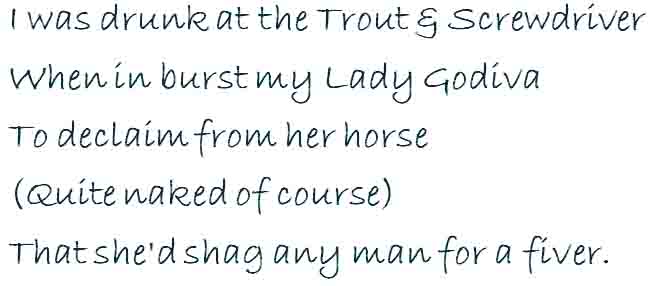 So them's the rules. They're simple but the conundrums they pose are not. Don't take my word for it: have a go. Writers will find it a splendid exercise. Writing is nothing if not the juggling of ferocious constraints. If you can come up with a decent limerick you'll have mastered many – if not most – of its technical challenges.

Homework tonight? Complete this one.

* * *