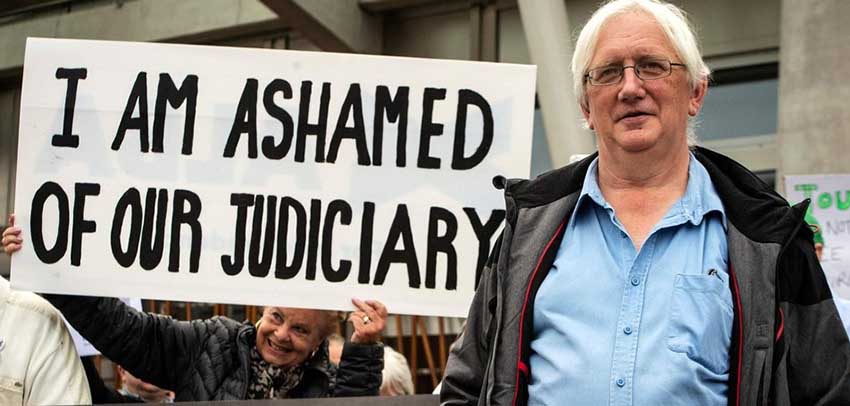 Two days ago – and two after Tuesday's sentencing in Virginia, USA, of whistle-blower Daniel Hale – the UK Supreme Court denied Craig Murray leave to appeal his sentencing on May 11 in Edinburgh, Scotland.
Craig will now start his eight month stretch on Sunday. It will be the first jailing for contempt of court in half a century. And the first ever for 'jigsaw' identification: publishing facts which in the jury-free court's view could enable a hypothetical person to triangulate them with others in the public domain, and thereby establish the identity of protected witnesses.
The famed blogger opened his post yesterday with tongue in very British cheek …
This blog will be going dark for a few months. The Queen kindly paid for my dinners for over twenty years while I was a British diplomat and Ambassador, and now she is going to be paying for my dinners again. That is very kind, I thought she had forgotten me.
… followed by a statement written a week or so earlier by his wife Nadira, who hails from – this is kind of relevant – Uzbekistan.
*
A report of Craig's trial and its implications for burden of proof, the impartial administration of justice and the separation of executive from judicial arms of the state was given in my post of May 12, the day after Lady Dorrian handed down his sentence.
Dorrian was also the judge in the failed prosecution of Alex Salmond; Craig's blog coverage of which has led to his imprisonment even as corporate journalists equally culpable, notably Kirsty Wark of BBC Newsnight fame, have gone, ahem, scot free. 1
As the judge in Salmond's trial – his acquittal by a jury of eight women and five men clearly not the outcome she'd rooted for – Dorrian was ill placed to preside with impartiality over that of Craig Murray. Least of all in a jury free court. This second trial, after all, centred on an offence allegedly arising from his scathing but close-argued claims of abuses and the stink of political vendetta hanging over that earlier one. 2
Truth be told, Dorrian was no better placed for impartial judgment on Craig Murray than Emma Arbuthnott – Vanessa Baraister's boss – had been in the extradition hearings of Julian Assange.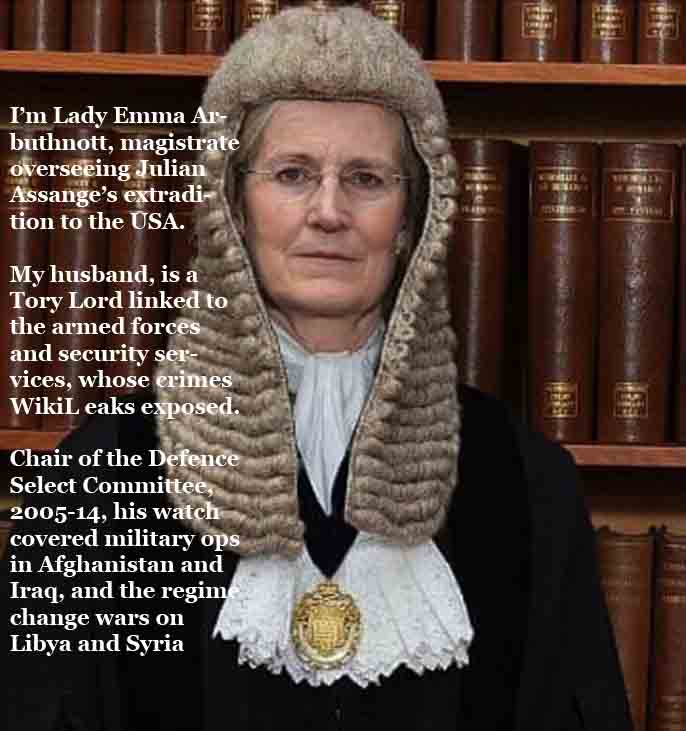 Craig sacrificed a glittering diplomatic career when, still in his thirties but already Ambassador to Uzbekistan, he went public on President Karimov's habit of boiling alive his political foes. (This was too much for the morally insane Tony Blair, since Karimov was allowing coalition air strikes on Baghdad from former Soviet airbases in the fiefdom he was also robbing blind.)
But Craig also champions other whistle-blowers. See his detailed daily reports on the Assange Hearings from the gallery at Belmarsh, even as the Guardian and other corporate media stayed away to pen the occasional laconic paragraph for the pages less read. The seismic implications for journalism were clearly deemed too banal for front page treatment.
Julian Assange … Chelsea Manning …. Edward Snowden … Daniel Hale … Katharine Gun …
… to which we must now add the name of Craig Murray, though the offence for which he was tried, without the inconvenience of a jury, 3 was not at first blush a whistleblowing matter. 4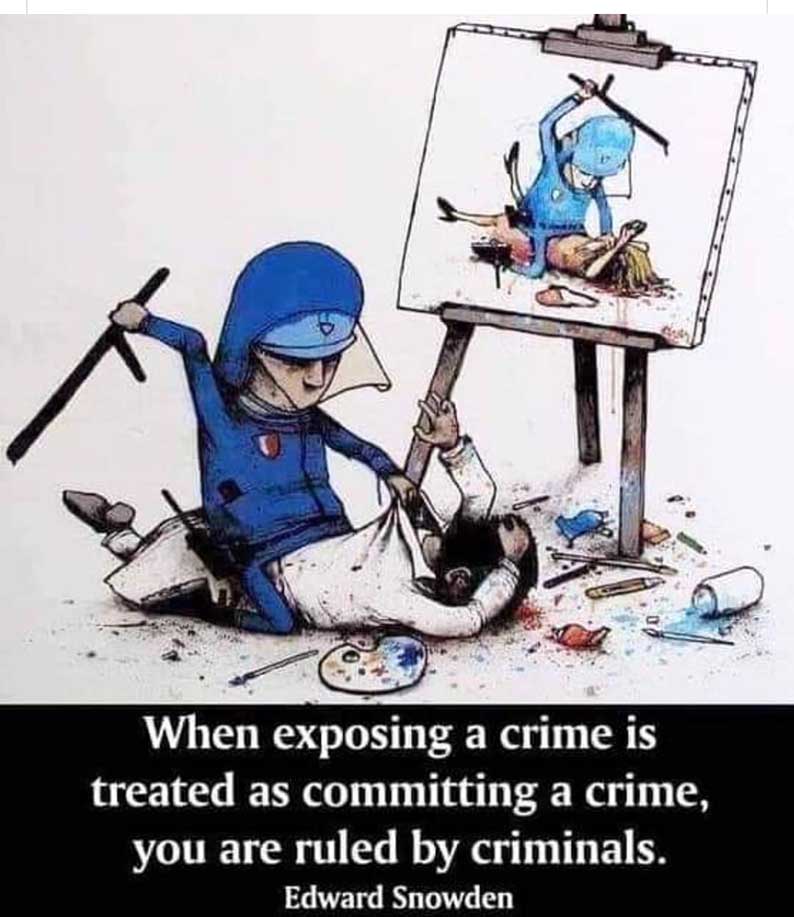 *
I don't wish to be misunderstood here. I do not post the above graphic in throwaway manner, in a spirit of poetic licence or artistic hyperbole. I grow daily more convinced of the literal truth of what Edward Snowden says; a truth echoed in Caitlin Johnstone's words:
The world doesn't work the way we were taught in school. The very worst bad guys are not locked away by the good guys who run things because the very worst bad guys are the ones who run things.
I'm sufficiently confident – depressed and fearful, naturally, but confident – of this truth to enter into amicable and factually grounded debate with anyone of differing view. Any takers?
* * *