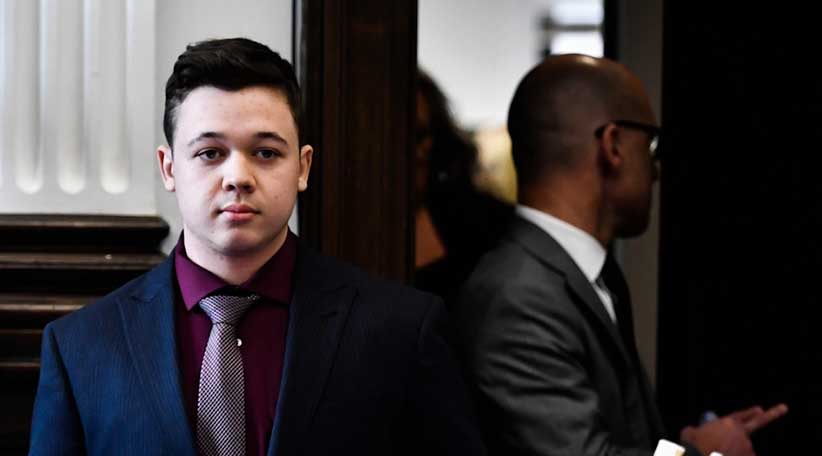 The Rittenhouse case is about emotion. It is about history, identity and a widening tribal divide … Intensifying tribalism in the US is not accidental but deeply tied to a turbo-charged capitalism that seeks profit from every last seam of our internal and external worlds. Like an oil industry desperate to squeeze tar from sand, oil from rocks, corporate media need to suck our attention into conflict, into hatred, into blaming and shaming.
*
I don't suppose I'm alone in feeling unease at the self righteous hate-fest on Kyle Rittenhouse which has seen manufactured loathing poured out on social media by progressive flag-wavers unburdened by anything so tiresome as facts. Or by such trifling pedantries as due process.
You know, as in the presumption of innocence …
You know, as in beyond reasonable doubt …
If such cavalier virtue-signalling troubles you a little, then like me you'll find the power-savvy lucidity of Jonathan Cook, on this as on so much else, a breath of fresh air. Writing three days ago on MintPress, Jonathan reminds us of the elephant-in context of the manufacture, the monetising, and above all the stupefying but power-serving nature of yah-boo otherism:
In our soundbite-driven, attention-deficit present … our appetite for greater drama, greater sensation, greater pay-offs knows no bounds. We are too busy, too consumed, too wired to pause, to stand back, to doubt, to think …

… [our manufactured hatreds] mean more eyeballing by viewers and more money from advertisers. The drama of the unpredictable provides endless work for pundits as they try to make sense of the madness. The confrontation means heightened emotion and greater personal investment in the news. The pro-Trump media and the anti-Trump media are not on our side. They are both on the side of milking profit from our rage.

But the power-elite does more than make money from our hate. It gains in important, ideological ways. The more we hate, the less able we are to discriminate, to think clearly, to strategise, to see who are our real enemies.

And this is where the Rittenhouses prove useful.
Jonathan begins:
Kyle Rittenhouse Is Not the Enemy. He's the Latest Product of the Outrage Industry
The Kyle Rittenhouse furore is a fascinating illustration of US politics as mired in self-consuming tribalism. It shows how non-conversations now posture as serious socio-political engagement. And it demonstrates once again the success of a practice beloved of elites the world over: offer bread and circuses to keep the masses from seeing the big picture and rising up …
The descendants of the armed settler colonists who went to the Americas to steal the resources of the native people feel compelled to continue the tradition of bearing arms, long after the surviving natives were locked away in reservations …
So why are so many exercised, for or against, by Rittenhouse's acquittal of shooting dead two men, and wounding a third, on a night of unrest in Kenosha, Wisconsin in August?
Why are so many focused on the fact that he was carrying a semi-automatic rifle during protests and looting? Was Rittenhouse the only one not entitled to be armed that night? 
And why is race the context for judging him when all involved, Rittenhouse and the men shot, were white? He was not involved in the lethal shooting two days earlier of a black man, Jacob Blake, by a white police officer that had triggered the unrest in Kenosha.
Rittenhouse claimed self-defence and the jury found in his favour. The videos they saw, taken from many angles, show that, in a night of American madness, he gave every appearance of defending himself. They show that, had he not had a gun that night, one of the three men he shot might well have ended up in the dock accused of murdering him.
But none of that is apparently relevant in the rage-filled polemicising about Rittenhouse – polemics that already miss the bigger picture of what is going on in the US …
*