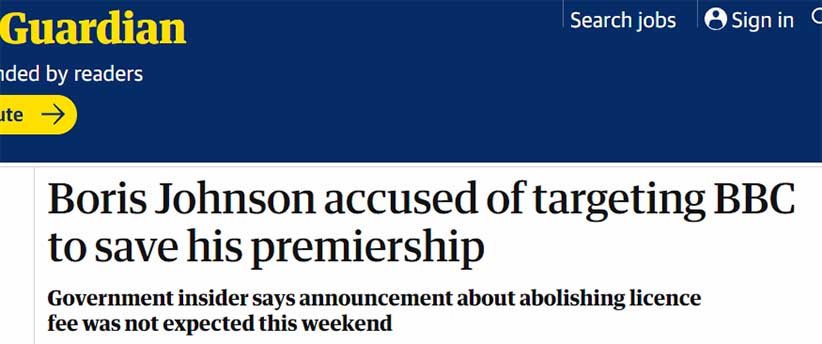 When a regime as odious as that headed by the serial liar Boris Johnson declares war on the Venerable Bebe, I get why so many are up in arms to declare – HANDS OFF, BOJO!
We can discuss the licence fee – a regressive tax – another time. Only the incurably credulous would take at face value this "let's-help-the-aged" tweet by Culture Secretary Nadine Dorries:
This licence fee announcement will be the last. The days of the elderly being threatened with prison sentences and bailiffs knocking on doors are over.
With Auntie being sized up for assassination, you may say, this is no time for progressives to be giving her a kicking of our own. All lovers of sport – and globally acclaimed drama, and those stunningly shot nature documentaries – must leap to her defence.
Er, hang on a mo. The BBC also puts out news and political analysis. How does it acquit itself on those fronts? Yesterday, Media Lens applied its customary diligence and forensic reporting in a post dedicated to answering just that question. Here's a taster …
…  we have provided endless examples of deep BBC bias, distortions and omissions. On our 20th anniversary last year, BBC News featured heavily in our round-up of 'propaganda horrors': see Part 1 and Part 2.
Time and time again, we have shone a light on the nonsensical BBC claim that 'we don't do propaganda'; on the arrogance and ignorant boasts of BBC News; and on the serial propaganda by omission in BBC News coverage, covering for the crimes of 'our' governments ...
… here's another …
supporters are currently wringing their hands at the prospect of Rupert Murdoch or some other nefarious billionaire getting their hand on the BBC. We are now all supposed to come to the aid of the state broadcaster. Kerry-Anne Mendoza, founder of left-wing news website The Canary, noted the irony:
'BBC pundits pleading with the left to back them after a half decade campaign smearing us as antisemites'
… and another …
The BBC played a central role in the propaganda blitz [on] the prospect of moderate socialism under a Corbyn-led Labour government … The concerted effort to destroy [it] was McCarthyism on steroids … inside the plush offices of BBC News, senior editors and journalists seemingly never had the tiniest doubt that they were being objective and impartial in working so blatantly to limit democratic choice.
Read the Media Lens piece in full …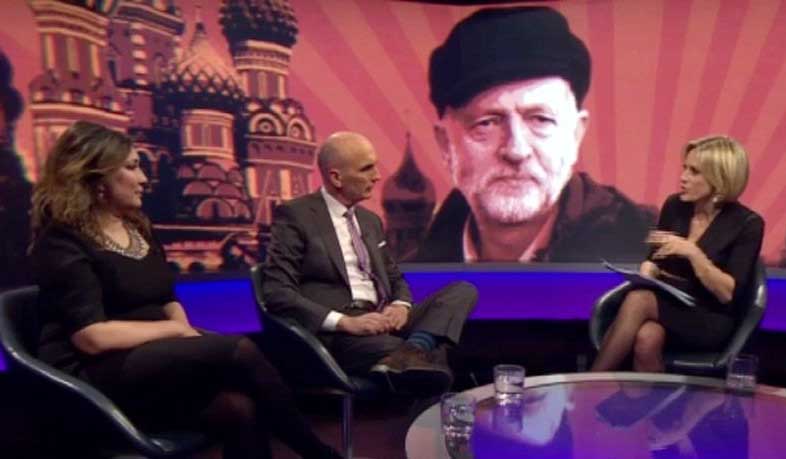 March 2018. A BBC Newsnight backdrop to an interview with Labour MP Chris Williamson (expelled the following year for "antisemitism") has Corbyn in photoshopped Russian hat against Kremlin skyline. Topic? Salisbury poisoning. The BBC rejected viewer complaints
* * *