.
A threat hanging over Russia – of a first strike taking out most of her nuclear capacity, leaving star wars technologies to down the few remaining missiles she could fire back – has been nullified. The Pentagon has no way of taking out US-bound missiles coming at Mach 10 or even 20.
The talk in Congress, think-tanks and mainstream media fails to reflect sweeping changes in the world power balance. This puts the current US Administration between a rock and a hard-place. It cannot acknowledge the need to update the security architecture in Europe because the US public has not been prepared for the change, but it cannot continue the status quo because the US has already lost the arms race and is constantly losing ground in the economic competition. The three-pole world has arrived.
Few have grasped how swiftly the global balance of power has shifted. For years I've had in my sights a political-economic system which threatens humanity, calamitously so, on several fronts. Here (abridged) is how I put it in a post last September:
Our world is capitalist in its advanced stage of

 imperialism 

– the export of monopoly capital from global north to south, and south to north repatriation of [super] profits.
The beneficiaries are

 rentier 

elites in the successful imperialisms: the former colonial powers (USA included) plus Antipodes, Canada, Scandinavia and a German led EU.
In its progressive phase capitalism freed humanity, at terrible cost, from feudal ties and slavery while advancing human productivity. Now its structures (wealth creation in ever fewer hands) and chaos-inducing laws of motion (supremacy of private profits) demand unsustainable levels of narrowly defined 'growth', condemning the world to (a)

environmental degradation

; (b)

ceaseless wars, 

normalised 

and 

monetised

, and sold to us in tissues of lies; (c)

inequality as dysfunctional as it is obscene.
I went on to assert the inadequacy of resistance within the West, since:
Its three broad strands – social democracy … 'vanguard' revolutionary sects … grass roots activism pace  Occupy, XR etc – all have useful features but, each for its own reasons, no chance of success of the kind and magnitude needed.
In short, while our politicians and media tell us neoliberal capitalism offers the best hope for humanity, we on the margins say this is not only demonstrably untrue but perilously so.
More recently I've turned to another aspect of the way we are misled. China and Russia are far more advantageously positioned than we are being told. On China's rise, my reply to its critics is threefold:
China's capitalists (a) have been vital in lifting 730 million people (World Bank, 2016) from extreme poverty, (b) are subordinate to state policy – in the West it's the other way round – and (c) exist precisely because the failure of the West's Left to make its own revolutions obliged China to adapt to global conditions of entrenched neoliberalism.
China's mainstream Western critics fear China not solely as a thriving rival (though this is highly significant) but also because of the very different relationship – point (b) – between state and capital. For their part China's far-left critics are in denial of point (c). And neither grouping has a response worthy of the name to point (a).
Be that as it may, yesterday, January 18, CounterPunch ran an Alfred McCoy piece which began:
Eurasia's Ring of Fire: the Epic Struggle Over the Epicenter of U.S. Global Power
Throughout 2021, Americans were absorbed in arguments over mask mandates, school closings, and the January 6th attack on the Capitol. Meanwhile, geopolitical hot spots were erupting across Eurasia, forming a veritable ring of fire around that vast land mass.
Let's circle that continent to visit just a few of those flashpoints, each one suffused with significance for the future of U.S. global power.
On the border with Ukraine, 100,000 Russian troops were massing with tanks and rocket launchers, ready for a possible invasion. Meanwhile, Beijing signed a $400 billion agreement with Tehran to swap infrastructure-building for Iranian oil. Such an exchange might help make that country the future rail hub of Central Asia, while projecting China's military power into the Persian Gulf. Just across the Iranian border in Afghanistan, Taliban guerrillas swept into Kabul ending a 20-year American occupation in a frantic flurry of shuttle flights for more than 100,000 defeated Afghan allies.
Mr McCoy locates the engine driving half a millennium of Western power in its dominance over the world's largest land mass:
In the 500 years since European exploration first brought the continents into continuous contact, the rise of every global hegemon has required one thing above all: dominance over Eurasia.
He continues by adding historic colour, given here in abridged form:
… In 1509, off the coast of northeast India, Portuguese gunners destroyed a Muslim fleet to establish a century-long dominance over the Indian Ocean. Meanwhile, the Spanish used silver from the Americas to check Muslim expansion in the Mediterranean, leading to the destruction in 1571 of the Ottoman fleet at the Battle of Lepanto.
Next, Britain's sea power began with an historic naval triumph over a French-Spanish fleet at Trafalgar in 1805 and only ended when, in 1942, a British garrison of 80,000 men surrendered Singapore to the Japanese. Winston Churchill called it "the worst disaster and largest capitulation in British history."
Like all past hegemons, U.S. global power has similarly rested on geopolitical dominance over Eurasia … After the Axis alliance of Germany, Italy, and Japan failed to conquer that vast land mass, the Allied victory in World War II allowed Washington, as historian John Darwin put it, to build its "colossal imperium… on an unprecedented scale," becoming the first power in history to control the strategic axial points "at both ends of Eurasia."
Having predicated five centuries of Western hegemony on containing Eurasia, Mr McCoy gives a breakdown of that containment. Pace  Zbigniew Brzezinski – Jimmy Carter's National Security Adviser and a man "more astute as armchair analyst than practitioner of geopolitics" – he sets out three pillars of Washington's global control:
First, the U.S. must avoid loss of its strategic European "perch on the Western periphery" of Eurasia. Next, it must block the rise of "an assertive single entity" on the continent's massive "middle space" of Central Asia. And finally, it must prevent "the expulsion of America from its offshore bases" along the Pacific littoral.
As regards McCoy's first pillar, this map – yes, again! – remains as illuminating as ever: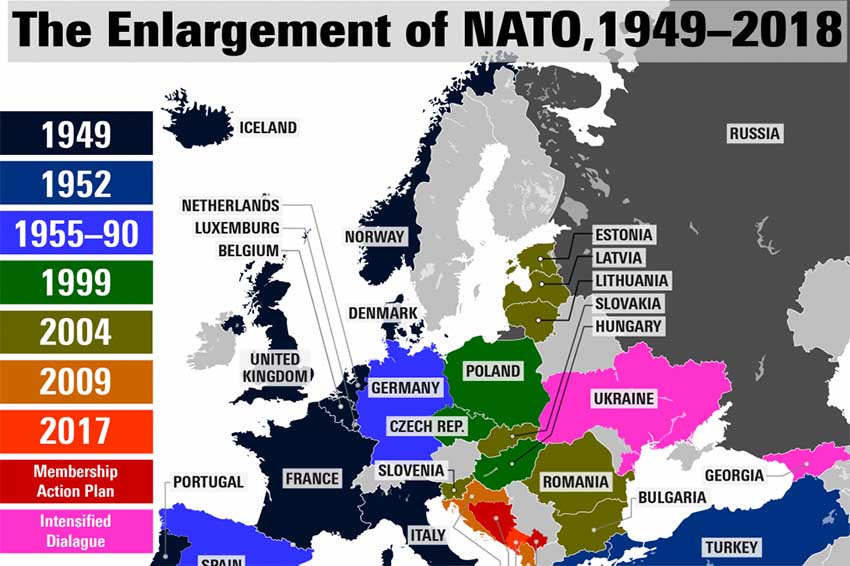 Re McCoy's second pillar, every US administration since the demise of the USSR – Bush Senior to Bill Clinton to Bush Junior, and more decisively Obama to Trump and now Biden 1 – pursued policies whose most visible fruit has been Moscow and Beijing in ever closer embrace. As I said last July in a post on Nordstream:
… a savvy ten year old will tell you it's rank bad statesmanship to piss off your two most powerful adversaries at one and the same time …
Ignoring this truth, or rather (see footnote 1, paragraph 3) systemically incapable of adapting to it, the US and its junior partners have sought – by bombs, sanctions and mis-sold invasion, by twenty year occupation of Afghanistan, by jihad weaponised, by hostile alliances "at both ends of Eurasia" and by colour revolutions across the Middle East, Central Asia and Eastern Europe – to disrupt Belt & Road as one strand of a doomed attempt to curb Eurasia Rising and spell out with rare clarity to Beijing and Moscow that their nations' destinies are inextricably entwined.
Re his third and final pillar – "prevent[ing] the expulsion of America from … the Pacific" – Mr McCoy says this:
As China's economy grows, the end of Washington's decades-long dominion over that vast ocean may be just over the horizon. China may achieve supremacy in critical military technologies, including super-secure "quantum entanglement" satellite communications and hypersonic missiles. Last October, the chair of the U.S. Joint Chiefs, General Mark Milley, called China's recent launch of a hypersonic missile "very close" to "a Sputnik moment." While U.S. tests of such weapons have repeatedly failed, China successfully orbited a prototype whose speed and stealth trajectory suddenly make U.S. aircraft carriers significantly more difficult to defend.
But China's clearest advantage is simply distance. 2 A battle fleet of two US supercarriers 5,000 miles from Pearl Harbor could deploy, at best, 150 jet fighters. In any conflict within 200 miles of China's coast Beijing could use up to 2,200 combat aircraft as well as DF-21D "carrier-killer" missiles whose 900-mile range makes them, say US Navy sources, "a severe threat to the operations of U.S. and allied navies in the western Pacific."
The tyranny of distance, in other words, makes US loss of its position on Eurasia's Pacific littoral only a matter of time.
.
As matters of incontestable fact the times they are a-changing. On this as on so much else, the Western public is being sorely and deliberately misinformed. Besides Alfred McCoy's piece in CounterPunch – here again is the link – I recommend three other reads. All can be digested in an hour or less, and all came my way via Steel City follower and frequent commenter – ta-da! – Dave Hansell. The three reads are:
The Saker (January 14) – The Not-Ultimatum – reproduced in full in my post yesterday, Getting real on the US-NATO-Russia talks
(Arguably the most urgent of these reads, Saker focuses on something else kept from us. Russia has stopped appealing to reason – which gamekeeper-turned-poacher Paul Craig Roberts was urging as far back as 2018 on the ground that Washington only responds to raw power. Ahead on missiles, on army strength and – equally important – with her back to the wall and no place to go but forwards, Russia is not only pushing back on Georgia and Ukraine. She is demanding in deadly earnest – though you wouldn't know this from Guardian or BBC – that NATO retreat to its 1997 positions. Look at that map again.)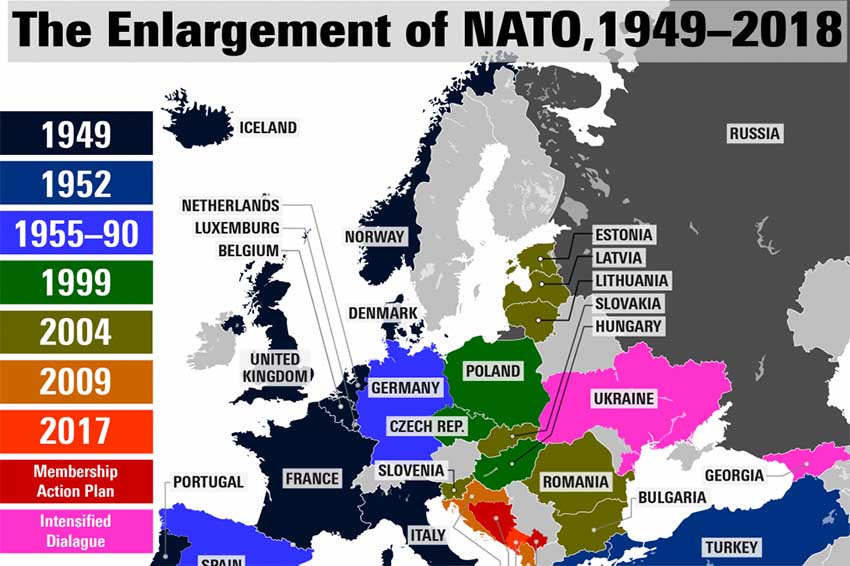 Gilbert Doctorow (January 16) – Common sense and self-preservation go mainstream in Washington, DC: capitulation to Russian demands becomes discussable
(Mr Doctorow follows Saker in similar vein, with this in his final paragraph: 'The Russians are saying "move or we will move you", which they can back up with superior tactical and strategic military hardware …')
Gilbert Doctorow (January 18) – Russian elites talk WAR: Evening with Vladimir Solovyov
(Through the lens of a political talk show popular with Russia's intellectuals, Mr Doctorow adds invaluable colour and nuance – both woefully missing from the West's coverage of all things Russian – to those other reads.)
But matters of fact, or assertions of the same, are one thing. Opinions are another. As a matter of opinion I welcome – guardedly, and with no small trepidation as to what a US ruling class I say is criminally insane might do to forestall it – the rise of two such challengers.
The times they are a-changing. To what is unclear but this much I know. One, humanity's current trajectory offers only dystopia of one stripe or another. Two, the rise of Eurasia is set to disrupt – for better or worse, with me willing to take a punt on the former – that trajectory.
* * *
In labelling each administration after its nominal leader, I do not attribute real power to those men – at best negotiating a stacked deck with precious few cards, and at worst mere figureheads. A none too bright Bush Junior was, and a senile Biden now is, captive to more powerful players on their teams. On some at least of Obama's Middle East catastrophes, he acted against his own initial instincts. For his part Trump, on the back foot from the start over the Russiagate smear, had his legs cut from beneath him over working with Putin to defeat Isis.

My gripe with otherwise astute and highly informed men like Paul Craig Roberts and the late Stephen Cohen (two Reagan appointees turned renegade over US policy after the fall of the USSR) concerns their taking the forms of democracy at face value, and the disastrous foreign policies of those administrations as fixable by getting wiser folk elected. Take that pushing of China and Russia into closer ties. It beggars belief that this is a failure of intellect and vison: rather, of flaws running deeper, including but not confined to competing power blocs on the Beltway: most glaringly a bloated military industrial complex, out of control and addicted to the profits of permanent war. These are themselves but surface manifestations of currents deeper still: empire's descent into entropy; and the anarchic logic of capital, its intrinsic contradictions more glaring than ever in the age of imperialism.

(On those contradictions the naivity of Donald Trump – a cleverer and saner man than it suited his neoliberal and  neocon enemies to paint him in the media they control – showed in his belief, I think sincere, that he could "bring American jobs back home". This was impossible short of civil war within the US ruling class; the real kind, not the January '21 circus. One, the logic of capital makes wealth creation entirely subordinate to profit generation. Two, under imperialism – with globalised capital-labour relations its defining feature – wealth can and hence must be produced wherever it is cheapest to do so.)

Mr McCoy does not ask why China in the Taiwan Strait – like Russia in the Black Sea – has the advantage, in military logistics, of proximity.  The validity or otherwise of US Exceptionalism's assumed right to police the planet, and impose on rising powers a hostile presence it would not for a moment tolerate (see the Monroe Doctrine) in its own backyard does not concern him. I accept this. As with many other voices I cite, I value Mr McCoy's assessment of global realpolitik on its own terms. Whether or not I share his world view is beside the point.