Why indeed bomb a hospital? Humanitarian considerations aside, the military ineptitude and lousy PR 1 should cause sensible folk – their emotions not yet fully at the mercy of propaganda blitz – to exercise caution and a modicum of scepticism (not to be confused with cynicism) in the face of such reports.
For why such stories may be untrue – may in fact be elaborately staged theatre – look again at that Guardian headline.
For how such stories can swiftly gain the status of fact, see the Ukraine on Fire film I linked to earlier. It goes in some detail into how a mix of CIA, shadowy "NGOs" and "colour revolution" backers like the neoliberal billionaire George Soros can direct the necessary funds and media knowhow to sinister forces – jihadists in Syria, neo-Nazis in Ukraine – to stage such PR stunts.
Knowing that systemically power-compliant media will eagerly do the rest.
Proof? Well that cuts both ways, and it's usually hard to prove a negative – that something did not  happen in the manner described. But how about this?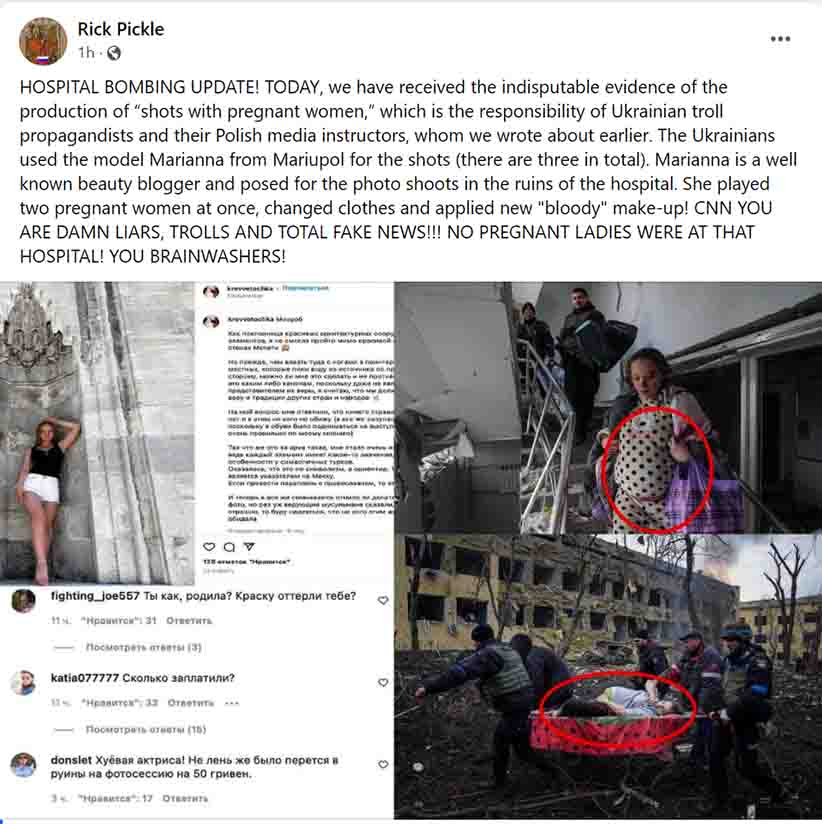 You may well ask why a hospital would be bombed at all, whether or not it houses patients. One possible answer is that the Azov Battalion, again taking a leaf from the Syria jihadists' playbook, is not only preventing civilians from leaving Mariupol but using them as human shields.
Final thought: US Senators and Congressmen, themselves hardly immune to this propaganda blitz, will vote for that $13bn military aid to prolong a war Ukraine cannot win but which may turn it, at huge and needless loss of life, into a new "Afghan Trap" for Russia. So when we ask the cui bono question of a false flag attack on a hospital in Mariupol, Ukraine's powerful Nazi forces are not the only ones with a motive for such cynical deceit.
If you catch my drift.
* * *
I'm grateful to Media Lens for alerting me to a 2015 piece by the late Edward S Herman, co-author with Noam Chomsky of Manufacturing Consent: The Political Economy of the Mass Media. In More Nuggets From the Nut House, Mr Herman wrote:

During the Vietnam war U.S. officials placed no restrictions on the bombing of hospitals, and the August 9, 1973 Newsday coverage of congressional hearings on U.S. activities in Laos and Cambodia was headlined "Bombing of Hospitals Called Routine." One witness, a former Army intelligence specialist, said that while in Quang Tri province in 1969, he routinely listed hospitals among targets to be struck by American fighter planes. Former Air Force captain Gerald Greven said he personally ordered bombing raids against hospitals: it was policy, he said, to "look for hospitals as targets." The Vietnemese [sic] found that putting Red Cross insignia on hospital roofs was a bad idea as it provided this country with a handy target (Greg Grandin, "Look for Hospitals as Targets," the Nation, October 5, 2015).

I remain sceptical, however, that Russia – with the world's condemnatory eyes on her – would think she could get away with the same in Mariupol.