Right now we're seeing saturation condemnations of Russia across all corporate media. That these media are incapable of prioritising truth, over the agendas of the tiny elites who beneath a chimera of democracy rule us, is a given for reasons I speak of often. Here for example.
But this is the most relentless propaganda blitz of my lifetime. (And I've lived through Cuba '62, Vietnam, IRA armed struggle in the Six Counties and the demonising of assorted "new Hitlers" from Arthur Scargill through Robert Mugabe to Muammar al-Gaddafi and Bashar al-Assad.) The most elementary causes of a situation which may yet go literally nuclear are being kept from us by all media, most importantly:
the lies, insults and broken promises dumped on Russia since the fall of the USSR, in particular the expansion of NATO to her borders: an encroachment Washington would not for a moment tolerate – we know this from Latin American actual history as well as from the Monroe Doctrine – for itself;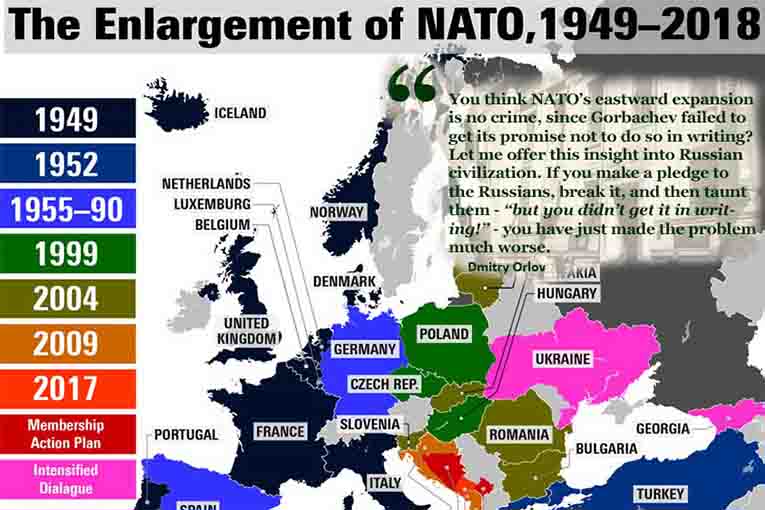 … the nature of the 2014 Maidan Coup and grip on subsequent governments of the country's far right in tandem with Washington;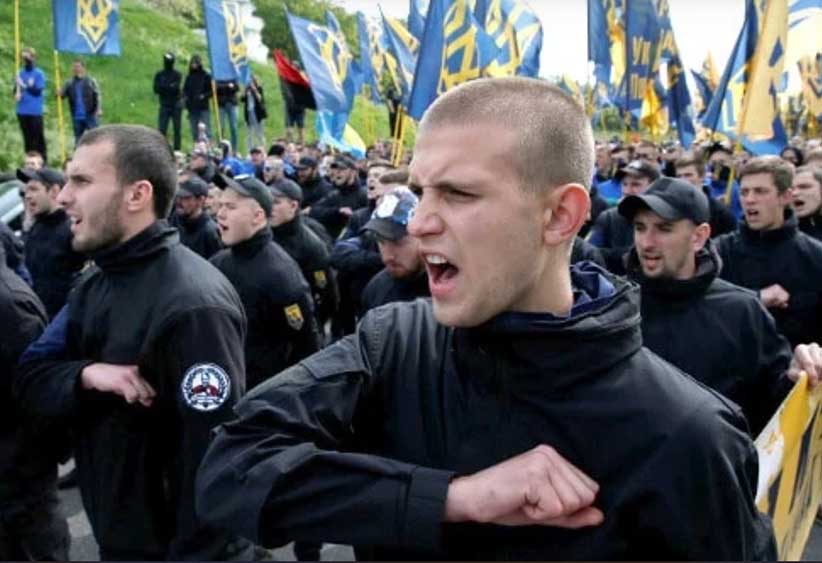 the fact it would cost Washington next to nothing – were it genuinely desirous of the wellbeing of Ukraine's people – to give the guarantees to allow Russia to withdraw.
We've also seen Russia's musicians sacked, her athletes barred, access to RT and Sputnik made much harder and social media platforms – in the week of the earth shattering news of this site's founder's no-platforming by Facebook – relaxing their ban on "hate speech" to allow calls of Death to Putin.
Oh, and the first man in space has had his name airbrushed out for being Russian. Elsewhere the University of Florida has renamed its Karl Marx study room (?!?) and Russian cats were declared felina non grata …
So much for Western democracy, free press and open society values. A climate of fear is being created, in which it will get very much harder to speak out in defence of Russia's actions. But what about those – within Ukraine – whose criticisms of Russia are deemed too qualified, too pallid or otherwise insufficiently damning? How are they faring? Here, in a report late yesterday by Ben Norton, is how.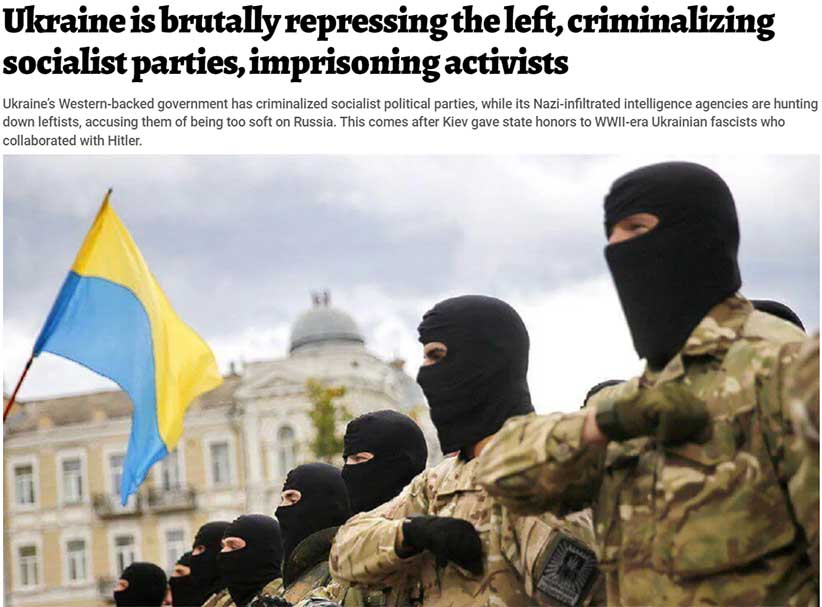 Ukraine's Western-backed government has used Russia's February 24 invasion to drastically escalate its repression of the left, banning Ukrainian socialist parties and imprisoning left-wing activists.
There are widespread reports of Ukrainian state security services arresting and torturing leftists. Neo-Nazis and far-right extremists have systematically infiltrated Kiev's police, military, and intelligence agencies since a US-sponsored 2014 coup installed a compliant pro-Western government.
In an early morning speech on March 20, President Volodymyr Zelensky announced that Ukraine's National Security and Defense Council was banning 11 opposition political parties, half of which are left-wing.
Some of the parties that were criminalized include the Left Opposition, Union of Left Forces, Socialist Party of Ukraine, Progressive Socialist Party of Ukraine, and Party of Socialists.
Zelensky published an English-language transcript of this speech on the official website of the office of the president, boasting of having prohibited the dozen opposition parties.
To justify illegalizing these left-wing forces, the Ukrainian government accused them of being pro-Russian, or having unproven "ties" to Moscow. However, some of these opposition parties have publicly condemned the Russian invasion.
Ukraine, which is under martial law, is using the war with Russia to crush all political opposition. And the US and EU are staunchly supporting the regime as it consolidates absolute power.
On March 20, Zelensky also signed a decree to seize control of all private media outlets, combining them into one state-controlled platform, with a "unified information policy" that ensures no deviation from the official Ukrainian regime propaganda line.
As Caitlin Johnstone points out in her own post today, we're risking a very radioactive third world war defending the "democracy" of a regime who just banned eleven opposition parties.
* * *