By now most of us know how Harry Potter creator JK Rowling responded to the phrase, "people who menstruate".
I'm sure there used to be a word for those people. Someone help me out. Wumben? Wimpund? Woomud?
Well guess what? Just yesterday I was scanning – as you do – the web pages of a Urology Centre, where I soon found myself reading about "people with penises".
I'm sure we used to have a word for those too.
.
Here's a hilarious example of the couldn't-make-it-up absurdity. Thanks yet again to Dave Hansell for this gem:
It's amazing what you can buy on the web. A friend drew my attention to a particularly stylish t-shirt on Amazon, featuring a rainbow flag and the slogan, "There are more than two genders".

Naturally I tried to buy 37 of them. (Well you know this kind of thing could have become compulsory had Mrs Mordaunt got in.) All was well until I was asked to choose a 'fit'. There were only two options: male or female.
.
Seriously though, Dave Hansell – who should be on a retainer for the volume of fascinating reads he puts my way – alerted me to one Toby Rogers, a senior figure in the US Presbyterian Church with an outstanding record on LGB and T rights. That last, alas, offers no protection from the vitriol of trans-militants the moment one voices a verboten  opinion, for instance that people with penises shouldn't compete in people who menstruate's sports: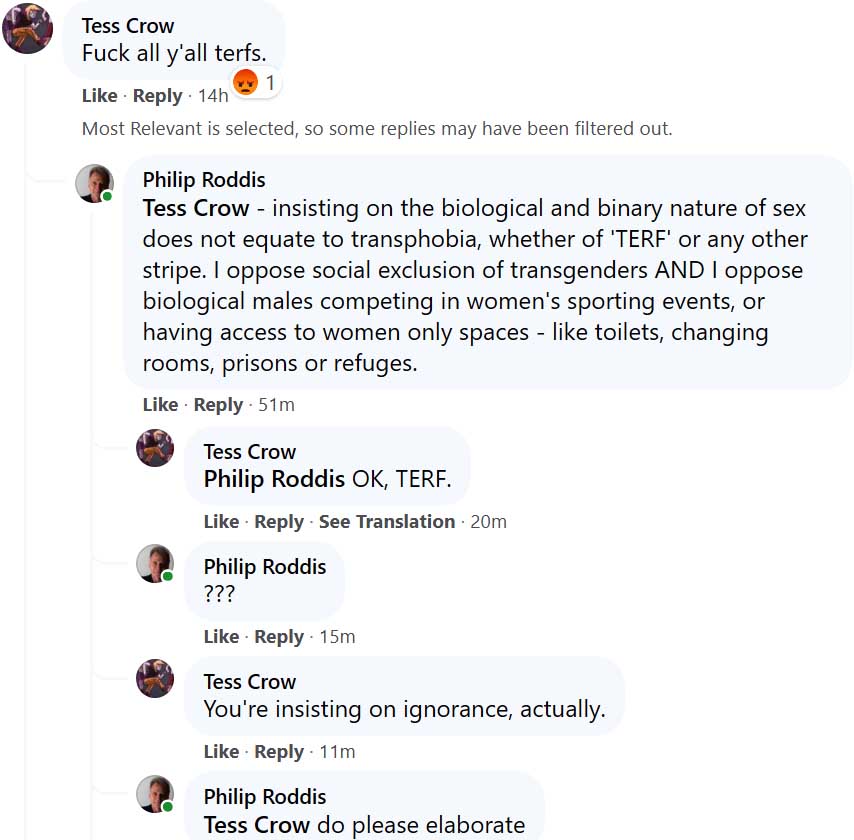 Tess Crow declined to do so but I should get back to that Presbyterian writer, because here's the thing. This churchgoing progressive has not only found himself at the sharp end of trans-warrior vitriol. He has thought long and hard about it, and come up with a surprisingly materialist and evidence-based answer to a question that saw me and a good few others underestimating the speed with which so ridiculous an agenda would gain ground.
How could so tiny a fraction, of a grouping itself a tiny fraction of society, effect so rapid a shift in mainstream orthodoxy? 
We do well here to reflect on the one hand on such as the Maya Forstater case; on the other, how hard every inch of ground gained by women's, black, gay and disabled groups had to be fought for.
We also do well to ask a related question: how was this amazing success story able to display levels of slick professionalism, in both mass opinion formation and targeted lobbying, light years ahead of what its observable resources could account for? We have to assume, says Mr Rogers, an ally in the shape of the one party with both means and motive.
Big pharma.
And before we dismiss that as too far-fetched, consider the words of Cardiff based academic, Fabio Vighi, as cited in my post of two days ago on Covid in the age of crisis capitalism:
It is delusional to think governments, health authorities, and media act independently. Rather, what speaks through them is always economic-financial Power, the very Thing they want us to believe only exists for conspiracy theorists; as if it had suddenly died out like the dinosaurs, or mutated into philanthropy
But why don't you be the judge of that? I give you Toby Rogers uncut.
*
Trans messaging is too sophisticated to be the work of a small sexual minority dealing with severe health issues
It appears to me that someone else is driving these messaging campaigns and the question is who?
I. Introduction
It brings me no joy to write this article. But I have a unique vantage point on a fiercely contested social issue and feel compelled to share what I know.
Before I go any further let me state unequivocally that I support LGBT equality. Everyone deserves respect, love, and kindness. Any bigotry in the comments will get deleted and possibly banned. In this article and the discussion that follows I aim to model the sort of adult conversation about a difficult topic that is rarely seen anymore. Please join me in elevating the discourse.
Here are my bona fides in connection with this issue:
I spent 10 years fighting for LGBT equality as the communications director for the moderator of the Presbyterian Church (U.S.A.). I edited hundreds of speeches, sermons, and articles as well as the book Jesus, the Bible, and Homosexuality that became a Christian bestseller. When we began in 2000, marriage equality was polling below 20%. Over the course of a decade we changed so many hearts and minds that the denomination revised its Constitution to allow LGBT ordination and marriage. Thanks to our work, the Presbyterian Church (U.S.A.) approved LGBT equality before the U.S. Supreme Court affirmed marriage equality and thus created political cover for the Supreme Court to do the right thing.
After the campaign was over I got a master of public policy degree (2010-2012) at UC Berkeley and went to Cambodia in 2012 where I taught Gender Studies in a private university in Phnom Penh. I taught the Genderbread Person v1 and I even taught sections of Judith Butler's classic work, Gender Trouble: Feminism and the Subversion of Identity, to Cambodian teens and young adults in my classes. It was fascinating and wonderful.
Suffice it to say, I have read, written, and thought a LOT about gender. I think gender studies is a helpful tool for understanding power and relationships and examining how societies are organized.
By 2012-2013 we had won across the board. Equal rights to marriage, employment, housing, and hospital visitation rights were becoming the law of the land in the U.S. and throughout the world. We had achieved bipartisan consensus even on the fiercely divided U.S. Supreme Court. We had science, logic, and reason on our side. It was settled law and settled science.
And then, somewhere around 2015, the movement went completely off the rails.
II. The very strange switch in messaging
For a century, progressives had fought to show that biological sex and gender were two different things. The argument was that sex is biological, given (and yes there was acknowledgement of the 0.02% to 1.7% of people who are intersex). Gender was/is seen as a social construct, theater, performative. Betty Friedan, The Feminine Mystique; Susan Faludi, Backlash; Anne Fausto Sterling, Sexing the Body; and Judith Butler, Gender Trouble all made the same point, sex is biological, gender is socially constructed. We won that argument in a rout.
But in the last few years, the argument shifted. Socially constructed gender now superseded biology. Everything was gender now. Biological sex itself was labelled a social construct …
Read the full piece by Toby Rogers …
* * *