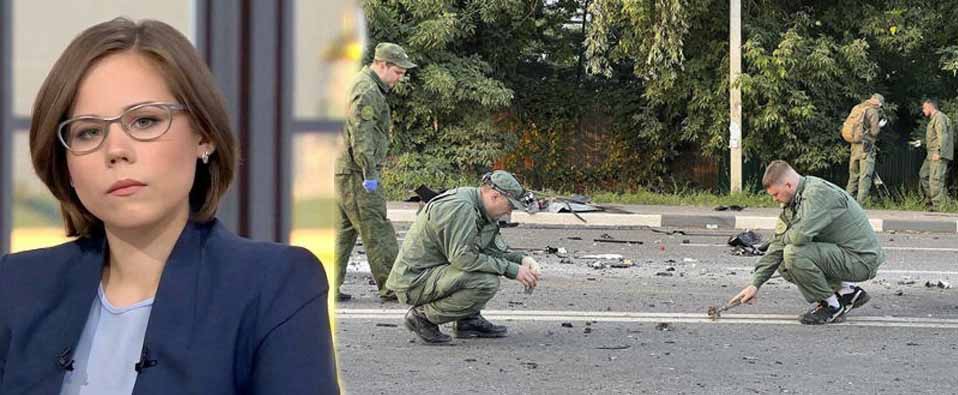 To the hundreds of millions of credulous westerners who still buy the simplistic "Putin's war" narrative – a narrative dependent, as Caitlin Johnstone recently reminded us, on believing the US Empire does not exist 1 – that the whole ghastly business in Ukraine is a matter of a regional bully imposing its will on a gallant and freedom loving nation state, the murder by car bombing of Daria Dugina will seem either a coincidence to which "sensible" people will avoid attaching "conspiracy theories", or a case of "she (or at least her father, who reportedly changed vehicles at the last minute) had it coming".
I say often that Western media, without exception, cannot be trusted on matters pivotal to the interests of the rentier  elites who, behind a facade of democracy, rule the West. In this instance I recommend a piece this morning on the World Socialist Website: a source which is no friend of Vladimir Putin, to be sure, and on one or two pretty substantial issues, no friend of mine either.
All the same …
The assassination of Daria Dugina and the US-NATO war in Ukraine
On Saturday, Daria Dugina, daughter of Russian nationalist public intellectual Aleksandr Dugin, was assassinated by a car bomb that blew up her Toyota Land Cruiser on a highway west of Moscow, Russia.
Russian news media stated that people close to Dugin believed that he had been the intended target of the bombing that killed his daughter. The BBC reported that he had planned to travel in the same car as his daughter and changed vehicles only at the last minute.
Within hours of the attack, the US media hastened to deny the obvious conclusion that this assassination was connected to the ongoing war between the United States and Russia in Ukraine.
The New York Times hastened to assure its readers that "there was no evidence that the attack was connected to the war in Ukraine." What an absurd lie! The assassination carries the stench of the Ukrainian secret police and their CIA handlers.
Both the evidence of history and the logic of contemporary developments lead to the inescapable conclusion that the assassination of Dugina was a political crime, bearing the fingerprints of Washington, calculated to provoke a wider war.
The involvement of Washington in such a scenario is not only plausible; it is the political default hypothesis, that which must be assumed to be true unless otherwise proven false …
* * *
Their instilment of the belief that there's no such thing as a US Empire is, I say, the great propaganda achievement of mainstream Western corporate media. Or to put it another way, the most glaring example, in the face of stiff competition for the title, of how those media – from populist to 'quality' and from generalist to financial – constantly and on a daily basis lie to us by omission. (That the lies are mostly of omission is why, incidentally, the truth of systemically corrupt media is perfectly compatible with that of journalists for the most part subjectively honest, if at times self-servingly myopic.)