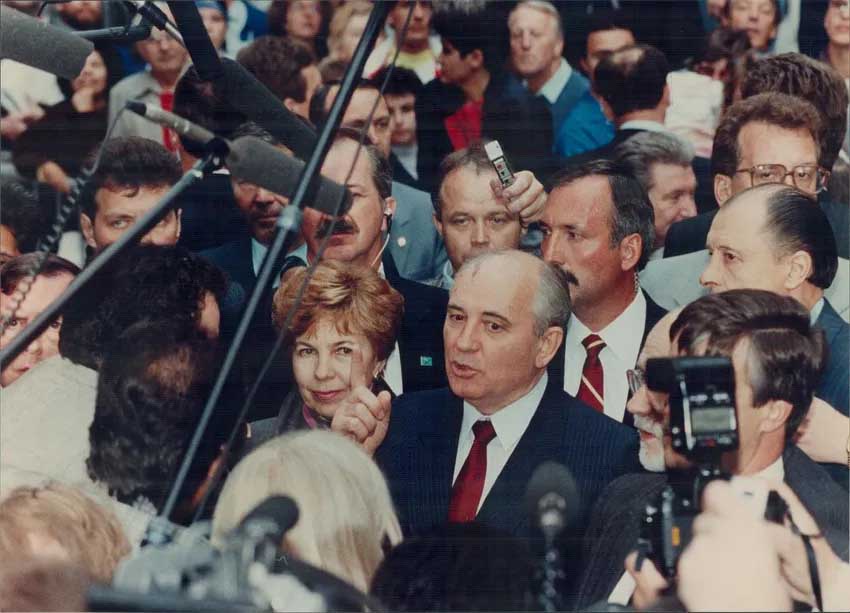 Mrs Thatcher said she could "do business with him". Western liberals – unlike the citizens of a USSR about to be plunged into a living nightmare 1 – had the kind of love affair with him which today finds echo in a man of far smaller stature, Volodymyr Zelensky. Mikhail Gorbachev, he of the kindly, intelligent face and calmness of bearing who, for a short while after Cold War One's final and most frightening decade, had made glasnost  and perestroika  household words in the West, died five days ago on August 30. He was ninety-one.
The outpourings of Western media eulogy were predictable. You've likely read a few, or at least caught the gist from sound bytes. On offer here though are two responses as different from one another as both are from the hagiographic revisionism of corporate media. Both appeared the following day, on August 31.
One is by Andrea Peters on the World Socialist Website, often cited more or less approvingly on these pages, though seldom without a distancing caveat on my part. In this case I distance myself even further than usual. Though Ms Peters does not follow corporate media in singing his praises, as though the views of the masses of the former USSR were of no consequence, she commits the opposite sin. Her piece demonises Mr Gorbachev in that boilerplate way WSWS, and almost all of a Trotskyist Left which once called me comrade, do so go in for.
There is little nuance, far less dialectic, in her understanding. Holding firm to the non negotiable take on Russia's revolution as betrayed by a bureaucracy which would ultimately – at just what point is one of many bones of contention by which the splinters of the 4th International locate and fetishise their differences – go beyond parasitic exploitation of the property gains of 1917. This bureaucracy would, said Trotsky – and history would prove him right about many things – be obliged to roll back those gains and constitute itself as a fully blown ruling class on the basis of their reprivatisation.
At root of that perspective is the notion that the USSR could have made other choices – that the rise of Stalin, and a ruling caste which held sway through Kruschev and Brezhnev, Andropov and Gorbachev, could have been averted had Trotsky and his doctrine of permanent revolution won the day, circa 1920-25. Personally, and I speak as an admirer of Trotsky – not an uncritical one but an admirer all the same – I find such whatiffery  far fetched. The world's first proletarian revolution took place not in an advanced capitalist state but in one of Europe's most backward countries. (Even the term 'proletarian revolution' is misleading. It was far more a palace coup led by bourgeois elements, leading to the mobilisation of the tiny working class in Moscow and St Petersburg, and of a vast but murderously divided peasantry.) None among that leadership – not Lenin, not Trotsky, Bukharin, Kamenev, Kollontai, Zetkin, Zinoviev; no, and not Stalin either – gave time of day to the idea, at once both heresy and oxymoron, that a fledgling USSR – least of all one crippled by a punitive Brest-Litovsk Treaty followed by starvation blockade, by three years of civil war and by imperialist invasion – could manage more than a holding operation, pending successful revolutions in the advanced economies of Britain, Germany and Italy.
Well that didn't happen and, given the triumph of fascism in one of those nations – and rising fortunes of an even more nightmarish variant in another – the faction around Stalin, emerging victorious from struggles with the Party's left and right factions, committed the Soviet Union to a course hitherto dismissed as utopian fantasy; that of "building socialism in one country". It is an article of faith among Trotskyists, whatever else they may disagree about, that the Soviet Union, despite being exhausted and with no ally in sight, could have taken a different path.
Me, I doubt it. Nor is this simply an arcane point of ancient history. To this day, in a rare meeting of minds with Maoism, Trotskyist sects in the West, having failed to make their own revolutions, now have the nerve to admonish China for "abandoning socialism". Their analyses of current events – from the Middle East (on which WSWS has a better record than most) to terrifying US-led warmongering in Russia's south-west borderlands and South China Sea – lead them more often than not to the rabbit from a hat trick of damning Beijing, Moscow and Washington alike, while calling for an international workers' revolution which is so not going to happen.
At least, not in the West. As I put it in an aside a year ago to a post on Richard Murphy, the modern monetary theorist:
I too reject revolution, though unlike Mr Murphy I am not a Quaker. Nor a pacifist in the sense of one who regards all violence as by definition wrong. I reject revolution as envisaged by Marx and modified by Lenin because, in the West at least, that ship has sailed. Seizing state power is not going to happen for two reasons. One, the industrial conditions so ably depicted by Marx and Engels no longer hold. With manufacturing exported to the global south, the proletariat has lost both its muscle and the conditions whereby its exploitation was experienced en-masse.

Two, the British and all other Western 'democracies' are armed to the teeth, versed in the black arts of counterinsurgency – honed on the streets of Belfast and Gaza – and above all equipped with tools of surveillance beyond the wildest dreams of the twentieth century totalitarianisms.
But we steel city scribblers are nothing if not open to persuasion by evidence and reason. Here is that assessment of Mr Gorbachev by Andrea Peters, writing four days ago on the WSWS site.
The death of Mikhail Gorbachev and the legacy of Stalinist counterrevolution
Mikhail Gorbachev, the former general secretary of the Communist Party (CP) and president of the Soviet Union, died on Tuesday at the age of 91 in a Moscow hospital. He had reportedly been suffering from kidney disease for several years.
Gorbachev, who joined the CP in 1950, was a loyal servant of the Soviet bureaucracy for three and a half decades. He was responsible for the final act of betrayal carried out by the parasites who raised themselves up above and fed off the Soviet working class: the full-scale restoration of capitalism and the dissolution of the USSR into more than a dozen states. He was a man with whom, in the words of arch-reactionary Margaret Thatcher, "one could do business."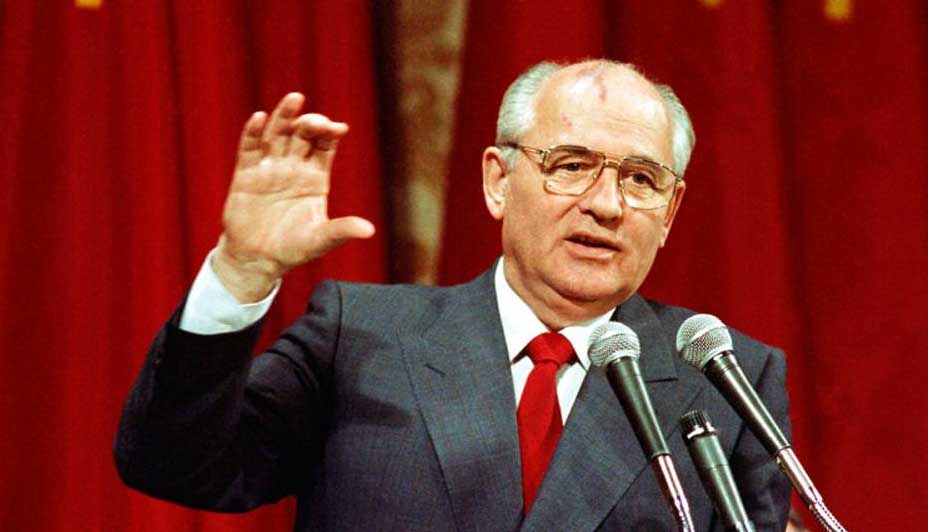 Gorbachev's policy of perestroika (restructuring), implemented over the course of the 1980s and early 1990s, initiated the systematic dismantling of the system of nationalized property that emerged out of the Russian Revolution of 1917. Perestroika scrapped restrictions on foreign trade, legalized small businesses, ended subsidies for key industries, tossed out labor laws and threw the Soviet economy and society into disarray.
Enterprises suddenly forced onto a system of "self-financing" found themselves unable to secure the resources they needed to produce, pay wages or fund the social services and benefits that were the right of the working class and the backbone of their living standards. Managers of the most well-positioned factories, directed by the state to manufacture for profit, diverted goods from the state sector of the economy and sold desperately needed consumer items at whatever price the market would bear.
The reforms initiated a process of the wholesale looting of state assets. The children of the elite took advantage of special legal privileges granted to members of the communist youth organization, the Komsomol, to open businesses and sell Soviet assets and resources domestically and abroad. An entire secondary banking industry emerged, as those with access to enterprises' financial accounts set up lending operations that profited off the crisis and social desperation.
By 1989, about 43 million people in the USSR were living on less than 75 rubles a month, well below the official poverty line of about 200 rubles. Writing in 1995, researcher John Elliot described the era as characterized by "deteriorating quality and unavailability of goods, proliferation of special distribution channels, longer and more time-consuming lines, extended rationing, higher prices … virtual stagnation in the provision of health and education, and the growth of barter, regional autarky, and local protectionism." Officially, about 4 million were unemployed as of 1990, although specialists argue that was a vast undercount, with the real number being as high as 20 million. With masses of people shipwrecked, alcoholism, drug use and deaths of despair all exploded during the years to come.
For all of this, Gorbachev is widely and rightly hated throughout the former USSR …
For what it's worth, I agree with much of that. As it so often is, my gripe is with the de rigeur  Trotskyist 'alternative' which follows. Rather than repeat my arguments, let me simply offer this link to the full piece – it's quite short – and let you be the judge.
*
On the same day as the WSWS piece, Jeffrey Sommers – Professor of Political Economy and Public Policy, and a Senior Fellow at the University of Wisconsin-Milwaukee's Institute of World Affairs – wrote the kind of assessment you're no more likely to find in Guardian or Economist than the Andrea Peters offering. Though I hadn't come across the professor prior to this, a little digging soon uncovered that (a) he is an expert on the Baltic states and (b) a piece he co-wrote with political economist Michael Hudson – a blistering take down of the idea of Latvia as a poster boy for 'austerity' – appeared in the Guardian eleven years ago.

Click on the image to read the Guardian article
Which piqued my curiosity. Having read the Latvia piece, I turned to Jeffrey Sommers' appraisal of Mr Gorbachev in CounterPunch, to find it a timely antidote to the superficiality on offer in corporate media eulogies. Neither hatchet job nor hagiography, I recommend reading in full.
How Mikhail Gorbachev Became the Most Reviled Man in Russia
Mikhail Gorbachev presented a figure of Greek tragedy proportions. Possessing good intentions and intellectual curiosity, Gorbachev nonetheless became the most reviled man in Russia, following the USSR's demise. Yet, with Gorbachev, his worst qualities were connected to his best. Gorbachev was the wrong man at the wrong time to resolve the contradictions created by the Stalinist and then Brezhnev bureaucratic model of really-existing socialism in the Soviet Union. Increasingly hated at home, Gorbachev was beloved by world leaders in the "West" as the man who peacefully (at least by the comparative metrics of collapsing empires) unwound the USSR, even if trying to save its all-union character. Meanwhile, for China, Gorbachev delivered lessons in what not to do when reforming a sclerotic post-Stalinist system requiring economic reforms, if not transformation.
What happened when the USSR produced its first post-World War II leader untethered to Joseph Stalin (and those he appointed)? Answer: a liberalizing socialist seeking a return the origins of the USSR's democratic anchoring in the spirit of the "Soviets." Contra assertions of Friedrich Von Hayek that socialism represents the "road to serfdom," the emergence of Gorbachev suggests the opposite. Terror and tyranny in the USSR arose more from war and the demands of state security services required to survive, and the paranoid politics it enabled, rather than any "inevitable" path from the socialist path taken. Once the USSR was passed the generation having gone through this trauma (and leaders linked to that generation), a communist party head emerged that sought a return to an ideology anchored in democratic socialism.
As with nearly all of the Soviet Union's leadership, Gorbachev had provincial origins, in his case born in 1931 in Stavropol Krai just southeast of Ukraine. His maternal grandparents were ethnic Ukrainian. He rose through the party ranks with a reputation for hard work and finding solutions to vexing challenges. By 1979 he was in the USSR's highest governing body, the Politburo, and by 1985, selected to the country's highest post as General Secretary to lead the Soviet Union out of its economic stagnation.
Gorbachev was a serious Leninist, and not just a bureaucrat reciting historical materialist catechisms out of momentum or political expediency. Confirming what historian Stephen Kotkin asserted in his biographies of Stalin, Soviet party leaders were not party posers, but genuine believers in communism who often walked the talk. But, what many thought the USSR needed in its time of trouble was Lenin's firm hand and not democratic socialist inspired experiments done on the fly.
Ironically, it was these aforementioned democratic characteristics, which ensured the failure of Gorbachev's reforms.  For every crisis, Gorbachev encountered, his go to inspiration was to be found in Lenin's writings. Like Lenin, a provincial figure that transformed Russia, he was nonetheless not Lenin. Gorbachev focused on Lenin's democratic message for the future, but not his decisiveness, if not brutal ruthlessness that allowed him to carry off the Soviet Revolution. By contrast, Russia's current leader, Vladimir Putin, possesses the other half of Lenin's personality: his ruthlessness, but bereft of any democratic purpose.
Personally I find that last – Professor Sommers' sole reference to Mr Putin – a little premature. Given the chaos and attendant power blocs he inherited from Boris Yeltsin's acquiescence to the shock therapy of IMF 'market reforms' – and to the betrayals of Gorbachev marked by wave upon wave of NATO expansion including the criminal dismemberment of Yugoslavia – it seems to me too early to say whether or not the current Russian leadership has any democratic intent. Nor does Professor Sommers offer any evidence on the point.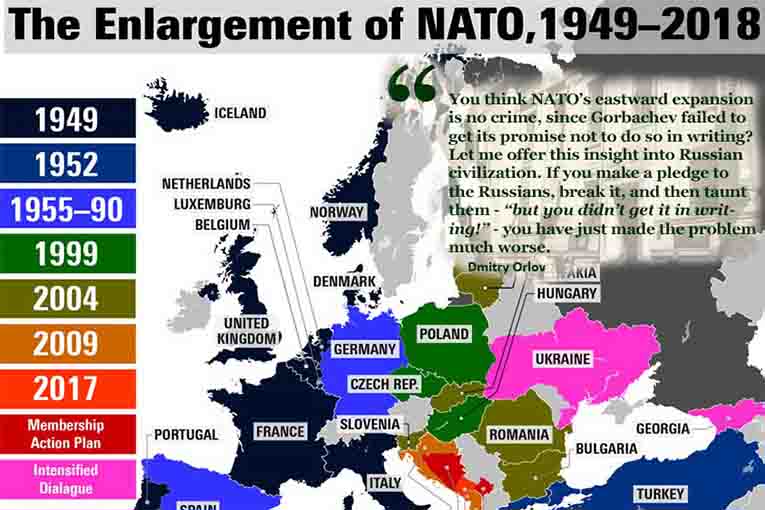 All the same, I repeat my recommendation. For its insights into the lessons that China, on Deng Xiaoping's watch, drew from the collapse of the USSR – and into how that USSR had been less advantageously placed than is China today – this closely argued piece should be read in full …
* * *
One of the best accounts I know – and I've read a few – of that nightmare to which the IMF, amply aided by Mr Yeltsin, subjected Russia is in Chapters 10-11 of Naomi Klein's meticulously documented Shock Doctrine: The Rise of Disaster Capitalism.