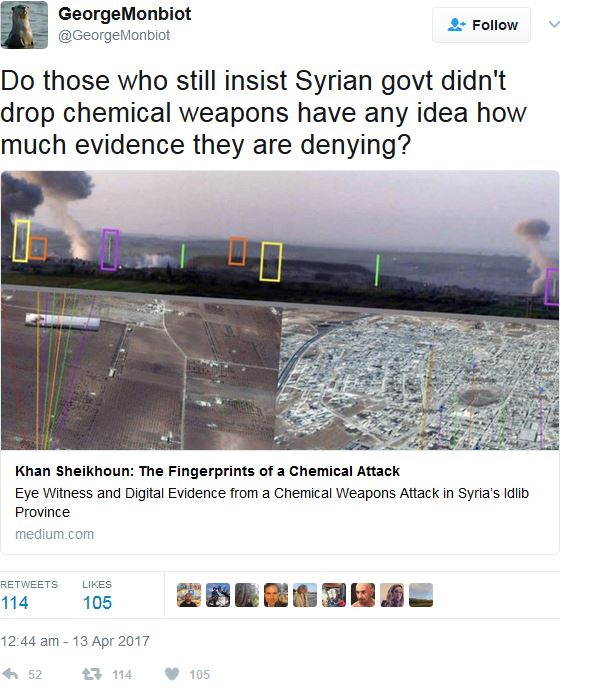 Media Lens today:
It is hard to believe that just three weeks ago the entire corporate media was in uproar over Syria; specifically, about the need to 'do something' in response to an alleged chemical weapons attack in Khan Shaykhun, Idlib, Syria, on April 4. Guardian commentator George Monbiot summed up the media zeitgeist:
Do those who still insist Syrian govt didn't drop chemical weapons have any idea how much evidence they are denying?
Monbiot linked to evidence supplied by Bellingcat, an organisation hosted by Eliot Higgins. In a 2014 letter to the London Review of Books, Richard Lloyd and Ted Postol, described by the New York Times as 'leading weapons experts', dismissed Higgins as
a blogger who, although widely quoted as an expert in American mainstream media, has changed his facts every time new technical information has challenged his conclusion that the Syrian government must have been responsible for the sarin attack [in Ghouta, August 2013]. In addition, the claims Higgins makes that are correct are all derived from our findings, which have been transmitted to him in numerous exchanges.
Professor Postol, a professor emeritus of science, technology, and national-security policy at the MIT, has an impressive record of debunking propaganda. For example, the Pentagon declared the Patriot missile system 98% successful at intercepting and destroying Iraqi Scud missiles during the 1991 Gulf War. Postol found the Patriot's success rate rather less impressive. "It became clear it wasn't close to intercepting any  targets, let alone some." (Great Military Blunders, Channel 4, March 2, 2000)
Postol has now challenged a White House report on the alleged chemical weapons attack in Idlib. He notes:
The only source the document cites as evidence that the attack was by the Syrian government [air force] is the crater it claims to have identified on a road in the North of Khan Shaykhun …

[whereas the White House photographic evidence] … clearly indicates that the munition was almost certainly placed on the ground with an external detonating explosive on top of it that crushed the container so as to disperse the alleged load of sarin


The Media Lens piece merits reading in full but I've said my fill, pending further evidence or developments, on Idlib and its consequences. I post now not just  to point out that Monbiot has made a fool of himself. We can all of us do that, and I'll give him a run for his money there. Trouble is, George is one of a handful of radical liberals – Chomsky and Owen Jones are others – whose semi-celebrity status on the broad left comes with a burden of responsibility. When they tacitly endorse the imperialist/corporate media line on Syria or Russia they sure as hell need to be in full possession of the facts because a lot of people – with degrees and doctorates to remind themselves how brainy and critically alert they are, and track record of backing safely PC causes to prove their anti imperialism – will be influenced by their words.

Clearly, George was not in possession of the facts but that didn't stop him wading in without checking the provenance of 'evidence' he claims is being denied by such as me. That's a serious but not unforgivable sin, and nobody ever died from egg on the face. What is unforgivable is his failure, twelve days on from his tweet of April 13, to respond to a plethora of valid criticisms.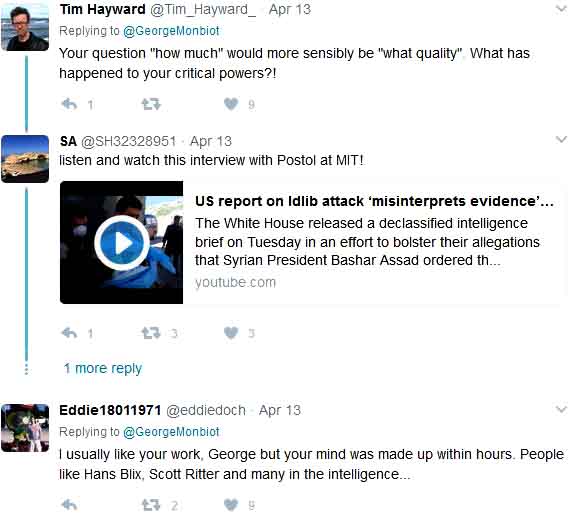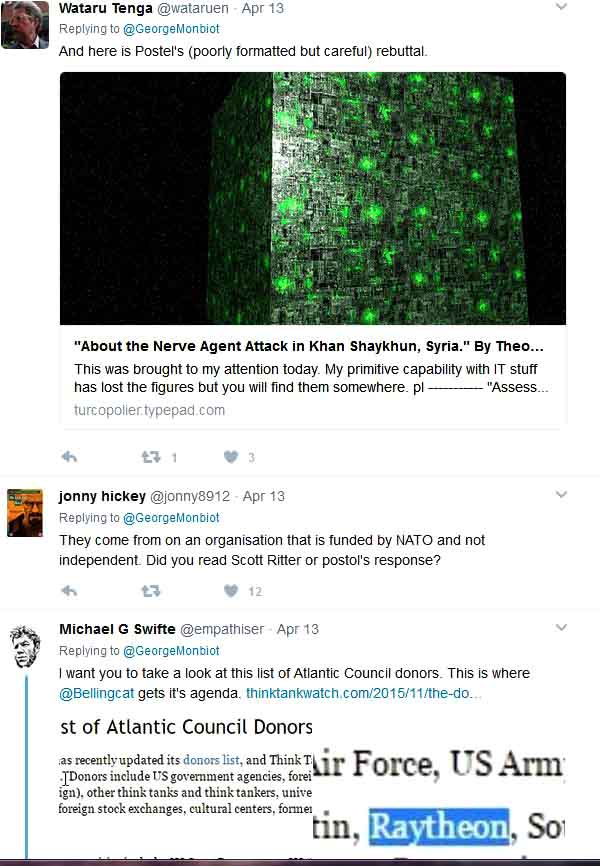 *
But George had tweeted on the subject earlier than April 13. Blogger and globalisation writer Daniel Margrain notes (as have I, in several posts) the folly of relying on "the widely discredited $100m-funded terrorist-enablers, White Helmets", before observing that:
Meanwhile Jonathan Freedland of the Guardian, wrote a day after the alleged April 4 attack:
We almost certainly know who did it. Every sign points to the regime of Bashar al-Assad.
What these 'signs' are were not specified in the article.
Even the usually cautious Guardian  journalist George Monbiot appears eager for military action. On Twitter (April 7, 2017) Monbiot claimed:
We can be 99% sure the chemical weapons attack came from Syrian govt.
Three days later, media analysts Media Lens challenged Monbiot by citing the views of former UN weapons inspectors, Hans Blix and Scott Ritter, both of whom contradicted Monbiot's assertion. "What do you know that Hans Blix and Scott Ritter don't know?", inquired the analysts. Monbiot failed to reply.
Come on George, do the decent thing.