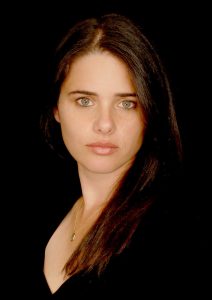 A 2015 poll conducted by, I kid you not, the Israeli Society of Plastic and Aesthetic Surgery found Justice Minister Ayelet Shaked the Knesset's best looking female politician. You can see why.
But then, I don't suppose odious opinions carry much weight in Plastic & Aesthetic Surgeryland. If they did, the poll might have found itself some other beauty queen.
One day before Palestinian teenager Muhammad Abu Khudair was snatched outside a mosque, taken to a forest outside Jerusalem, bludgeoned with a crowbar, made to swallow petrol then doused in the rest and burned alive by Israeli Jewish youths, Shaked had taken to FB with what Electronic Intifada describes as a call for genocide.1
It is a call for genocide because it declares that "the entire Palestinian people is the enemy" and justifies its destruction, "including its elderly and its women, its cities and its villages, its property and its infrastructure."
It is a call for genocide because it calls for the slaughter of Palestinian mothers who give birth to "little snakes."
The post by Shaked, a senior figure in the Habeyit Hayehudi (Jewish Home) party that is part of Israel's ruling coalition, was shared a thousand times and had five thousand "Likes." Her many admirers, not all of them members of the Israeli Society of Plastic and Aesthetic Surgery, have pointed out she was quoting someone else with her 'little snakes' post.
So that's alright then.
Here's what Ayelet Shaked posted:
This is an article by the late Uri Elitzur,2 which was written 12 years ago, but remained unpublished. It is as relevant today as it was at the time.

The Palestinian people has declared war on us, and we must respond with war. Not an operation, not a slow-moving one, not low-intensity, not controlled escalation, no destruction of terror infrastructure, no targeted killings. Enough with the oblique references. This is a war. Words have meanings. This is a war. It is not a war against terror, and not a war against extremists, and not even a war against the Palestinian Authority. These too are forms of avoiding reality. This is a war between two people. Who is the enemy? The Palestinian people. Why? Ask them, they started.

I don't know why it's so hard for us to define reality with the simple words that language puts at our disposal. Why do we have to make up a new name for the war every other week, just to avoid calling it by its name. What's so horrifying about understanding that the entire Palestinian people is the enemy? Every war is between two peoples, and in every war the people who started the war, that whole people, is the enemy. A declaration of war is not a war crime. Responding with war certainly is not. Nor is the use of the word "war", nor a clear definition who the enemy is. Au contraire: the morality of war (yes, there is such a thing) is founded on the assumption that there are wars in this world, and that war is not the normal state of things, and that in wars the enemy is usually an entire people, including its elderly and its women, its cities and its villages, its property and its infrastructure.

And the morality of war knows that it is not possible to refrain from hurting enemy civilians. It does not condemn the British air force, which bombed and totally destroyed the German city of Dresden, or the US planes that destroyed the cities of Poland and wrecked half of Budapest, places whose wretched residents had never done a thing to America, but which had to be destroyed in order to win the war against evil. The morals of war do not require that Russia be brought to trial, though it bombs and destroys towns and neighborhoods in Chechnya. It does not denounce the UN Peacekeeping Forces for killing hundreds of civilians in Angola, nor the NATO forces who bombed Milosevic's Belgrade, a city with a million civilians, elderly, babies, women, and children. The morals of war accept as correct in principle, not only politically, what America has done in Afghanistan, including the massive bombing of populated places, including the creation of a refugee stream of hundreds of thousands of people who escaped the horrors of war, for thousands of whom there is no home to return to.

And in our war this is sevenfold more correct, because the enemy soldiers hide out among the population, and it is only through its support that they can fight. Behind every terrorist stand dozens of men and women, without whom he could not engage in terrorism. Actors in the war are those who incite in mosques, who write the murderous curricula for schools, who give shelter, who provide vehicles, and all those who honor and give them their moral support. They are all enemy combatants, and their blood shall be on all their heads. Now this also includes the mothers of the martyrs, who send them to hell with flowers and kisses. They should follow their sons, nothing would be more just. They should go, as should the physical homes in which they raised the snakes. Otherwise, more little snakes will be raised there.

There are celebrations of mourning and honor in two homes of two despicable murderers. I assume they have put up outdoor mourning structures, and all the dignitaries of the city come to honor the mother and father who raised the devil. Those two houses should be bombed from the air, with intention to destroy and to kill. And it should be announced that we will do this from now on to every home of every martyr.

There is nothing more just, and probably nothing more efficient. Every suicide attacker should know that he takes with him also his parents and his house and some of the neighbors. Every brave Um-Jihad who sends her son to hell should know she's going with him, along with the house and everything inside it."

Prevention cannot be focused. That's how it is in wars. Whatever's focused cannot prevent. It is not we who started this dastardly war and it is not we who can stop it. The keys to the ceasefire are in the hands of the members of the Palestinian nation. We can only singe their fingers until they wish to use them.
*
Around the time of Shaked's little snakes post, TD Richard Boyd Barrett was grilling Israel's Ambassador to the Irish Republic. So you know where he's coming from, here's what Wiki says:
… born 6 February 1967, an Irish Solidarity–People Before Profit politician … Teachta Dála  for Dún Laoghaire …  [and] chair of the Irish Anti-War Movement … He opposed the Iraq War and … has campaigned to reverse job losses … and voiced opposition to Ireland's bank-bail outs …
Here's six minutes and twelve seconds of Boyd Barrett, setting out the case against Israel:
* * *
Shaked's post is not, of course, the only significant antecedent. Three days earlier, three Israeli Jewish teens had been murdered, making Khudair's incineration an act of indiscriminate (except in the racist sense) revenge. For a bizarre example of asymetric justice at play in "the middle east's only democracy" see this codicil of the aftermath.
Uri Elitzur was a leader of the settler movement and speech writer for Benjamin Netanyahu.