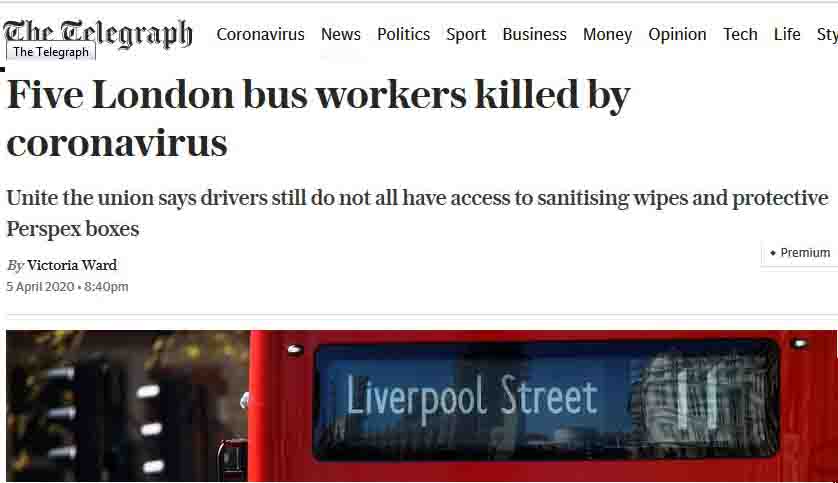 In the few days since that Telegraph story, the figure for London bus driver deaths attributed to CV-19 has risen to nine. See the WSWS piece, "They are doing absolutely nothing to protect us!", for fuller coverage of what even the Telegraph presents as workers at risk from employer negligence. Whatever your views of World Socialist Website's Socialist Equality Party hosts, it's an example of solid reporting that can be read and digested in two minutes.
So do I, a marxist, have any problem with it? Yes and no. I'm emphatically with WSWS in seeing it as one example of the failure of capitalism in the face of pandemic. Indeed, most of my posts on CV-19 have focused on this truth. But given the problems Professor Bhakdi highlighted in his letter to Chancellor Merkel, the piece, like its counterparts in mainstream media, leaves me no wiser on a few vital questions.
Did all nine die of1 Covid-19?
Use the previous link to see points 2 and 4 of my summary of Professor Bhakdi's questions to Angela Merkel.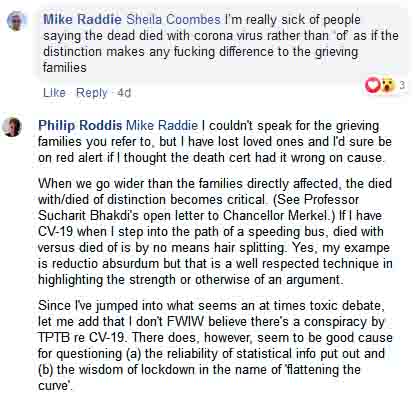 How do we contextualise the figure of nine?
I'm sure there's a way of finding this but my five minutes of searching on "how many bus drivers work for London Transport" got me nowhere. So I don't know how 9 pans out as a percentage of the total.2 Nor do I know how many bus drivers die of flu each year. And, yes, I really am just asking. I have no stake in the answers either way.
I've been shouted at from all sides on this. As I've observed elsewhere, those who say there are serious problems with the whole CV-19 narrative, and those who say this pandemic is showing how dire capitalism is, are in my opinion both right. But the two sides don't seem to be hearing one another. That's always unfortunate, and doubly so when there's no inherent contradiction – this isn't in principle a zero sum debate.
Are social distancing and lockdown the way to go?
Here's where things get trickier still. Leaving aside the fact, implicit in the previous question, of informed opinion divided over how serious the virus really is, we're still left with valid questions on strategic response.
Experts are advancing, with greater or lesser confidence, differing views. Whether to 'flatten the curve' of a pandemic by social distancing, build 'herd immunity' by letting those less vulnerable freely spread the virus, or adopt a combination of both is at the best of times a judgment call.
And these aren't the best of times given the lack of clear answers – due in no small part to poor data collection – on where exactly any given society, Britain for instance, is in the viral cycle. I'm impressed by the calm cogency of Professor Wittkowski, in the interview of April 1-2 linked from my post yesterday. (While his tucking into pot noodles as he sets out his reasoning may seem irksome or endearing, it should cut no ice in our assessment of that reasoning.)
But the fact is, we don't really know – and perhaps never will. That didn't, however, stop WSWS running an April 6 piece headed As COVID-19 death toll rises, the ruling classes agitate for a premature return to work. It contains this passage:
Under the slogan, "The cure should not be worse than the disease," the capitalist media began arguing that the economic damage caused by the shutdown of businesses and factories would, in the long run, prove more harmful to society than the deaths that would result from a rapid return to work, even if the pandemic was not under control.

With consummate cynicism, the media presents itself as the champion of working people and the poor. For example, the editorial board of the Wall Street Journal, which has never complained when corporations slashed jobs and cut wages to boost corporate profits, now professes, in an editorial statement published Friday, to worry about the shutdown's "psychological toll on Americans who can least afford it."
'Consummate cynicism'? You bet! Crocodile tears over the 'psychological toll' of shutdown? Tick fucking tock …
… and yet. The hijacking of an idea for manifestly self-serving ends neither negates nor affirms its truth. I can only repeat a question I raised a few days ago. Since Professors Wittkowski and Bhakdi, plus many other relevant experts, have alerted us to serious flaws in the diagnosis, we may fairly and without prejudice ask:
What are the costs – in economic, mortality, psychological health and civil liberties terms to name a few of the more obvious – of the drastic containment measures we're being told are a right and necessary response?
* * *
I'm putting this question – did they die of CV-19 – simplistically. My understanding is that most respiratory viral infections leading to death do so through a causal chain ending in another ailment, typically pneumonia. Professor Bhakdi, noting that many countries have relaxed the requirement that death certificates spell out such a chain, wanted Dr Merkel's assurance that Germany has not followed suit. Since his letter has been studiously ignored by all mainstream and most Left media, I can't say whether he received any such assurance. I can say, however, that the UK Coronavirus Act 2020 has indeed not only relaxed that requirement. It also allows doctors not present, in the case of deaths in care homes, to give cause of death of unseen residents as CV-19 if they suspect it. This of course plays further havoc with statistical reliability.
A few hours after posting, a pal in Barcelona, where things are grim, alerted me to this 2019 Loughborough University survey of Bus Driver fatigue. Page 4, under the heading, Driver Survey, gives a London Transport total of 25,000 bus drivers, making nine deaths 0.036%. (My friend's daughter, a hospital nurse, says Barcelona's health infrastructure is pushed to the maximum. I'm looking for reliable information about the Spanish/Catalan situation re CV-19. Any suggestions as to scientific sources?)