On March 26 this year, Professor Sucharit Bhakdi wrote an open letter to German Chancellor, Dr. Angela Merkel. Those who understand German can find the original here. This unofficial translation by Swiss Propaganda Research begins:
Dear Chancellor,

As Emeritus of the Johannes-Gutenberg-University in Mainz and longtime director of the Institute for Medical Microbiology, I feel obliged to critically question the far-reaching restrictions on public life that we are currently taking on ourselves in order to reduce the spread of the COVID-19 virus.

It is expressly not my intention to play down the dangers of the virus or to spread a political message. However, I feel it is my duty to make a scientific contribution to putting the current data and facts into perspective – and, in addition, to ask questions that are in danger of being lost in the heated debate.

The reason for my concern lies above all in the truly unforeseeable socio-economic consequences of the drastic containment measures which are currently being applied in large parts of Europe and which are also already being practiced on a large scale in Germany.

My wish is to discuss critically – and with the necessary foresight – the advantages and disadvantages of restricting public life and the resulting long-term effects.

To this end, I am confronted with five questions which have not been answered sufficiently so far, but which are indispensable for a balanced analysis …
The five questions put by the highly cited1 Professor Bhakdi to Angela Merkel, and why in lay terms they matter, can be read in full via the German and English links supplied above. For those pressed for time, here's my summary:
Statistics: Professor Bhakdi asks: why have projections, on which "drastic" measures are being applied across Europe, not followed established infectiology procedures in distinguishing symptom-free infected people from actually sick patients?
Degree of danger: where CV-19 is decisive to a patients' illnesss, as opposed to just being present – see also point 4 – how does the impact on ICU capacity compare to other coronavirus infections?
Spread of infection: Has there been a random sample of the general population? If not, are mortality rates misleadingly high? And are those "drastic measures" a case of locking the stable door after the horse has bolted?
Mortality: German and most European medical guidelines require death certificates to give a causal chain showing death as, indeed, caused by the virus. (In the UK the Coronavirus Act 2020, in line with other states, allows "a doctor who has not seen a [care home] patient" to "sign the certificate relying on their knowledge and belief of cause of death".) Professor Bhakdi asks: has Germany simply followed this trend of a COVID-19 general suspicion? If so, how do we distinguish genuine corona-related deaths from accidental deaths where the virus was merely present?
Comparability. "The appalling situation in Italy is repeatedly used as a reference [but the picture is unclear] not only because of points 3 and 4 above but also because of exceptional external factors". One being air pollution, estimated by WHO in 2006 as causing 8,000 additional deaths per year in Italy's top thirteen cities. Another being atypical demography, with high numbers of elderly and high numbers of households with very young children. Professor Bhakdi asks: what efforts are being made to make the population aware of such key differences?
If the five points appear to lack orthogonality in my summary, that's in all likelihood because I don't get every nuance of what the professor is saying. But the gist is clear enough, and those who want more should study his letter at source or in translation, via the links given above.
Meanwhile, here's a question of my own. Why, when I do a search on sucharit bhakdi [blank] – where "blank" is a variable successively instantiated by Guardian .. Independent .. Times .. BBC .. Telegraph .. Morning Star – do I get no result? Only when I insert "Mail" do I get a return. And that only because of one man. As with aspects of the Syria narrative, columnist Peter Hitchens is asking pertinent questions no other mainstream media journalist seems prepared to ask.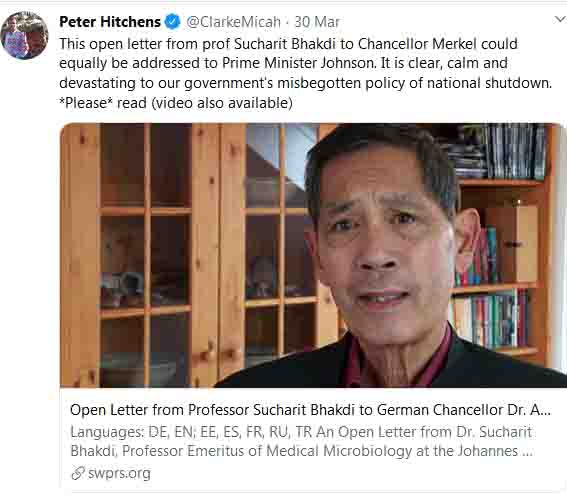 So now I'm asking them. Belatedly, some would say – and that's an aspect I will go into, but not here. I want to keep this post very simple; confined to those vital questions not being reported, far less addressed, in mainstream and Left media alike.
For the same reason I also won't be offering any theory – whether based on panic, conspiracy or other impulse – on why we might be stampeding down a blind alley teeming with all manner of dangers. I simply want in this post, and others yet to be written before I even consider any attempt at explanation, to profile expert voices2 currently sidelined despite – I won't at this stage say because of – asking key questions along the first of two related lines of inquiry:
How solid is the evidence that this virus poses a threat on the scale we're being told?
What are the costs – in economic, mortality, psychological health and civil liberties terms to name a few of the more obvious – of "the drastic containment measures", as Professor Bhakdi fairly calls them, we're being told are a right and necessary response?
* * *
Professor Bhakdi's research profile, given on this Semantic Scholar page, has number of publications at 358, of citations at 7,590 and highly influential citations at 402. He has a h-index of 45 where 20 is good, 40 outstanding, and 60 truly exceptional.