The text and image below are taken from the website of a Health Centre in the USA. Similar can be found in the UK's NHS literature and, I've no doubt, across the Western World at large.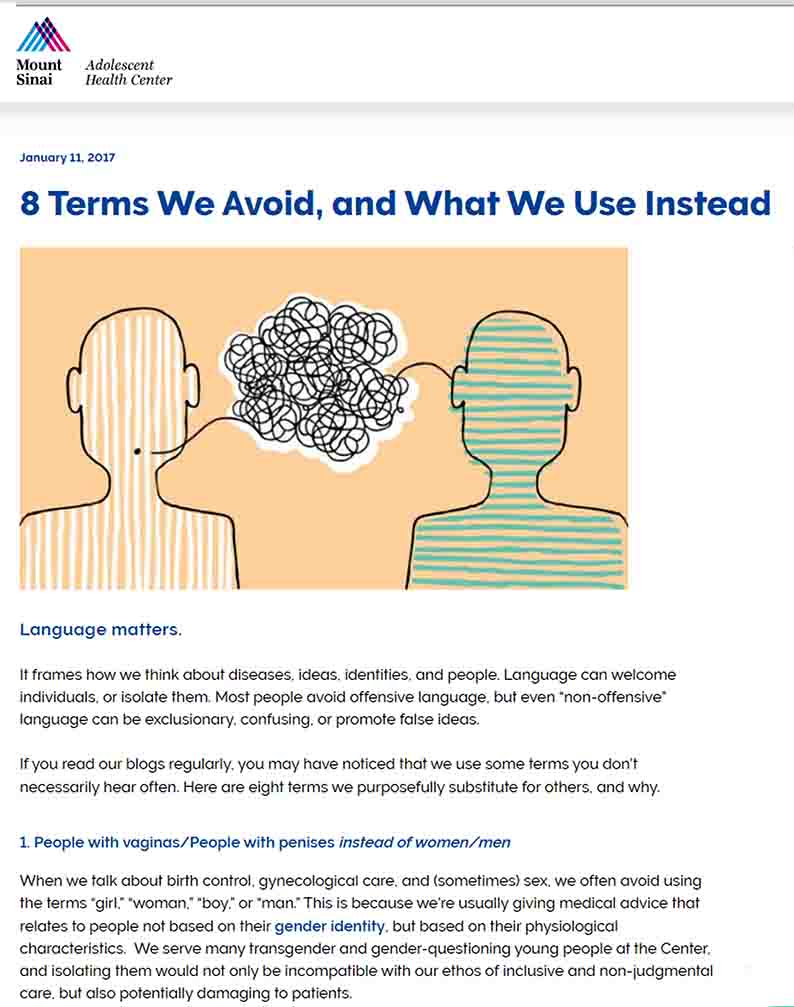 Yes, language does matter – it's right that 'spaz', 'nigger', 'queer'  and the like lost mainstream acceptability – but its fetishisation matters even more. The point goes beyond the transgender issue to Western fixation on 'identity politics' in general. This too has a tendency to overstate the importance of terminology. Caitlin Johnstone:
… in just 200 years we've progressed from expecting our leaders to slaughter brown-skinned people while saying racist things, to expecting our leaders to slaughter brown-skinned people while condemning racism …
Liberals who go apoplectic at the male universal pronoun, or pick up on such speech crimes as "blackmail"  and "this is a black day for …", have a way of staying silent (at best) in the face of "our" massively propagandised wars on the global south – wars in which not only those dark of skin suffer disproportionately but, only slightly less obviously, women too.
*
But let me get back to the specific matter of transgender. Here's a Facebook exchange from the days when I used to engage there.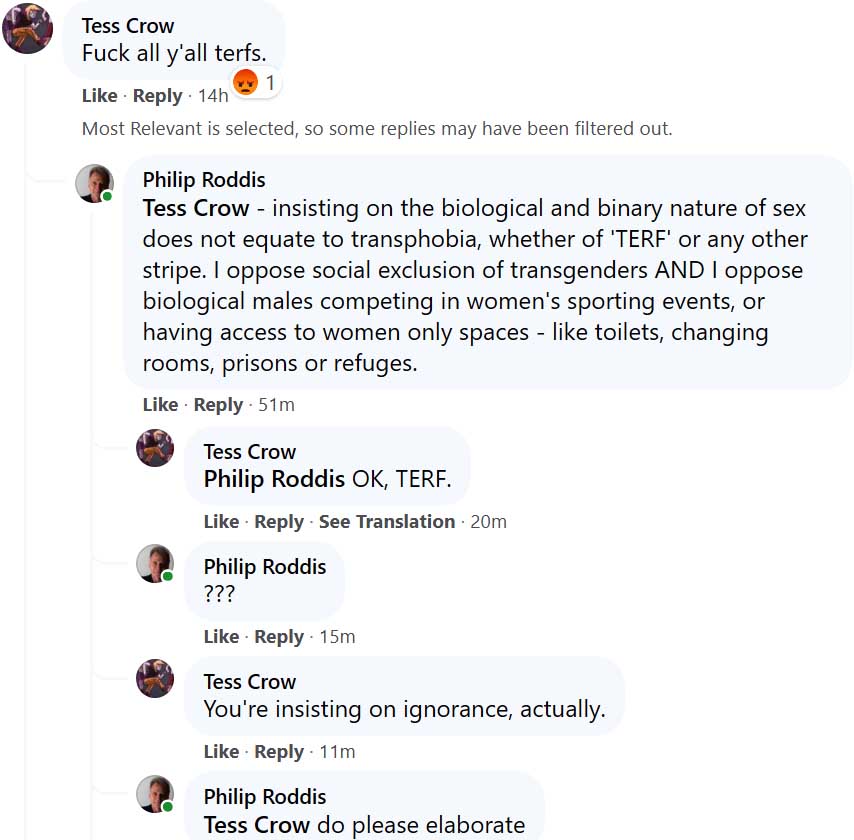 Tess Crow never did elaborate, but the transgender lunacy continues apace: a large slice of it arising, if you ask me, from widespread failure to disentangle three different things:
It is not OK to demean, discriminate or in other ways do unpleasant things beginning with the fourth letter of the alphabet to biological males who identify as female.
Asserting that sex is binary 1 can not (validly, and in the absence of any other indicator) be taken as a denial of the previous point. 2 3
Whether or not we think sex binary, the acceptance of "people with penises" into spaces hitherto reserved for "people with vaginas" – be they changing rooms, toilets, refuges for victims of domestic violence, jails or sports events – should ring alarm bells. All the more so given the astonishing speed and lack of public debate with which ideas many see as outlandish have been embraced by entitled elites whose decisions affect us all.
After TERF wars broke out in the early hours of yesterday (December 20) in Holyrood, between SNP and Scottish Tory MSPs, The Guardian reported:
Transgender 16- and 17-year-olds in Scotland are soon likely to be able to apply to change the sex on their birth certificate for the first time as MSPs debated long into the night the Scottish government's controversial plans to change gender recognition laws.
The marathon session – believed to be the longest ever sitting of the parliament – ended just after midnight and after only half of tabled amendments had been discussed.
It took place amid chaotic scenes at Holyrood, including disruption from the public gallery, uncertainty over whether certain amendments opened the bill to legal challenge, and attempts to delay proceedings into the new year.
Despite concerns among SNP backbenchers, some Labour members and the Tories, the SNP-Green majority in Holyrood means the bill is highly likely to pass its final stage during a crunch vote on Wednesday afternoon.
The bill will remove the need for a psychiatric diagnosis of gender dysphoria, and reduces the time someone must have been permanently living in their gender before they can apply – from two years to three months, or six months for people aged 16 and 17, with a three-month reflection period during which an individual can change their mind.
One protester in the public gallery shouted "shame on all of you, there's no democracy in here" after an amendment tabled by Scottish Tories' community safety spokesperson, Russell Findlay, seeking to prevent convicted sex offenders being allowed to change their gender was voted down ….
Emphasis added. For a more pungent account, see Stuart Campbell's Wings Over Scotland blog post today. (Thanks Dave Hansell.) Each of the 64 SNP members who voted against the Findlay amendment has their name and mugshot included in Campbell's Roll of Shame, with the litanically repeated wording:
… disgusting, spineless, rape-enabling handmaiden scum.
Below the line comments make unfavourable comparisons between Scotland's First Minister, Nicola Sturgeon, and convicted paedophile Ghislaine Maxwell, while a more nuanced view, given in a lawyer's tweet which also features in the post, carries weight with me: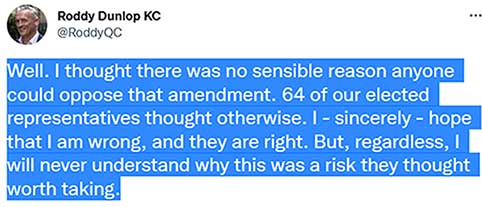 * * *
FWIW I agree with this, from a Fair Play For Women post in 2020: "The existence of only two sexes does not mean sex is never ambiguous. But intersex individuals are extremely rare, and are neither a third sex nor proof that sex is a "spectrum" or a "social construct." Not everyone needs to be discretely assignable to one or the other sex for biological sex to be functionally binary. To assume otherwise—to confuse secondary sexual traits with biological sex itself—is a category error."  Furthermore, as feminist blogger Contrarian Quinn argues – Everybody Knows What a Woman is, Including Trans Activists – "even if you accept that intersex people disprove binary sex (they don't) and sex is socially constructed (it's not) at best that would lead you to conclude there's actually no such thing as a "woman". This is not the conclusion trans activists want you to reach. They do think there's such a thing as a "woman" and are saying it's what trans women are."
Asserting that sex is – or is not – binary has acquired protected belief status. It is now unlawful in Britain to discriminate against a person on the basis of their beliefs, one way or the other, on this question. That's thanks to an Employment Appeal Tribunal ruling on the Maya Forstater case.
In cordial exchanges with Contrarian Quinn, below the post cited in footnote 1, she said to me: "The Maya Forstater ruling [footnote 2] was troubling but it would have also been troubling even if it had worked out in Maya's favour … [which it subsequently would, due to the EAT ruling noted in footnote 2] … because that would have established the belief in two human sexes as being protected on the same basis as religious and philosophical beliefs, which is also not good. That humans reproduce sexually and that there are two sexes is not akin to a religious belief, it's objective fact that is obvious to everyone (including the sex-denialists)."   I sympathise – these questions are not mooted in a vacuum: they have real world consequences – but distance myself from CQ's argument. Protected belief status can't be premised on scientific acceptance. If one belief is to be protected, so should all, however preposterous. If I think Elvis Presley alive and running a fish and chip shop in Rotherham – or, less plausibly, that Sheffield United have a fighting chance of winning the FA Cup – should these be sackable offences? OK, maybe they should at that … You get my point though. The whole notion of protected beliefs – or of outlawed beliefs like "holocaust denial" in Germany – is a seriously slippery slope; one we cannot make safer by distinguishing 'science' from 'religion'.