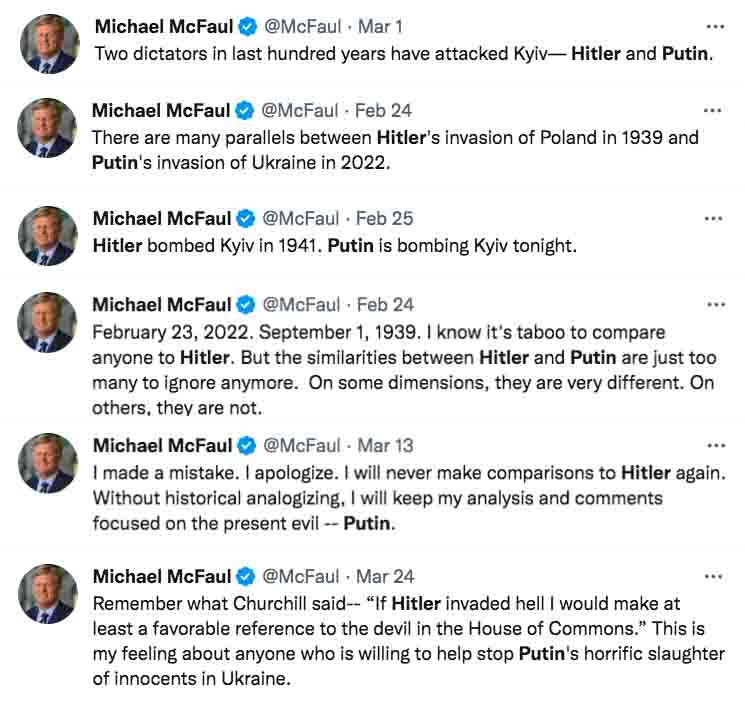 The US Ambassador to Russia taking to Twitter with a widely held view of President Putin, one echoed in the image below 1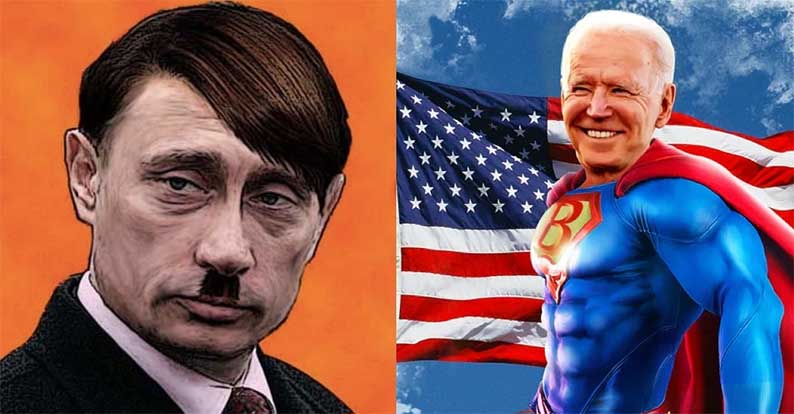 It's occasionally put to me that, were I a citizen of Russia or China, I wouldn't be free to criticise my government the way I am as a citizen of a Western democracy. 2 Of several responses I can make, I'll settle for this one. My freedom to publish this blog is heavily contingent on its fringe status, drowned out by mainstream corporate media (see footnote 2). In a situation of declared emergency, one sign being people turning en masse  to blogsites like this, dissident voices like mine would be shut down and the publishers criminalised. 3
We're not a democracy. It's a terrible misunderstanding and a slander to the idea of democracy to call us that. In reality, we're a plutocracy: a government by the wealthy.
Ramsey Clark, former U.S. Attorney General

To see how power behaves when it feels threatened, look to Julian Assange, to the blocking of Russian online media – even though "we" are not at war with Russia – and to the censorship of social media by their oligarch owners. Look also to America's Patriot Act and the UK's Police, Crime, Courts and Sentencing Act. Though liberals still don't see it, the signs are plentiful that ruling classes in the west are tooling up for dissent as the social contract continues to unravel.
But why are voices like mine on the fringe? Because inherently absurd? I'm biased of course, but on the most important issues addressed in these posts, the facts – and do feel free to challenge me on this – support my claims and not those of corporate media. But then, in the manufacture of public opinion, media narratives in tune with cradle to grave ideology – "we in the freedom-loving West are the good guys" – trump evidence and reason at every turn. 4
Take Ukraine. The frequency with which Washington's undeclared war on Russia is referred to as "Putin's war" – today Richard Murphy, who otherwise has my qualified respect, does exactly that – points to this form of words having been framed by editors, proprietors and BBC top brass – if not by deep state intervention. At any rate, journalists who know which side their bread is buttered intone the officially sanctioned phrase with dutiful regularity. 5 Yet the facts – decades of Russia's attempts at diplomatic solutions to her legitimate security needs having fallen on deaf ears 6 – say otherwise.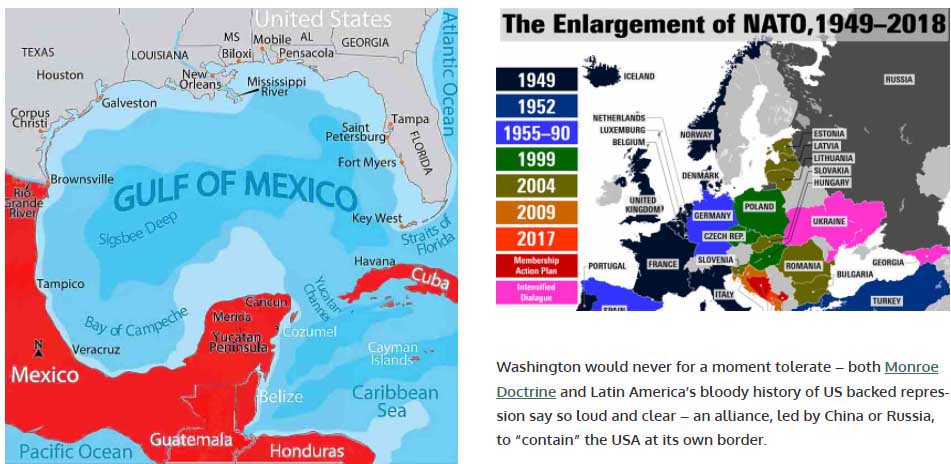 If pictures are worth a thousand words, maps can be worth a million. America did all it could to provoke "Putin's war". And as Caitlin documents below (her embedded links repay the effort of following up) America continues to block attempts at peaceful resolution.
Cue for me to hand over to another fringe commentator, albeit one with a far higher following than I have. Here's Caitlin Johnstone on The Official Narrative on Ukraine:
The official narrative promoted by the entire western political/media class is that Vladimir Putin invaded Ukraine in February of this year solely because he is evil and hates freedom. He wants to conquer as much of Europe as possible because he cannot stand free democracies, because he is another Adolf Hitler.
The official narrative is that while Russia is in Ukraine solely because its leader is an evil monster like Hitler, the US is in Ukraine solely because its leaders are righteous. The United States is providing arms, military intelligence, and assistance on the ground from special ops forces and CIA officers to Ukraine, as well as implementing an unprecedented regime of economic warfare against Russia, solely because the US loves its good friends the Ukrainians and wants to protect their freedom and democracy.
If you dispute any part of the official Ukraine narrative, you are an evil monster, and a disinformation agent. Because Vladimir Putin is the same as Adolf Hitler, you are also the same as Neville Chamberlain, guilty of the cardinal sin of supporting appeasement.
Because you are an evil disinformation agent Neville Chamberlain appeasement monster, it is legitimate to censor you. It is legitimate to accuse you of being secretly paid by the Russian government. It is legitimate to swarm you with coordinated astroturf trolls working to shout you down and overwhelm you. It is legitimate to publish propagandistic smear pieces about you. All normal expectations of public discourse go out the window, because you are a monster, not a person.
If you are tempted to ask questions which put a wobble on the official narrative, you must resist this urge at all cost. Don't ask why western officials, scholars and strategists have spent years warning that the actions of western governments would lead to this war. Don't ask what people are talking about when they say the US provoked this war, or when they say the US is using this war to advance strategic agendas it has had in place for years, or when they suggest that these things might have something to do with why the US is obstructing diplomatic solutions at every turn. If you ask questions like these, you are the worst person in the world.
Per the official narrative, if you confront powerful lawmakers on their support for US interventionism in Ukraine, you are "parroting pro-Putin talking points" and spreading "Russian disinformation". Questioning officials of the most powerful government in the world about the most consequential decisions being made in the world is violence, and is not allowed.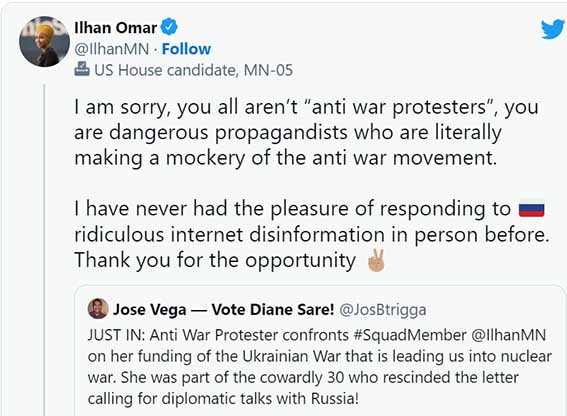 The context for this exchange, cited by Caitlin, is given here. Below is a sample of replies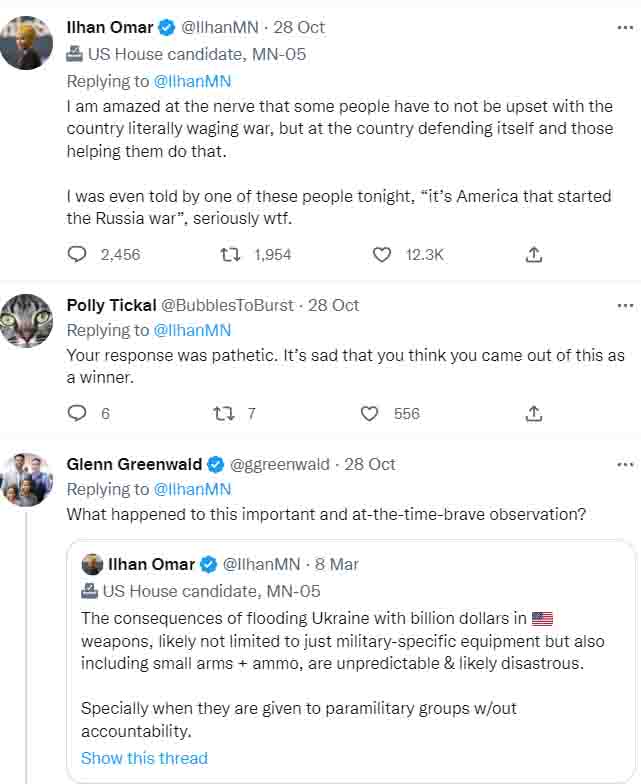 If you claim you are objecting to the US using proxy warfare in Ukraine on anti-war grounds, you are lying; you are not anti-war. You are only anti-war if you support the same positions on Ukraine as noted anti-war activists John Bolton, Bill Kristol, Tom Cotton, and Mike Pompeo. Anyone advocating diplomacy, de-escalation and detente is an evil warmonger, like Hitler. If you want to learn about the true anti-war position, consult reliable anti-war publications like The New York Times and The Washington Post.
The official narrative on Ukraine is that the US empire and its media never lie or circulate propaganda about wars that the US is involved in. If you dispute this, you are lying and circulating propaganda. That's why it's necessary to have so much censorship and organized trolling and mass media reports reminding you how good and righteous this war is: it's to protect you from lies and propaganda.
If any part of the official narrative on Ukraine sounds suspicious to you, this means you have been infected by Russian disinformation. Do not breathe a word of the thoughts you've been thinking to anyone, or else you will be guilty of spreading Russian disinformation and will become the enemy of the free world.
Remember, good citizen: we must oppose Russian propaganda at all costs to protect our western values of free expression, free thought, free press, and free democracy. So do not question any part of the official Ukraine narrative. Or else.
* * *