Condemning Putin is the safest, most redundant and least courageous thing that anyone in the western world can do right now. What's a lot harder is taking a bold stand against the west's depraved role in getting this war started and keeping it going.
Caitlin Johnstone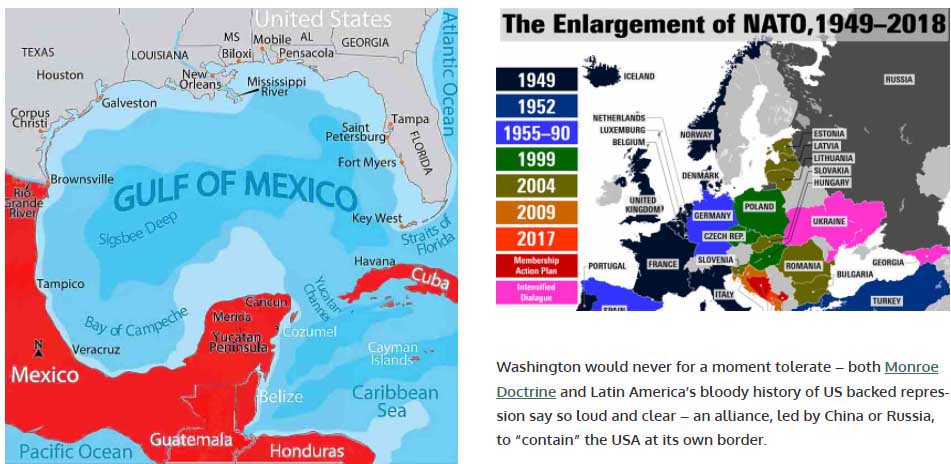 Monbiot revives a CIA black propaganda talking point. [John] Pilger is discredited not because his facts are wrong – after all, they're well documented, including by senior US officials – but because bad people have shared them on the net. It's a puerile argument … popular [too] with the Israel lobby. Write a piece exposing ugly facts about Israel and they'll scour the net till they find a neo-Nazi site that republished it. Then they don't need to address the facts. Truth becomes a lie just because it serves Nazi interests too.
Jonathan Cook (below)
Following my post earlier today, featuring a Caitlin Johnstone offering, I'm recycling something I first posted eight months ago to the day.  1 Though the immediate subject is George Monbiot's attacks on leftist critics of the US Empire in respect of its war in Ukraine, 2 many of Jonathan Cook's points, to which Monbiot has not responded – how could he? – have wider applicability. Indeed, in categorising this post, I've added the 'science and reason' tag to the more obvious 'ukraine war' and 'media' tags. 3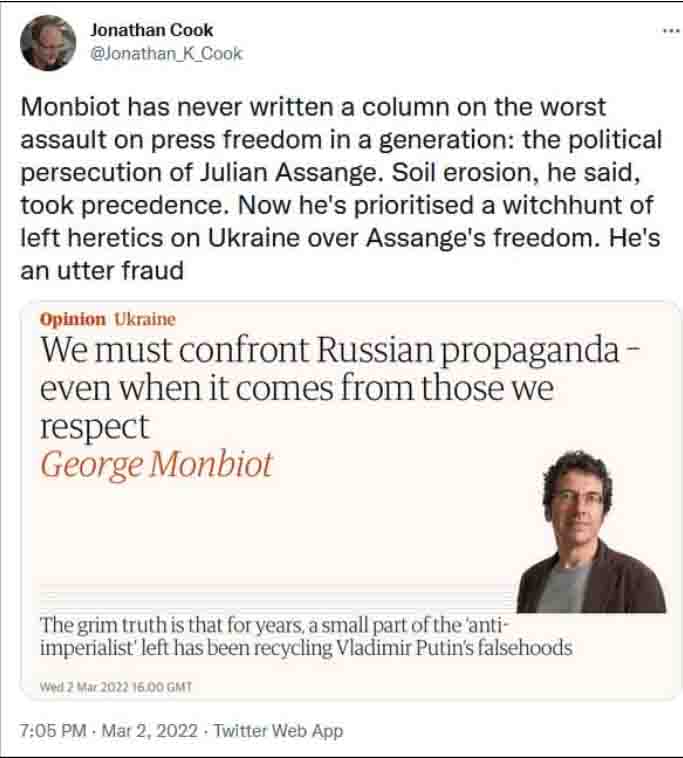 Click on the above screenshot to access the George Monbiot article.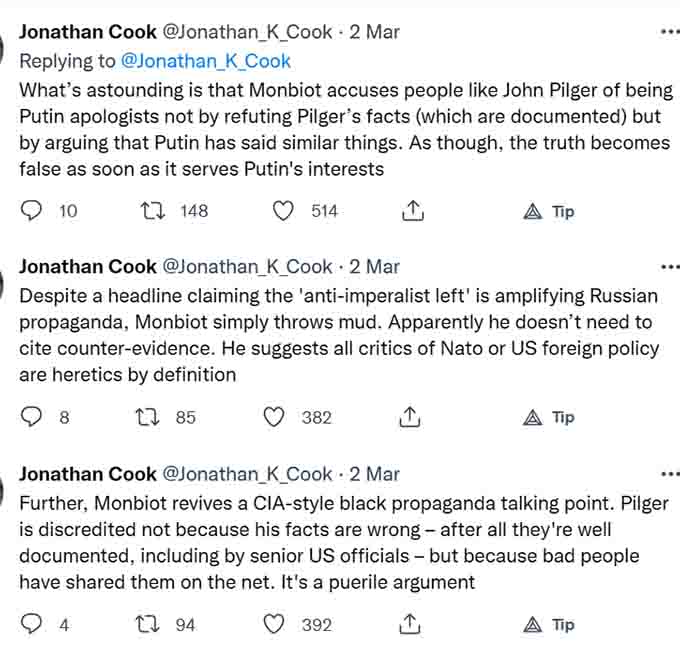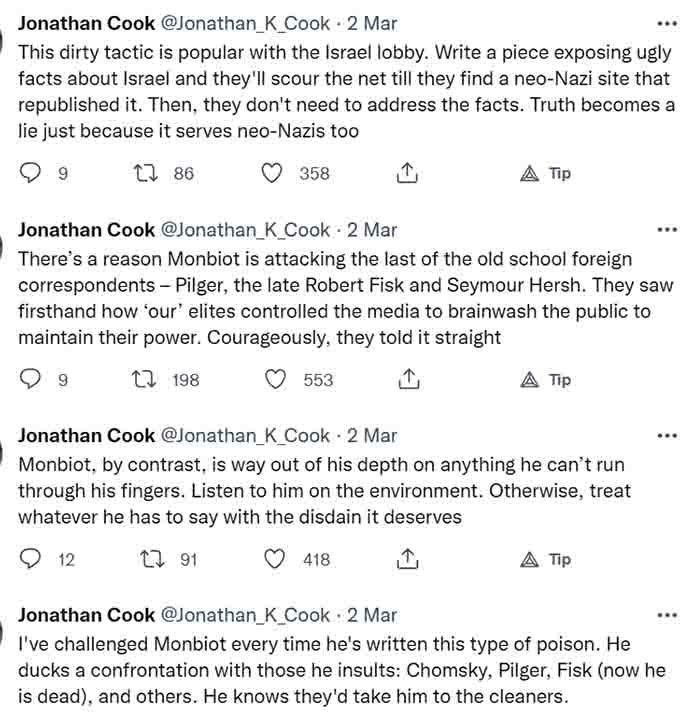 * * *
A comment below my March 6 posting opined that "someone is paying [Monbiot] big bucks to turn out this manure". I doubt that. See my November 2017 post, Monbiot, Syria and Universalism.
I've yet to see George Monbiot acknowledge the existence of the US empire; a blindness he shares with other media house leftists like Owen Jones and my erstwhile Workers Power comrade, Paul Mason. So deafening a silence, while enjoying the adulation of the less critical left, invariably leads to an unedifying siding with power. As Jonathan noted in another context: Monbiot has repeatedly denied that he wishes to see a military attack on Syria. But if he weakly accepts whatever narratives are crafted by those who do – and refuses to subject them to meaningful scrutiny – he is decisively helping to promote such an attack.
The services to empire of tame leftists are invaluable. Says Chomsky: "T

he smart way to keep people passive and obedient is to strictly limit the spectrum of acceptable opinion, but allow very lively debate within that spectrum – even encourage the more critical and dissident views. That gives people the sense there's free thinking going on, while all the time the presuppositions of the system are being reinforced by the limits put on the range of the debate." 

And as I put it in Britain decides, "a liberal intelligentsia which would never have bought the character assassinations of Julian or 'Jezza' from Mail, Sun or Telegraph lapped up the vilest trashings of both men in the Guardian."  In footnote 3 of my January 23 post this year, Monolithic control at the Guardian, I wrote: "[Just] as the Guardian confers liberal respectability on a rotten status quo, so do writers like George Monbiot (excellent on linking ecocide to big money, dire on Syria) and Owen Jones (author of such worthy tomes as The Establishment, useless when his employer was trashing Corbyn) give left cover to the Guardian."  In none of this, however, do I accuse such writers of conscious bad faith (can't extend that courtesy to Paul Mason, I'm afraid, given the political education he received in Workers Power) though at times they sail close to the wind. In the main, as implied in footnote 1 above, I see them as confused precisely because their humanist 'universalism' makes them useful idiots, easily duped by the agendas of an empire to whose existence they remain for all practical purposes oblivious.