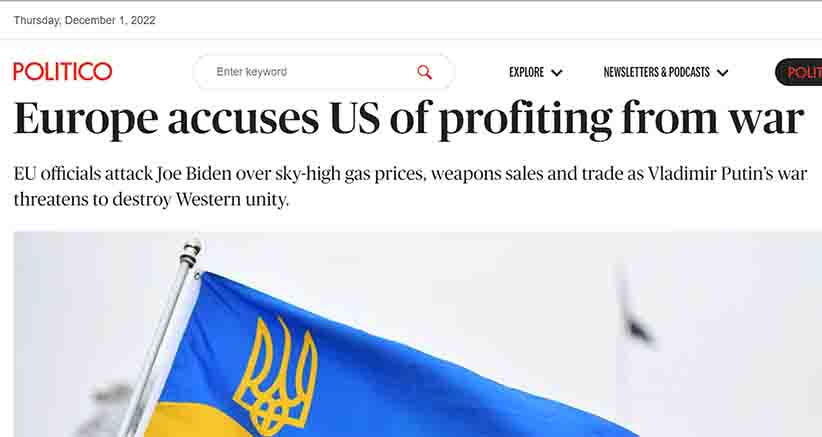 In my last post but one, written just yesterday, I wrote of the USA having two war aims in Ukraine:
Regime change in Moscow or, failing that, weakening Russia in a long and costly war of attrition. (While business booms for America's $1tn a year for-profit arms industries.)

Coercing Europe, Germany especially, into greater reliance on Washington as the craven leaders in Berlin – doubtless with heavy hearts – forego lucrative business contracts with Russia and hence China in favour of appeasing an increasingly unappeasable Uncle Sam.
I've touched on that second aim several times in posts on the war.  A week ago, on November 24, the centre-left American-German publication, The Politico, added its own two penn'oth:
Europe accuses US of profiting from war
EU officials attack Joe Biden over sky-high gas prices, weapons sales and trade as Vladimir Putin's war threatens to destroy Western unity.
"… barefaced whopper of the kind only the USA can get away with …"   I'm minded here of the late Harold Pinter in his 2005 Nobel acceptance speech:

The crimes of the USA have been systematic, constant, vicious, remorseless, but very few have talked about them. You have to hand it to America. It has exercised a quite clinical manipulation of power worldwide while masquerading as a force for universal good. It's a brilliant, even witty, highly successful act of hypnosis.

My use of 'semi colony' for Europe's status vis a vis the USA is cavalier. The term is more usually reserved for indirect rule, aided by a comprador class, of a state – almost always a former colony under direct rule – within a context of modern imperialism. (As defined by the export from global north to south of capital, and repatriation from south to north of profits.) I'm misapplying the semi-colony term here in a spirit of disdainful hyperbole, when a more accurate descriptor would be 'Washington's junior partner in alliances – de jure  or de facto – which in 'normal' times disguise underlying conflicts of interest.'