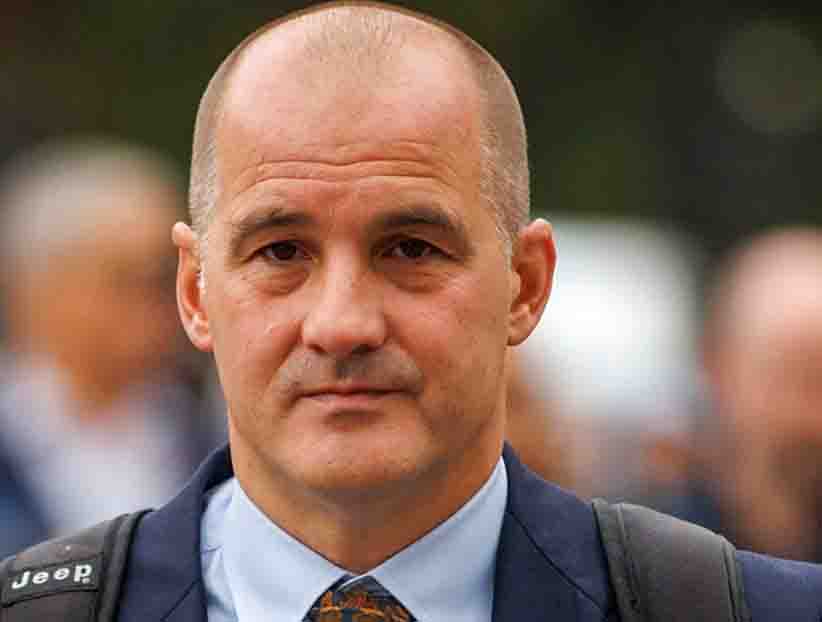 Conservative Party Chairman Jake Berry
Is The Sun, Britain's biggest selling newspaper, about to switch its support from Tory to Labour? It wouldn't be the first time. After owner Rupert Murdoch was assiduously courted by Tony Blair in the late nineties, with John Major's Conservative government eating itself alive, it did just that to deliver a Labour landslide in 1997. 1 2
You may recall Peter Mandelson – still flushed with victory not only over the Tories but his own party's left wing – saying that so long as they pay their taxes, he was "intensely relaxed about people getting filthy rich". 3 The implication was clear. For all that the 'trickledown economics' invoked by Margaret Thatcher to defend soaring inequality had been empirically debunked by advances in technologies for collecting and crunching big data, this party kingmaker 4 was still a true believer.
Yesterday, October 2, The Sun wrote:
PEOPLE struggling with spiralling costs should find a better-paid job or cut back on their spending, the Tory chair Jake Berry has said. He told Sky News yesterday: "People know when they get their bills, they can either cut their consumption or get higher salaries or higher wages, and go out there and get that new job.
"That's the approach the Government is taking in trying to create growth."
Labour deputy Angela Rayner last night said: "These comments show just how out of touch with reality Liz Truss's Tories are." She added: "Jake Berry thinks people consigned to low pay can simply magically upgrade to a higher wage job."
"While the Tories arrogantly blame working people and tell them once again to 'get on your bike', Labour has a plan to end work poverty with a genuine living wage for all."
That last I doubt, given Labour's ideological inability to acknowledge, not selectively but in its entirety, the state Britain is in; its car crash Brexit, 5 privatised energy sector and – even by the West's standards – hyper-financialised rentier  economy compounding more general problems of a FIRE led West now perilously exposed by China rising, and of blowback from an economic war on Russia in which Europe's interests have been subordinated to America's. Still less, after thirty months in which its only coherent policy has been that of purging its left elements, does it have any credible answers. But these are subjects for other posts. This is about the economic fairy tales guiding government policy.
Before getting to those, however, let's stay a while longer with the arrogant certainties not only of Jake Berry, who you may recall had a walk-on part in the Rupa Huq affair, but those who now hold high office. Two days ago The Times, another Murdoch organ, said this:
A tendency to arrogance – but also undoubted cleverness – is a common theme that many people who have worked with the new chancellor seem to report. This was the case even among fellow Tories, before he angered them with his politically and economically explosive mini-budget.
One former cabinet minister who worked with Kwarteng as business secretary described him as having "the concentration span of a gnat" and an inability to sit through anything other than very short meetings. "He was never remotely interested in other people's point of view," the former minister said.
"I found him very odd to deal with … but there is an intellectual arrogance about Kwasi and Liz [Truss] and Jacob [Rees-Mogg] and those four to five people at the top. They genuinely do think they are cleverer than anyone else and that other people's views are slightly tiresome."A second former cabinet minister told another MP just last week they had found him "extremely difficult" to get on with.
And a third Tory MP who has worked closely with Kwarteng called him "the worst combination of laziness and arrogance" …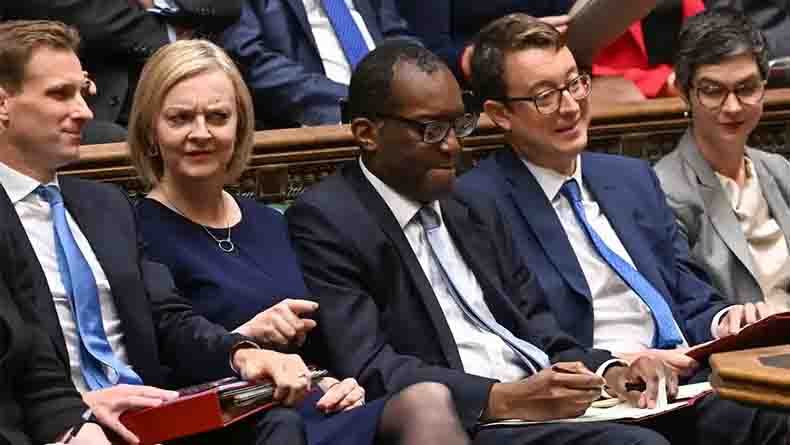 But it is a guest writer in The Guardian who offered the most insightful assessment of that lazy arrogance. Former Tory MP Nick Boles began a September 29 opinion piece with this:
Liz Truss and Kwasi Kwarteng possess a level of intellectual self-confidence usually found among undergraduates. They always have. Since 2010, when all three of us were first elected, they have known what they believe – and have viewed those who didn't agree with them, or didn't share their unshakeable certainty, with amiable contempt.
[These are] people who despise compromise and lack all humility. Every decision they have made in the past few weeks has its roots in the book they published as newly elected MPs, Britannia Unchained. At the time it was viewed by most MPs and commentators as a harmless, if needlessly provocative, attempt by some young thrusters from the Conservative party's right wing to get noticed. But ideas that survive the editorial process of a political publication can cause serious harm when crudely applied without regard to evidence or context. Having imbibed a simplistic version of Ronald Reagan and Margaret Thatcher's economic doctrines in their late teens, they have never asked themselves how likely it is that the same recipes will work 30 years later.
Policy wonks are often dazzled by the simplicity and clarity of an intellectual theory. I know because, like the prime minister, before entering parliament I was one. But real life and a modern economy do not conform to ideological constructs. The UK is dealing with an unprecedented combination of challenges: an ageing workforce, an energy supply shock caused by a European war, the sudden erection of trade barriers between British businesses and their largest export market, and supply chains that have been upended by a global pandemic. Claiming that cutting taxes on the richest individuals and largest companies will lead to a surge in economic growth betrays a wilful naivety.
If you look at the evidence, and evaluate the relative performance of advanced economies over the past 15 years, as the Resolution Foundation's Economy 2030 inquiry recently did, you discover that low rates of taxation do not automatically produce high rates of growth in productivity, GDP per capita or living standards. What does is sustained and substantial investment by government and businesses in infrastructure and research, the adoption of new technologies and the improvement of workers' technical skills. The sobering truth is that for most of the past 30 years, government and businesses in the UK have done far too little of any of this. With their obsessive focus on tax rates and deregulation, Truss and Kwarteng seem to have learned nothing from the superior performance of the countries most similar to our own – France, Germany, the Netherlands – in the three decades since their ideological heroes left office.
There's a good deal I could take issue with in the above, but as a picture of the messianic gleam in the zealot's eye – window on that brand of ideological certainty which transcends mere facts, let alone reason – it's the best I've read. And as you see, I've consulted Tory media no less than those of liberal stripe.
But since all three of the above extracts – respectively, Sun, Times and Guardian – appeared, the Tory Party Conference has handed TrussTweng its head on a platter. The Daily Mail today:
The Lady IS for turning! Liz Truss and Kwasi Kwarteng DROP plan to axe top 45p tax rate saying 'we have listened' after huge Tory revolt led by Michael Gove – but Chancellor insists it WASN'T a mistake and refuses to rule out MORE U-turns
The Government has U-turned on the 45p tax rate row after following a huge Tory revolt over the move 
Prime Minister Liz Truss and Chancellor Kwasi Kwarteng backtracked amid threat of losing Commons vote 
U-turn on the policy viewed as the price of shoring up Tory support for the rest of the mini-Budget measures 
Liz Truss and Kwasi Kwarteng today executed an extraordinary U-turn on plans to scrap the top rate of tax to head off a massive Tory revolt.
The PM and Chancellor will no longer axe the 45p rate for people earning more than £150,000 a year after it became clear dozens of MPs would refuse to back the move in the Commons. 
'We get it and we have listened,' Mr Kwarteng posted on Twitter. 'It is clear that the abolition of the 45p tax rate has become a distraction from our overriding mission to tackle the challenges facing our country' …
… [Kwarteng] refused to say the word 'sorry', but said: 'There is humility and contrition… I am happy to own it' … He also dodged as he was pressed on whether there could be more U-turns. 
The Pound surged nearly a cent against the dollar to $1.12 on the news, although it drifted down again afterwards. That is close to the level it was before the mini-Budget was announced on September 23 – sending it to an all-time low of $1.03. 
The huge shift followed Michael Gove and Grant Shapps putting themselves at the head of the rebellion, warning the measure would be a 'massive distraction' and politically toxic …
Only yesterday Ms Truss took to broadcast studios to defend the plan and deny there would be a rethink – although she was also accused of throwing Mr Kwarteng 'under the bus' by saying he had made the decision to go ahead … 
We shouldn't be surprised at Truss distancing herself from Kwarteng. As I noted in my last post but one, she personifies Groucho Marx's quip:
I got principles. And if you don't like 'em; well, I got others …

Twitter this morning
Nor should we be fooled by the entry of Michael Gove as a voice of sanity and moderation. He is concerned with the optics. As indeed are Tory backbenchers, and not just those holding red wall seats and by that fact acutely vulnerable to a backswing in 2024. Not that we can rule out, in the case of Michael Gove – himself no stranger to o'erweening pride – those jealousies and vitriolic rivalries which periodically burst into the open in his party.
Me, I note the lousy economics. In the third of my Michael Hudson posts I wrote:
As globalised capital-labour relations shift value creation southwards, exploitation in the north takes the form of rising indebtedness by the many to the few in rents, mortgages, student loans, regressive taxation, and insurance. That last sheds light on mounting pressure to privatise European healthcare in line with an inefficient but – for the 0.1% – lucrative US model. Most of the pressure is covert, as in cuts to Britain's NHS in the name of an 'austerity' missold, to an electorate of induced economic illiteracy, through homely but specious analogies with household budgeting. In the immiseration which ensues, injections of private cash – up front and headlined, while the small print houses eyewatering repayment terms – are hailed as lifelines. Emphasis added.
If 'trickledown' is the first of the economic fairy tales I have in mind, another is that the material problems confronting British capitalism can be reduced to the psychological one of its workers being, as Truss et al  have it in Britannia Unchained, "among the worst idlers in the world". A third is given in the extract immediately above: that Britain's economy can be usefully likened to that of a household, in which belts must be tightened in straitened times.
In this case the three fairy tales combine with mutually reinforcing effect. Add in the detached arrogance of Truss, Kwarteng and Berry 6 and it's small wonder that Tory backbenchers fear for their seats. 7 Below is a comment on Richard Murphy's blog yesterday, October 2. Mr Murphy is a tax specialist and champion of a modern monetary theory which, for all the political naivety of many of its advocates, 8 is streets ahead, in intellectual coherence and rigour, of mainstream orthodoxy. 9
So here's what one Ian Stevenson had to say below the line:
Jake Berry, Conservative Party Chairman: "I don't think it's unreasonable to say that the public sector should look at its expenses in the same way that every single household is doing in this country."
What we've heard from the government is there's going to be a drive to trim fat in terms of government expenditure."
The economic illiteracy is staggering. The Paradox of Thrift as Keynes explained it. If the public and private sector both cut spending, both experience a loss of income.
When there are not enough doctors and nurses, when teachers are helping kids to buy a lunch even though their own salaries have fallen in real terms, I think we can say, 'there is no fat.'
And with that economic illiteracy, the heartlessness served up as realism is equally staggering.
* * *