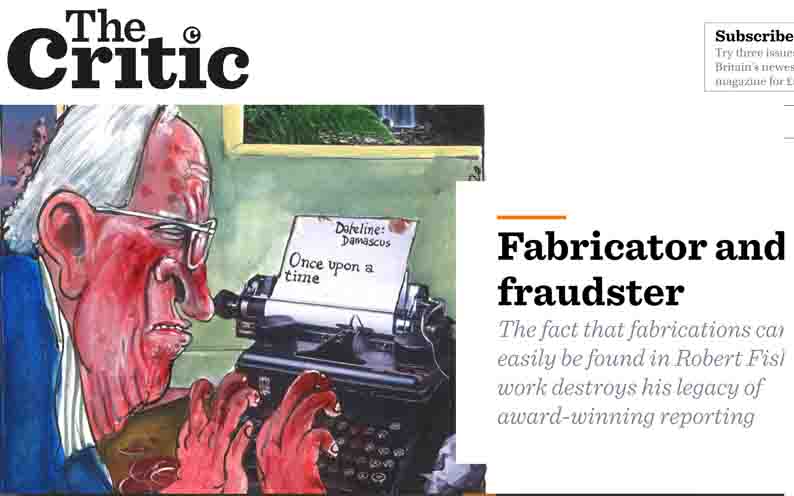 Today I came across a piece in The Critic, a rag I hadn't heard of so I checked it out. Its arrival a year ago was as new entrant to the 'thinking man's debunker of left wing twaddle' market, and its funder is Jeremy Hosking, ranked by Forbes at position 351 with £375 million to his name.
One of its two editors is Christopher Montgomery, ex ERG (Tories for a hard Brexit) and one time Chief of Staff to Ian Paisley's old firm, the DUP. The other is right wing libertarian Michael Mosbacher, his CV taking in Adam Smith Institute, Thatcherite Social Affairs Unit, Taxpayers Alliance and Libertarian Alliance.
The piece I read – Fabricator and Fraudster – is a takedown of the late Robert Fisk by Oz Katerji, known to some of us as an ardent attack dog for empire. He begins:
Robert Fisk was as close to a celebrity as is possible for a foreign correspondent. I met him after a lecture in 2010. For a young journalist in the first few months of my career, it was like meeting David Beckham. I remember the words he said: "The Middle East is not a football match. It's a bloody tragedy, and journalists have a responsibility to be on the side of those who suffer."
But it wasn't his charismatic speech in 2010 that had influenced my understanding of the Middle East. It was learning that Fisk was a fraud, a fabricator and a fantasist … guilty of the same "propaganda campaigns" he accused the Western media of conducting.
Which prompted a response from Jonathan Cook, a week ago in CounterPunch. He begins:
Leading journalists in the corporate media have suddenly felt the need not only to criticise the late, much-respected foreign correspondent Robert Fisk, but to pile in against him, using the most outrageous smears imaginable. He is suddenly a fraud, a fabulist, a fantasist, a liar.
What is most ironic is that the journalists doing this are some of the biggest frauds themselves, journalists who have made a career out of deceiving their readers. In fact, many of the crowd attacking Fisk when he can no longer defend himself are precisely the journalists who have the worst record of journalistic malpractice and on some of the biggest issues of our times.
At least I have the courage to criticise them while they are alive. They know dead men can't sue. It is complete and utter cowardice to attack Fisk when they could have made their comments earlier, to his face. In fact, if they truly believed any of the things they are so keen to tell us now, they had an absolute duty to say them when Fisk was alive rather than allowing the public to be deceived by someone they regarded as a liar and fantasist.1 They didn't make public these serious allegations – they didn't air their concerns about the supposedly fabricated facts in Fisk's stories – when he was alive because they know he would have made mincemeat of them.
Most preposterous of all is the fact that the actual trigger for this sudden, very belated outpouring of concern about Fisk is a hit-piece written by Oz Katerji. I'm not sure I can find the generosity to call Katerji a journalist. Like Elliot Higgins of the US government-funded Bellingcat, he's more like an attack dog beloved by establishment blue-ticks: he is there to enforce accepted western imperial narratives, disguising his lock-step support for the establishment line as edgy, power-to-the-people radicalism.
I'm biased of course, since I loathe what Katerji stands for and admire what Cook does. So why not read the two pieces? One of them actually uses evidence.
* * *