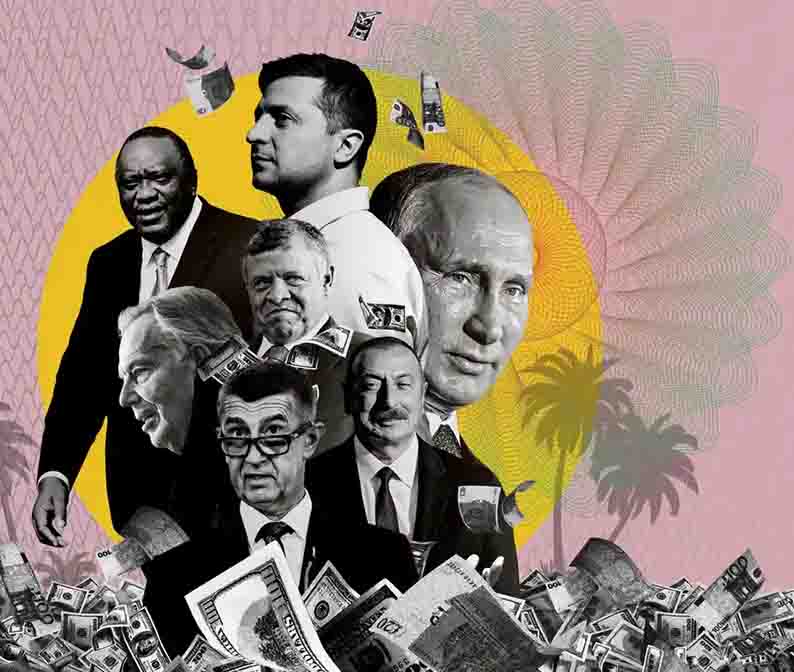 Image from The Guardian, October 3
Here's how the Guardian opened its coverage of the Pandora Papers. Whose face is the most instantly recognisable? Whose, and by a hefty margin, the largest?
You wouldn't know it from this pictorial smear but the Papers do not name Vladimir Putin. (They do name Tony Blair, whose face does not grace the image.) Guilt by association – if you have a better explanation I'm all ears – is ample justification, in the Guardian editor mindset, for giving such prominence to the Russian leader in its opener to a tale of sleaze in high places. 1
Says Al Jazeera on October 4:
Putin is not directly named, but is linked via associates to secret assets in Monaco, notably a waterfront home acquired by a Russian woman reported to have had [his] child  …

Kremlin spokesman Dmitry Peskov on Monday slammed the leaks as "just a set of largely unsubstantiated claims".

"We didn't see anything on hidden wealth within Putin's inner circle," Peskov said, adding it was not clear "how this information can be trusted".

The leaks reveal that the $4m Monaco property was purchased through an offshore company [in] 2003 for the woman – a native of Putin's hometown Saint Petersburg.

"If there are serious publications, that are based on something concrete and refer to something specific, then we will read them with interest," said Peskov.
The Guardian has been one of the most effective propagandists – including by publishing lies it will neither defend nor retract – for the dangerous cold war on Russia, and now China too. Meanwhile the crude but effective tactics of Joe McCarthy – guilt by association and inversion of the presumption of innocence – have in recent years resurfaced in the name not of patently right-wing causes but of seemingly liberal values.
I've written on this subject in the contexts of 'anti-semite' witch-hunts within the British Labour Party. And in 'transphobe' parallels within the same organisation. All – with #MeToo a third example 2 – have been conducted in the name of progressive ideals. And all threaten hard won principles of justice in ways that serve the interests of power. This is most obvious with the 'anti-semite' charge, which serves to intimidate Israel's critics and, by fuelling civil war in the Labour Party, did so much to face down the Corbyn challenge to a rotten status quo. It is also obvious in the heavily linked trials of Alex Salmond and Craig Murray. In more diffuse ways it applies too to the weaponising of 'transphobia'.
I could go on. I could cite use of rape smears to rob Julian of 'woke' support, and the addition of homophobia to the charge sheet against Mr Putin. (As if such an allegation, true or false, had a scintilla of relevance to global realpolitik as distinct from liberal opinion manufacture.) But let me stick with a few basic points in respect of the Pandora Papers.
First, as veteran speaker of truth to power John Pilger tweeted on October 5:
The ICIJ [International Consortium of Investigative Journalists] which leaked the Pandora Papers reportedly identified 336 corrupt politicians but failed to find a single corrupt American politician. The ICIJ is supported by the Ford Foundation, Georges Soros and has links to USAID and the State Dept. 3
This is not me applying a spot of guilt by association of my own. In this world of compromised information, to show how power-serving platforms are funded – media beholden to market forces … hired experts who question the reality of global heating … think tanks which warn of a foreign threat against which 'our' governments must up their arms-spend – is an elementary duty for would be speakers of truth to power.
Second, I have no ties to WSWS, and on some issues disagree sharply with its positions. Even more fundamentally I do not share its optimism in the potential for revolutionary change within the West. But as it rightly noted of the Pandora Papers, also on October 5:
… like the previous exposures by the ICIJ, there is a startling gap between the financial details revealed [about] official enemies of US imperialism, compared to Americans. Of the 336 politicians identified in the leaks, none are from the USA, while 19 Russian and 38 Ukrainian politicians were identified [despite the ICIJ having] found over $1 billion held in US-based trusts, integral tools for tax avoidance and money laundering.
Meanwhile on Facebook …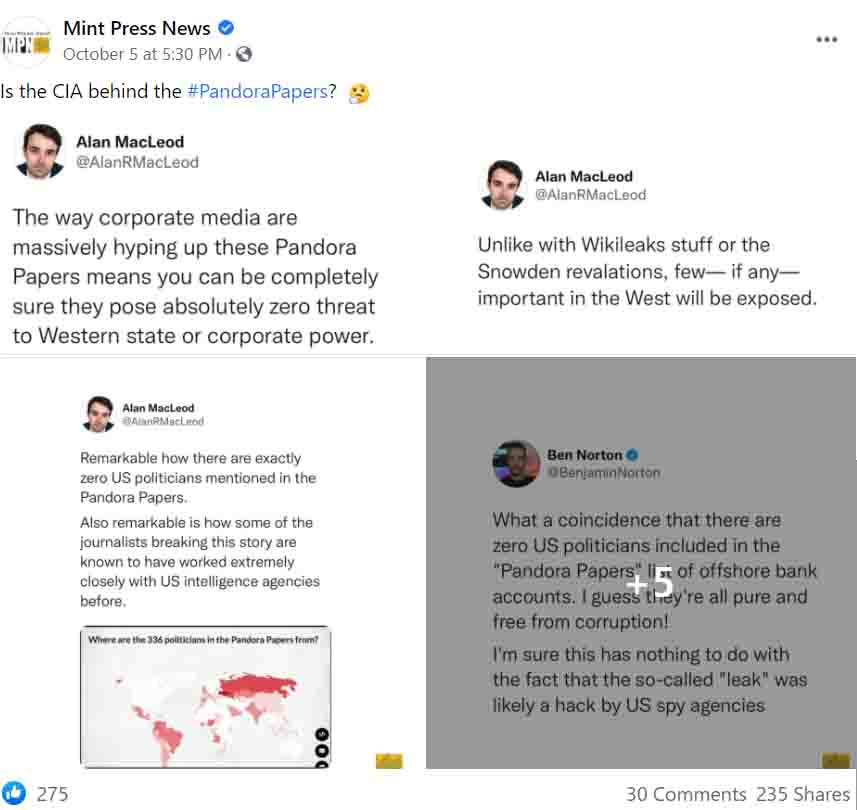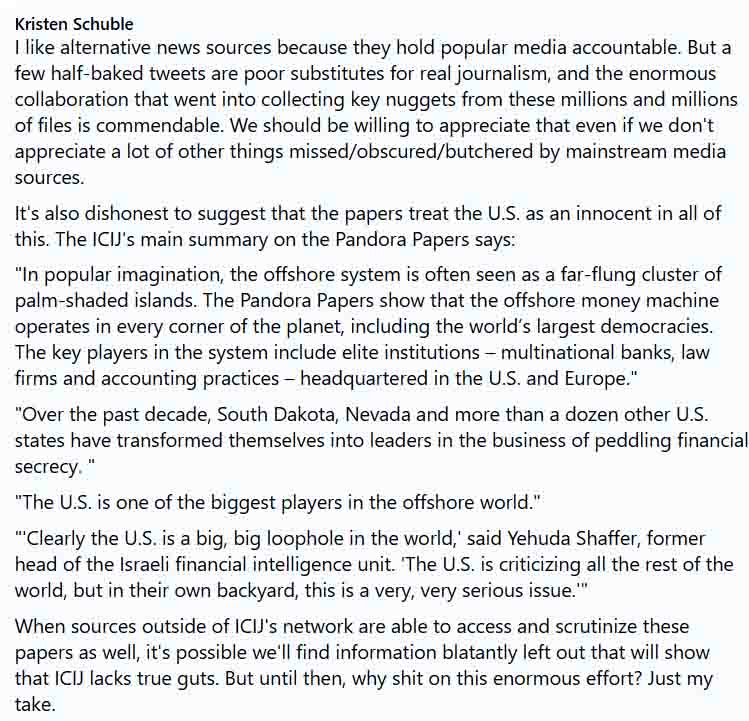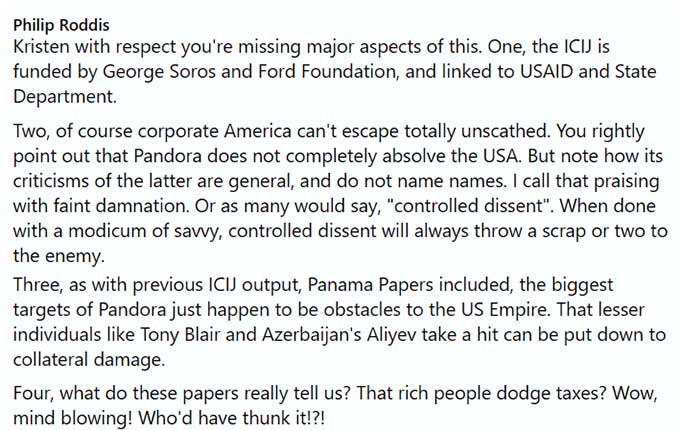 Third, as Chomsky famously said:
The smart way to keep people passive and obedient is to strictly limit the spectrum of acceptable opinion, but allow very lively debate within that spectrum – even encourage the more critical and dissident views. That gives people the sense there's free thinking going on, while all the time the presuppositions of the system are being reinforced by the limits put on the range of the debate.
The context for Chomsky's remarks was media corrupted by market forces. Their 'quality' and 'liberal' segments are frequently critical of the establishment, sometimes on important matters. Indeed, they must be, on pain of losing market share to rivals. But in matters not just important but vital to ruling class interests, they back the status quo. Without exception. This is seen most clearly in the vilifying of any threat, be it from an individual or nation state, to those interests. Carps and quibbles aside, and these as much from right-wing as liberal media, 4 no corporate outlet has ever exempted itself from the tasks of trashing Julian and Jezza. Nor from those of pouring daily damnation, so obviously economically motivated – if we only drop the habits of a lifetime and prioritise evidence and reason over power-serving narrative  – of China and Russia.
But though Chomsky was speaking of corporate media, his signal ability to express things simply (even if he doesn't always follow through on his own insights) is applicable here too.
Me, I'm done. For now at least, I've said as much as I feel inclined to say about the 'bombshell' Pandora Papers.
* * *