I've set out in many posts my reasons and evidence for saying a proxy war in Ukraine is being driven by US determination to retain control of a dollarised world in the face of Eurasia rising.
Yes, I've been left face-egged on very important detail. I breezily claimed that Russia would not invade Ukraine. On this I'd put too much store in military assessments like that of Paul Craig Roberts, which said Russia need do no such thing. 1 Superiority in missiles would enable her to safeguard her sovereignty – defending ethnic Russians in the Donbass, getting Kiev to honour  Minsk II and halting the advance of a hostile alliance the USA would never tolerate on its own borders – without putting boots on the ground. That had me inviting readers, nine days before the invasion, to tell me why in God's name would Vladimir Putin, Sergey Lavrov, Sergey Shoigu et al  want to invade Ukraine?
The Wrong Question. I should have asked, why would they invade Ukraine when they knew the risks?  2 To which my answer should have been that they'd exhausted peaceful responses to a quarter century of lies, insults, broken promises and endless provocation. None of those who share my view of the USA as prime culprit – yet decry Russia's move – have offered a grown-up account of what else she could have done.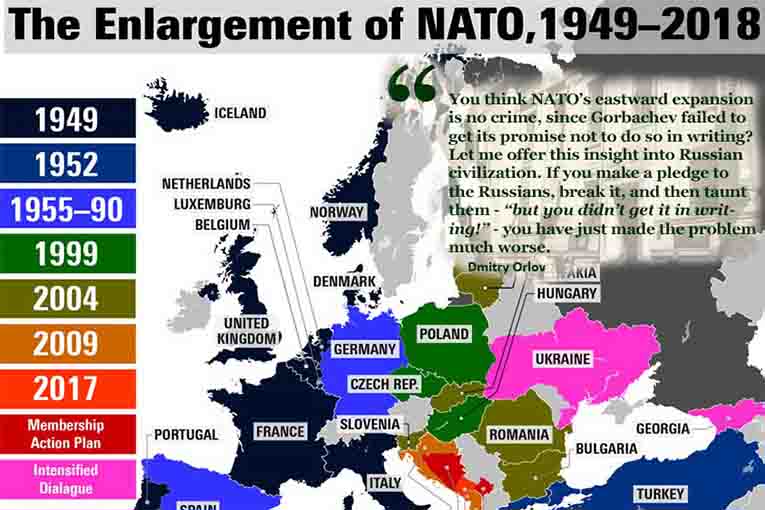 Of course, a vastly larger constituency, too far gone on the Kool-aid to get its collective head around the notion of western culpability, is untroubled by the need for any such account …
*
I've also said that because of a war Washington could halt tonight with minimal concessions to Moscow, should it so wish – it so doesn't! – the world is moving "closer to the unthinkable than at any time … since Hiroshima and Nagasaki."
Two observations. One, the public has been so thoroughly sold on the Standing Up To Russia narrative as to be blind to the appalling gamble being taken by those with the best insurance money can buy. 3 Two, three-quarters of a century after America nuked two middling Japanese cities for reasons other than the widely accepted Lesser-of-Two-Evils defence, the nightmare scenario has not, despite close shaves like Cuba '62 – and two or three others we weren't told about – materialised. Homo sapiens sapiens being more of a psychological than logical animal, the leap from it hasn't happened  to ergo it won't happen  is a short one.
Especially when aided by the diversions and lies of omission of systemically corrupt media.
These two factors – Wall Street as uniquely responsible for this war, and a Doomsday Clock at 100 seconds to midnight – are fundamental. That said, this post and others in the pipeline will explore secondary but still hugely important aspects of the state we're in.
For instance the twin themes of this post's title. Everybody loves a heroes 'n villains yarn, right? No taxing of the grey cells; nothing so arduous as thinking required. Just grab yourself a coke and bucket of popcorn, and get your ass comfortable for what the good ol' US of A does best.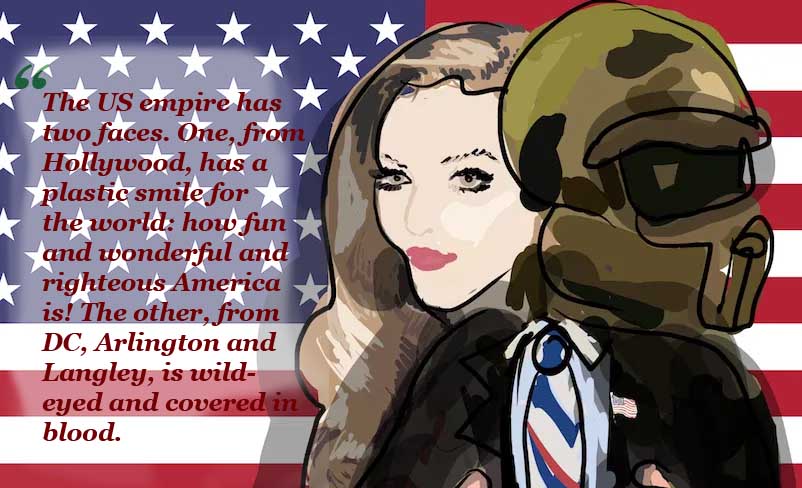 *
Zelensky good …
I don't know if Zelensky is odious or merely weak.  (Weak as in politically. I've neither desire nor competence to be drawn into a character assessment of the man who shot to global stardom a little over two months ago, since when we've heard more than enough of the I Love Volodymir cult which liberal opinion-shapers have manufactured and are now milking.)
Here's an exchange below my April 9 post, Ukraine: a military assessment:
bevin – this article, with a simple timeline and very useful maps helps non-experts understand what is happening: