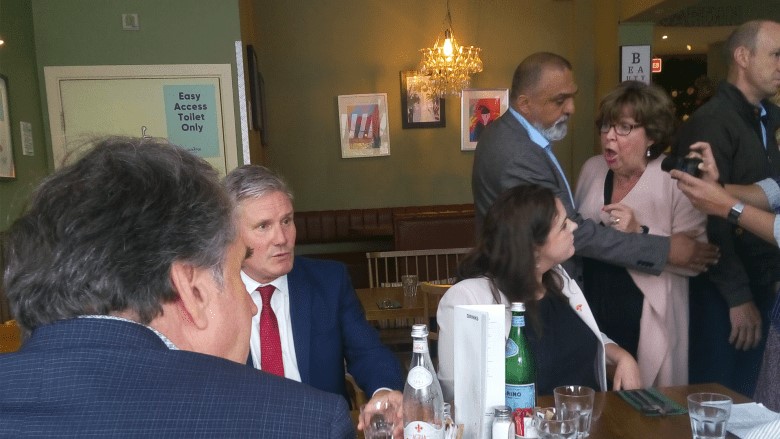 Does it look like he's listening? A minder bars Audrey White from the target of her scorn
.
I awoke this morning wondering whether to write about Nancy Pelosi's insanely and arrogantly provocative Taiwan visit – and its numerous parallels with the red lines crossed in Ukraine by a declining superpower, some of whose rulers are demonstrably ready and willing to risk WW3 to maintain profits in a dollarised world. 1
Or should I go with the account, lucid as ever, by Aaron Maté of Guardian cowardice, hypocrisy and own-goal scoring after Mr Maté complained about a hatchet piece on "Syria conspiracy theorists" which dubbed him an arch offender? Having failed to invite Aaron to comment before publication, Guardian writer Mark Townsend called this eloquent scourge of the criminals in power a "spreader of disinformation". See how Townsend reacted when Aaron phoned him.
A fuller account by Aaron himself – The Guardian and its NATO-funded sources out themselves as the real "network of conspiracy theorists"  – can be read here. (Thanks, Jams O'Donnell.)
But after the hour of meditation I now deem essential for maintaining a modicum of sanity in the face of what I do, a subject closer to home leapt out at me. I'd heard on the grapevine of the remarkable Audrey White, who memorably confronted Keir Starmer eight days ago when he visited her city. It's a splendid moment, with this septuagenarian scouser telling Sir Keir what so many of us think of his stream of betrayals – not to mention his having the gall to blot her town with his presence after writing for Rupert Murdoch's Sun, to this day reviled in Liverpool for its reporting of the 1989 Hillsborough disaster.
See this interview by rapper and vlogger Lowkey, in which Audrey gives not only her account of why she gave Sir Keir so well deserved a roasting, but something of her remarkable history.
This woman, now a leading figure in the Merseyside Pensioners Association, led a strike in 1983 after taking a stand against the sexual harassment of women she managed at Lord John clothes shop in Liverpool. A 1988 film about the strike, Business as Usual, has Audrey White played by Glenda Jackson, critically acclaimed actress and former junior minister under Tony Blair. In the above interview, Audrey tells Lowkey she disliked its bums-on-seats portrayal of the offending manager as "fancying" her:
sexual harassment isn't about fancying someone. It's about power.
By a stroke of pure coincidence, Audrey was expelled from the Labour Party four days after her encounter with its leader. I guess she must be a hard core anti-semite like Jeremy Corbyn – and denier to boot of the irrefutable truth that biological sex is not binary but a spectrum …
Hard as it is to believe in this day and age, some of these dinosaurs actually think class is still a thing.
* * *
Within hours of posting this, Caitlin Johnstone produced a short but withering piece on Pelosi's Taiwan lunacy, replicated here.