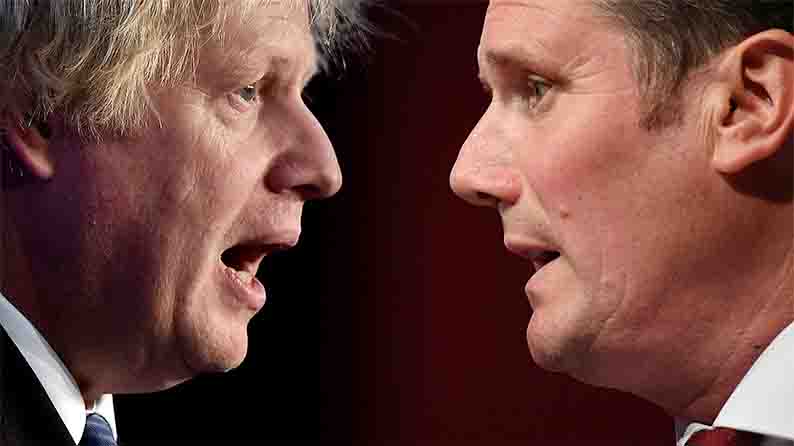 … this leader of the opposition, a former director of public prosecution … used his time prosecuting journalists and failing to prosecute Jimmy Savile – Boris Johnson

This was not the usual cut and thrust of politics; it was an inappropriate and partisan reference to a horrendous case of child sex abuse – Munira Mirza 1

… unthinkable that Starmer was not consulted on the decision to shelve the Savile case – what do they expect us to believe his role was? Ordering paperclips? – Craig Murray

What makes the situation even weirder is that Johnson's so-called "smears" of Starmer may not be smears at all [but] rare examples of Johnson alluding – in his own clumsy and self-interested way – to genuinely problematic behaviour by Starmer – Jonathan Cook
Writing yesterday on his Blog from Nazareth, Jonathan Cook dissects with that calm lucidity of his the hypocrisy overlaying, the ugly truths underpinning, and the Alice-in surreality (it's hard to read that "prosecuting journalists" as other than a reference to Julian Assange 2 ) of the media frenzy over BoJo's depiction of Keir Starmer as the man who let Jimmy Savile off the hook.
*
Didn't those enraged at Boris Johnson's 'smears' of Starmer defame Corbyn at every turn?
Media outrage at Johnson linking the Labour leader to Jimmy Savile is because his comments inadvertently exposed the dark underbelly of the British establishment
"Why is Boris Johnson making false claims about Starmer and Savile?" runs a headline in the news pages of the Guardian. It is just one of a barrage of indignant recent stories in the British media, rushing to the defence of the opposition leader, Sir Keir Starmer.
The reason? Last week the British prime minister, Boris Johnson, blamed Starmer, now the Labour party leader, for failing to prosecute Jimmy Savile, a TV presenter and serial child abuser, when his case came under police review in 2009. Between 2008 and 2013, Starmer was head of the Crown Prosecution Service (CPS). Savile died in 2011 before he could face justice.
Johnson accused Starmer, who at the time was Director of Public Prosecutions, of wasting "his time prosecuting journalists and failing to prosecute Jimmy Savile".
The sudden chorus of outrage at Johnson impugning Starmer's reputation is strange in many different ways. It is not as though Johnson has a record of good behaviour. His whole political persona is built on the idea of his being a rascal, a clown, a chancer.
He is also a well-documented liar. Few, least of all in the media, cared much about his lying until now. Indeed, most observers have long pointed out that his popularity was based on his mischief-making and populist guise as an anti-establishment politician. No one, apart from his political opponents, seemed too bothered.
And it is also not as though there are not lots of other, more critically important things relating to Johnson to be far more enraged about, even before we consider his catastrophic handling of the pandemic, and his raiding of the public coffers to enrich his crony friends and party donors.
Jumping ship
Johnson is currently embroiled in the so-called "partygate" scandal. He  attended – and his closest officials appear to have organised – several gatherings at his residence in Downing Street in 2020 and 2021 at a time when the rest of the country was under strict lockdown. For the first time the public mood has shifted against Johnson.
Read Jonathan's piece in full …
* * *
One minor aspect of the surreality is the resignation of the PM's policy chief, Munira Mirza. Four days ago a Birmingham local paper wrote:

Mirza was a member of the Revolutionary Communist Party (RCP), a tiny ex-Trotskyist political sect that later ended up on a right-wing political trajectory. A number of RCP alumni have continued to form a tight network increasingly influential in Conservative circles.

The idea of the RCP – for my money the most philistine tendency on the 'eighties Left – ever having been Trotskyist is a bit of a stretch but the description of its rightwardly libertarian drift is on the nail. Think also Baroness Claire Fox and Professor Frank Furedi.

After Starmer was jeered by protesters outside parliament, and the incident linked to Bojo's verbals inside it, the Express had Chris Philp leaping to his boss's defence: "I've watched the clip in full .. and these people were mostly talking about Julian Assange for some reason I don't understand." (Emphasis mine.) Given Bojo's words – see my opening quote – we can say either that the Minister for Technology is a fuckwit or that a media focus on that "protecting paedophiles" gibe has done a grand job of steering us all away from the bit about "prosecuting journalists". Not that the two conclusions are mutually exclusive.