Says Wikipedia:
The Biological Weapons Convention bans biological and toxin weapons by prohibiting their development, production, acquisition, transfer, stockpiling and use …

… Article I requires each state never to develop, produce or stockpile :

microbial or other biological agents … that have no prophylactic, protective or other peaceful purposes;
weapons, equipment or means of delivery designed to use such agents or toxins for hostile purposes or in armed conflict.
Now contrast the wall to wall coverage of the highly dubious Mariupol hospital claims with how little is being made – the Guardian's search tool gave a null result 1 – of this Congressional Hearing exchange on Tuesday (March 8) between Under Secretary of State Victoria Nuland, and Republican Senator Marc Rubio:
Nuland admits the presence of US owned biological "research" facilities in Ukraine, which may be misused  by the advancing Russians: a response pithily summed up by one BTL comment:
We weren't making bioweapons but we are concerned that Russian troops are about to capture our bioweapons… 2
One determined truth-seeker has spent years pursuing the shady existence of US bio-warfare facilities in Central Asia and Eastern Europe, including Ukraine. She is Bulgarian investigative journalist Dilyana Gaytandzhieva. 3 Before I hand over to her, let me point out that if we add this disturbing and hugely inflammatory factor to the situation depicted here …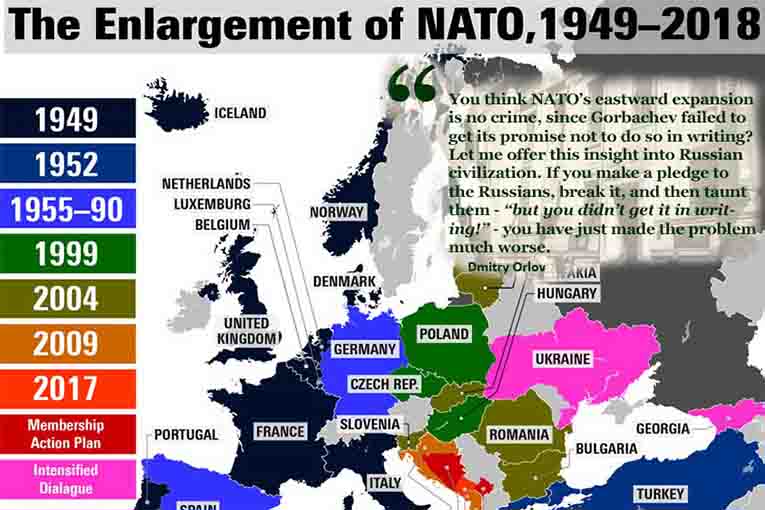 … we have some measure of the recklessness – the criminal insanity – of a US Empire incensed at Russia's (and of course China's) refusal to submit to a unipolar, dollarised world – ruled from Washington and Wall Street
In April 2018 Ms Gaytandzhieva began a post on her website with this:
The Pentagon Bio-weapons
The US Army regularly produces deadly viruses, bacteria and toxins in direct violation of the UN Convention on the prohibition of Biological Weapons. Hundreds of thousands of unwitting people are systematically exposed to dangerous pathogens and other incurable diseases.  Bio warfare scientists using diplomatic cover test man-made viruses at Pentagon bio laboratories in 25 countries across the world. These US bio-laboratories are funded by the Defense Threat Reduction Agency (DTRA) under a $ 2.1 billion military program – Cooperative Biological Engagement Program (CBEP), and are located in former Soviet Union countries such as Georgia and Ukraine, the Middle East, South East Asia and Africa.
Georgia as a testing ground
The Lugar Center is the Pentagon bio laboratory in Georgia. It is located just 17 km  from the US Vaziani military airbase in the capital Tbilisi. Tasked with the military program are biologists from the US Army Medical Research Unit-Georgia (USAMRU-G) along with private contractors. The Bio-safety Level 3 Laboratory is accessible only to US citizens with security clearance. They are accorded diplomatic immunity 4 under the 2002 US-Georgia Agreement on defense cooperation.
Information obtained from the US federal contracts registry clarifies some of the military activities at The Lugar Center – among them research on bio-agents (anthrax, tularemia) and viral diseases (e.g. Crimean-Congo Hemorrhagic Fever), and the collection of biological samples for future experiments.
Pentagon contractors produce bio agents under diplomatic cover
The Defense Threat Reduction Agency (DTRA) has outsourced much of the work under the military program to private companies, which are not held accountable to  Congress, and which can operate more freely and move around the rule of law.  US civilian personnel performing work at The Lugar Center have also been given diplomatic immunity, although they are not diplomats. Hence, private companies can perform work, under diplomatic cover, for the US government without being under the direct control of the host state – in this case  the Republic of Georgia. This practice is often used by the CIA to provide cover for its agents. Three private American companies work at the US bio-laboratory in Tbilisi – CH2M Hill, Battelle and Metabiota. In addition to the Pentagon, these private contractors perform research for the CIA and various other government agencies …
As it happens Dilyana's lucid, comprehensive and admirably detailed report was brought to my attention – Dave Hansell again! – only this morning: just a few hours after I'd been burning the midnight oil for her lengthy but riveting interview with Dan Cohen of MintPress, apropos the Nuland admission. Her strongly accented English had me leaning in so as to miss nothing, but the effort was richly rewarded.
* * *