Let me pick out five happenings.
"Partygate" be damned. The Economist beats a path to 10 Downing Street for the sagacities of that great statesman, Boris – more-lives-than-a-cat – Johnson, on a European response to the Russian bear. With Britain "the framework nation".
Forced last week to admit to US bioweaponry facilities in Ukraine, the Washington spin machine turns the whole thing on its head. Its dialling up of dire warnings of an imminent chemical attack by Russia has those of us not fully lost to media induced amnesia fearing another milestone in America's long record – from the Operation Northwoods proposal through the actuality of the Tonkin Incident to implausible accusations (Assad having nothing to gain and much to lose) re Khan Shaykhun and Douma – of false flag attacks. Directly, or by jihadist proxy
Iraq war veteran Tulsi Gabbard is called a traitor by US senator and 2012 presidential candidate Mitt Romney, a man described by Glenn Greenwald as the:
four-time-draft-dodging, son-of-a-rich-politician, investment-banker Republican who skipped the Vietnam War after protesting in favor of it, opting instead to send other Americans to fight and die, and then justified the fact that all five of his sons avoided military service on the grounds that helping him get elected was their "service"
Britain's Supreme Court has denied Julian Assange's appeal. The question of whether or not he is extradited to stand trial in the USA on espionage charges now rests with our deeply authoritarian Home Secretary, Priti Patel. His lawyers have four weeks to prepare arguments to put to her.
I am locked out of my Facebook account.
*
In granting the prime minister space to strut the airwaves in his favourite costume, BoJo the Churchillian,  the Economist piece houses this gem:
Mr Putin's long essay on Russia and Ukraine last summer—"that 5,000-word turg-athon", as Mr Johnson describes it—suggests that he grossly miscalculated Ukraine's sense of nationhood and its will to resist. Mr Johnson remembers being struck that "these people are definitely going to fight," as he weighed up the Kremlin's calculus, recalling an earlier trip to Kyiv when he visited a bar studded with machine guns, and pictures of martyrs at Maidan Nezalezhnosti, or Independence Square, the locus of the country's revolution against a pro-Russian president in 2014. In invading anyway, Mr Putin has made "an absolutely catastrophic mistake…worse than a crime," says Mr Johnson. "We haven't seen anything like this in our continent for 80 years."
Thus is the US orchestrated ouster of a democratically elected president, Viktor Yanukovych, to install a string of regimes either in bed with or in thrall to Nazis – virulently antisemitic and, in a nation 30-40% ethnic Russian, violently Russophobic – recast as a victory for democracy.
We bought the notion of Putin the aggressor after media lies of omission over Russia's security concerns, their legitimacy acknowledged by senior politicians (Kissinger for one 1 ) and scholars (John Mearsheimer and Russia expert Stephen Cohen), infantilised our perceptions of a nation reduced now to a grossly distorted focus on one man: "the new Hitler".
And just as we bought and shared that childish but frightening falsehood, so do we buy another: of gallant Ukraine, the grip of its small but powerful Nazi tendency airbrushed out, standing up to the Russian bully. Why? Because the likes of Guardian and BBC, CNN and NYT, their systemic inability 2 to prioritise truth over power never more blatant than in times of war, have primed us to do so.
Given this, and that in his Economist briefing Johnson makes great play of John Bull's ability to act speedily (unencumbered – pace  Tony Blair and Iraq – by any real check on the executive, least of all by Her Majesty's Loyal Opposition) here's what I said ten months ago:
I can think of no more cogent argument for insisting that Western democracy is ninety-five percent bogus than that (a) democracy implies consent, (b) consent is meaningless if not informed, and (c) informed consent implies truly independent media. That last we do not have when they are [as Noam Chomsky reminds us] "large corporations selling privileged audiences to other large corporations".
With this in mind, is it really your beautifully democratic choice that our nuclear armed leaders continue to up the ante against another nuclear armed nation with its back to the wall? Bearing in mind that, as Caitlin Johnstone noted the other day, it takes but little effort to establish the purpose as being:
 geared toward collapsing Russia to help secure US unipolar domination of this planet.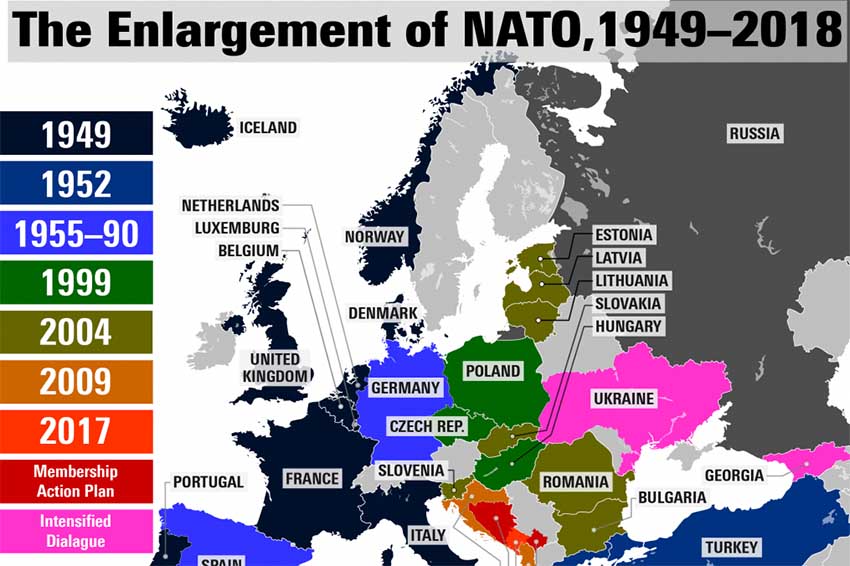 *
On the new warnings of a chemical attack in Ukraine by Evil Putin, I advise a closer look at war crimes claimed by Washington & Co, crimes for which varying degrees of evidence suggest the real perps are those pointing the accusatory finger. I've supplied a few starters with the links in that second bullet point above.
*
On Mitt Romney's disgraceful but far from exceptional use of the T-word against Tulsi Gabbard, let me be clear. I'm not applauding Gabbard's part in that monumental war crime which began in March 2003 and is not yet over. I'm merely noting the venomous culture which now prevails in the Western world, the Empire Hub in particular, in which such a man can level such a charge at such a woman and not be laughed off Capitol Hill.
Glenn Greenwald recalls that the slave owners who wrote the US Constitution, mindful of how so grave a charge could be abused, defined treason in narrowly specific terms as:
the only crime explicitly defined and limited by the Founders because they sought "to guard against prosecutions to silence political opposition." The danger anticipated by the Founders was that "treason" would expand to include any opposition to Government policy, which the Bill of Rights enshrines as an inviolable right of U.S. citizenship, not turn it into a capital crime.
He then takes a tour of a post 9/11 McCarthyism in which the T-charge is wheeled out with a frequency that should frighten us all. (I saw an American pal apply it to Trump, in the context of the ludicrous and evidence defiant propaganda blitz that was Russiagate.)
Glenn Greenwald observes with some irony that:
it does seem advisable to expect people who cheer U.S. wars and demand that others and their children fight and die in them — such as Hillary, and Mitt Romney— to think twice before accusing those who volunteered to fight in them of being agents of a foreign power. Such caution — based on the recognition that "traitors" to the U.S. are unlikely to volunteer to risk their lives for the U.S. — doesn't seem  much to ask.
So what did Lt Colonel Tulsi Gabbard say or do to earn draft-dodger Romney's wrath?
she echoed twenty years of statements by U.S. officials and scholars across the spectrum by arguing that NATO expansion up to the Russian borders was genuinely threatening to Moscow; thus, she argued, the U.S. and NATO, to avert a horrific war, should formalize its intent not to offer NATO membership to the country occupying the most sensitive and vulnerable part of the border with Russia.
Just what the Founding Fathers had in mind in their definition of Treason! But worry not. The US of A may be an oligarchic duopoly run by and for the super rich but it remains, when all is said and done, the world's greatest exporter of democracy and open society values. Just ask the deliriously grateful peoples of Afghanistan, Iraq, Libya – and what is now the poorest country in Europe, post Maidan Ukraine.
*
A search of this site using the term, "Julian", will show I've covered this travesty of 'open society' justice at length. But ridicule is so often a precursor of greater evil, priming the public for worse to come by denying the victim's humanity. Given this, consider the role of a newspaper deeply implicated in this brave man's ordeal. First as a false and craven friend, second by abetting the war criminals in power as it led the way in said ridicule. See my post back in November, a short open letter to Guardian Media Group.
*
I'll be posting separately, once I get a little more info on why I've lost my access to the world's biggest social media platform: run for the enrichment of oligarch Mark Elliot Zuckerberg; with an unspoken part of the deal being that the likes of me don't gain too much of an audience.
* * *
On Kissinger too I issue a disclaimer. I don't endorse a man I see as a war criminal. I don't even agree with all he says in the article I've linked to. Mine is a different point: that the mediocrities who may well take us into WW3 do not have the support even of the Beltway's many reactionary – but in their own way thoughtful – elements.
While I often say media corruption is systemic, rooted as deeply in a business model of advertising dependency as in oligarchic ownership, I leave room for individually corrupt journalists and editors. Indeed, the systemic and personal aspects of said corruption aren't easily disentangled. Least of all in reporters entrusted with war coverage. See the 2015 lecture on Bought Journalists – one part whistleblowing, one part confessional – by Udo Ulfkotte.