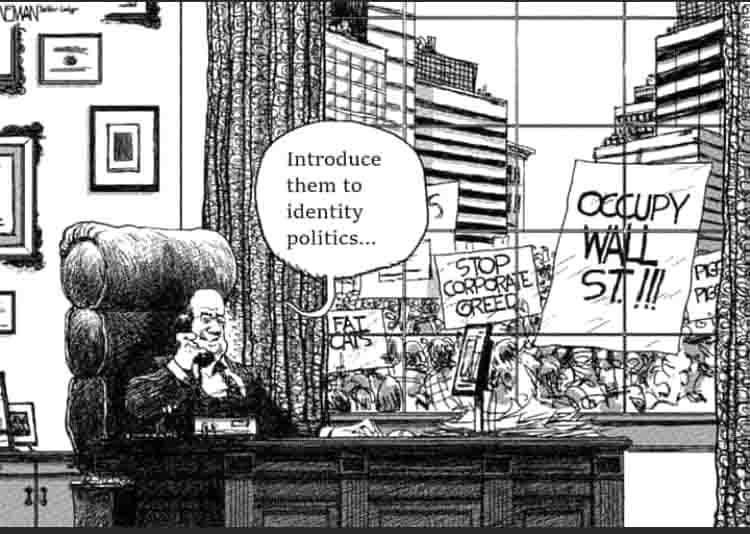 Most of my writings on identity politics have been in the context either of imperialism's wars, or the vitriolically divisive claim 1 that sex is not binary but a spectrum – hence a question more of subjective identity than empirically observable chromosomes.
But even in the context of Ukraine the idpol beast has raised its head. In a recent below the line exchange, apropos Ukraine in La La Land, I wrote of "the 'woke' as …
… alert to real injustices of sex, race, sexual orientation, disability etc but failing to connect these things to class exploitation.

(A failure either total, or too shallow and simplistic to reckon with the extraordinary capacity of capitalism to reinvent its outer forms. Witness the fact that in the last few years we've seen a sea change in the ad industry's depiction of the "happy family" to sell us, through the dreams it weaves, more and more stuff. Now that the Mad Men find it cool – but safe – to be 'woke', your proverbial Martian could be forgiven for supposing, after an evening or two of TV viewing, half of all middle class Earthling families to be black and/or gay!)
My comment ran for several more paragraphs on the consequences of that failure, prompting reader Dave Hansell, who supplies so much of my material I should pay him a retainer, to offer this wonderful three and a half minute clip of American political commentator, Michael Parenti.
Whatever your views on the trans issue or identity politics in general – and notwithstanding the perilous situation in which humanity now stands – I challenge you to keep a straight face at the punchline:
* * *