Modern imperialism, as distinct from direct rule colonialism, is defined by the export of monopoly capital from global north to global south, and repatriation of profits from south to north. This later form of exploitation came to prominence in the early 20th century, and since 1945 its globalisation of capital-labour relations has been as reliant on the armed might of a US-led West as was colonialism on the land and sea dominance of the Great Powers in 16th through to mid 20th century Europe.

The era we are now living in, the most deadly in human history, is characterised above all else by the decline – making it triply dangerous – of the USA in the face of Eurasia rising. Save for the existence of nuclear weapons, WW3 would already have taken place. No one should take solace in that narrow and icy truth.
steel city scribe
.
Anyone remember this 80s advert for an Australian lager? Not the Fosters brew of Paul Hogan ("Crocodile Dundee") fame – though those ads were just as funny provided you didn't get too PC about things – but its main competitor, Castlemaine XXXX.
Leveraging a Barry McKenzie stereotype of the Ozzie outback male, the ad makes witty play of our all too human tendency to form ludicrously skewed and self-serving – but to a slit-window worldview, coherent – attributions of causality. Edward de Bono would have appreciated it, I'm sure. As would the incomparable Mullah Nasruddin. 1
Hold that thought.
…
It's likely I alienate some – OK, many – potential readers with formulations like this, from my previous post:
Only the politically imbecilic and the criminals who rule (a few through political office, most in the shadows) would contest that [Julian Assange] told us nothing but truth about the crimes against humanity committed, and bare faced whoppers told, by the fake democracies of America and its allies, and by media whose business models debar them from any course other than tokenly critical complicity.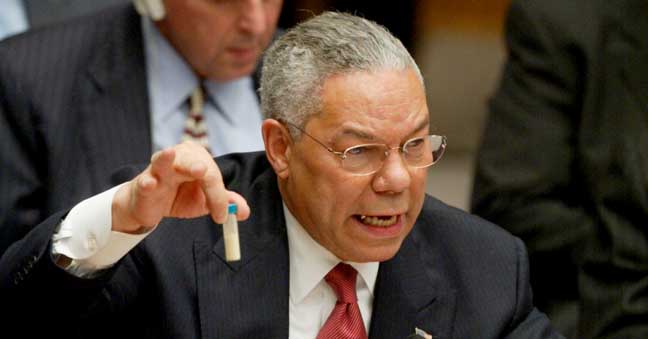 In the same post I spoke of Owen Jones and a hand-wringing 'woke'…
… whose elevation of identity politics over those of class and empire made them credulous consumers of smear whose particulars they did not trouble to study …
… while lamenting that:
… the politically imbecilic is a very large constituency.
Have I nothing but contempt for my fellows; my peers in the liberal intelligentsia especially? Far from it. I am not only as one with the Christians on the principle of hating the sin yet loving the sinner – even if it does stick in the throat at times – but can only go on doing what I do because I glimpse a better way for humanity. A way that does not entail a world run for profit, which is to say a world run by and for the criminally insane; rather, a world where wealth is created by and for humankind and by that fact does not demand a trashed planet, constant wars and levels of inequality as economically and politically dysfunctional as they are morally grotesque.
The most damning indictment of corporate media – whether liberal or conservative, financial or generalist, tabloid or 'quality' – is that their seemingly sober and calmly reasonable columnists and reporters (many of whom I deem subjectively sincere) are in the pay of an industry whose business model cements their objective role – no matter how combative they may be on topics embarrassing but not seriously threatening to the ruling class 2 3 4 – as one of normalising that world run by and for the criminally insane.
The friends and peers whose myopia and somnolence I speak of in such disparaging terms are neither stupid nor callous. Many call themselves socialists. (Not all: I refuse to make political alignment a condition of friendship; life's too complex for that.) So what exactly is my beef?
Let me answer with three examples.
One: is my enemy's enemy ipso facto my friend?
A few days ago an Iranian friend, for decades a British citizen, sent me a link to a piece by one Barnaby Raine. Raine, the twenty-five year old Westminster School educated son of a Wonga boss – not his fault – is doing a History Ph.D. at Columbia University. A practising Jew, he is a sincere and active opponent of Zionism, while making a name for himself as an enfant terrible  on the academic left. The piece my friend sent has the title, Is the enemy of my enemy my friend?, to which the kicker adds: "on the resurgence of "tankie" and "campist" politics".
I groaned inwardly but, out of respect for a pal held in high regard since the eighties, read the piece anyway before replying that:
Raine strikes me as Owen Jones Mark 2.

Right now the safest, most redundant and least courageous thing anyone can do is condemn Putin, 5 just as a few years ago the safest, most redundant and least courageous thing to do was condemn Bashar al-Assad. Raine advances strawman arguments about "tankies", and has little evidence to back claims lifted from corporate media. 6 Me, I don't know whether Putin is a bad guy, ditto Assad Jnr, though the one seems to have done a lot more for Russia than his drunken predecessor did, while the other stayed with his people when others might have fled.

What I do know is that the agendas of Washington, London et al pose a far greater threat to humankind than either. My patience with useful idiots like Raine and Jones, pontificating from their safe careers, came to an end some time ago.

Bah!

Hope all's well with you …
Two: "failed Chavism"
A few years ago another friend, a Brit with Columbian citizenship, took issue with the few posts I'd written on Venezuela, next door neighbour to her adopted country. With media headlines on both sides of the Atlantic shrieking of starving refugees pouring across the border, she echoed their insistence that "failed Chavism" was to blame.
(Spoiler alert: of the three examples given here, the specificity of this one comes closest – in its blithe ignorance of the lethal sanctions 7 imposed on peoples whose governments displease Wall Street and hence Washington – to the spirit of that Castlemaine XXXX ad.)
She did not take up my offer – unprecedented on this site – of hosting a piece written by her, elaborating and setting out her evidence. But immediately after my posting of a further piece on Venezuela she asked to be removed from my mailing list. Other than following up my doing as she asked with a note conveying my best wishes, we haven't spoken since. Not everyone shares my view that life is too complex to make friendship conditional on political agreement.
Three: the 'universalism' of George Monbiot and Owen Jones
It's nigh on five years since I wrote Monbiot, Syria and Universalism. Excuse my quoting from that post in abridged form but at some length:
For his work on the British establishment you couldn't slide a cigarette paper between Owen Jones and me. The same goes for George Monbiot's forensic but neatly penned linking of environmental vandalism to big money.
Other of their writings strike me as misconceived.
If you're a socialist, you're a universalist, not a relativist: you believe all people deserve the same economic and political rights. That can't be achieved without democracy — not the limited democracy the West currently has, but a full democracy that we should aspire to. That means not lauding a regime which, despite its achievements, lacks the democratic rights a truly socialist society must enjoy as a bare minimum. Owen Jones, My thoughts on Cuba, 29/11/2016

If we deny crimes against humanity, or deny the evidence pointing to the authorship of these crimes, we deny the humanity of the victims. Aren't we supposed to be better than this? If we do not support the principle of universalism – human rights and justice for everyone, regardless of their identity or the identity of those who oppress them – what are we for? George Monbiot, Disavowal 27/04/2017
Jones writes four days after Fidel Castro's death. Monbiot's Disavowal comes three weeks after he'd tweeted his 99% certainty that Damascus had used chemical weapons at Idlib. (It's one of a series of tweets and blog posts pouring scorn on the 'denialists' who won't accept what he deems an open and shut case against Assad.) For both writers, universalism means condemning human rights abuse wherever it arises.
As principle, who'd argue with that? Not me, but let's not define human rights narrowly, else we'll find our noble sentiments played in respect of abuses (real or alleged) in states our rulers want governed by more pliant regimes, while barely registering burgeoning infant mortality by humanitarian sanction or soaring cancer rates from depleted uranium in the wake of the latest humanitarian invasion. Broadening 'human rights' to take in welfare provision, literacy and prosperity levels also makes it hard, if we've an ounce of intellectual rigour, to cry 'a plague on both houses' while at best doing nothing, at worst giving de facto support to US led aggression.
A wider definition of human rights obliges real-world assessments which discriminate between greater and lesser abuse, and eschew specious moral equivalence. Suppose every word our media say about Assad to be true: a huge stretch, I know, but stay with me. Could he inflict a fraction of the death, misery and mayhem the US and its partners have? Here's another question. Are any modern weapons not  chemical? The implicit mantra – Tomahawk Good … Sarin Baad – shows, as does the barrel bomb brouhaha, just how easily red herringed we are by the spurious categorisations of a Washington dominated UN.
My understanding not just of the nature and drivers of the dirty war on Syria, but of imperialism in general, has evolved considerably since 2017. Nevertheless, when rereading my post prior to selecting and abridging the above, I was surprised to see how little I would now change: other than to harden a stance on both men which now strikes me as too lenient. (A criticism made at the time by some readers on this site and, since the post was widely shared, elsewhere.)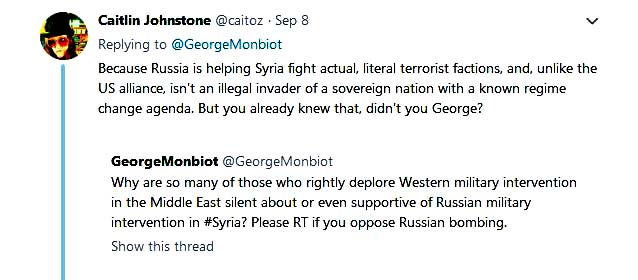 History – not least the revelations of criminal misconduct at the OPCW – has not been kind to the dilettantish and (ingenue that I was) surprisingly ad hominem attacks these Guardian house leftists have made on "Assad apologists", nor to George Monbiot's uncritical view of the OPCW as somehow impartial: a view which, attesting as it does to the invisibility of empire on Planet Guardian, takes us directly back to the thrust of this post. To George and Owen, as to Barnaby and my erstwhile Columbian-British friend, empire – in its modern form as led by the USA and summarised in my opening paragraphs – either does not exist or, in the case of Mr Raine, who should know better, is the beneficiary of his intermittent amnesia.
(This invisibility of empire lay at the heart of my stand-offs, back in 2016, with liberals on both sides of the Atlantic who saw as incomprehensible or driven by misogyny my 'failure' to view Hillary Clinton as lesser evil to Donald Trump. That, if you'll pardon my presumption, is down to many of my critics having near zero cognisance of anything beyond (a) America's shores and borders; (b) Hillary's likely impact on their privileged lifestylism. To this influential constituency, Donald Trump's oafishness counted for far more than the fact HRC's enthusiasm for unilaterally imposing No Fly Zones in Syria would have put the West on a collision course with a nuclear power. In the event, Trump scraped in and it falls now to a differently demented Democrat in the Oval Office to risk Armageddon in the name of Standing By Ukraine – but in the interests of delaying the US Empire's decline by fighting the lesser of its two greatest rivals down to the last Ukrainian.)
Thanks to media induced absence of any recognition that the US Empire is indeed A Thing, all manner of nonsense – Putin as Public Enemy No. 1 … Maduro as executioner to his own people … two bottles of sherry trashing a truck – is not only rendered plausible, but seized upon as the only sane perspective in town. 8
And all the degrees, doctorates and professorships in the world, though proudly borne by folk who can hold forth night and day on the vital importance of Critical Thinking, aren't worth a dime against that media induced lockdown of the collective mind.
* * *