Well, maybe not quite, but the writing is on the wall. Any truly impartial assessment of the hard realities our leaders and systemically supine media have been in flat denial of 1 must conclude that, America having overplayed its hand repeatedly since 1990 – and having now picked a fight with a power it can't intimidate … can't defeat by 'shock and awe' … can't by economic warfare reduce to basket case status … – the historians of this already momentous century will declare 2 the Ukraine war a defining event: synchronising and expediting the blowback of three decades of Exceptionalist hubris, and crossing a Rubicon to which Washington/Wall Street overlordship of a dollarised planet would never return.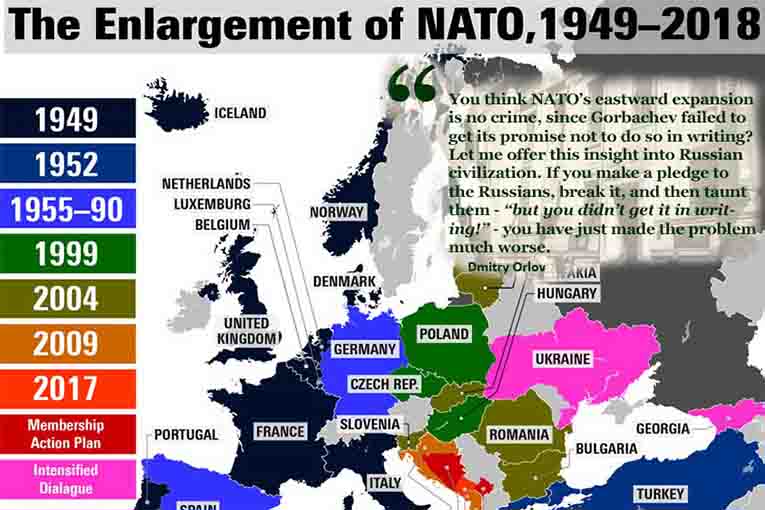 But don't take my word – that of a Marxist and anti-imperialist – on this. Here (not for the first time) a former senior US military figure speaks out. For fifteen grimly forensic minutes he lays out just how disastrous this proxy war, to which decades of poking the bear have led, really is. Disastrous not only for Ukraine, but for its American and European promoters too. 3
Without further comment, let me hand over to retired US Colonel, Richard Black, speaking to the Schiller Institute a fortnight ago.
* * *
" … our leaders and systemically supine media have been in flat denial …"   I use the past tense – present perfect if we want to be pedantic – because empire trusted media like the Jeff Bezos owned Washington Post now show signs of leading the way on preparing, in drip-fed increments, their audiences for defeat in Ukraine.
Any talk of what "historians of this already momentous century"  will or will not declare is of course contingent upon one distinctly possible outcome – which Col. Black considers at 12:44 – not materialising.
"Disastrous" for America and Europe is not quite right. Though the USA has taken a huge dent in its capacity to strong-arm the global south, Europe is suffering – and until it has leaders willing to stand up to US diktat, will continue to suffer – far more.

Writing under her Naked Capitalism pen name (Yves Smith) analyst Susan Webber makes this assessment in her intro to a recent Michael Hudson interview:

On the potential for depression front, Germany, the UK and much of Northern Europe are going to hit a wall this winter due to energy shortages if they don't change course – and their inability to admit the economic war with Russia is a disaster for them means they won't. BASF is already threatening to shutter the biggest chemical complex in the world, over 200 plants in Germany. Business shutdowns will mean a collapse in employment and tax revenues. And Germany, the UK, and other European countries are also warning of very large food price increases coming. Italy is also heavily dependent on Russian gas and has wobbly banks and a fragile economy.

Indeed, as more than one post on this site attests – see, for instance, Can Europe break free of a dying empire? – there are grounds for supposing Europe's further bondage to Washington to have been a US war aim.