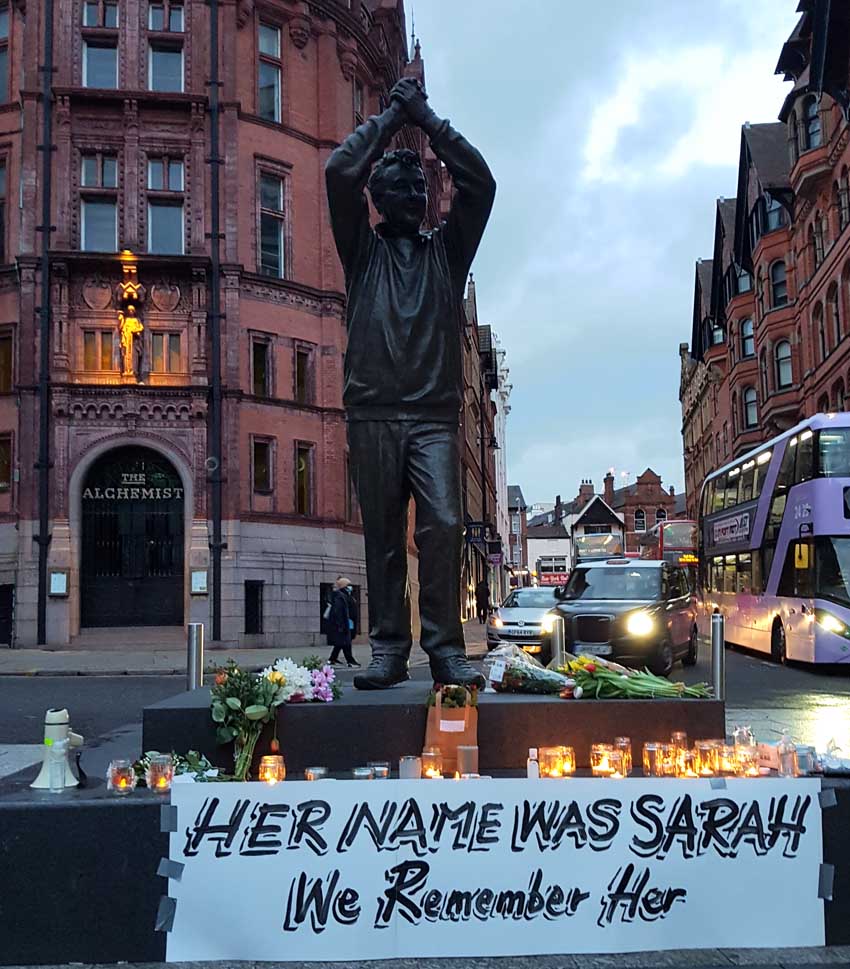 The speaker, a few metres from where I stood, began by telling us she was "sick of men" telling her this, and "sick of men" telling her that. What she lacked in oratory skills she sought to make up for by working herself into a righteous fury. It lasted fifteen minutes and though I hate to say this – I'd come in all respect – it sounded a little phony to me.
I tried to imagine what I'd be feeling, right there and then, had Sarah Everard been my daughter. I gave up – too big an ask – but was sure I wouldn't have wanted to listen to this.
To be fair, it's not always easy to tell fake from genuine emotion. In my experience the real deal can at times look and feel like a second rate B-movie. And if ever there was a time and place for applying benefit of doubt, this was it. Still, while I don't claim super powers of insight or radical objectivity here, to my ears a false note was being struck. It spoke to me of someone getting off on her own incandescence, and lacking the self awareness to realise it.
It would have bothered me less if she'd been saying anything of practical value. She wasn't, and I had the depressing thought that none of the men she was sick of would have come within five miles of where we stood in the cold and damp.
(My estimate – head-counting two clusters, factoring in social distancing and extrapolating – put the assembly at 130-150: mostly women but with a good few men and, here and there, a small child. In hi-viz jackets but otherwise low profile, two WPCs patrolled sedately; the only overt police presence. Nottinghamshire was one of the few forces to allow, when coronavirus legislation empowers them to ban, the vigil/protests planned across Britain.1 )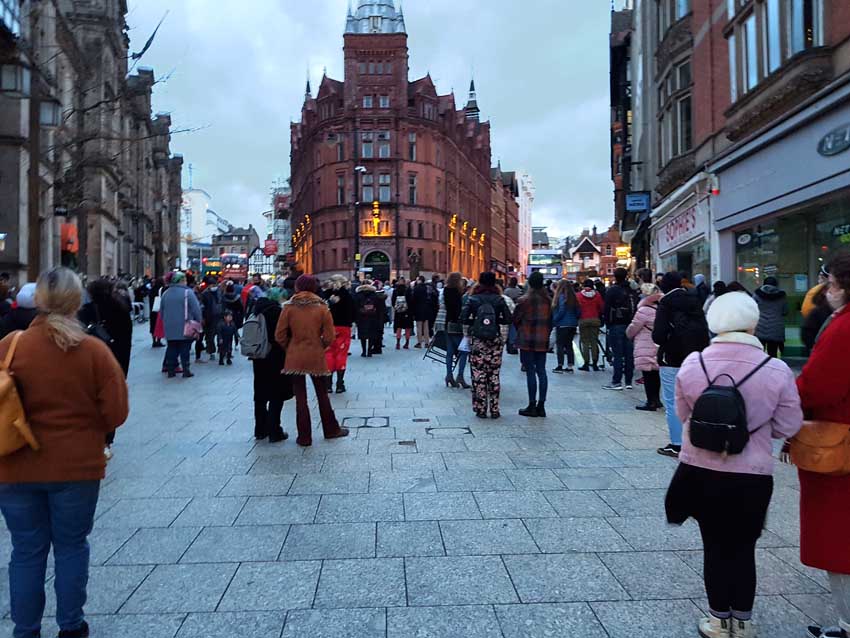 Late that afternoon it had become clear that Notts Constabulary would take this position, but I was set on coming regardless, figuring that many would defy any ban to pay homage to and/or protest at another young woman murdered.
By a man who in all likelihood had never set eyes on her prior to the evening of March 3, when Sarah was last seen alive.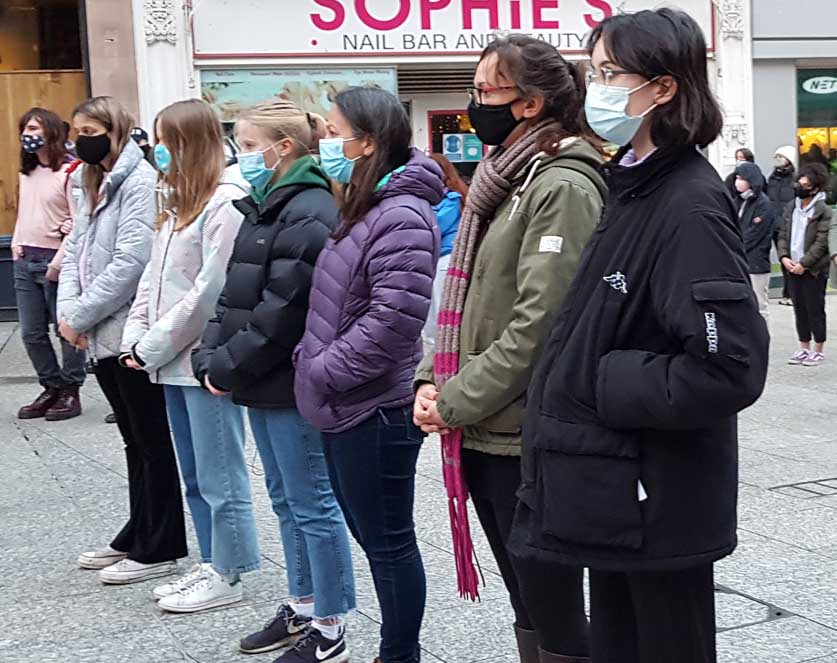 The day before I'd read tweet after tweet, post after FB post, from women – some angry, some just disheartened – but many men also. Most were adamant: men need to Start Talking About our attitudes to women. But here too I was experiencing the most dismal deja vu. What was it Einstein said?
Insanity is doing the same thing over and over and expecting different results.
The speaker wound up, to enthusiastic applause. My hands stayed in my pockets. I hated being a piss-vinegar, and a male one at that. But though this woman was young enough to have been my daughter, she'd said nothing I hadn't heard forty-five years ago.2 Had the applause been on the feeble side I'd have slapped palm on cold but face-saving palm. As it was, I saw no need to endorse a message whose tone and content had left me wondering why I'd come.
We all stood around for several minutes. A few women lit candles at the feet of Brian Clough. I turned to walk down Old Market Square. At the tail of the gathering, two parties stood in semi-detached observation. One was a duo distributing fliers for the Socialist Party, formerly known as Militant Tendency. I asked the elder, a woman in her fifties, if her outfit had wanted to speak. Sure, she replied. 'But the organisers didn't want …' – she curled two fingers on each upheld hand to describe air quotes – '… political messages …'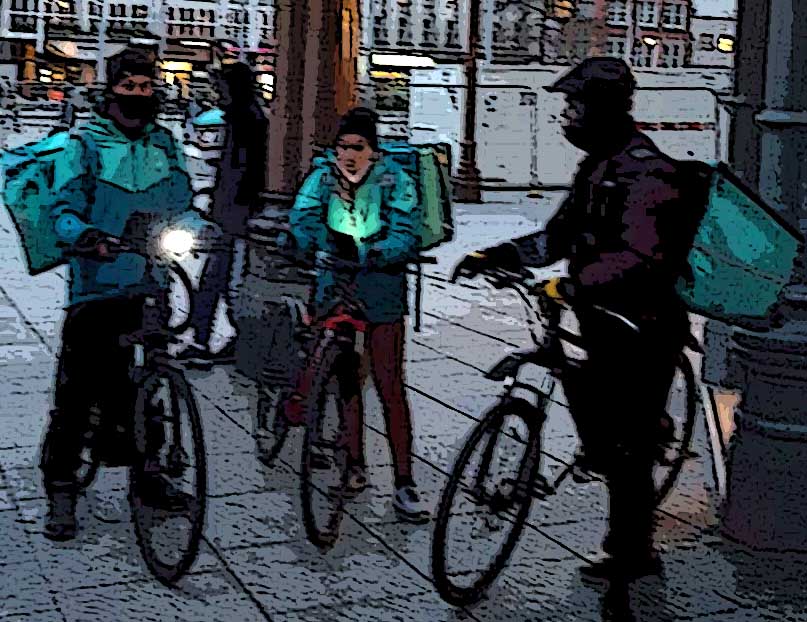 The other party was a cluster of Deliveroo riders, men and women in their twenties and thirties. (Old Market Square is where they gather for news of the next job.) My butterfly mind fluttered from riders to casualisation at large, and from casualisation at large to the fact that over the last few years my two stepdaughters – more than a decade younger than my two daughters – have done stints at Wetherspoons. Many a time they'd work into the early hours on shifts with no set end-time. The pub manager decides, on the basis of diminished clientele, when it's time to call it a night. Then the mainly zero hour staff may leave.
'And what measures', I'd once asked, 'do Wetherspoons take to get you safely home?' My elder stepdaughter, just turned eighteen, looked at me with the fond indulgence you might bring to bear on a well meaning simpleton. I may as well have been asking if Tim Martin showed up in person to chauffeur each and every one of them to their doorsteps.
*
Believe it or not, this post is not the one I wanted to be writing this morning. I didn't go to Old Market Square with cynical intent, and would much rather be writing something upbeat. As it is, putting things to right on the wider realities the Wetherspoons and Deliveroo models point us to, while it would not have saved Sarah, seems to me a more practical approach – to shifting a cultural landscape in which all of us are diminished and brutalised, and for which women will pay, because they always do, the heavier price – than any I've heard touted these past few days.
*
Update some hours later. The above was written before I'd caught up with events elsewhere. Had I been in South London I'd have had a very different experience last night, and written a very different post. Meanwhile on Clapham Common …
* * *
Further update a few days on. My claim that most constabularies had banned vigils-protests for Sarah was based on what media seemed to be saying that afternoon. I now know a vigil was held in Sheffield and it seems likely there were others, all lightly policed save that at Clapham Common.