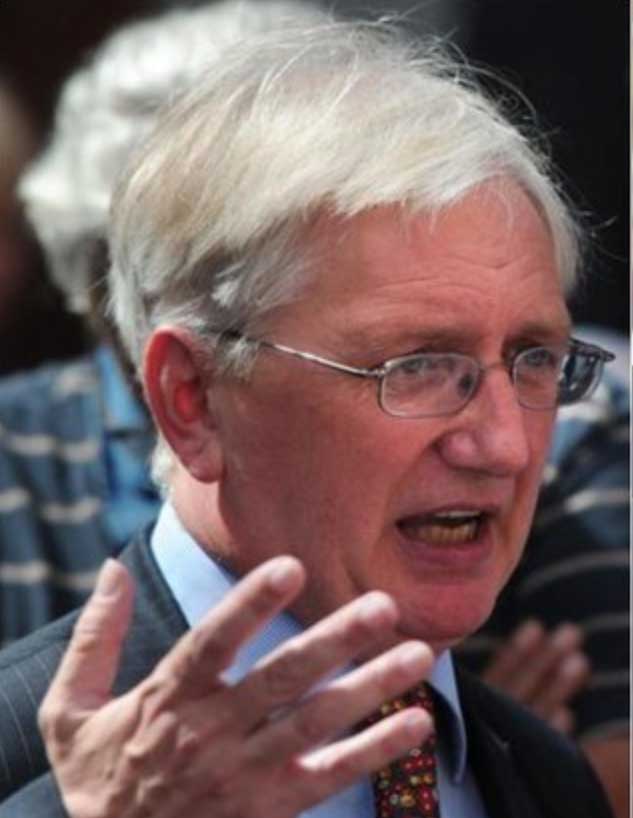 Yesterday Craig Murray – whistle blower, Scots nationalist, former rector of Dundee University, former UK Ambassador and much besides – was sentenced to eight months for contempt of court in his blog coverage of the collapsed trial of former SNP leader and First Minister, Alex Salmond. His offence1 was that of refusing to remove from his site 'identity jigsaw' pieces: facts about witnesses, for the failed prosecution of Mr Salmond on fourteen counts of sexual abuse, whose anonymity is protected. The court found that by triangulating Craig Murray's revelations with other information – other pieces in the puzzle – those witnesses could be identified.
Both sentence and conviction are alarming for a number of reasons:
This was the first instance in Scottish history of a 'jigsaw identifier' being jailed.
Craig Murray is no ordinary member of the public. He is known to many as the British Ambassador to Uzbekistan sacked by Tony Blair in 2004, after outing that country's kleptocratic leader, Islam Karimov, as one who, besides making his family obscenely rich, boiled political opponents alive. This was inconvenient when, Labour's "ethical foreign policy" in shreds,2 Karimov was aiding the illegal invasion of Iraq by allowing former Soviet airbases in his fiefdom to service Coalition strikes on Baghdad. More recently, Craig did what mainstream media conspicuously failed to do. He provided detailed coverage of the kangaroo hearings at Belmarsh, then the Old Bailey, over the extradition by the USA of Julian Assange for revealing its dark and extremely long list of war crimes. Craig's blogs from the gallery were reproduced in full on this site.
Craig's prosecution appears selective, as many have noted.3 In a post on a separate matter, disability rights group TNS made this aside:
In Mr Murray's case, there can be little doubt that the heavy-handed response to an alleged offence also committed by other journalists including the BBC's Kirsty Wark is due to Mr Murray's very clear support for Alex Salmond during the trial that almost had an innocent man imprisoned.
Said Gordon Dangerfield, a Solicitor Advocate who does not represent Craig:
The way in which Craig Murray has been singled out … is a national scandal which should concern anyone who cares about the rule of law in Scotland.
Mr Dangerfield's words are cited in yesterday's blog post by Rob Brown, former law lecturer – and Independent and Scotland on Sunday editor – who commented:
In her sentencing statement Lady Leeona Dorrian said the former diplomat's online articles about the Alex Salmond trial had "struck at the heart of the fair administration of justice". But there are an unprecedented number of people who believe fairness doesn't exist in the administration of criminal justice in Scotland; that Mr Murray is the victim of selective prosecution; and that what we therefore now have in this country is the very opposite of impartial justice. Why were a number of legacy media hacks not also in the dock for aiding the "jigsaw identification" of some of Mr Salmond's female accusers?
Two key features of the failed trial of Alex Salmond, also conducted by Lady Dorrian, are the acknowledged ineptitude of the current First Minister's office. That Nicola Sturgeon's team handed Mr Salmond a cool half million of taxpayer money, in respect of his legal fees, speaks volumes. More contentious, and even more germane to any reading of Craig's trial, is the allegation that those witnesses allegedly vulnerable to 'jigsaw identification' are all close to Nicola Sturgeon. This is dynamite. It opens up the possibility of said witnesses having colluded with one another and with the incumbent First Minister's office to engineer a politically motivated prosecution. Here's an extract from a Guardian report on the acquittal in March last year of Alex Salmond:
In pre-trial court hearings, Salmond's defence lawyer, Gordon Jackson QC, had told Dorrian there were text messages between complainants, Scottish government officials and SNP officials that raised questions about an orchestration of some of the allegations against his client.

Jackson sought to get some of that material admitted into evidence. In January he told Dorrian the defence believed "there was [a] concerted effort made by people in the government to influence this process, to get it as best they could in terms of criminal prosecution".

He alleged those efforts were motivated by revenge because Salmond had won his judicial review in January 2019, after the Scottish government admitted it had botched an internal inquiry into two sexual harassment complaints against him.

One of those texts included one sent by Leslie Evans, as permanent secretary the Scottish government's top civil servant, to another official after they lost the judicial review, which read: "We may have lost the battle, but we will win the war."

Dorrian refused to allow much of that material to be used in court but allowed other messages to be admitted as evidence.
*
Echoing the character assassination of the truly heroic Julian Assange, claims of sexual abuse – dismissed in the Salmond case; risible in law, politically motivated and never getting as far as formal charges in Julian's – muddied the waters to bleed men of courage and principle of the 'woke' support they should have had by right.
Witness the sensationalism, and ignoring of many worrying aspects of the prosecution of Craig, in this piece by Annie Brown in today's Daily Record. I've emphasised a few of the more lurid passages.
So-called Scots activist Craig Murray has left victims of rape living in fear
This week the husband of Alex Salmond accuser Woman F spoke of how her experience had left her a shadow of her former self. He said it felt like watching the woman he loved self harm when she scrolled through Twitter feeds filled with bitter vitriol directed at her and the other complainers.
Imagine, he contemplated, if these strangers had known her name, if even one had taken their grudge to her doorstep. If Salmond fanatics had their way, the women who accused him would be dragged to a public square for a head shaving …
I am not convinced jail is the ­appropriate punishment for Murray, and it will only enhance his new found martyrdom ...
New found? In 2004 Craig forfeited a glittering diplomatic career for speaking truth to power.
… But he has been granted three weeks to appeal and is unlikely to serve anywhere near that sentence.
Annie Brown does not elaborate on why this is 'unlikely'.
Those who are now campaigning to "free" him are middle-aged or elderly men – the type who think that pesky Metoo nonsense "went too far".
So a tabloid writer has a penchant for the cheap and nasty, in this case ageism thinly coated in self righteousness – what's new? There are bigger fish to fry here. THIS middle aged or elderly man (sixty-nine come Michaelmas, so six years older than Craig) does not find MeToo 'pesky'. That's too small a word. Nor that it 'went too far' – a stupidly strawman put-down which paints principled concerns as a quibble over degree. My objection is twofold:
MeToo misappropriates a real breakthrough – securing convictions of sex offenders through mountains of testimony, bearing striking commonality of detail, from victims who could not have colluded – for use in ways that should sound alarm bells. Did Mr Salmond's accusers know one another? This is no trifling detail.
MeToo has the effect, through its 'court of public opinion' contempt4 for due process, of subverting a cornerstone of jurisprudence: the presumption of innocence. In this it exemplifies a wider phenomenon: 'woke' politics serving, with dismaying ease in the case of an intelligentsia supposedly trained in critical thinking, the agendas of power. Those who challenge a criminal world order, at home or abroad, have a way of turning out to be sex offenders (Julian Assange, Scot Ritter), homophobes (Robert Mugabe, Vladimir Putin) or anti-semites (Jeremy Corbyn, Ken Livingstone). How convenient.
Murray's name is being heralded in the same breath as Julian Assange and while both have been hailed, often rightly as human rights activists, they have little regard for the human rights of women daring to speak their own truth to power.
I beg to differ. Too many of the Western Woke seem blind to the sufferings of an imperialised world. Those most afflicted by the bombs dropped on, and depleted uranium now littering, the middle east are, for reasons easy to fathom, women. As they are of all 'our' wars, and sanctions no less femicidal. I am not one of Annie Brown's regular readers but will hazard that Craig has been a far more vocal opponent of those crimes on millions of women – mothers, sisters, wives and daughters; all born into the wrong place at the wrong time – than she has.
As British ambassador to ­Uzbekistan, Murray exposed ­violations of human rights there by the Karimov administration. Yet his ethics were tossed aside when he abused the legal right to anonymity of the women who accused Salmond …
According to [John] Pilger, Murray is "owed our debt of gratitude".
For what? Standing by a man who was cleared as a criminal but whose behaviour towards women was sleazy, exploitative and morally repugnant.
No, for standing by principles vital to the rule of law. And doing so when the penalty – unlike that for penning hired vitriol for Scotland's most widely read tabloid – was severe.
There will be no "gratitude" from Salmond's complainers, whose lives have been torn apart by their experience of the justice system.
"I don't like the Salmond verdict so I'll trash the man as though he'd been found guilty."
There was no principle at stake.
This claim is highly contentious, a fact Ms Brown fails to acknowledge. Far less does she back up so airy a dismissal of any "principle at stake".
He acted maliciously, to demonise the women and parade them across the internet like treacherous collaborators who should be subjected to the jeers of the twitterati.
So strong yet so unsubstantiated an accusation is a slur, and goes beyond anything the court, for all its deeply troubling aspects, has found.
Only a tiny percentage of rape and sexual assault is reported to the police and conviction rates in Scotland are at their lowest level in a decade.
Agreed.
Victims are terrified of being ­identified and thanks to men like Murray, they have every right to be.
*
To be clear, I do not dismiss Ms Brown's more general and less sensationalist point.5 Successful prosecutions of sexual offenders are indeed lamentably low, in Scotland and everywhere else on this sorry planet. Measures to rectify or mitigate this, without jeopardising the right to a fair trial, are to be welcomed.
(Such balancing acts are elusive, however – see #MeToo v the presumption of innocence. In this as in other arenas, individual justice, rooted in the Roman Law on which ours is founded, is not always – if ever – reconcilable with social justice. Yes, there are ways we could 'improve' conviction rates for rape. Trouble is, many carry a real risk of banging up innocent men.)
I simply highlight that, for reasons already given, the trial, conviction and sentencing of Craig Murray contains too many egregious aspects for any of us to sleep easy over the implications. Annie Brown has given those aspects dangerously short shrift.
Which matters precisely because there is nothing remotely exceptional about her, or her limited views of the world.
* * *