As Britain's Labour Party lost ground, in Thursday's local elections, to a spectacularly inept and – even by tory standards – venal party led by a serial liar, The Canary ran this cartoon: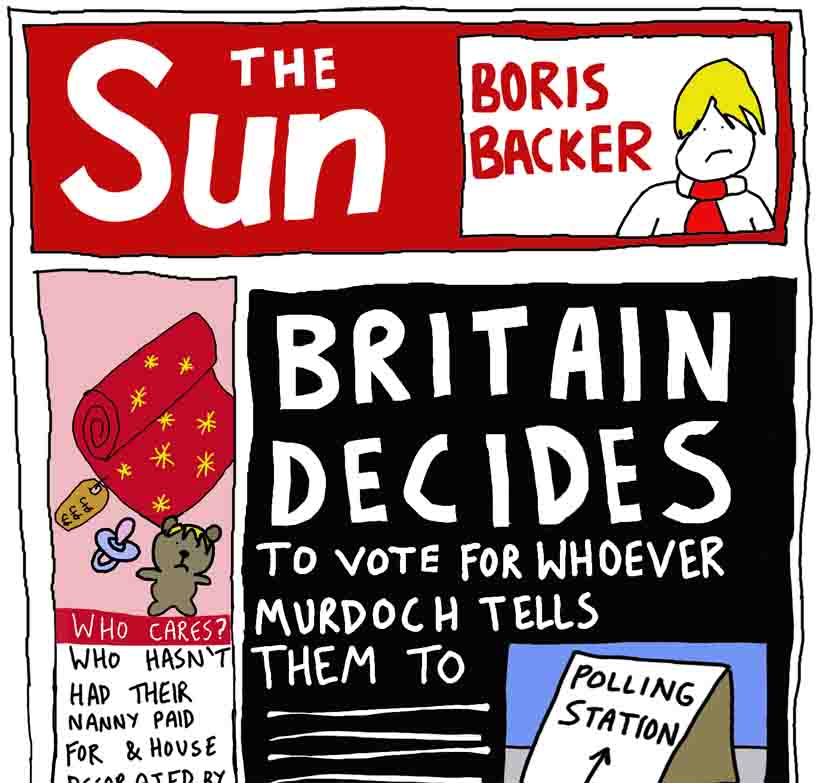 Actually this is an oversimplification in its implication that the sole problem with 'our' media is oligarchic ownership. Media barons like Murdoch, Rothermere and the Barclay Brothers are the visible tip of an iceberg. More insidious – less obvious hence more toxic – is the 200 year old business model of media dependency on advertising. As Noam Chomsky put it:
Media are large corporations selling privileged audiences to other large corporations. Now the question is: what pictures of the world would a rational person expect from this set up?
On matters of real import to our rulers – think Assange, Corbyn, Putin, Xi – media not owned by oligarchs do vital service. A liberal intelligentsia which would never have bought the character assassinations of Julian or 'Jezza' from Mail, Sun or Telegraph lapped up the vilest trashings of both men in the Guardian.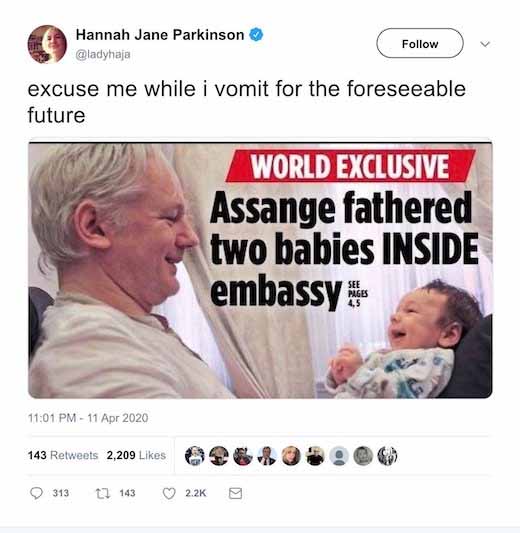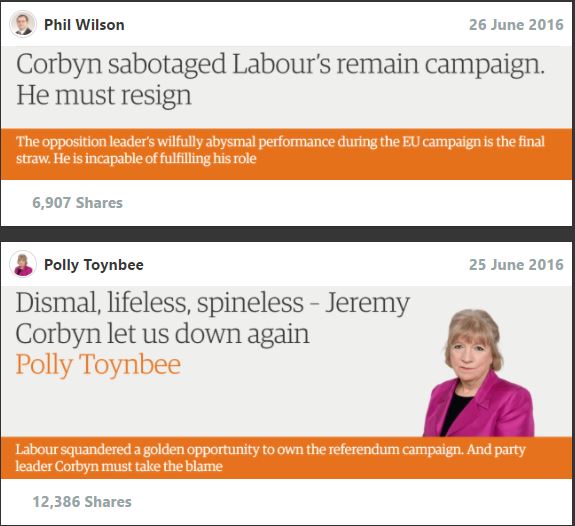 Here too Chomsky gets to the heart of the matter:
The smart way to keep people passive and obedient is to strictly limit the spectrum of acceptable opinion, but allow very lively debate within that spectrum – even encourage the more critical and dissident views. That gives people the sense there's free thinking going on, while all the time the presuppositions of the system are being reinforced by the limits put on the range of the debate.
Because the Guardian (and other liberal media like NYT, HuffPo, Le Monde, Independent etc) do run pieces critical of the establishment on important but ultimately secondary matters, they can cash in the credibility gained to spend it where it most counts. On matters of core concern to our rulers – like demonising persons and/or states posing a challenge to the Western investors whose interests most shape deep state policy – they can be relied on to back the status quo.1
That closing of media ranks is never more evident than in psyching us up for war. Even writers who formally oppose war, against states which directly or indirectly thwart Wall Street hence Washington, do their bit. As Jonathan Cook said of the Guardian's George Monbiot:
[He] has repeatedly denied he wants a military attack on Syria. But if he weakly accepts whatever narratives are crafted by those who do – and refuses to subject them to meaningful scrutiny – he is decisively helping to promote such an attack.' 2
We saw similar in Guardian hand-wringing, way too little and way too late, re that extradition request – after it had led the pack in eroding 'woke' support for Julian Assange.
What's that? We have non commercial broadcasters like the BBC? True, these are not directly subject to market forces via advertising – hence to ruling class agendas pursued, without need for conspiracy, by a mix of: ideology absorbed as common sense, business realism and career focus.3 To which I say two things. One, the Beeb relies on licence fees set by politicians who themselves fear the editorial fulminations of the Mail, and/or are in bed with Murdoch et al.4
Two, the BBC's upper echelons are disproportionately Eton/Oxbridge. Once more Chomsky is on the nail. In his now famous 1996 interview with the Beeb's Andrew Marr, the latter objects:
How can you know I'm self censoring?
To which Chomsky replies:
I don't say you are self censoring. I'm sure you believe everything you say. But what I am saying is that if you believed something different you would not be sitting in that chair.
Last but not least, should all of the above seem insufficient, the state may be minded to assert itself directly. Here's Media Lens on the subject: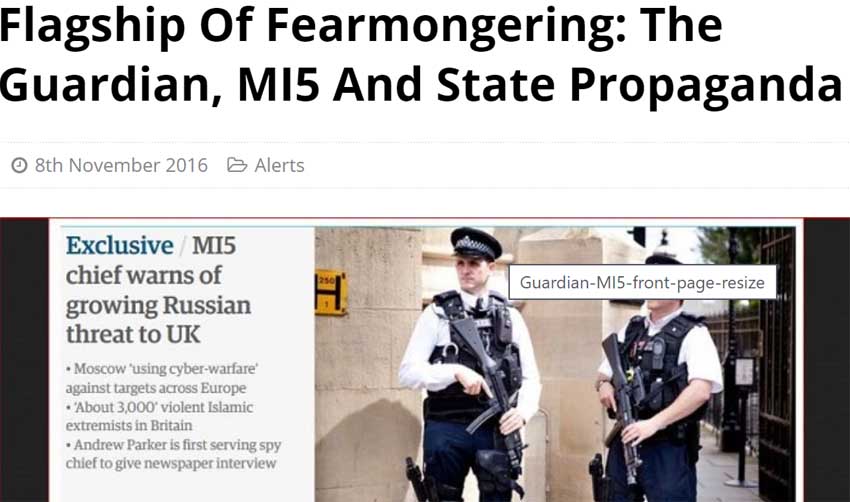 Readers of the Guardian woke up last Tuesday (November 1, 2016) to find the newspaper and website had been given over to promoting MI5. To be more precise: the paper was trumpeting a fearmongering 'exclusive' with MI5 Director-General, Andrew Parker. It was billed as 'the first interview of its kind' and conducted by the paper's deputy editor, Paul Johnson, and the diplomatic editor, Ewen MacAskill. However, it quickly became clear that this 'interview' consisted largely of the two senior Guardian journalists listening to the MI5 chief and diligently writing down what he said with no discernible challenge or scrutiny.
Ex-Guardian journalist Jonathan Cook summed up perfectly the contents of the 'interview':
• the Russians under Vladimir Putin are an evil empire;
• Islamic jihadists are everywhere but MI5 is brilliant at foiling their terror attacks;
• the increased budget MI5 has received is entirely justified because it is doing such a brilliant job of foiling terror attacks;
• MI5's extra powers to surveil us all are necessary to foil those terror attacks;
• whatever happens with Brexit, MI5 will continue doing a brilliant job protecting the British people;
• MI5 is determined to become a friendlier place for women and minority ethnic applicants.
This was state ideology masquerading as robust reporting; in Britain's 'flagship' newspaper of liberal journalism, no less. The front page of the Guardian website, with an accompanying photograph of two armed policemen, was a model example of propaganda that should be pored over by journalism students for decades to come …
*
One last observation. None of the above should be read as my claiming Labour's problems are all down to hostile media. (In this regard see my January post on the tragedy of Corbynism.) As the recriminations fly, above and below the line, between left and right of the party, I'm holding my tongue the way I do when asked (this happens all the time) whether I've stopped beating my wife or buggering choir boys. While my sympathies lie more with the left of the party – and with a shamefully vilified Jeremy – I'm conscious of two things.
One, such is the extent of the divide within Britain today that Blair's successes (and it should be remembered his 1997 majority declined in 2001 and again in 2005) is for the foreseeable future unrepeatable by a left or right leader. Blair's (hat) trick was to reach out to the middle classes, knowing the heartlands had no feasible alternative to voting Labour. That is no longer the case. The interests, real and perceived, of the Islingtonians and those most shafted by neoliberalism are no longer reconcilable.
Two, objectively speaking – the undoubted sincerity and passion of many on the Labour left notwithstanding – the role of left reformism has always been to sanitise the brand after each betrayal. On this subject I can recommend a classic by Ralph Miliband (Ed and David's dad) – Parliamentary Socialism: a Study in the Politics of Labour. Though first published in 1961, and last updated in 1972, it contains little that is not instantly recognisable today.
Nevertheless, and back to the main thrust, I can think of no more cogent argument for insisting that Western democracy is ninety-five percent bogus than that (a) democracy implies consent, (b) consent is meaningless if not informed, and (c) informed consent implies truly independent media. That last we do not have when they are "large corporations selling privileged audiences to other corporations".
Counter arguments, ladies and gentlemen?
* * *