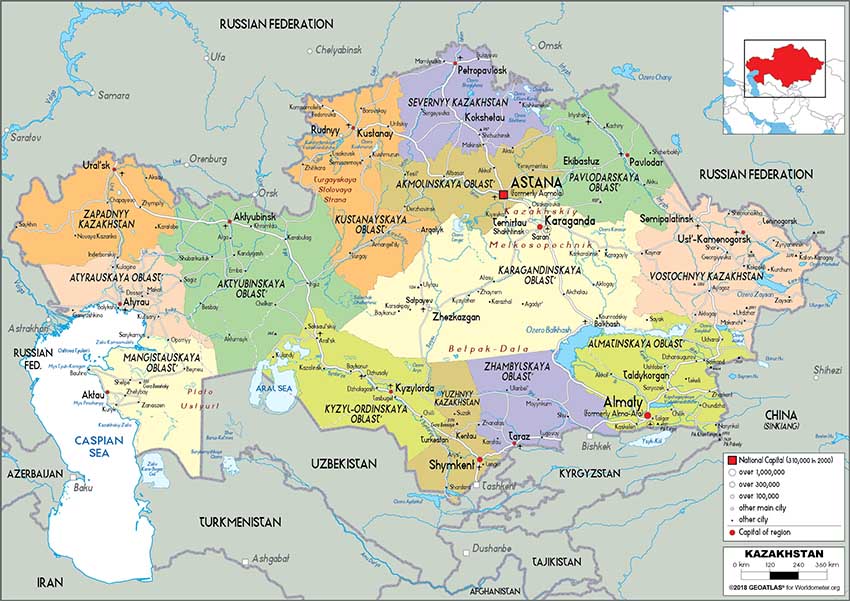 And then it gets down to the level of farce, as the EU starts calling on Kazakh authorities to "respect the right to peaceful protests." As in allowing total anarchy, robbery, looting, hundreds of vehicles destroyed, attacks with assault rifles, ATMs and even the Duty Free at Almaty airport completely plundered.
Pepe Escobar, January 6, 2022
*
Yesterday Moon of Alabama began a piece – The U.S. Directed Rebellion in Kazakhstan May Well Strengthen Russia – by quoting from a 350 page Pentagon commissioned report by the think tank Rand in 2019. Here in slightly abridged form is the extract:
Some level of competition with Russia is inevitable. This report defines areas where the USA can gain advantage. We examine nonviolent measures to exploit vulnerabilities and stress Russia's military and economy, and political standing at home and abroad. These would not have defense or deterrence as their prime purpose, although they might aid both. Rather, these are elements in a campaign to unbalance the adversary, leading Russia to compete in domains or regions where the USA has a competitive advantage, causing Russia to overextend militarily or economically or to lose domestic and/or international prestige and influence.
Chapter 3 of the report assesses four "economic measures" to that end. For each, the potential benefits, risks  and likelihood of success  are set out, and a conclusion  given. The four measures being:
Hinder Petroleum Exports
Reduce Natural Gas Exports and Hinder Pipeline Expansions
Impose Sanctions
Enhance Russian Brain Drain
In Chapter 4, the same template is applied to six "geopolitical measures":
Provide Lethal Aid to Ukraine
Increase Support to the Syrian Rebels
Promote Regime Change in Belarus
Exploit Tensions in the South Caucasus 1
Reduce Russian Influence in Central Asia 2
Challenge Russian Presence in Moldova
In its overarching conclusion for Chapter 4, the report says this:
Russia's commitment in Eastern Ukraine is its greatest point of external vulnerability; local opposition is active and Ukraine is a more capable adversary than any of the other states where Russian troops are committed. But even here, Russia has local military superiority, so controls the possibility of escalation dominance. Any increase in US arms and advice to Ukraine would need to be carefully calibrated to increase the costs to Russia without provoking a much wider and even more violent conflict.
Note those last few words. As in the South China Sea, the terrible potential of Russia's western borderlands arises at least as much from the possibility of miscalculation – one US provocation too many – as from deadly intent.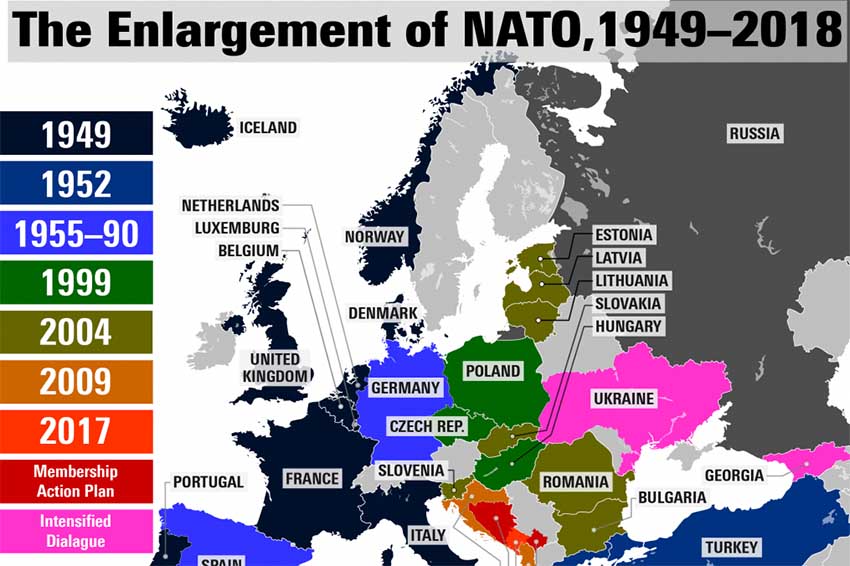 *
But let's return – given these insights into the psychology of "think tanks" risibly promoted as impartial by the self-servingly credulous (and at times mendacious) journalists of corporate media in the West 3 – to the northernmost and largest of Central Asia's "stans".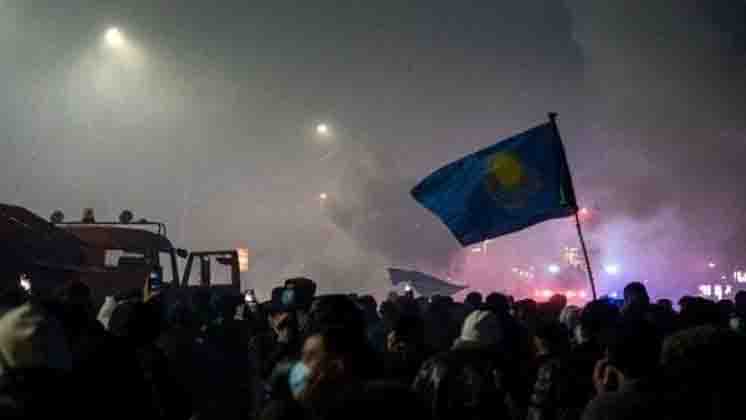 Early hours of January 7 in the Kazakh capital, Nur-Sultan (née Astana) 4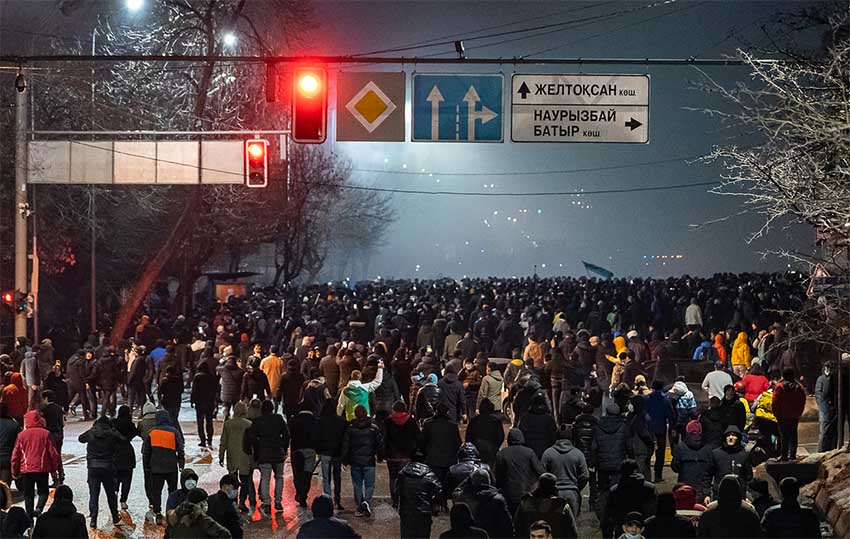 More peaceful protests in the south-east (Belt & Road facing) business hub of Almaty, three days earlier on January 4
Writing today, in less florid tone than usual but as insightfully informed as ever, Pepe Escobar begins thus:
STEPPE ON FIRE: KAZAKHSTAN'S COLOR REVOLUTION
So is that much fear and loathing all about gas? Not really.
Kazakhstan was rocked into chaos virtually overnight, in principle, because of the doubling of prices for liquefied gas, which reached the (Russian) equivalent of 20 rubles per liter (compare it to an average of 30 rubles in Russia itself).
That was the spark for nationwide protests spanning every latitude from top business hub Almaty to the Caspian Sea ports of Aktau and Atyrau and even the capital Nur-Sultan, formerly Astana.
The central government was forced to roll back the gas price to the equivalent of 8 rubles a liter. Yet that only prompted the next stage of the protests, demanding lower food prices, an end of the vaccination campaign, a lower retirement age for mothers with many children and – last but not least – regime change, complete with its own slogan: Shal, ket! ("Down with the old man.")
The "old man" is none other than national leader Nursultan Nazarbayev, 81, who even as he stepped down from the presidency after 29 years in power, in 2019, for all practical purposes remains the Kazakh gray eminence as head of the Security Council and the arbiter of domestic and foreign policy.
The prospect of yet another color revolution inevitably comes to mind: perhaps Turquoise-Yellow – reflecting the colors of the Kazakh national flag. Especially because right on cue, sharp observers found out that the usual suspects – the American embassy – was already "warning" about mass protests as early as in December 16, 2021.
Maidan in Almaty? Oh yeah. But it's complicated.
Brief aside: Pepe draws an unfinished analogy here with the US-backed Maidan Square "colour revolution" which ousted Russia-leaning Yanukovych. The prime beneficiary, Petro Poroshenko, headed a deeply divisive regime, pro NATO and semi fascist. Its Russophobic writ alienated the eastern half of a Ukraine whose current borders lack historic integrity and amount to a gun at Russia's head. This, and not "Russian aggression", is why the fears and seething resentments of  Donbass (Donetsk) and Crimea cannot be assuaged/appeased under Kiev rule. Least of all in conditions of "free market" chaos.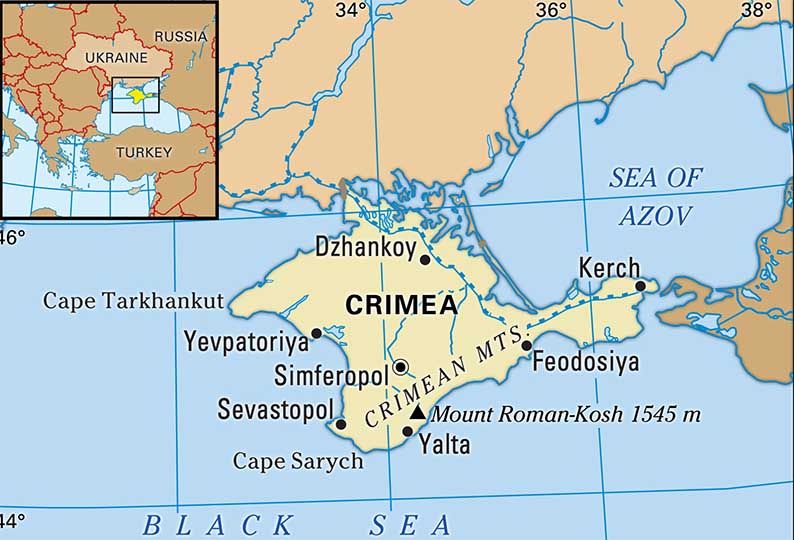 Other than to secure its military base in the Crimea (not least to forestall the nightmare of nukes falling into the hands of the Bandera-idolising goons of the Azov Battalion, and to protect an overwhelmingly Russian populace east of the Dneiper River) what would the Kremlin want with the economic basket case which is now Ukraine? Beyond the immediate non-negotiables just set out, the goal for Russia is to ensure that the lands through which first Bonaparte and then Hitler struck at her will not become the portal for a third Storm from the West.
Not that any of this will be apparent to the complacent consumers of the Guardian's drip-fed drivel. Might I instead recommend this 38 minute interview featuring Aaron Mate and Douglas Macgregor, retired US Army Colonel and former Pentagon senior advisor? And my December 22 post, Ukraine and Georgia are Russia's red lines? It features another gamekeeper turned poacher – their proliferation a sign that something is deeply amiss in the centres of Western power 5 – the former Reagan appointee, Paul Craig Roberts.
Now back to Pepe's analysis of current events in Kazakhstan …
Almaty in chaos
For the outside world, it's hard to understand why a major energy exporting power such as Kazakhstan needs to increase gas prices for its own population.
The reason is – what else – unbridled neoliberalism and the proverbial free market shenanigans. Since 2019 liquefied gas is electronically traded in Kazakhstan. So keeping price caps – a decades-long custom – soon became impossible, as producers were constantly faced with selling their product below cost as consumption skyrocketed.
Everybody in Kazakhstan was expecting a price hike, as much as everybody in Kazakhstan uses liquefied gas, especially in their converted cars. And everybody in Kazakhstan has a car, as I was told, ruefully, during my last visit to Almaty, in late 2019, when I was trying in vain to find a taxi to head downtown.
It's quite telling that the protests started in the city of Zhanaozen, smack into the oil/gas hub of Mangystau. And it's also telling that Unrest Central immediately turned to car-addicted Almaty, the nation's real business hub, and not the isolated, government infrastructure-heavy capital in the middle of the steppes …
Pepe concludes with this:
Putin, Lukashenko [Belarus leader] and Tokayev [Kazakh leader, nominal or not] spent a long time over the phone, at the initiative of Lukashenko. The leaders of all CSTO 6 members are in close contact. A master game plan – as in a massive "anti-terrorist operation" – has already been hatched. Gen. Gerasimov will personally supervise it.
Now compare it to what I learned from two different, high-ranking intel sources.
The first source was explicit: the whole Kazakh adventure is being sponsored by MI6 to create a new Maidan right before the Russia/US-NATO talks in Geneva and Brussels next week, to prevent any kind of agreement. Significantly, the "rebels" maintained their national coordination even after the internet was disconnected.
The second source is more nuanced: the usual suspects are trying to force Russia to back down against the collective West by creating a major distraction in their Eastern front, as part of a rolling strategy of chaos all along Russia's borders. That may be a clever diversionary tactic, but Russian military intel is watching. Closely. And for the sake of the usual suspects, this better not be interpreted – ominously – as a war provocation.
* * *