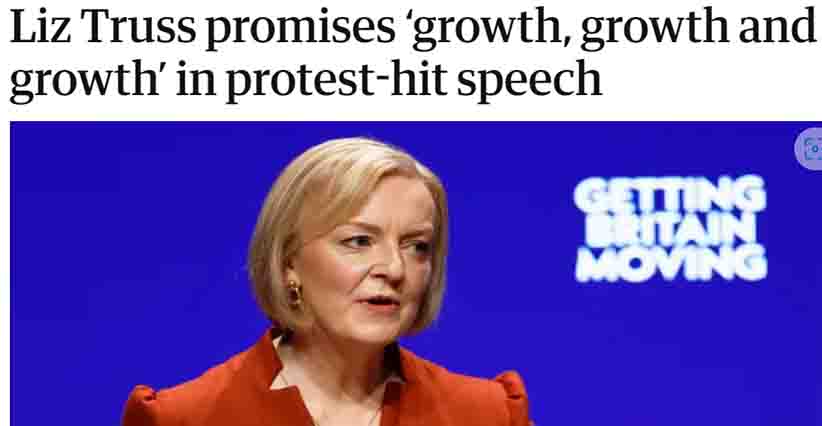 Guardian headline, October 5, 2022
There is some growth that is natural. Children grow. That's good news. So do cancers. That's not good. Any discussion on growth has to say what growth is desired.
Richard Murphy, below
*
For a second time in three days I'm plugging a piece by the man I described, first time round, as the "Quaker, tax specialist and modern monetary theory advocate, Richard Murphy".
Its theme is growth.
It's long been clear to me and a good many others that environmental unsustainability is the most damning of all the ways in which capitalism's drive for narrowly defined growth serves us ill. (Its attendant drive to war comes a very close second; in fact right now it has risen to first place.) But more recently it's become equally clear to me – on the one hand through reading Michael Hudson, on the other through Europe's costly underestimation of Russia's economy – how unreliable a metric "growth", specifically GDP growth, can be in purely economic terms.
This is especially so in economies as financialised, with the attendant hollowing out of industry, as the USA and UK. 1 (Though manufacturing powerhouse Germany, biggest loser in the US proxy war to curb Russia and stop Europe moving closer to Eurasia by blowing up Baltic gas pipelines, now stands at the brink of industrial contraction and plummeting living standards for most of its citizens.)
Meanwhile, taking as his point of departure the arrival of Britain's second prime minister in a row of breath-taking immaturity, Professor Murphy explores the implications for Britain of the unquestioned acceptance, by Starmer no less than Truss, of "growth, growth and growth" as an unmitigatedly Good Thing.
*
Truss neither understands growth or the steps required to deliver it
Liz Truss put growth at the epicentre of her policy and political narratives yesterday. It is the dividing line around which she will seek to differentiate the world between those who are for her and those who are opposed, in her view, to what she stands for. 
I suggest Truss has made a mistake. Let me leave aside the fact that in July this year Keir Starmer chose an identical focus on "growth, growth, growth" as his campaigning slogan, which makes Truss's position look like a straightforward case of plagiarism.
Instead, let me suggest that both fail to understand what growth is, and that neither will deliver much of it, whatever they say.
There is some growth that is natural. Children grow. That's good news. So, unfortunately, do cancers. That's not good. Even where growth is a natural phenomenon it is not necessarily good. In that case any discussion on growth has to say what growth is desired.
Truss made no such distinction yesterday. Apart from frequent references to pies which, as many pointed out, do not grow once they are baked, she left us to work out for ourselves what she was referring to when talking about growth.
The assumption is that what she wants is growth in the size of the UK's monetary economy, which is measured using something called Gross Domestic Product, or GDP.
Growth in GDP has been a post-war obsession, largely because no reliable measures of it were prepared before the Second World War. Somehow, like children who grow even if they are not measured, growth happened at that time without a tool to appraise it.
The trouble with GDP is that it is really not a very good measure. First of all it says that all that is paid for with money is good and everything else is not. So, if childcare is paid for its good. And if it is done at home, or by granny, it has no value.
Very obviously that is not true. But what it also demonstrates is that if we want growth the best thing to do is monetise many things that are not paid for now. Simply insisting that all domestic laundry and cleaning must be paid for would massively increase GDP.
But would that add to growth? It would not, of course: the same amount of work would be done (albeit, maybe by someone else)and no one would really be better off. We'd record growth and have added little or nothing to society as a result.
Then there is the problem that GDP assumes that everything paid for with money is of equal worth. So, the surgery that saves a person's life has the same value as a gambling website. Is that true?
GDP also puts no value on misery. As I have often told students, if you really want to increase GDP just require that everyone divorce. That generates vast quantities of legal fees and costs in setting up new households but it does not add to the quality of life.
Robert Kennedy, the brother of President Kennedy, who was assassinated in 1968 when he too was running for president of the USA, summarised this well. He said of GDP:
"Gross National Product counts air pollution and cigarette advertising, and ambulances to clear our highways of carnage. It counts special locks for our doors and the jails for the people who break them. It counts the destruction of the redwood and the loss of our natural wonder in chaotic sprawl. It counts napalm and counts nuclear warheads and armored cars for the police to fight the riots in our cities. It counts Whitman's rifle and Speck's knife, and the television programs which glorify violence in order to sell toys to our children.

Yet the gross national product does not allow for the health of our children, the quality of their education or the joy of their play. It does not include the beauty of our poetry or the strength of our marriages, the intelligence of our public debate or the integrity of our public officials. It measures neither our wit nor our courage, neither our wisdom nor our learning, neither our compassion nor our devotion to our country, it measures everything in short, except that which makes life worthwhile. And it can tell us everything about America except why we are proud that we are Americans.

If this is true here at home, so it is true elsewhere in world."
This hopeless measure of nothing of necessary value is what Truss says she is pursuing. It's scary, to say the least.
Read Richard Murphy's piece in full …
* * *
Hyper-financialisation of Western economies is not confined to mortgages, rent, student debt, legalised tax avoidance, and insurance. The trade in debts as assets (like the 'collateralised debt obligations' which kicked off the 2008 crash) … the sums lent and borrowed to finance corporate raids and share buyback … short-selling, 'put' and 'call' speculation … these features of today's casino capitalism create no new value – few of the sums changing hands finance industry – but do create profits from the renting out of money. As such they are part of the picture. When Obama told Wall Street fat cats he'd saved them from the "pitchforks", via a QE program as economically dysfunctional as it was morally disgraceful, he meant every word. A UK energy sector privatised by Mrs Thatcher owes a similar debt of gratitude to the incoming prime minister, Liz Truss, for her equally dysfunctional and disgraceful response to soaring fuel bills. And since we're speaking of extractive industries, we should keep in mind that most value in that quarter is created 'downstream' of oil wells, mines, quarries and fracking sites; all of them forms of real estate. 'Upstream', the profits pour in as unearned income from a monopolised natural resource which may be inherited (the British royal family and related oligarchies), looted (Russian gas barons, their fortunes made overnight amid IMF-prescribed disaster capitalism under Yeltsin) or the recycling of other unearned incomes (Bill Gates, on a ten year land buying spree, his initial pile made by renting out a computer operating system of contentious provenance). But my narrower point is that until the Ponzi schemes collapse and non-inflationary QE is no longer an option thanks to the demise of the dollar as the world's reserve currency – a demise hastened by the global south duly noting, inter alia, Washington's lawless asset seizures in Iraq and Syria, and its lawless freezing of Afghan, Russian and Venezuelan deposits in its own vaults or those of vassal states like the UK – the West's 1% will continue not only to plunder the planet, but to grow ever richer on the debt-driven impoverishment of its own 99%.