Paul Gray, shown here in a Fox News Appearance
Paul Gray is not just some angry suburban dad glibly labeled a fascist by the liberal media because he delivered an off-color rant at a parent-teacher conference. He is the real deal.
Alexander Rubenstein, writing in The GrayZone (below)
*
At the height of the War on Terror, corporate media bombarded us with fear porn on Western jihadists signing up, freely or under coercion, as foot soldiers for ISIS in Iraq and Syria. So why are we not now being similarly bombarded with tales of Western fascists – the real kind – now gaining combat experience, and hands-on familiarity with advanced weaponry, as foot soldiers with the Azov Battalion and other far right forces in Ukraine?
(That's a rhetorical question. Only the chronically credulous – a large constituency I grant you – would expect our systemically corrupt media to do any such thing on a matter so vital to those who rule us.)
The US Department of Homeland Security has voiced concern, as has the FBI, but the conflictual agendas of America's alphabet agencies have been well known since 9/11. And right now, those of the CIA and its proliferation of sister orgs are in the driving seat as Washington prosecutes the proxy war it has, after years of effort, ignited on Russia's doorstep. 1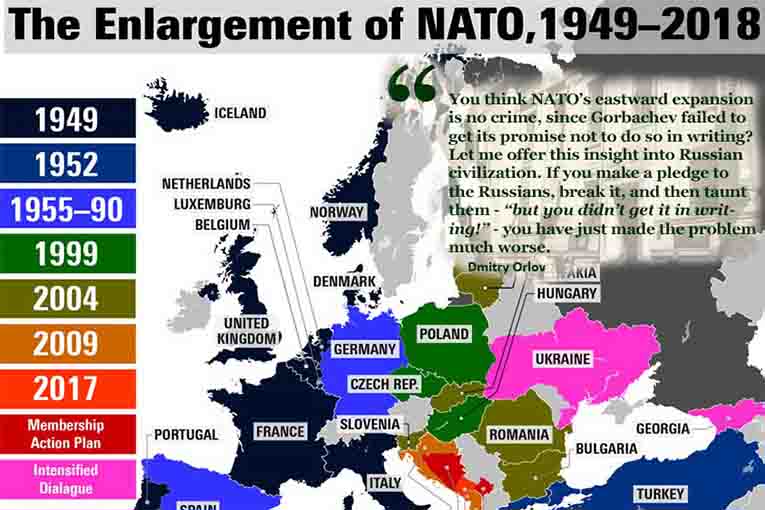 Not that this is a purely American issue. I came across Alexander Rubenstein's GrayZone piece of May this year, part replicated below, by way of a link in the final paragraph of a November 15 feature in Defend Democracy – on the arrest in Italy of five members of a neo-Nazi cell linked to the Azov Battalion.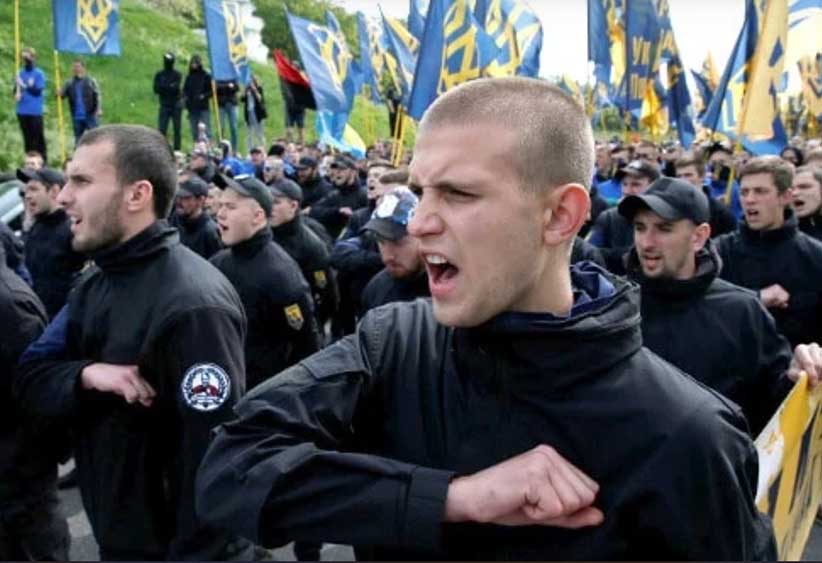 On the march in pre 2022 Ukraine; the fascists of the Azov Battalion
We can be sure similar cells operate across the Western world; far right tendencies now gaining combat experience in Ukraine.
And Bringing It All Back Home.
*
Alex-Rubinstein, May 31, 2022
US corporate media has provided glowing coverage to Paul Gray, a notorious American white nationalist fighting in Ukraine. A DHS document warns he's not the only US fascist drawn to Kiev.
As the United States undergoes a national mourning process over a spate of mass shootings, American white nationalists with documented histories of violence are attaining combat experience with advanced US-made weapons in a foreign proxy war.
That's according to the Department of Homeland Security, which has been gathering intelligence on Americans who have joined the ranks of the more than 20,000 foreign volunteers in Ukraine.
The FBI has indicted several American white nationalists associated with the Rise Above Movement after they trained with the neo-Nazi Azov Battaliion and its civilian wing, the National Corps, in Kiev. But that was almost four years ago. Today, federal law enforcement has no idea how many US neo-Nazis are participating in the war in Ukraine, or what they are doing there. 
But one thing is for certain: the Biden administration is allowing the Ukrainian government to recruit Americans – including violent extremists – at its embassy in Washington DC and at consulates across the country. As this report will show, at least one notorious extremist fighting in Ukraine has received extensive promotion from mainstream media, while another who is currently wanted for violent crimes committed in the US was mysteriously able to evade FBI investigators looking into war crimes he previously committed in Eastern Ukraine.
According to a Customs and Border Patrol document released thanks to a May 2022 Freedom of Information Act request by a nonprofit called Property of the People, federal authorities are concerned about RMVE-WS's, or "racially-motivated violent extremists – white supremacy" returning to the US armed with new tactics learned on the Ukrainian battlefield.
Ukrainian nationalist groups including the Azov Movement are actively recruiting racially or ethnically motivated violent extremist white supremacists to join various neo-Nazi volunteer battalions in the war against Russia. RMVE-WS individuals in the United States and Europe announced intentions to join the conflict and are organizing entry to Ukraine via the Polish border.
The document, which was drafted by Customs and Border Protections, the Office of Intelligence, and other Homeland Security sub-agencies, contains write-ups of interviews conducted by law enforcement with Americans en route to Ukraine to fight Russia.

One such volunteer interviewed in early March "admitted to contacting the Georgian National Legion but decided against joining the group as they were accused of war crimes," according to the document. Instead, the volunteer " hoped to obtain a work contract with the Azov Battalion."
That interview was conducted nearly a month before additional war crimes committed by the Georgian Legion were reported by The Grayzone. However, the volunteer's allegation may also refer to the illegal execution of two men who had attempted to break through a Ukrainian checkpoint, or an additional, unreported crime known to insiders within volunteer networks.
One key "intelligence gap" listed in the document speaks to the US government's complete lack of oversight in the proxy war it is sponsoring in Ukraine. NATO arming campaign which has offered no assurances that Western weapons won't fall into the hands of Nazis. "What kind of training are foreign fighters receiving in Ukraine that they could possibly proliferate in US based militia and white nationalist groups?" the document asks.
Property of the People shared the document with Politico, which sought to downplay and even discredit its explosive contents by inserting the caveat that "critics say" the Department of Homeland Security document "echoes one of the Kremlin's top propaganda points." 2 But as this report will illustrate, the presence of hardcore American neo-Nazis in the ranks of the Ukrainian military is far from a deception cranked out by the Kremlin's propaganda mills.
Read Alexander Rubenstein's piece in full at The GrayZone …
* * *
I'm confining myself to thinking the strengthening of fascism in the imperial hub is seen as an 'unfortunate downside' of the overriding goal of regime change in Moscow. (Or of continuing to bog down Russia in an expendable Ukraine.) But given capitalism's historic use of dark forces – US weaponising of Salafism in the middle east and of death squads in Latin America … MI5/British Army collaboration with 'loyalist' terror in the Six Counties – can we rule out other arms-length Faustian pacts in the struggles to come, as western ruling classes seek to make the masses pay for crises borne of rentier  greed?
As Jonathan Cook – Cook on Monbiot on Ukraine (again) – put it, those who in lieu of addressing an argument's specifics point to its usefulness to Putin (or in the case of the powerful Israel lobby, to antisemites real or imaginary) are at best puerile. The critical bit is that "in lieu of …"  We may legitimately ask cui bono?  in circumstances where (a) we've refuted an argument's specifics, (b) those making it have a proven record of lying, and/or (c) said specifics are lost in the fog of war. None of those circumstances apply to factual claims made, and interviews recorded, in a document "drafted by Customs and Border Protections, the Office of Intelligence, and other Homeland Security sub-agencies"!