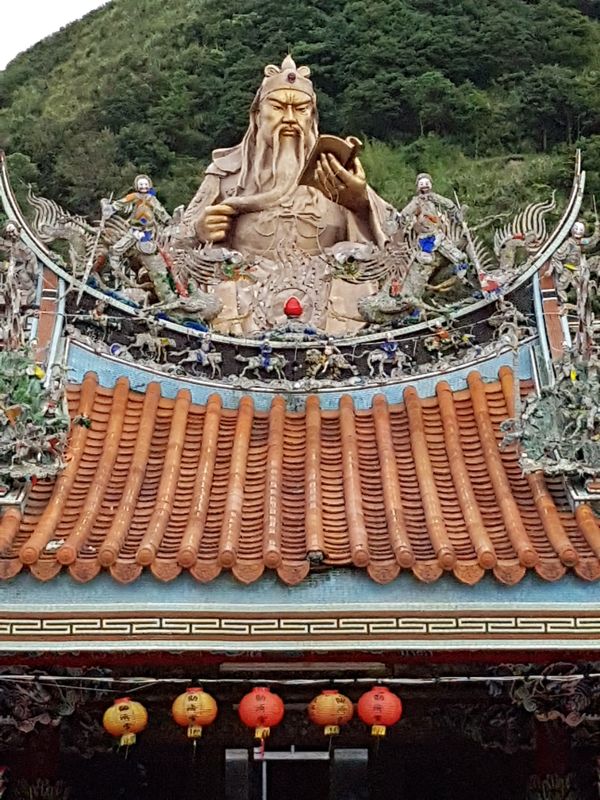 God is great. Absolutely huge. From His gold perch behind – which in the mining hill town of Jinguashi means above – Cyuanji Temple, his fearsome stare takes in the ramshackle dwellings clustered at His feet but thinning out as the town slides and slaloms through dense woods, past limestone crags, all the way down to Fulong Bay where blue and rippled green, jade and dazzling turquoise, throw their weight behind the arcing whites of the Pacific Ocean's assault on Formosa's northern shore. He keeps a particularly covetous eye on the watery fortress to the east, a small but once vital harbour where gold and copper harvested from these hills were shipped north to the land of his Shinto rivals.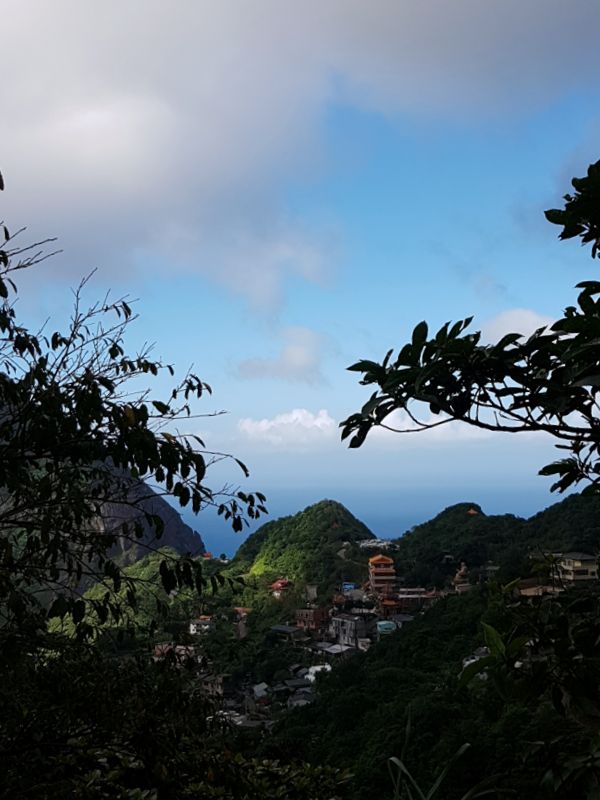 God is gold. If only in appearance. I doubt there's enough of the stuff in all Asia for God to be made entirely of it. Truth be told, God does like to glitter – but only on His terms.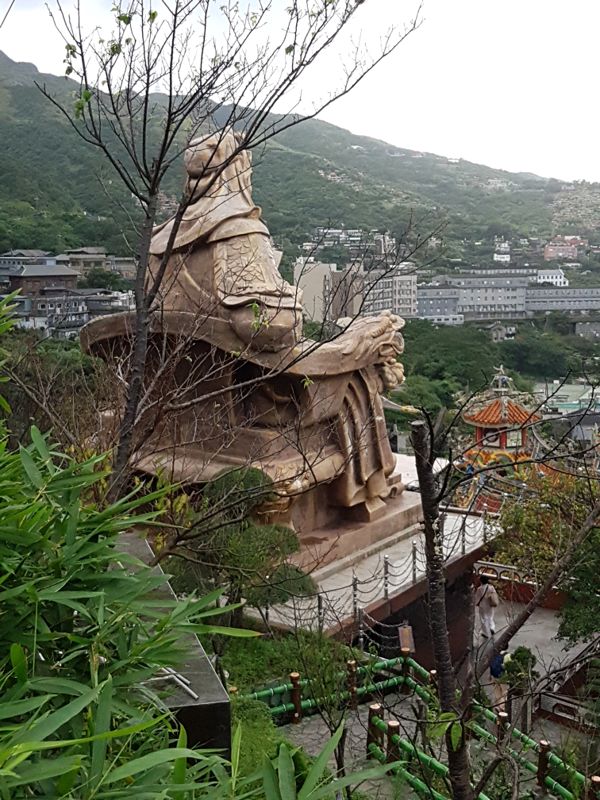 I couldn't get a handle on God. The steep narrow lanes gave stunning long vistas but, without my SLR and 70:200 L-series lens, thwarted my best efforts to freeze forever His Deificity. I could look from many angles near and far but He would not be revealed in mugshot. "That's apt", an American told me, credibility boosted no end by his conversing with a local in fluent Mandarin. "He's the god of gangsters and politicians."
*
Taiwan's museums are FOC, or surprisingly cheap given what's on offer, and Jinguashi's gold museum, no exception, is worth a visit. Gold has been mined, hereabouts and hit and miss, for millennia but it was the Japanese who, though only in control from 1895 to 1945, brought ruthless efficiency to its extraction: as when allied POWs slaved and died in forty degree temperatures on seams Taiwanese miners refused to work; the conditions worse than those endured by the bridge builders at the Kwai. I want to pen a post on what I gleaned at the museum but this isn't it.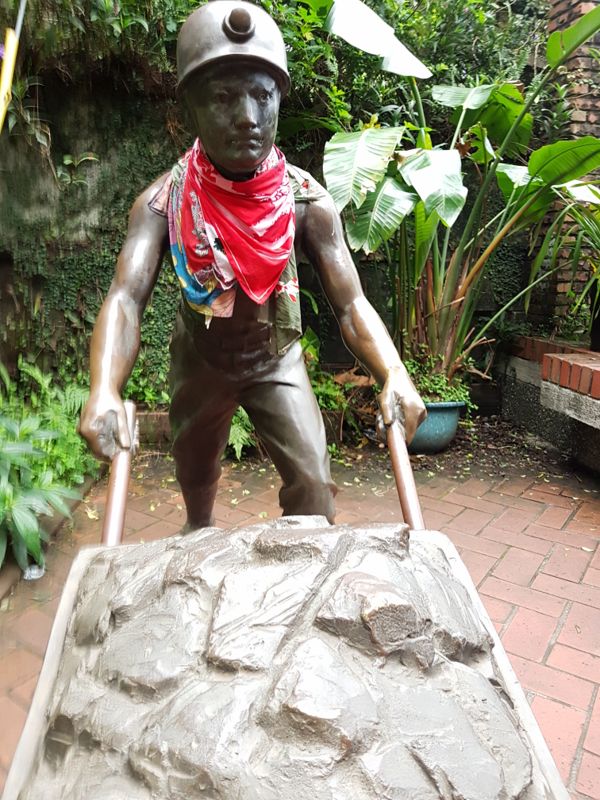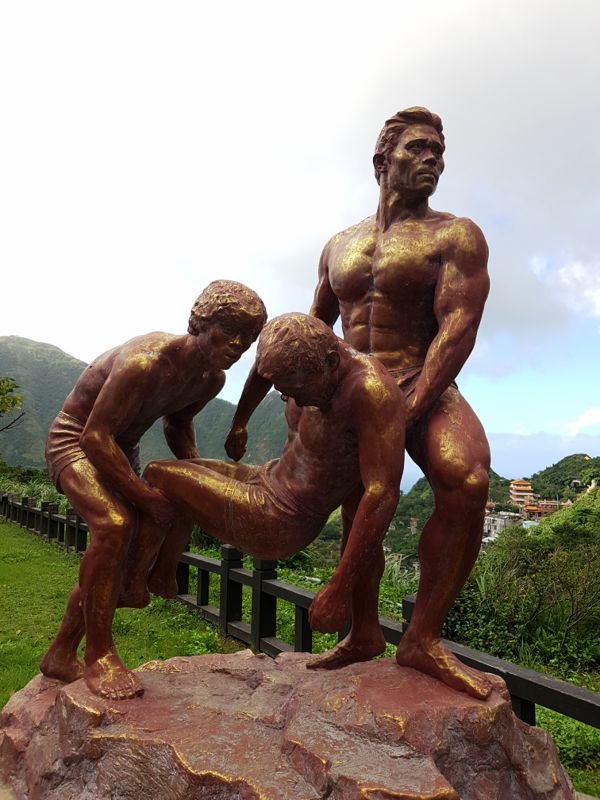 I liked Jinguashi. Enough to return, after a day trip by train and bus that also took in Keelung Night Market, to spend Tuesday night in the more commerci‍alised former gold town of Juifen, eight minutes closer to Keelung on the mountain road that snakes down to a different stretch of coast. Not the Japan-facing northern tip, as overseen by the God of Gangsters and politicians, but the southwest shoulder of an ore rich peninsula whose steep and densely forested interior contours play out in microsm, as do so many of Taiwan's islands and near islands, those of the country as a whole.
Here are a few of the views: some from the hostel I stayed in; others had by strolling a town whose arterial walkway shortcuts one of the road's looping bends, and from which genels to delight the serendepitous – bring a stick for the dogs though! – fan up, down and in sideways diagonals to combine the slivered peninsula effect of St Ives with the steep valleysides of a Hebden Bridge.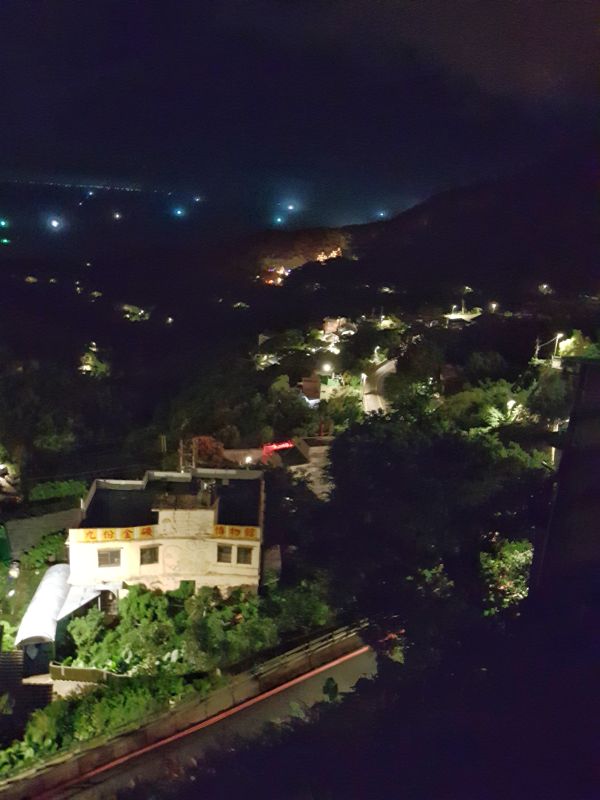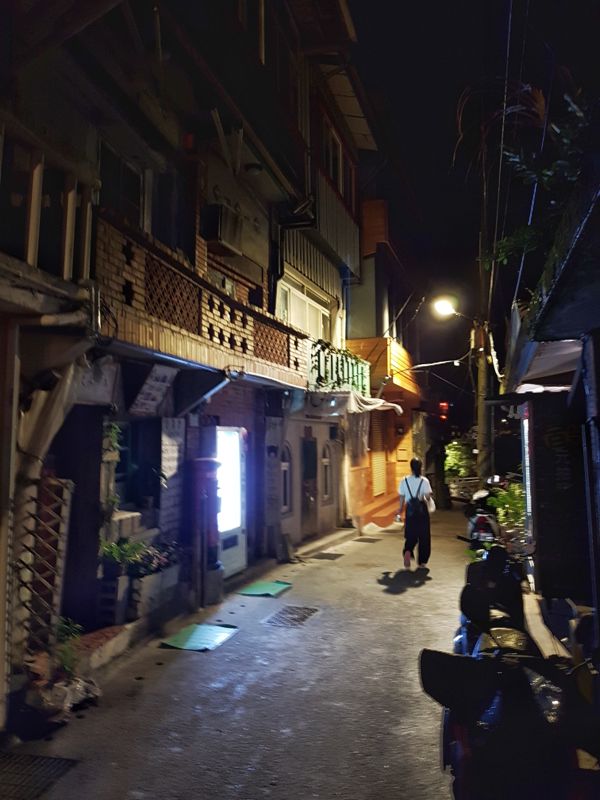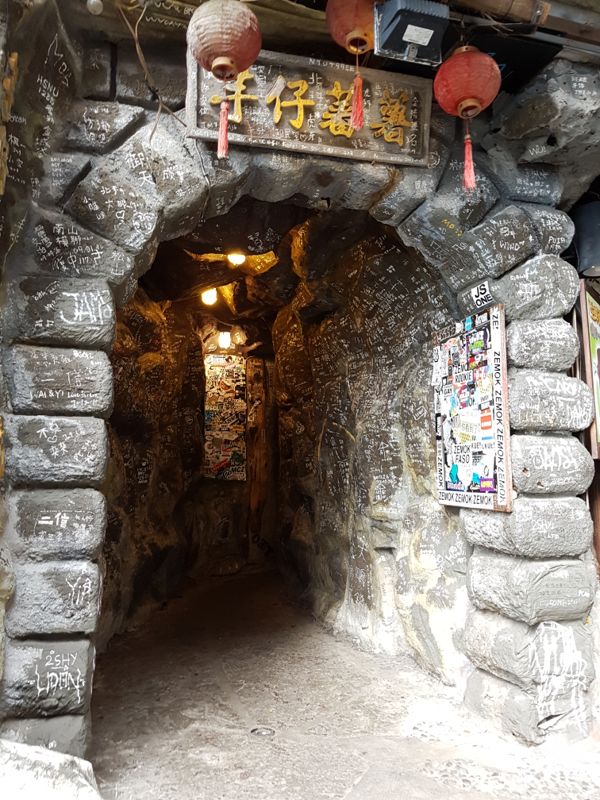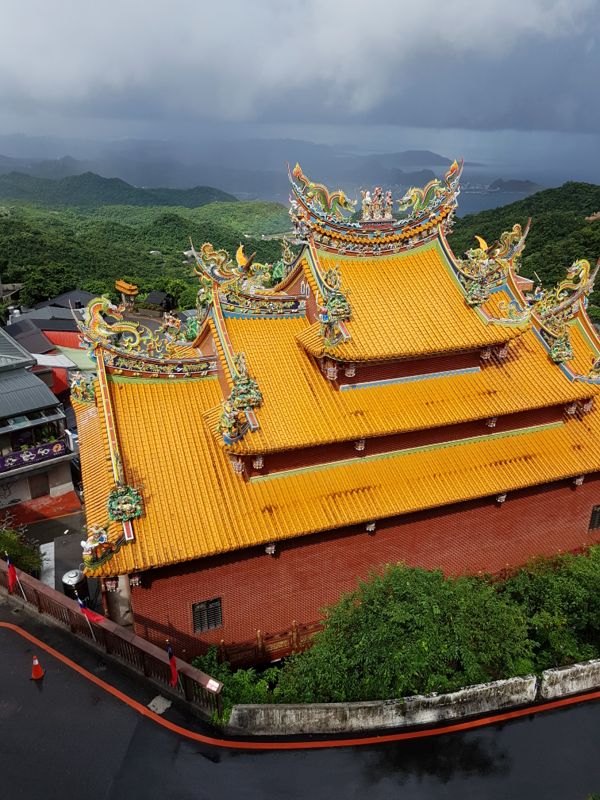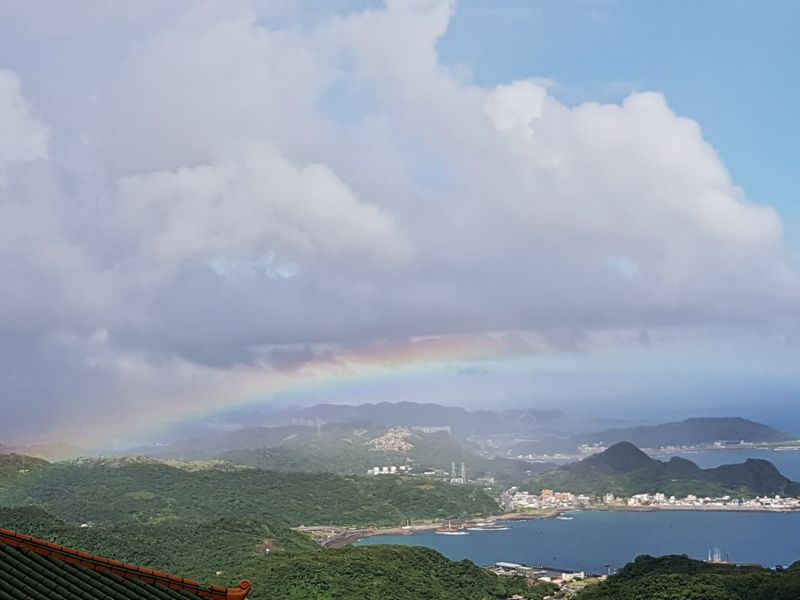 That last warrants a comment. Jinguashi and Juifen get 200 days of rain per year but that doesn't mean what it would in Manchester or Keswick. Here it can rain torrentially for two minutes, stop for fifteen of sunshine – a stiff breeze seeing off the humidity – then start up again.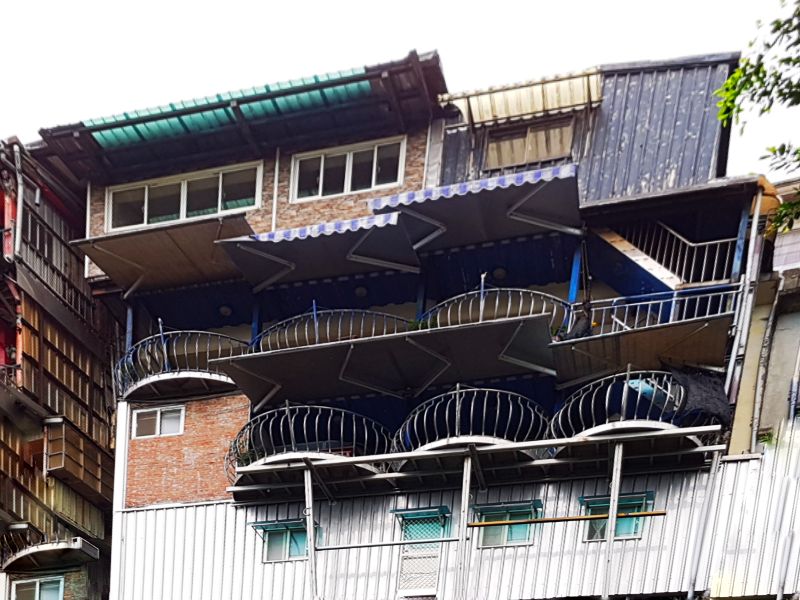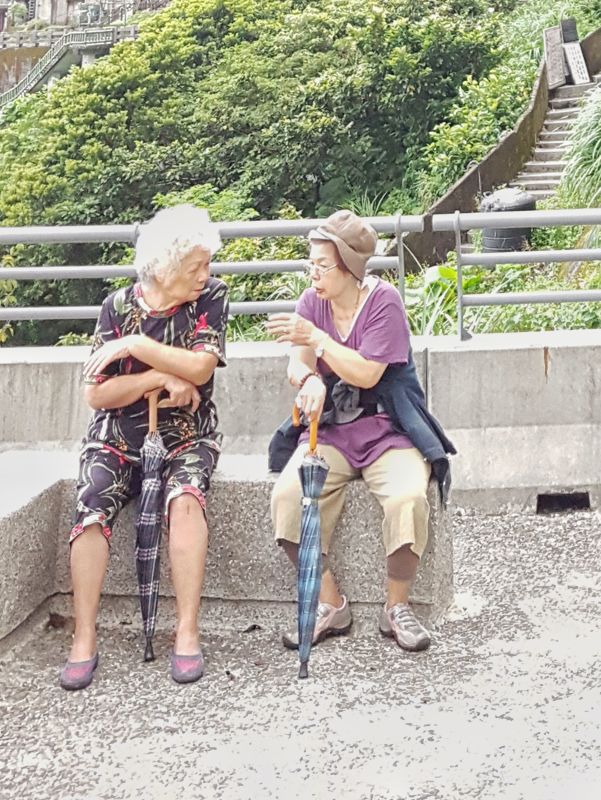 New ways of locating and extracting gold, together with buyant world prices, make the reopening of two mines to get at the 6,000 ounces still there a viable proposition. The locals are agin it. There's more money and less heartache in tourism.
*
Janiel, from Jamaica's Montego Bay, has spent the past four years teaching English in Japan. She's looking to do a Ph.D on the effects of typhoons but right now is enjoying a few days break, Taiwan being just four hours including airport turnaround from the city she works in.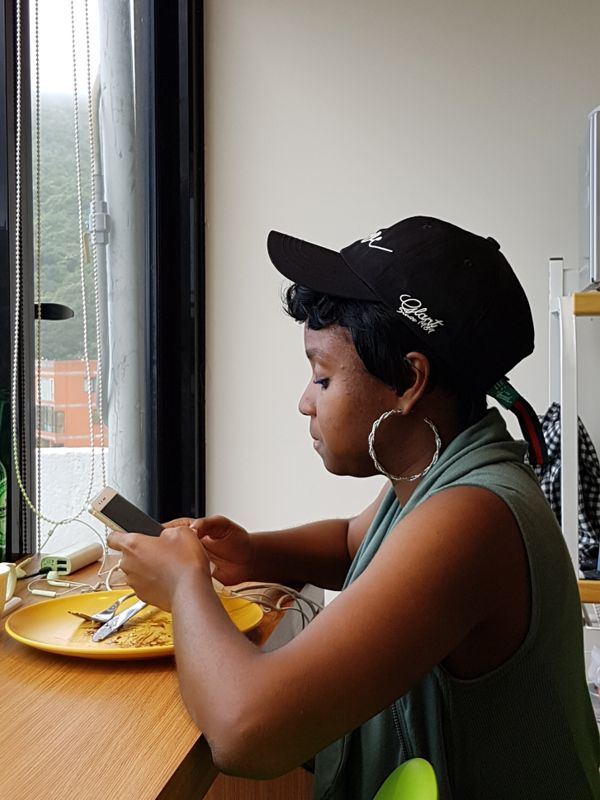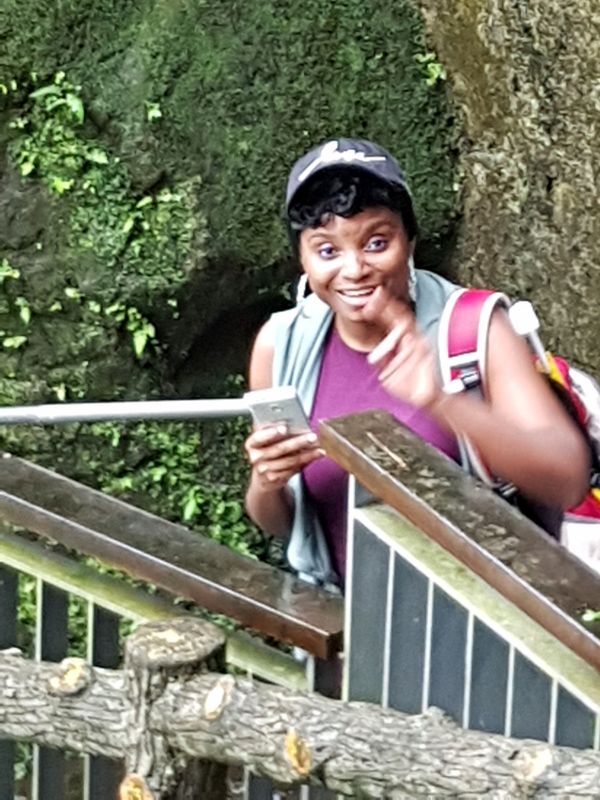 We met at the hostel the night before, for which I'm deeply grateful. One, she's an attentive young woman who's also – the two don't often go together – a great talker. Two, she's exceptionally intelligent. Three, thanks to her I've now seen Yehliu Geopark, next post, and the waterfall at Shifen, this one.
We saw Shifen together: bus toward Keeling, alight at Ruifeng, mountain train up to Shifen. Here are a few sights along the mile walk from station to fall. First, may these good folk's wishes be fulfilled.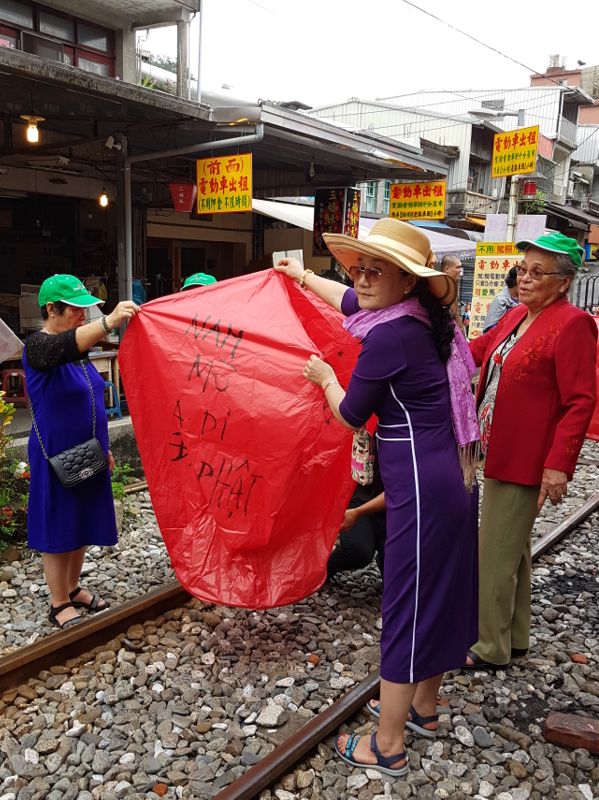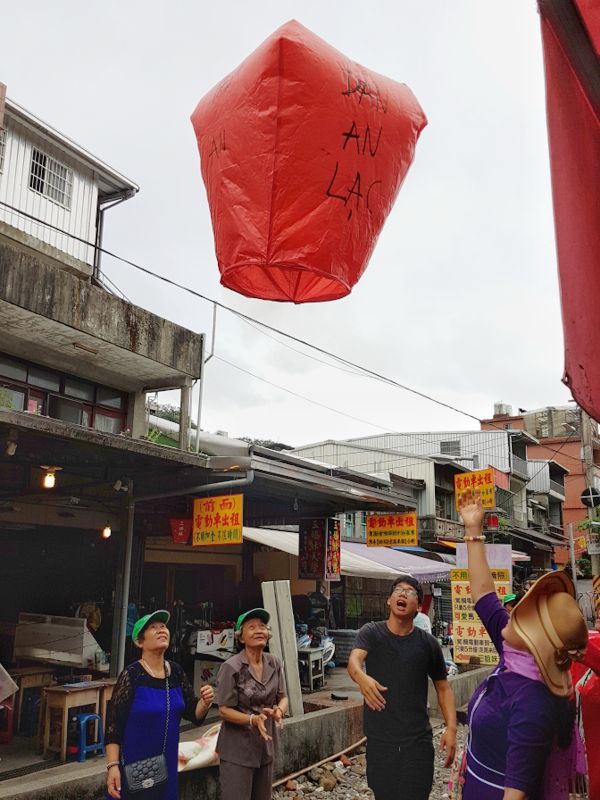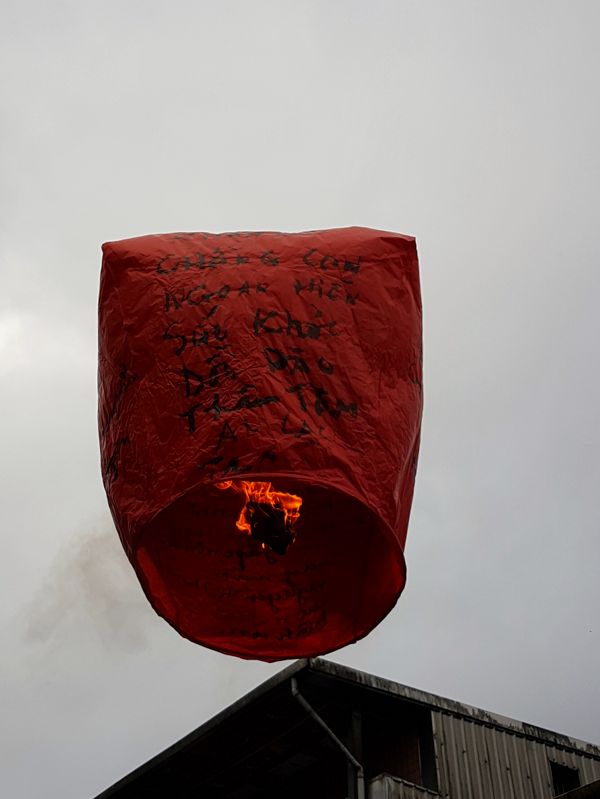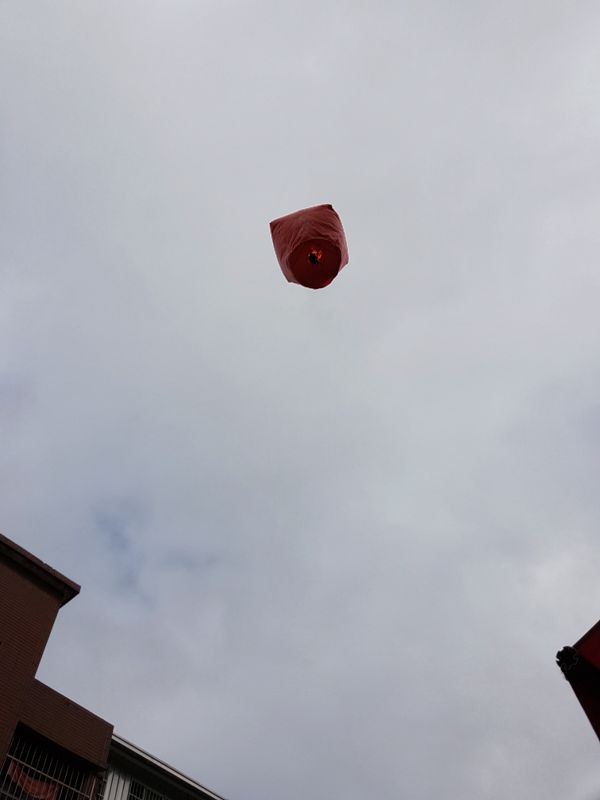 And may this guy prosper too. He let me come so close I had to back off to get a focus, not the usual problem with snapping lizards.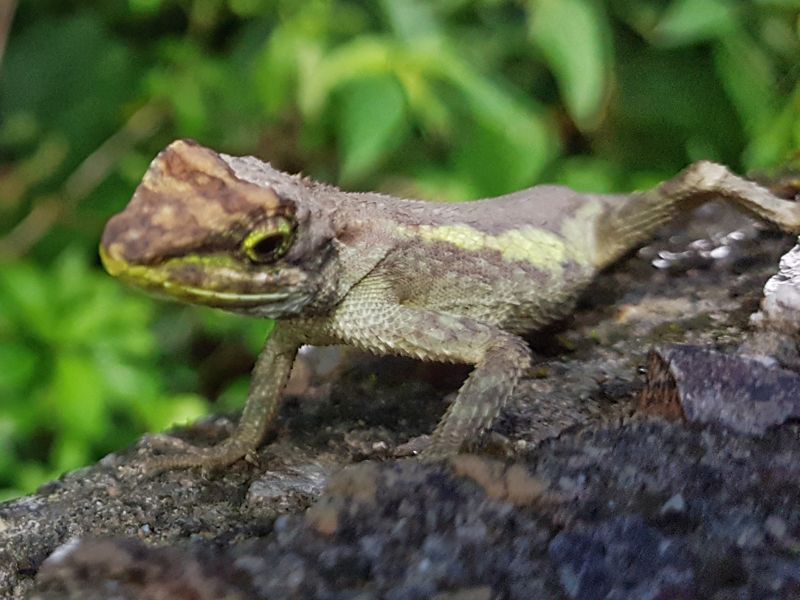 Here's another dandy.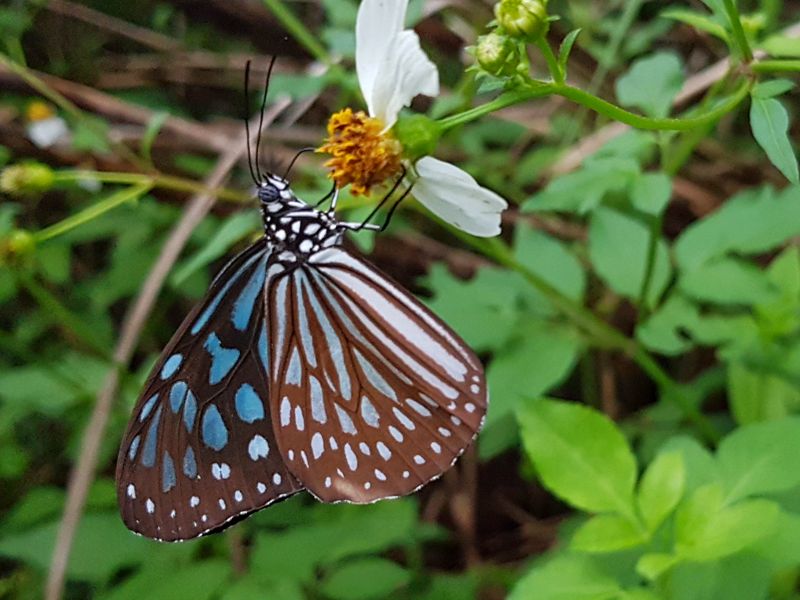 This guy, on the other hand, is so obviously a threat we have to be protected from him.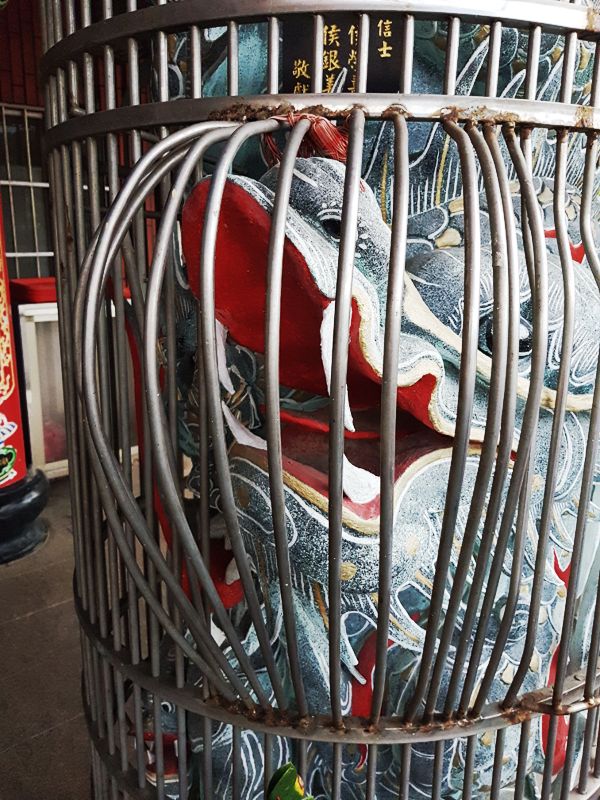 Many flowers along the way: hibiscus, periwinkle, many I couldn't name – and something lovely in white.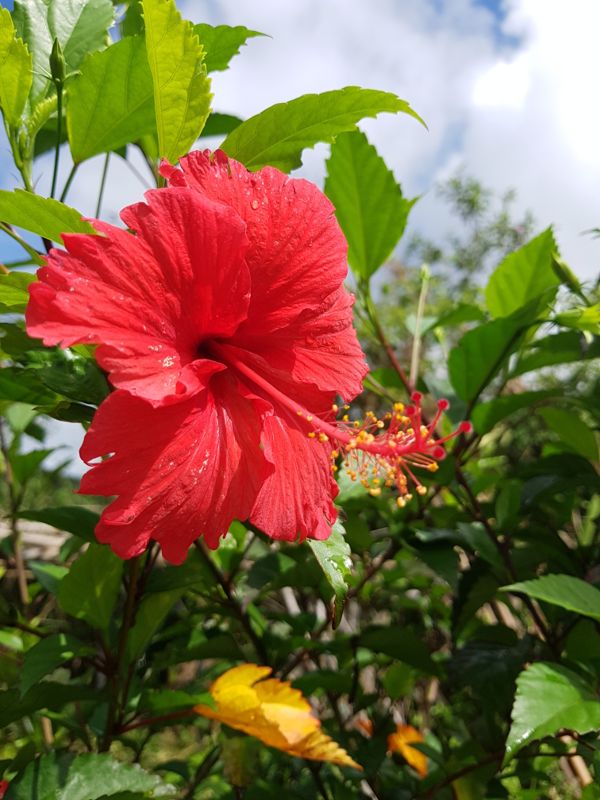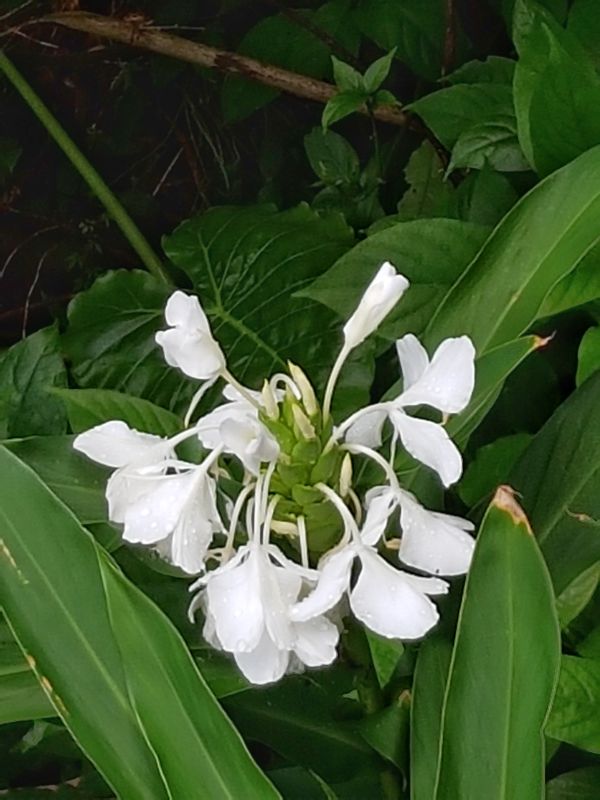 And then the falls. I'm through for now with words.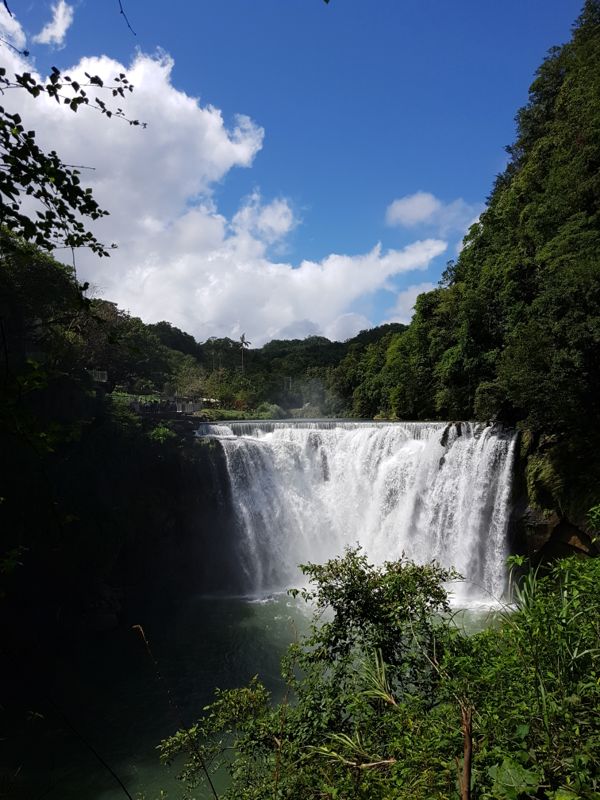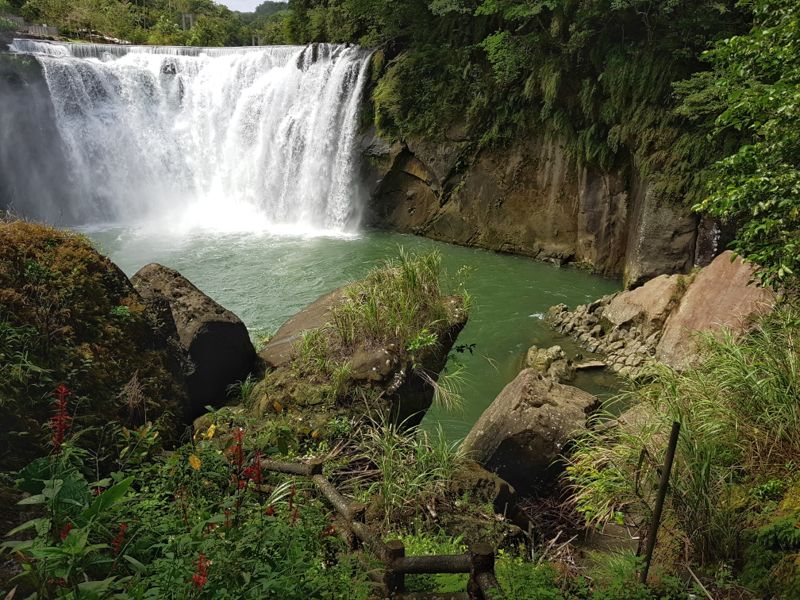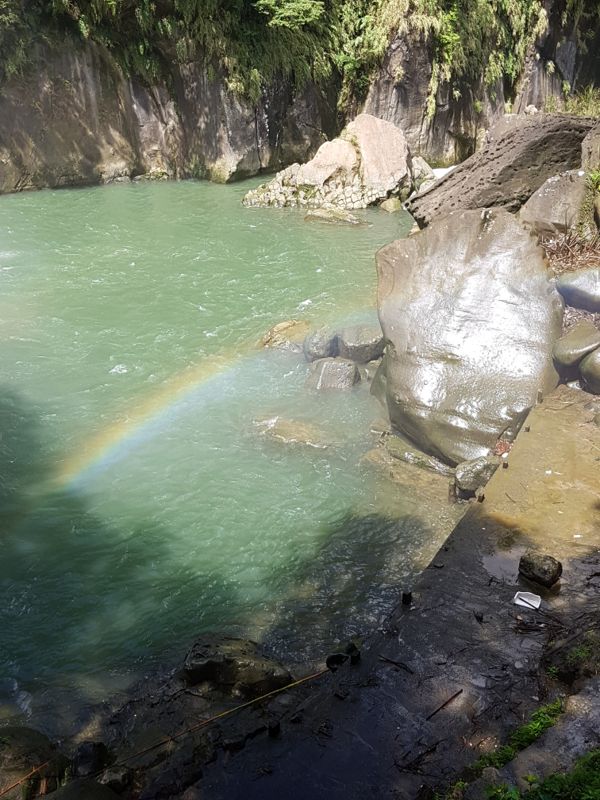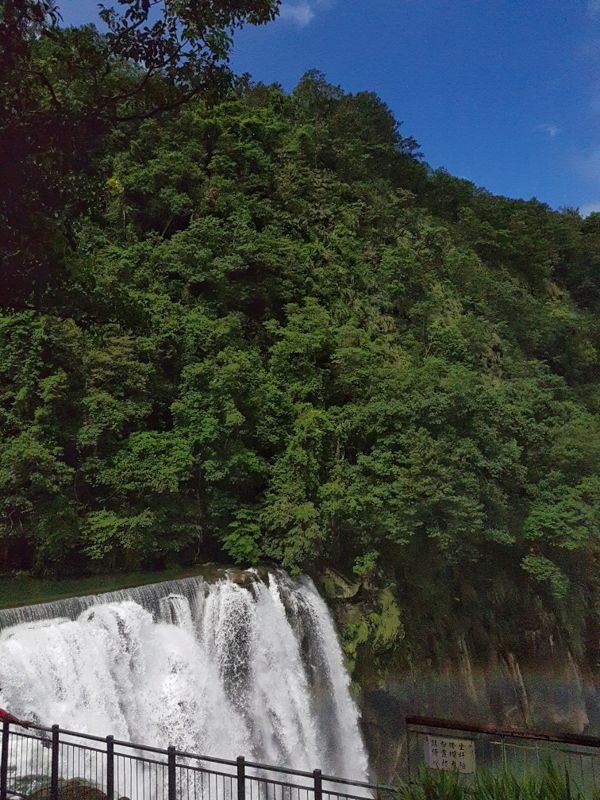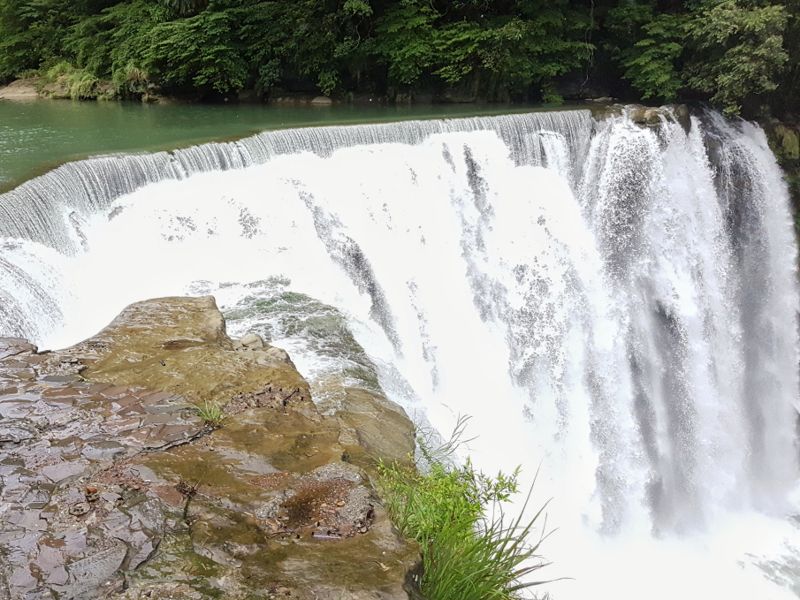 And on to Taipei and the A Dot Hostel where my first ever visit to Taiwan began. Over and out.