View from my boudoir, Tuesday at 06:30 …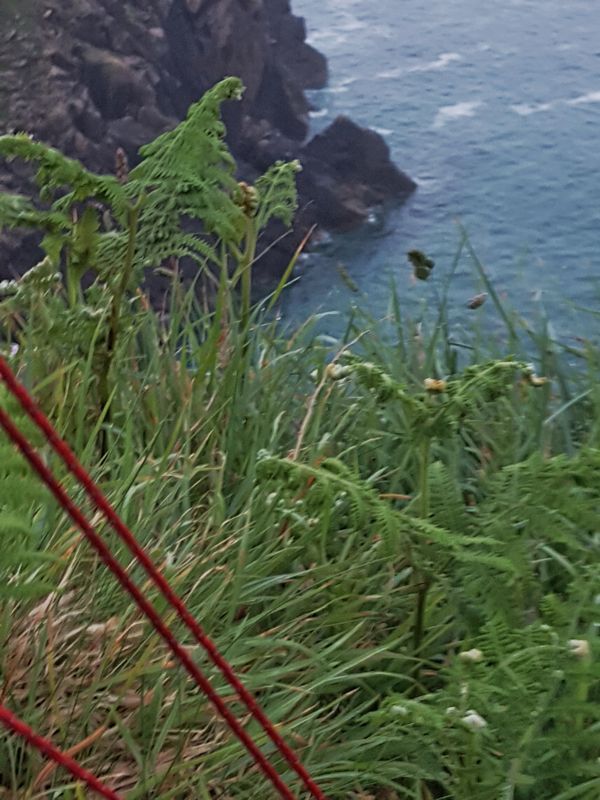 … and from my back garden …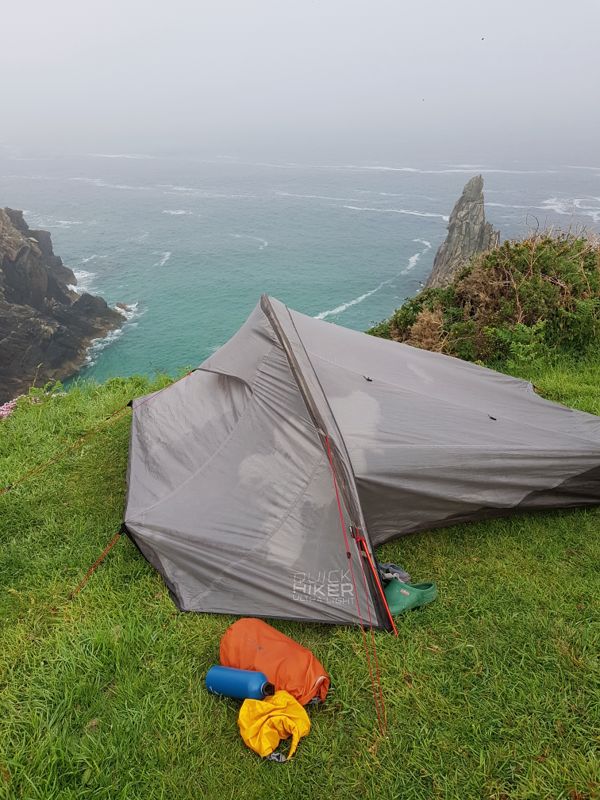 … and with me packed and ready for off.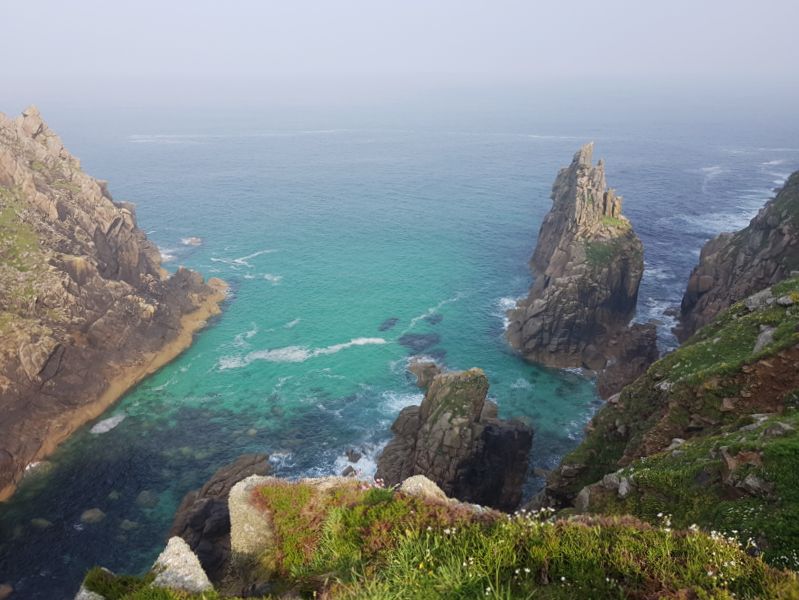 My shadow self. Fat thighs and heart of stone.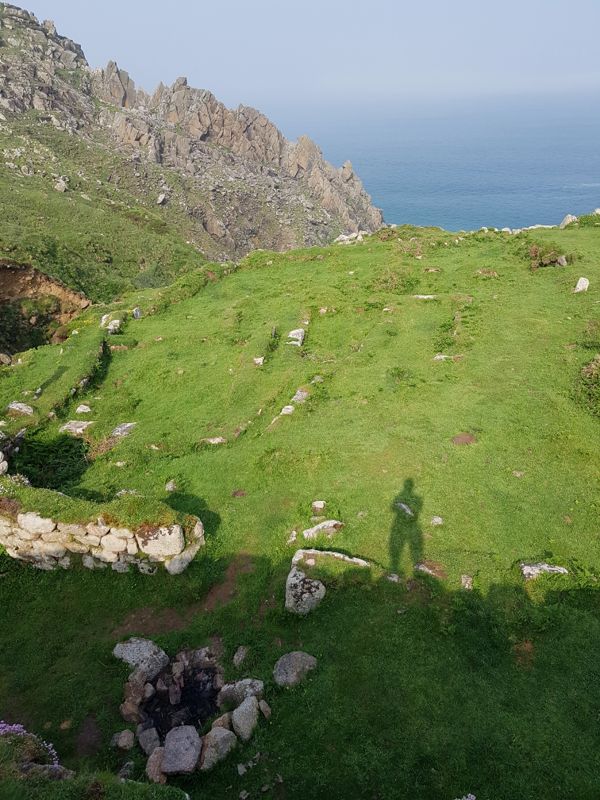 Orchard.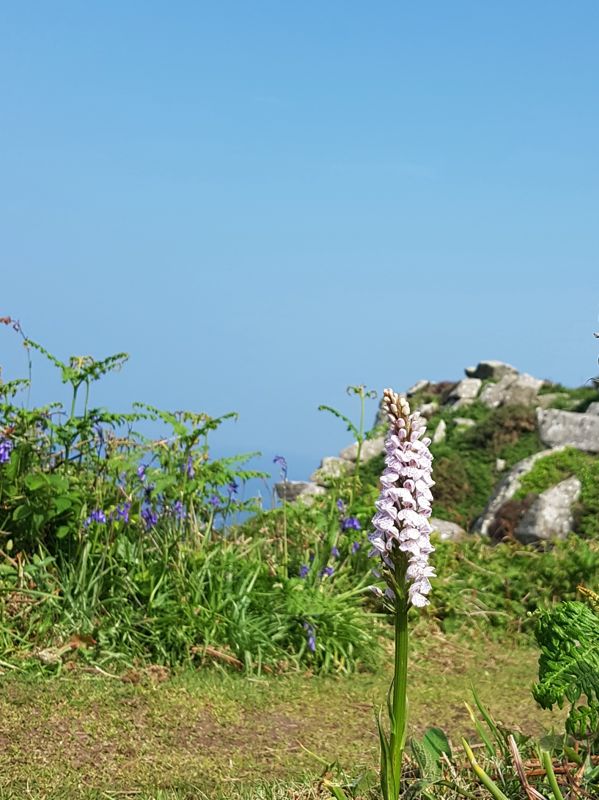 Three from this side of the blue.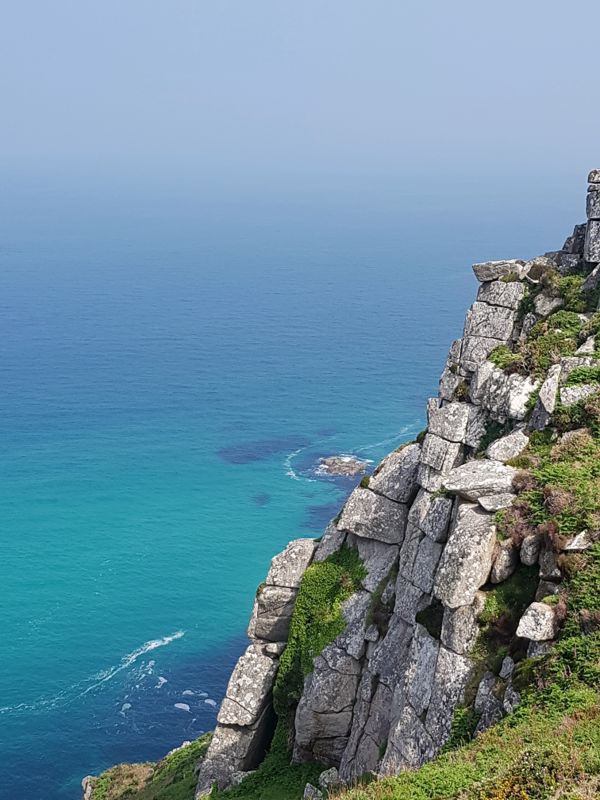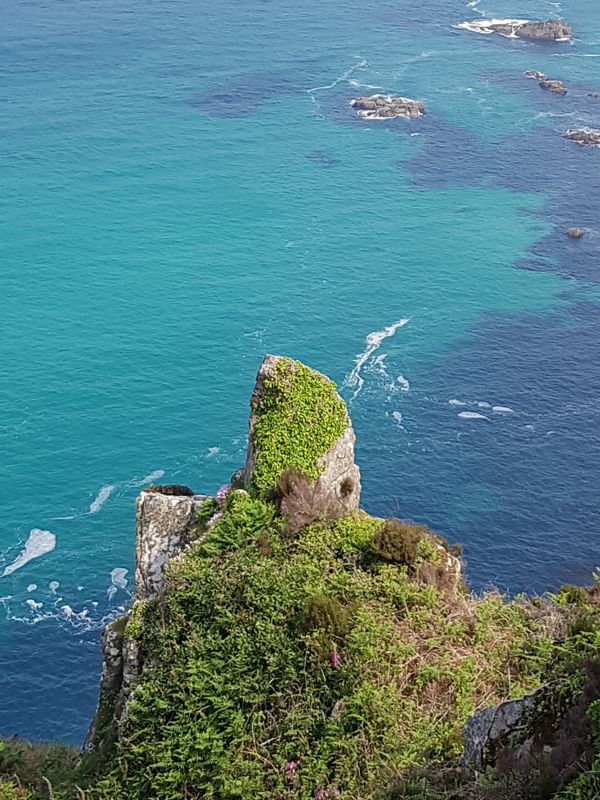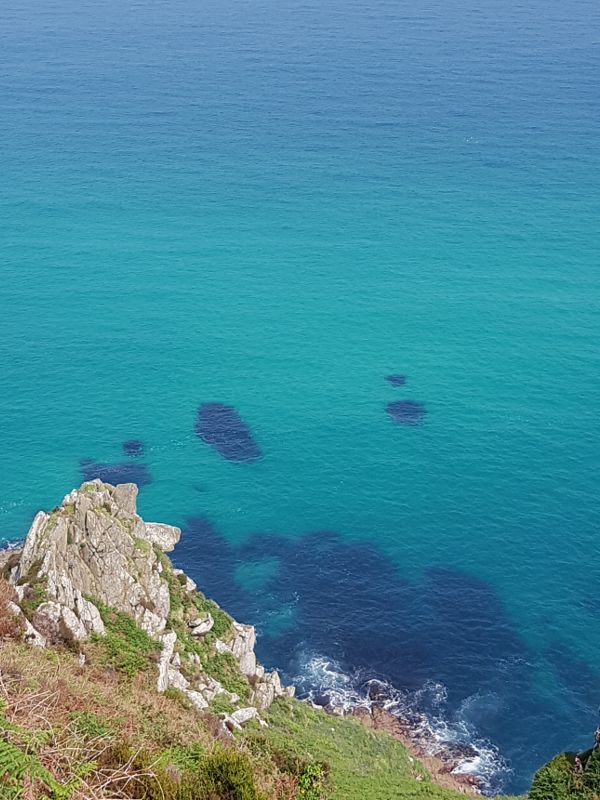 More digitalis. I'm as one with foxglove. It began flowering two days after I began walking.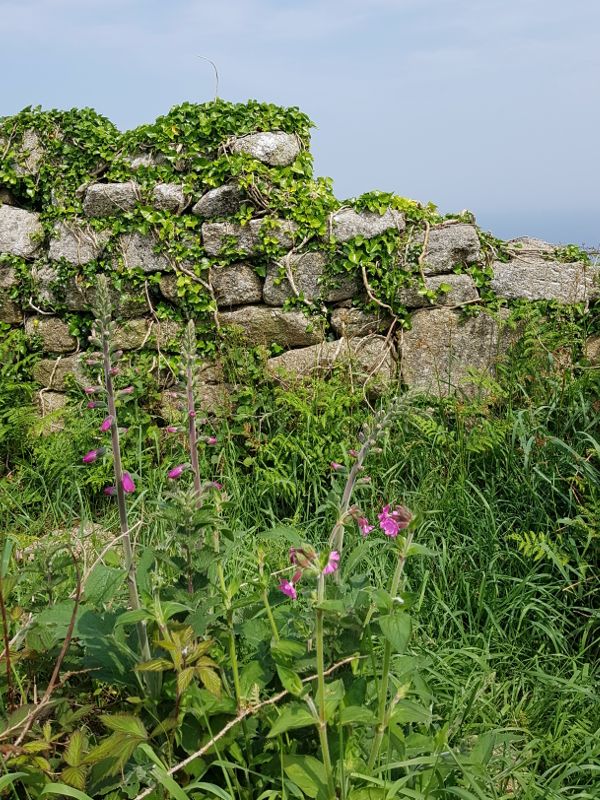 A pleasant spot for lunch. But grated cheddar on dry bread is quite a come down after Jon's cooking.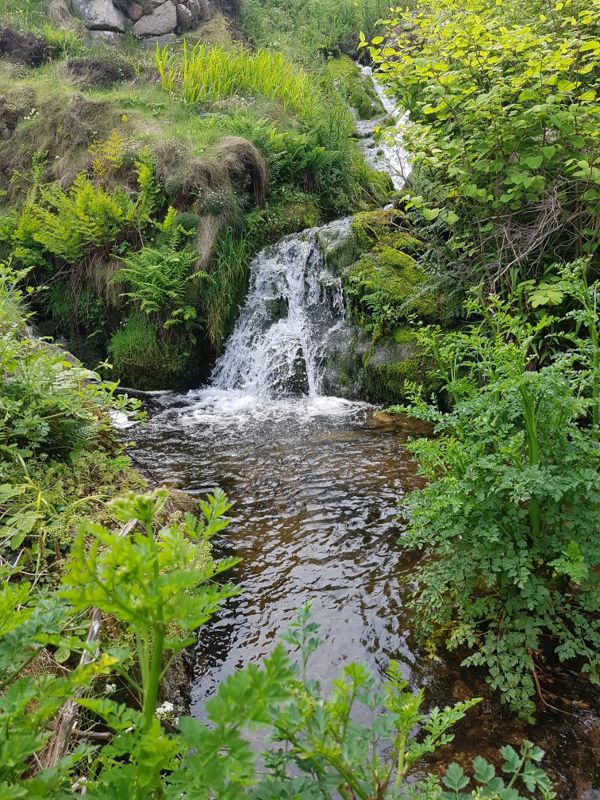 How about three cornered leek? Like wild garlic but with bell rather than spiky flower, stem triangular in cross section and more fire to its kick if you'll excuse the mixed metaphor.
Not bad at all. Ta for the tip, Jon.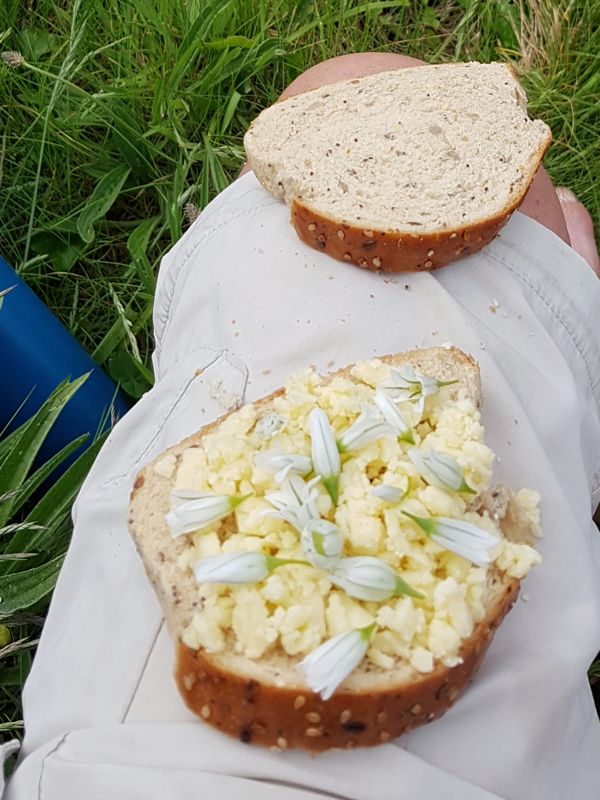 Pendeen Lighthouse marks the onset of a trail over the at times lunar landscape of Cornwall's industrial past.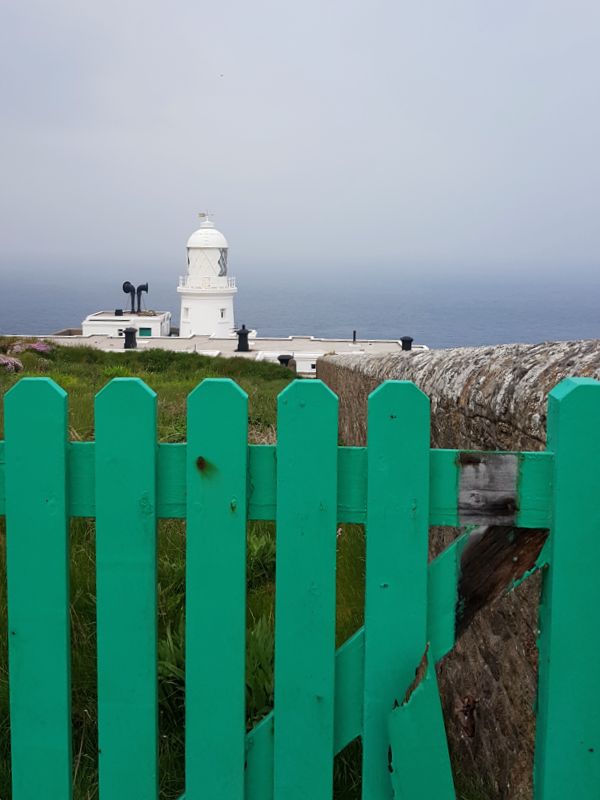 The world's first industrial revolution began not in the mills of Lancashire or Lanarkshire but on England's southwest peninsula.
Steam was harnessed by mid eighteenth century but, though hand operated crank-shafts had been milling flour in China for a millennium, their application to the conversion of steam-driven reciprocal to rotary motion was not at first apparent. That delay in joining the dots limited the utility of the awesome power Mr Watt had unleashed.
Nevertheless, even unconverted reciprocal motion could be put to use by newfangled pumping engines which, by holding at bay the bane – alongside tunnel collapse and explosive methane – of coastal mines, enabled seams hitherto unworkable to be mined. I refer to flooding.
The weather was uncertain as the coastal path took me through what is in effect a vast, open air industrial museum: its hub and base camp, St Just, a mile or two inland. On a finer day I'd have tarried and got me some learning. As it was I did no more than snap and move on.
I'll be back.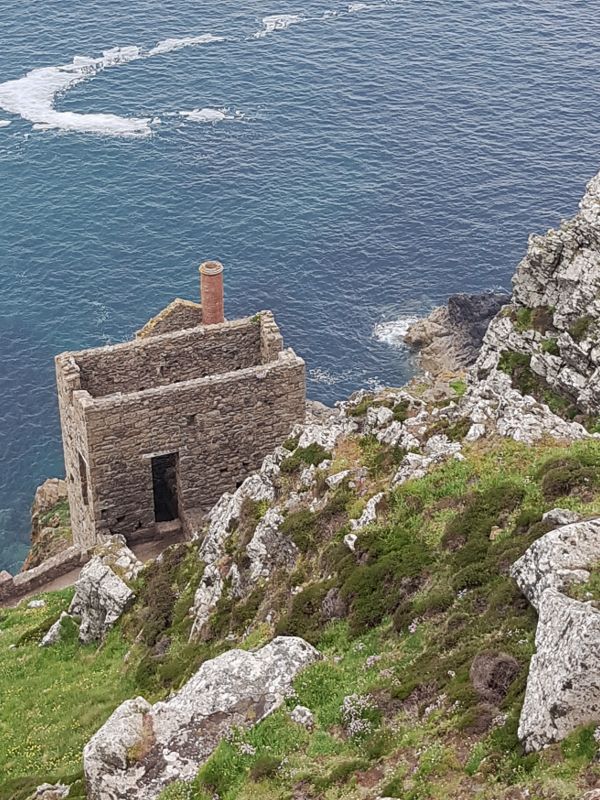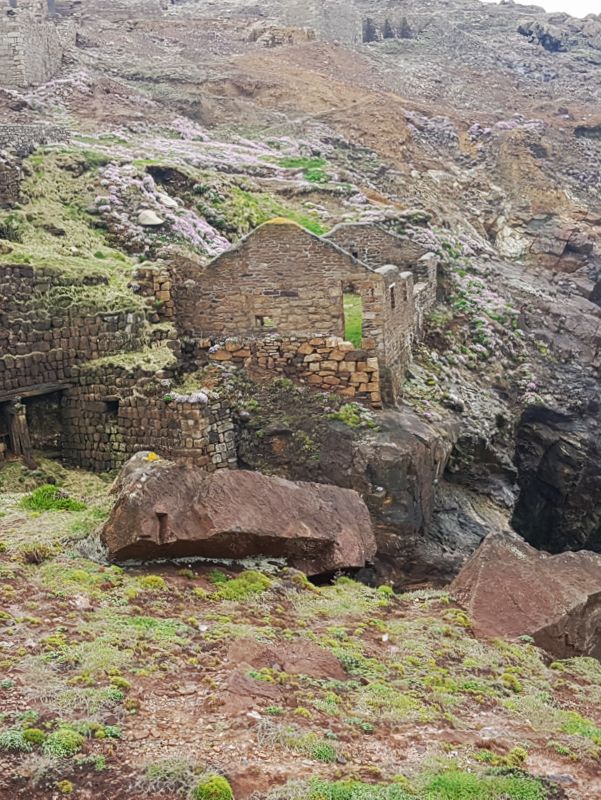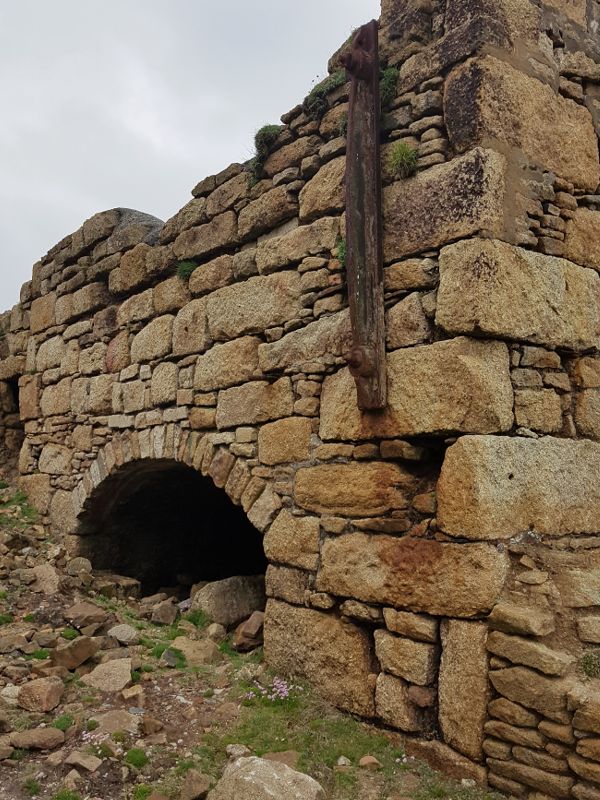 This johnny-come-lately speaks to the fact tin was being mined as recently as the seventies.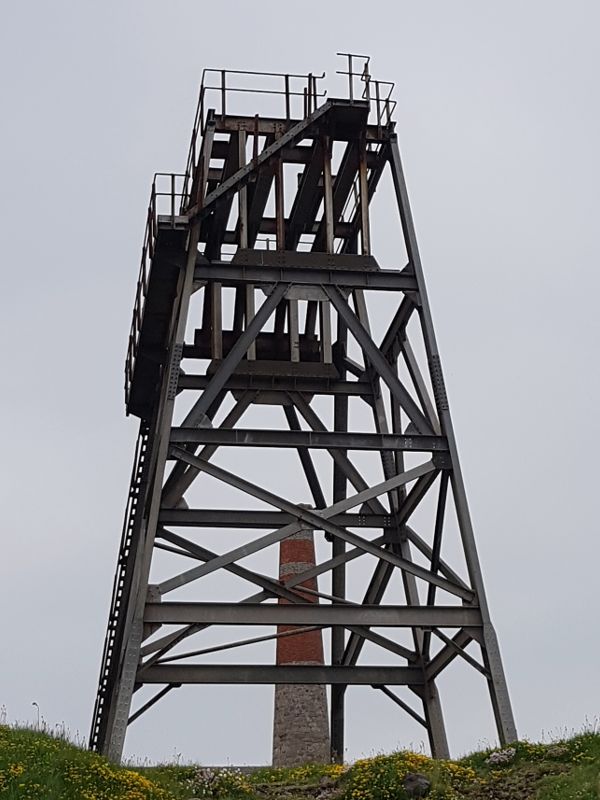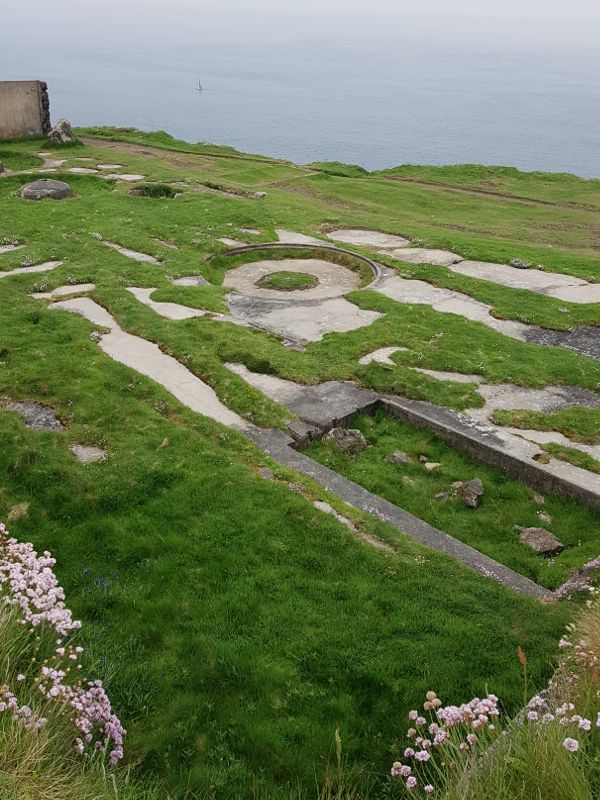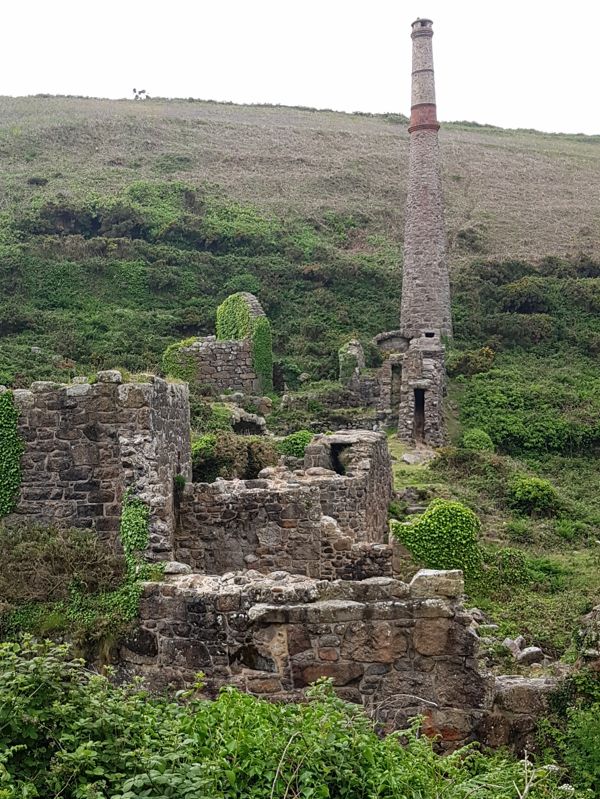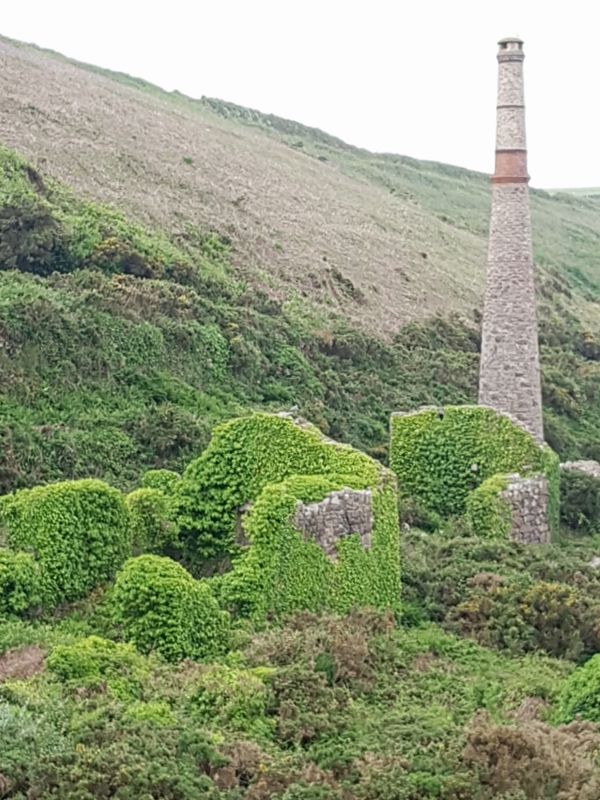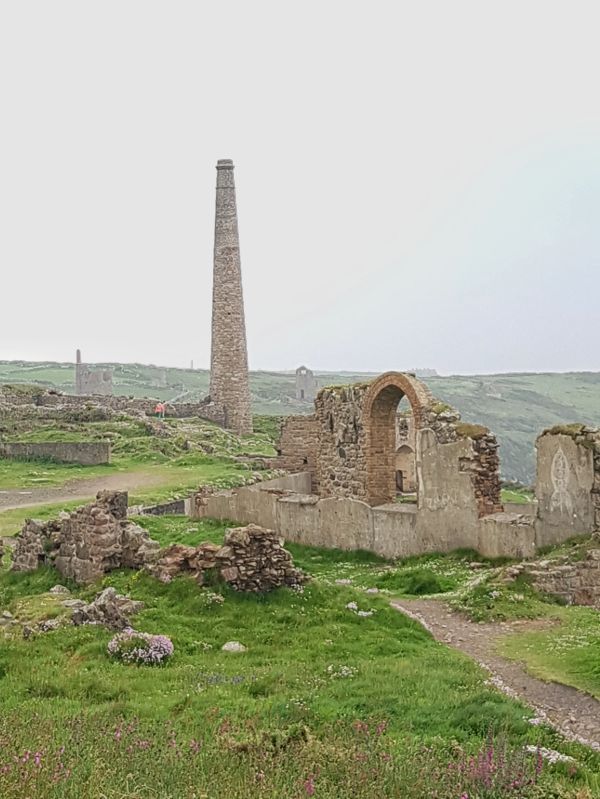 For several minutes I waited in hope as a lone yacht passed by. Would it play ball, and cross my line of sight through these brick-arched and stony portals?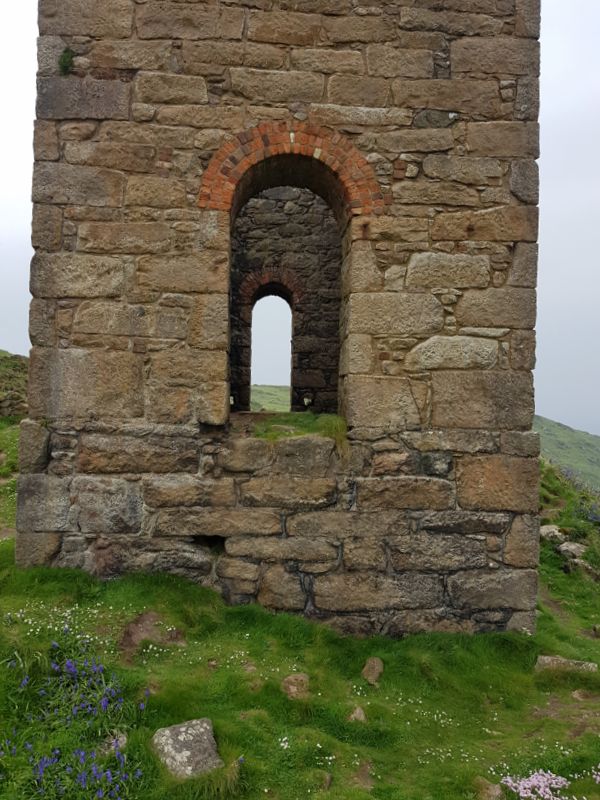 No, it wouldn't. Dejected, I hoisted once more my rucksack and carried on regardless.
Here, with load bearing stone plentiful and close to hand, it's used in ways cost prohibitive elsewhere. I saw two footbridges like this, a single granite slab of who knows how many tons …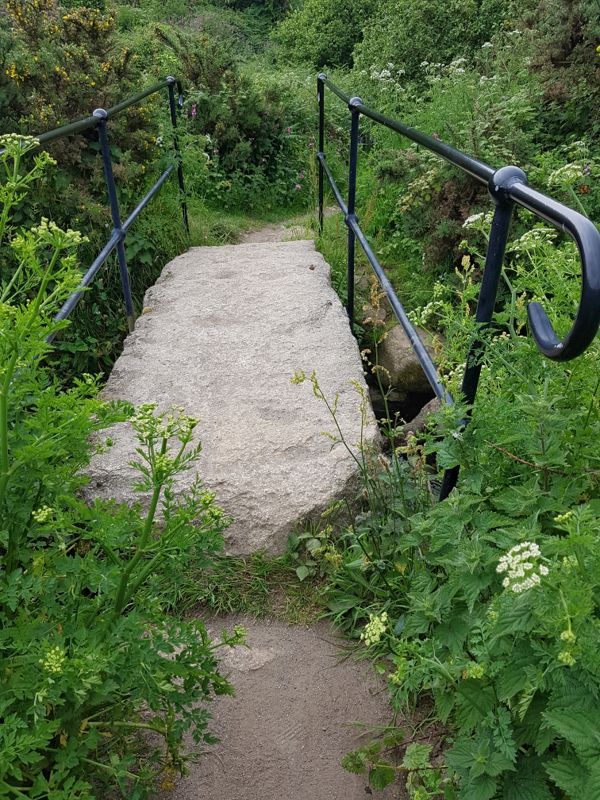 … and many stiles comprising three lintels ascending – a hybrid of staircase, cattle grid and stepping stones – to an apex, with two more leading down the far side.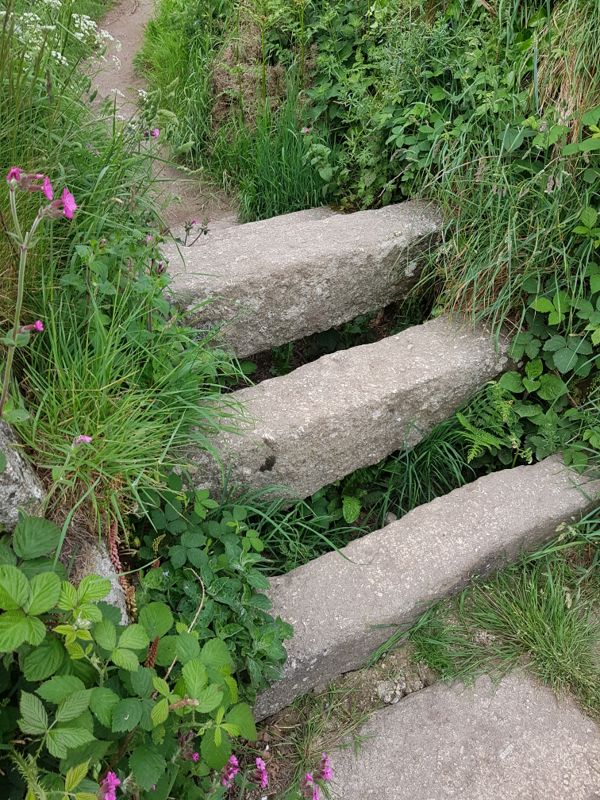 Cape Cornwall, once thought – wrongly – to be mainland Britain's most westerly point.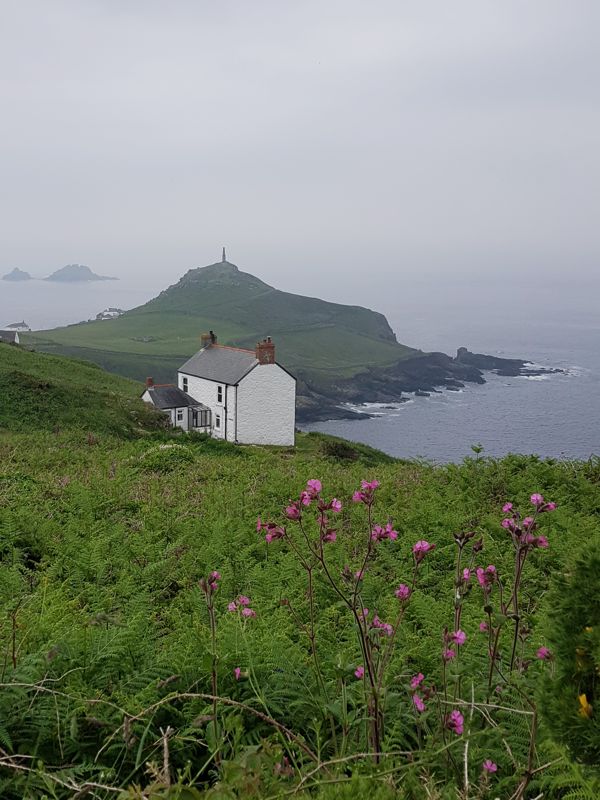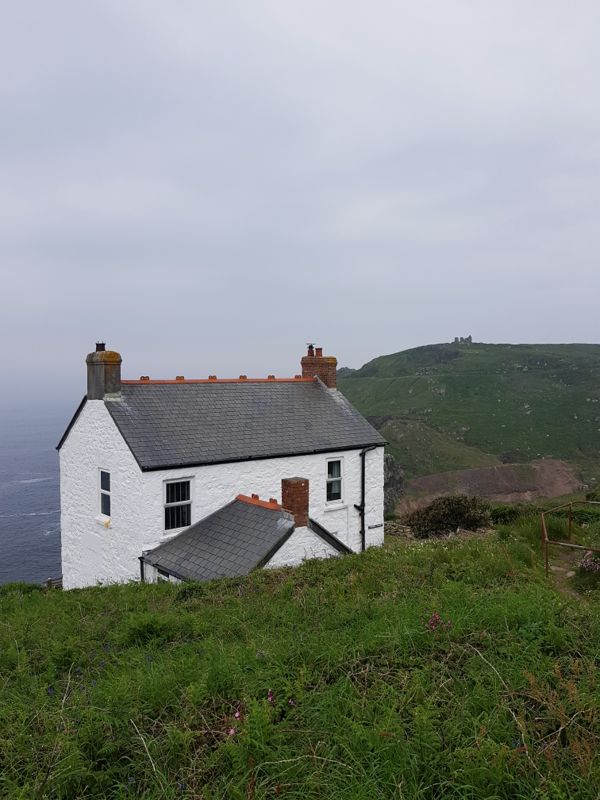 It's late afternoon. Instead of continuing to hug the coast, I turn inland to see what St Just has to offer. Quite a lot. On the main square are: three pubs, in one of which – door obscured by red car – I down a pint of Cornish Tribute; a fish and chip shop I make good use of; a Co-op (ditto); a pair of cafes.
I could go on. After my days and nights of solitude, this place is positively Leicester Square …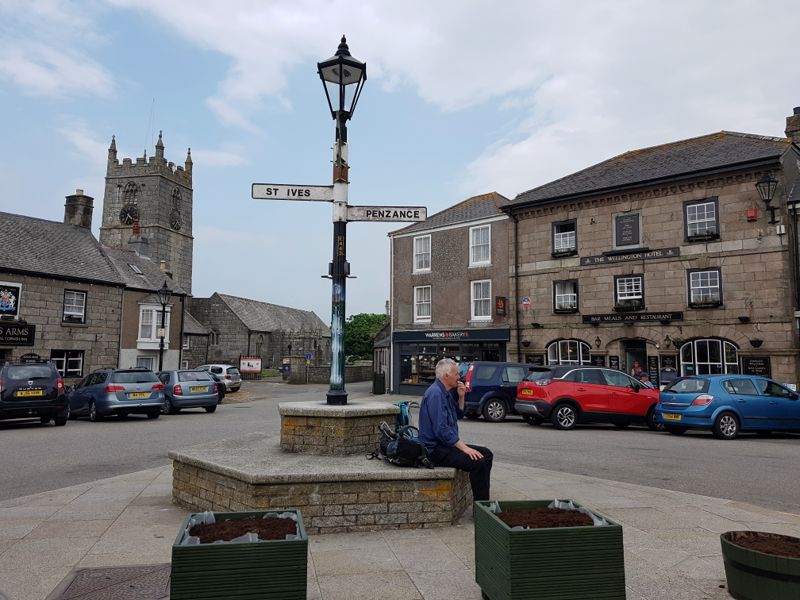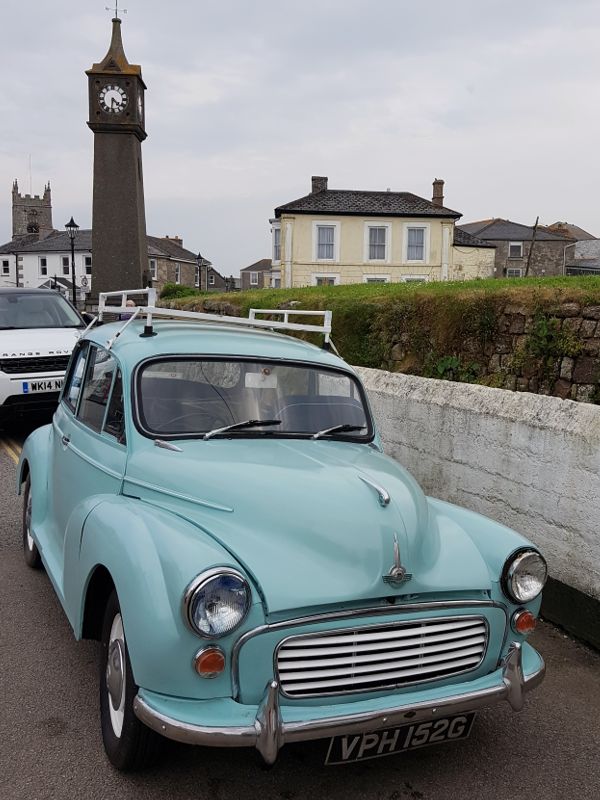 … and not so easy to get out of. Not if I want to make a pie slice and come out further toward Land's End than where I peeled away from the coast. On a snicket behind a row of cottages, a bloke in tweeds and hillbilly beard spies me orienting on the OS map on my phone, takes pity and issues a set of directions, thrice repeated without prompt, that would prove simpler than they sounded, more reliable than I feared.
Along the way I pluck a fistful of this. It'll come in handy.
Is this a Cornish speciality? Mary Wesley's novel was not well written but had charm in spades. Lots of sex too, though when they filmed it – you can still watch it on UK Channel 4 catch up – its author's eyebrows went skyways over all that delectable nudity. Why would she care, after stuffing her book with world-war-two-so-get-it-while-you-can  nookie? It was an authenticity thing with her. Houses were too cold, she complained, to get naked the way they were showing.
A stone's throw from Sennen Cove I pitch for the night. Weather looks iffy.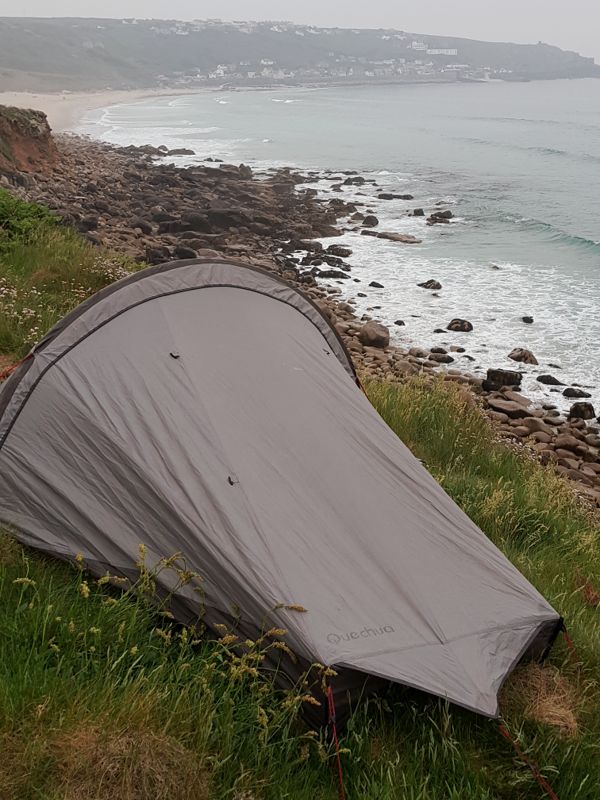 Not quite ready to turn in, I make chamomile tea, then stroll a few hundred metres toward Cape Cornwall to watch surfers the size of cormorants.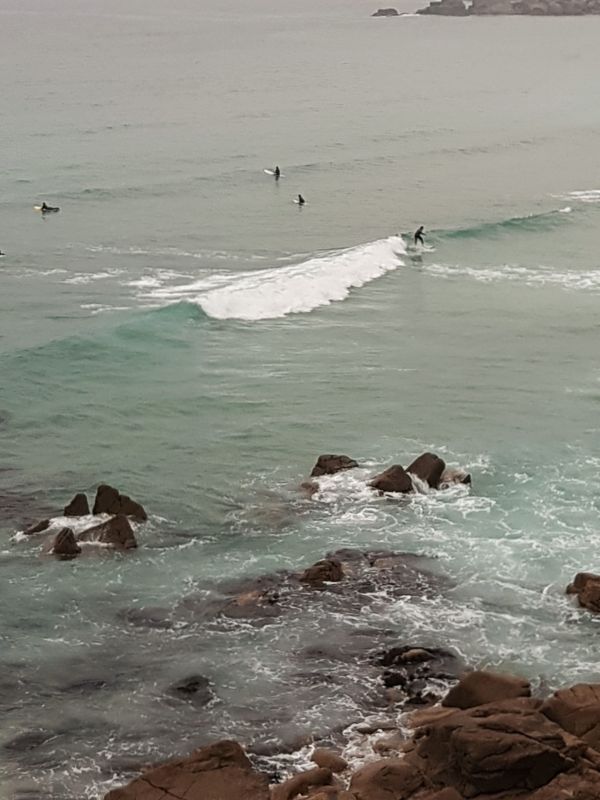 Then do the same toward Sennen Cove for a glimpse of the beach between me and it.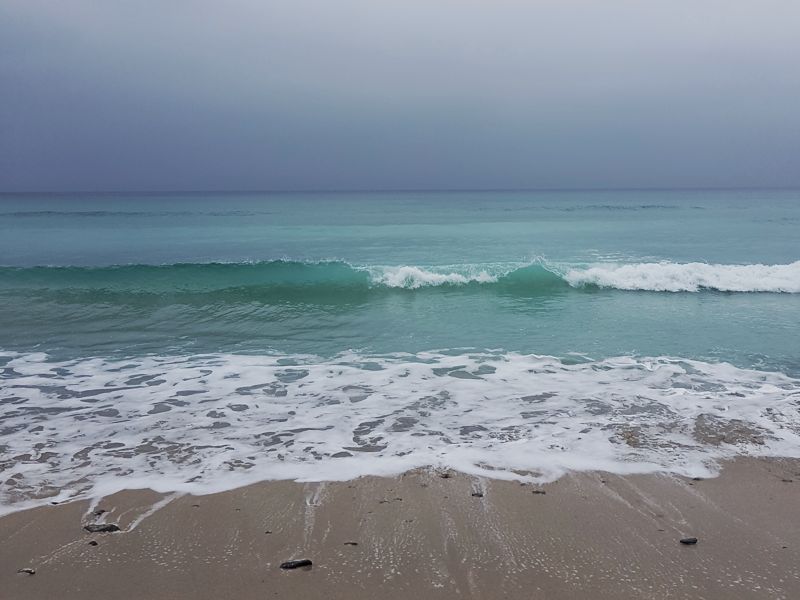 Now I am ready for that sleeping bag, unrolled and waiting on its air cushion …