Last night I slept by the river, half a mile from Hereford on a flat patch of bank with lush long grass, short steep slope to the water and the whole hidden from housing on the far bank by the spread of a mature chestnut. Here's how it looked at 06:30 today.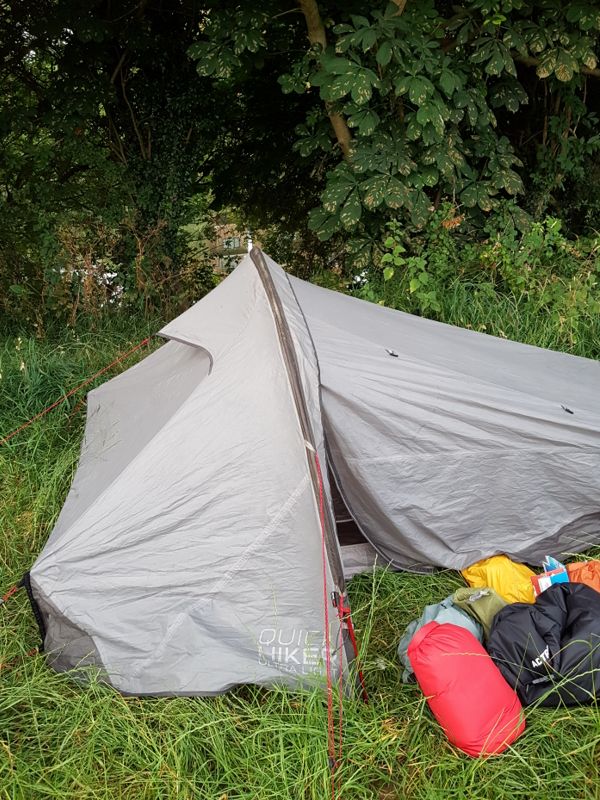 This close to the city I couldn't pitch till eleven but though I was tired from a busy day in Bristol, train to Gloucester then buses to Hereford, I lay for a while in reflection. The logistics of my six day kayak trip had fallen into place, leaving me free to mull on two different but interrelated matters.
One, a good and honest friend from my days in a spiritual cult had said that my political views, and way of expressing them, have alienated mutual friends, escapees from that now disbanded cult, many of them American and most of them broadly liberal. I focus too much on difference, she told me, especially in my writings on Trump and the nature of the USA. Moreover, where I perceive myself as arguing robustly but respectfully, that's not how those mutual friends see it.
Egoic focusing on difference was outlawed by the cult in the name of 'coming together'. This had consequences both highly positive and alarmingly negative in the form of an Orwellian level of conformity that kept my involvement unusually short. (I was 'in' for eighteen months, where a decade or more was the norm.) But I take my friend seriously. Not only is she better informed, politically, than our fellow escapees. She also has my number. For worse as well as for better, I am a contrarian. And not only is her motivation clean. Her point – that what I deem assertive and robust, but good mannered, is not always how others see it – has also been made by my partner Jackie. There's triangulation for you!
So am I bovvered? If so, how much?
Yes to the first. How much is no small question. Before I give sketchy answer, let me share my other point of cogitation as I lay in my sleeping bag, shielded from night sky and yellow half moon by a film of grey plastic.
More depressing by far than my friend's tough love have been two days of saturated media coverage of the Donald's 'treasonous' conduct vis a vis Mr Putin. Though I've yet to pen post mumber three on Why the West hates Putin, I've said enough to leave readers in no doubt as to my views – what I insist are my properly informed and objectively grounded views – on the nature of the USA and of Putin's Russia.
And here's where the two threads of my meditations interweave. Underpinning the exchanges with my friend from the cult – a cult whose lessons, both positive and negative, I still draw on – has been an assumption that my criticism of the anti Trump camp is on ground of it being 'not left enough'. But what have these past few days of social and corporate media coverage of the Trump-Putin meeting shown us, if not that 'liberal' opponents of Trump will happily attack the orange man from the right?
That includes some of my erstwhile spiritual friends. I was dismayed by a FB post from one widely respected by all of us, a very senior student of the man we called our teacher. Here's what he posted.
Treasonous Ass-hat pres. sells out US intelligence agency and all of us to Uber-dick Putin. Traitor!
Leaving aside the assumptions here – the swallowing hook, line and sinker of corporate media propaganda belied by decades of continual US aggression – I invite you to search this entire site, if you will, and tell me if I ever used such language. This man, I should add, has dedicated decades, and paid a price – in financial, family and 'lifestyle freedom' terms – beyond most people's ken in his determination to look below and beyond superficial appearances for the jewel of Enlightenment, the jewel of existential truth.
Am I too strident in tone? Do I upset those who think of themselves, not always accurately, as liberal? Maybe I do at that. And yes, I'd rather I didn't, not only because it's bad salesmanship but because those I offend include people – that FB poster definitely included – whom on other matters I hold in high regard.
How far does the artful blogger go in trying to accommodate everyone's viewpoint, however dangerously deluded?
*
I post from a Wetherspoons near Hereford bus station. I had my morning wash in the disabled loo of a supermarket, am caffeined up to the nines and will soon take a bus up through Hay on Wye to Glasbury, where I'll put into the river around 14:00 for six days of rowing my boat gently down the stream.
Expect pictures.