Yesterday I picked up my good friend Sue to drive out to Hope, due east of Castleton, south-east of Edale. We parked up near the school and within minutes were on the steep ascent to Lose Hill.
Here, more or less, is our route, Hope at lower right. We moved clockwise on the trail marked in light red.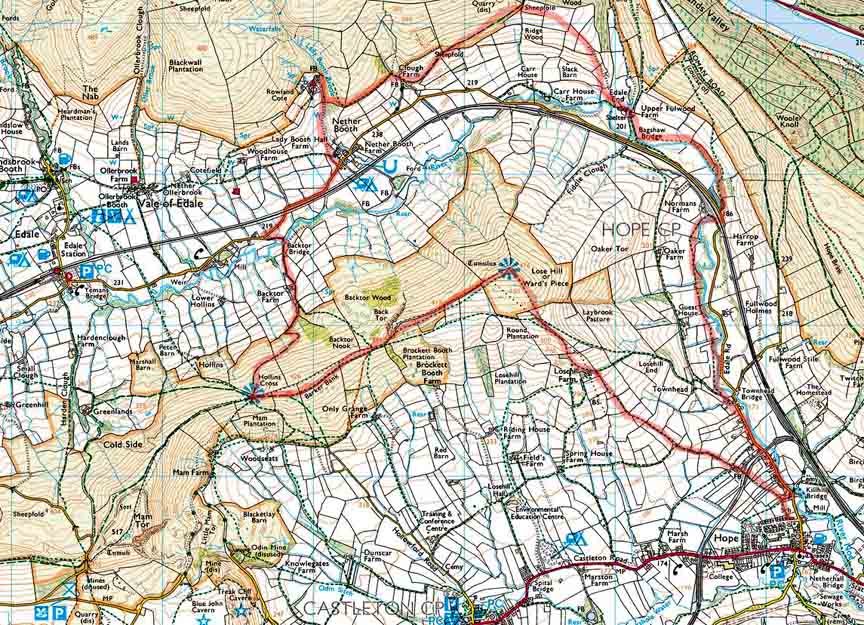 We weren't the only ones. On a weekday, with kids back in school, the fells are shared with our fellow silverheads.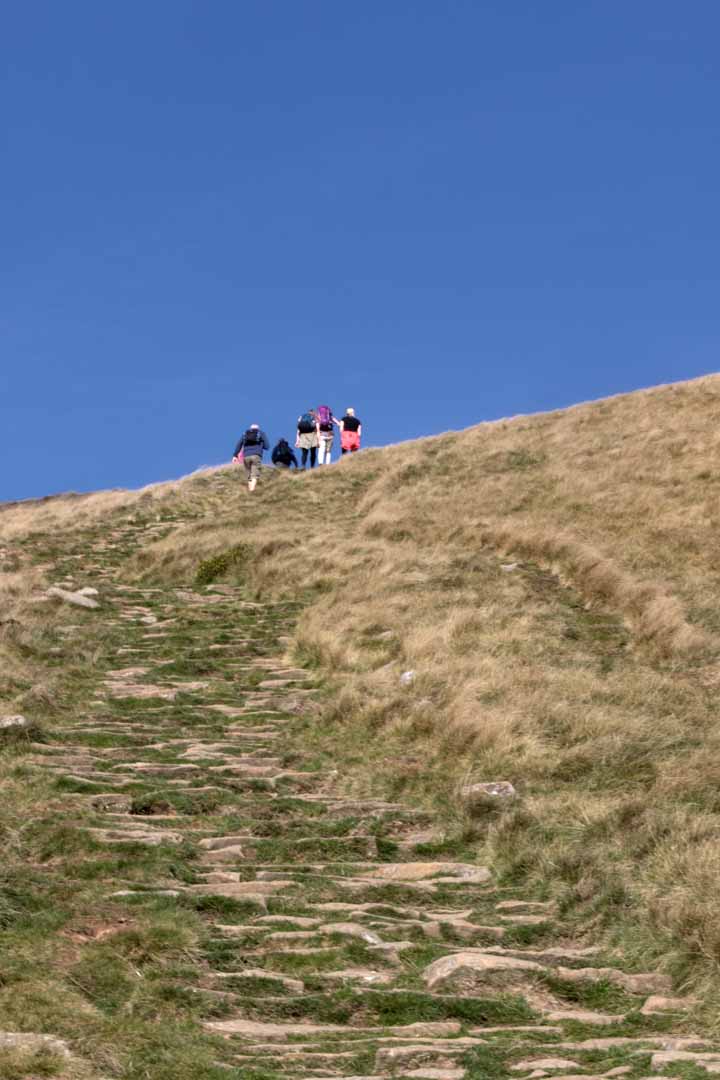 Lose Hill summit is off camera to the right as we look south-west along the ridge of Barker Bank towards the saddle of Hollins Cross. In the distance, off camera to the left, is Mam Tor – shivering mountain – overlooking the worked out lead mines, caves and rock buttresses above Castleton, visited eight months earlier, deep snow underfoot, with another friend, Rich.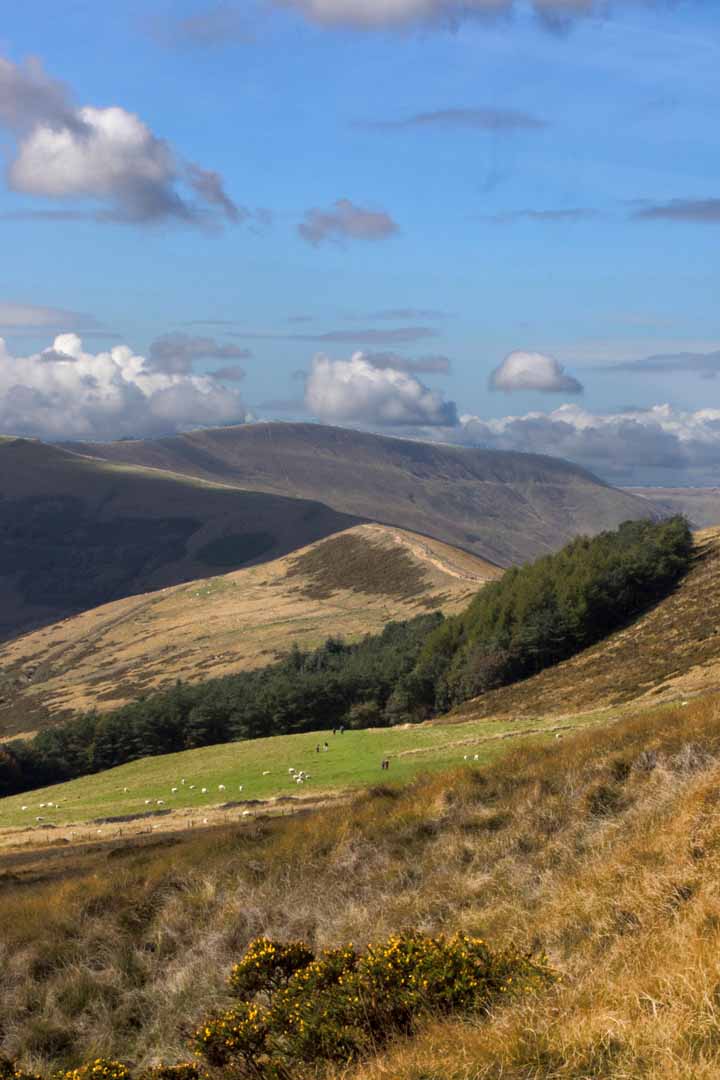 Sue looking very much the winner on Lose Hill.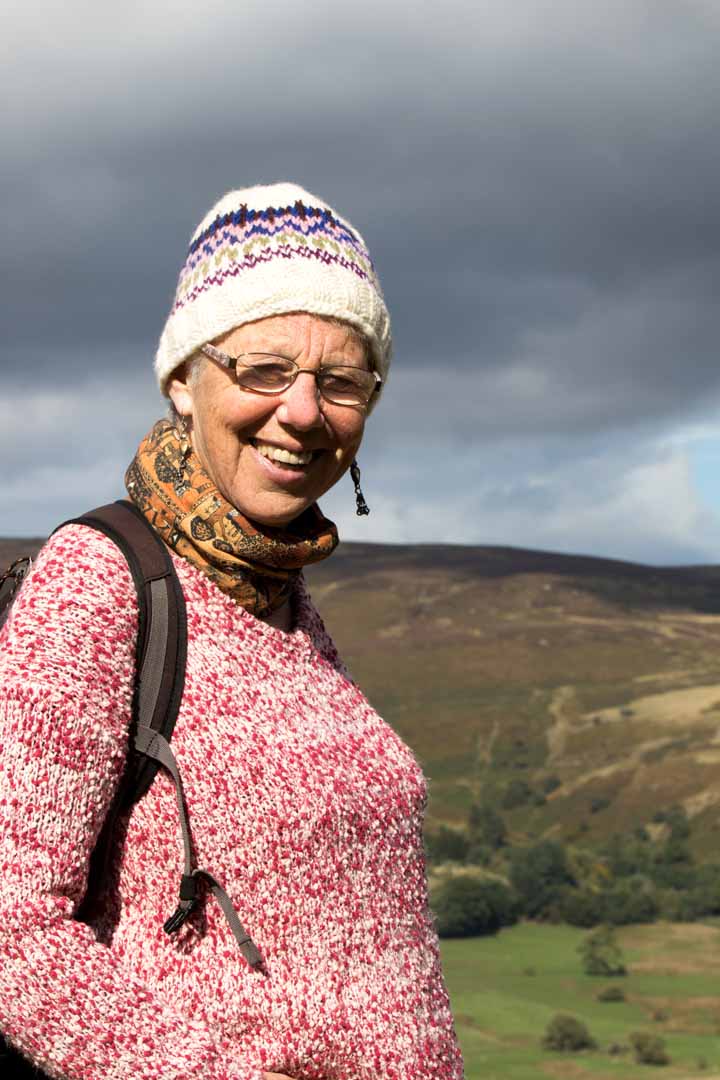 These next seven shots all look down and northward from Barker Bank. I may as well start with the 11:41 Sheffield to Manchester, moving right to left of picture – east to west. The Hope Valley Line has to be a contender for England's most scenic intercity rail link.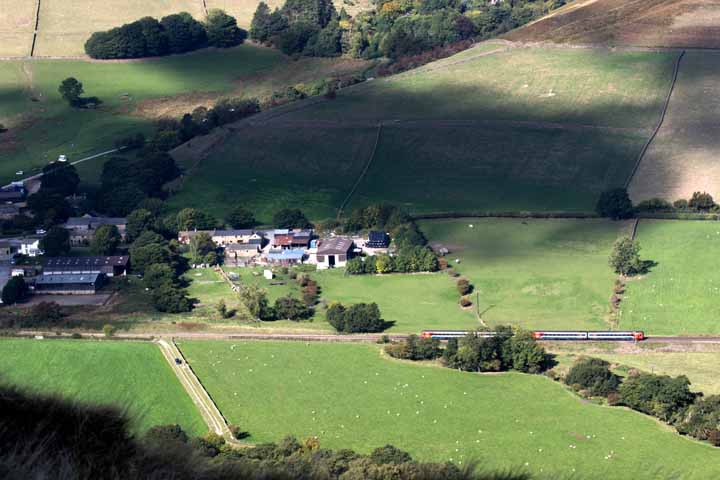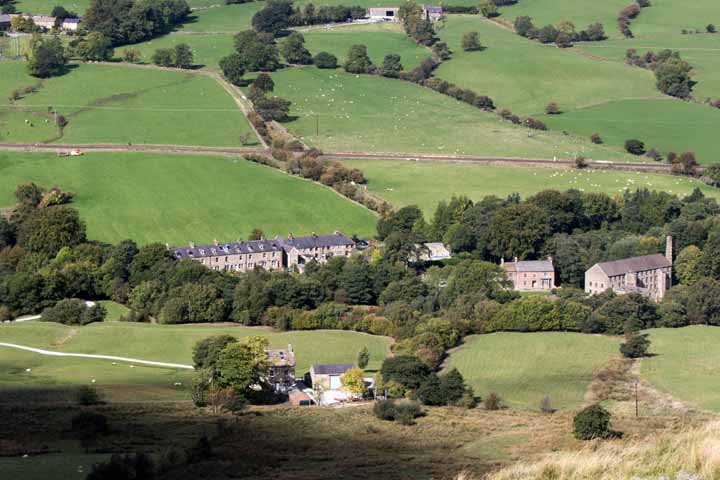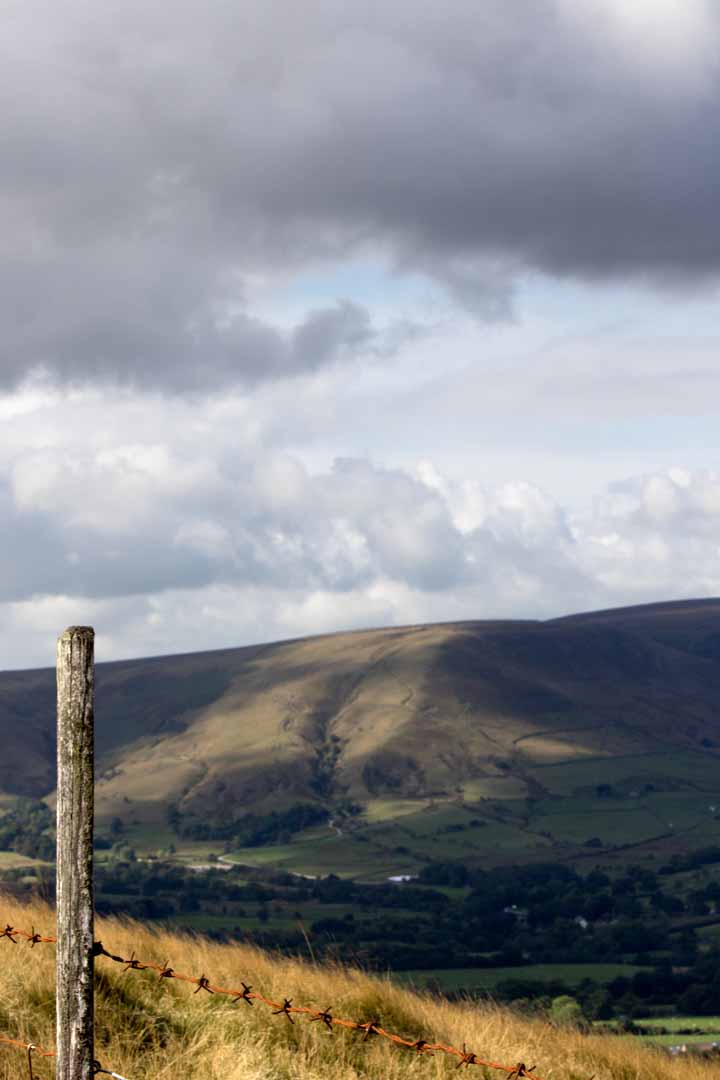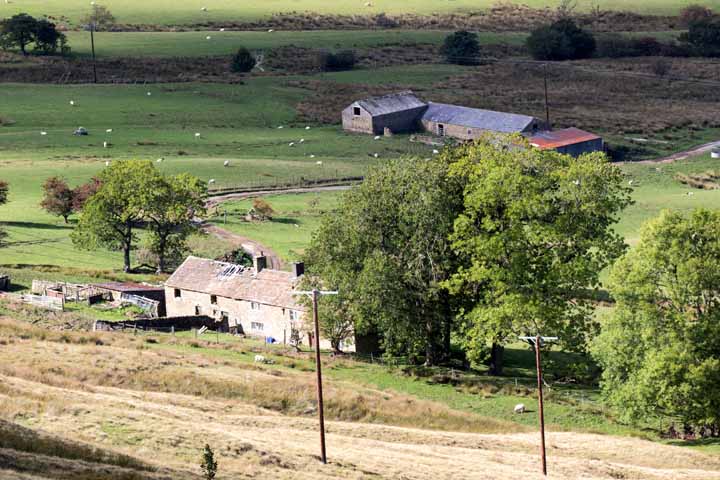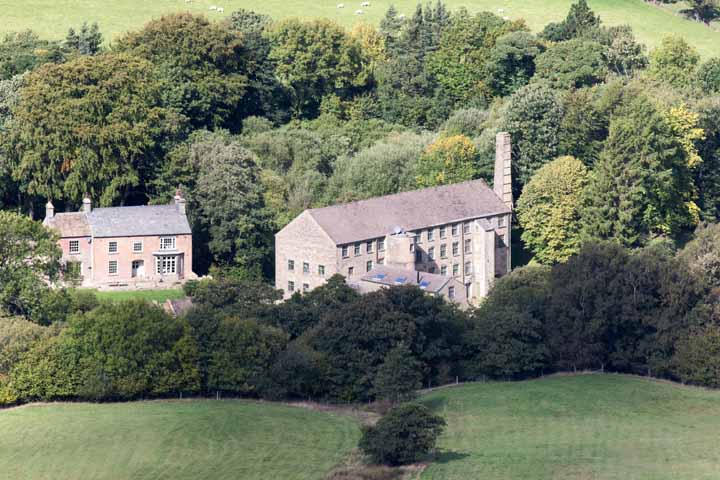 Don't look back, said Bob Dylan, but how could we resist, with views like this? The couple in the foreground are heading toward Hope with Lose Hill on the horizon, Back Tor mid distance. They are friends of Sue, bumped into minutes earlier.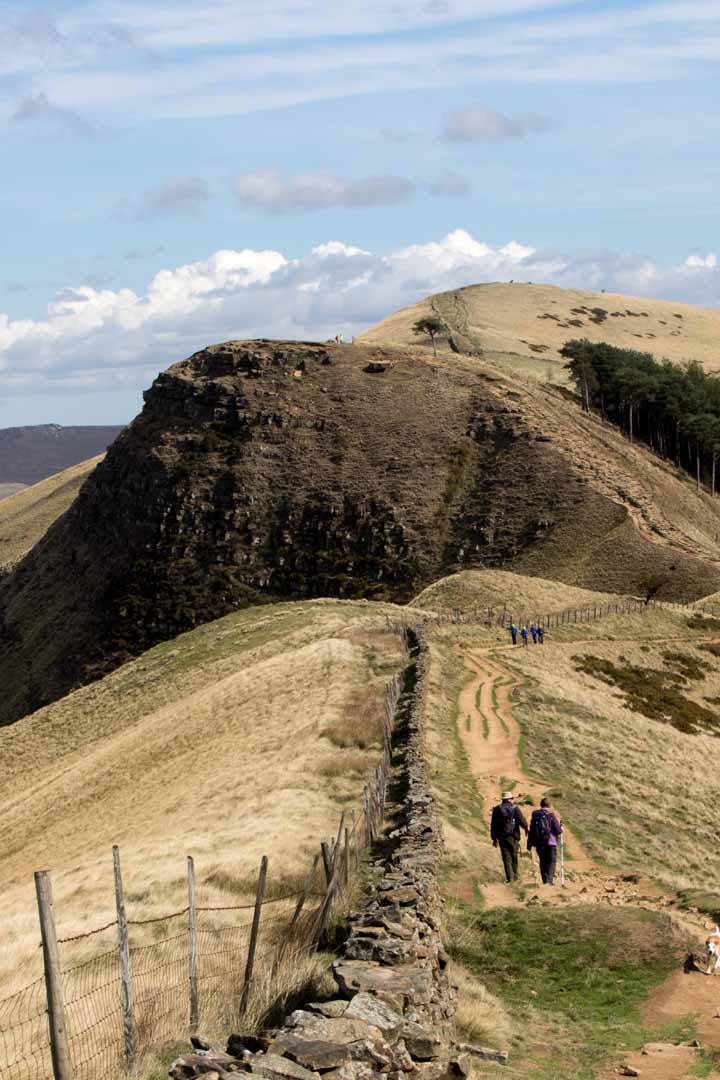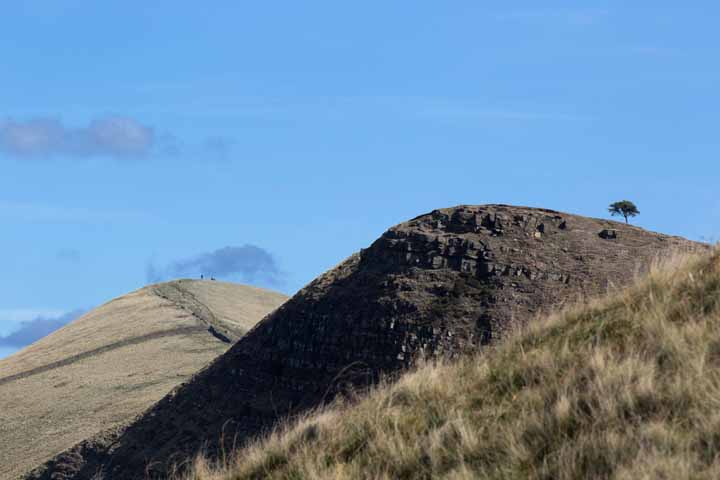 At Hollins Cross we drop down to the Hope-Edale Road …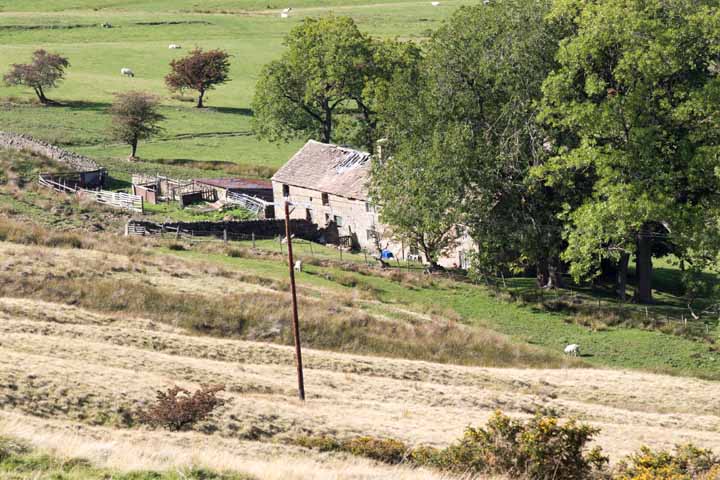 … which we cross, following the road east for a few minutes. Then it's under the rail bridge to pick up the path north to the youth hostel at Rowland Cote, where Lady Booth Brook rushes southward and down from the watershed high above, near Druid's Stone and Ringing Roger, filled at last by early autumn rains calling time on the longest and dryest summer in decades.
Those streams that flow north from the same watershead feed the River Ashop, on its way east to Ladybower, its outflow a Derwent going south through Hathersage and Chatsworth, Matlock and Amber Valley, to Derby for a date with the Trent just upstream of Long Eaton. But that's a totally other story; one for Ron.
Now we were heading roughly east, leisurely following the valley side back toward Hope. Here, a view to the north …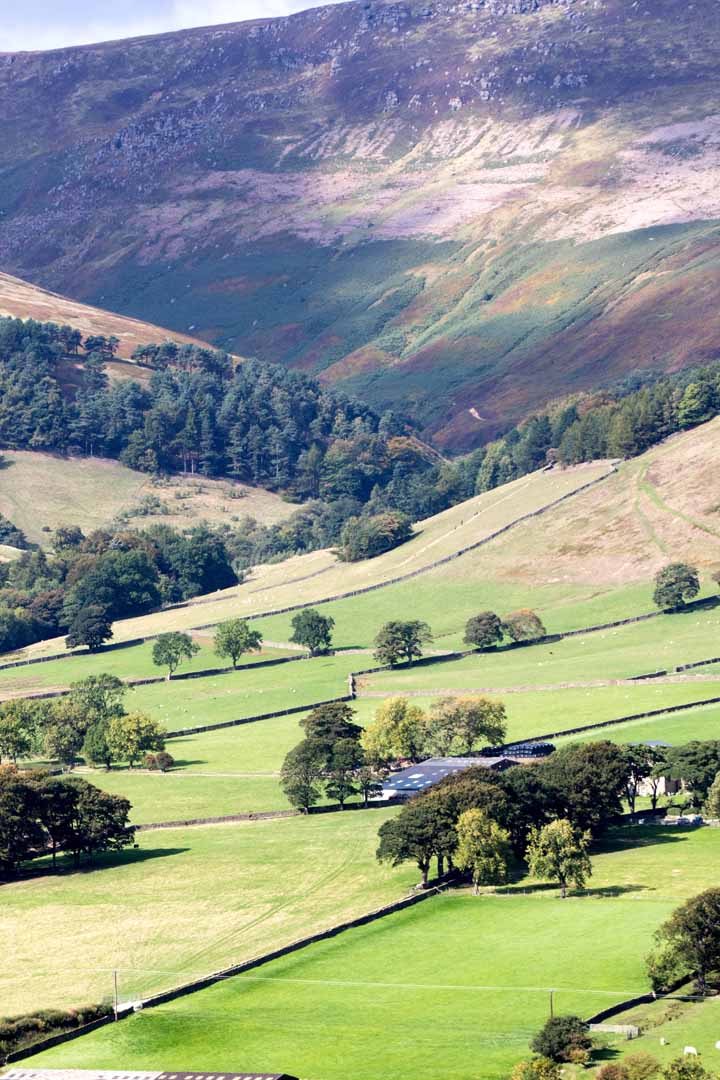 … here, to the east …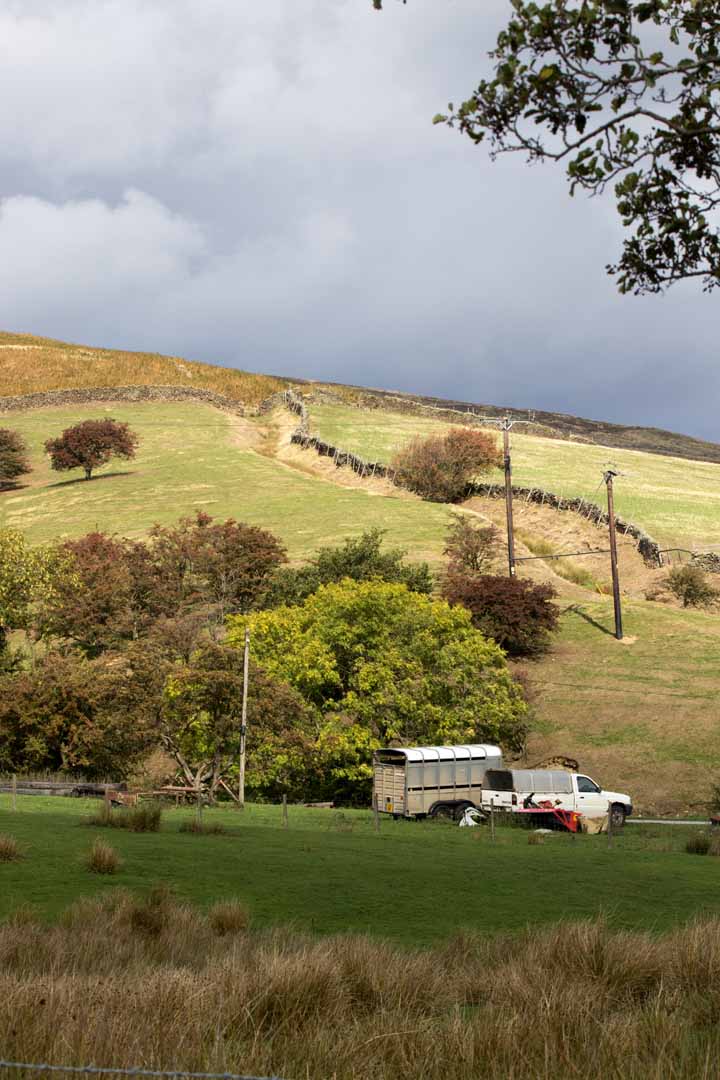 … Sue and Jasper leading the way.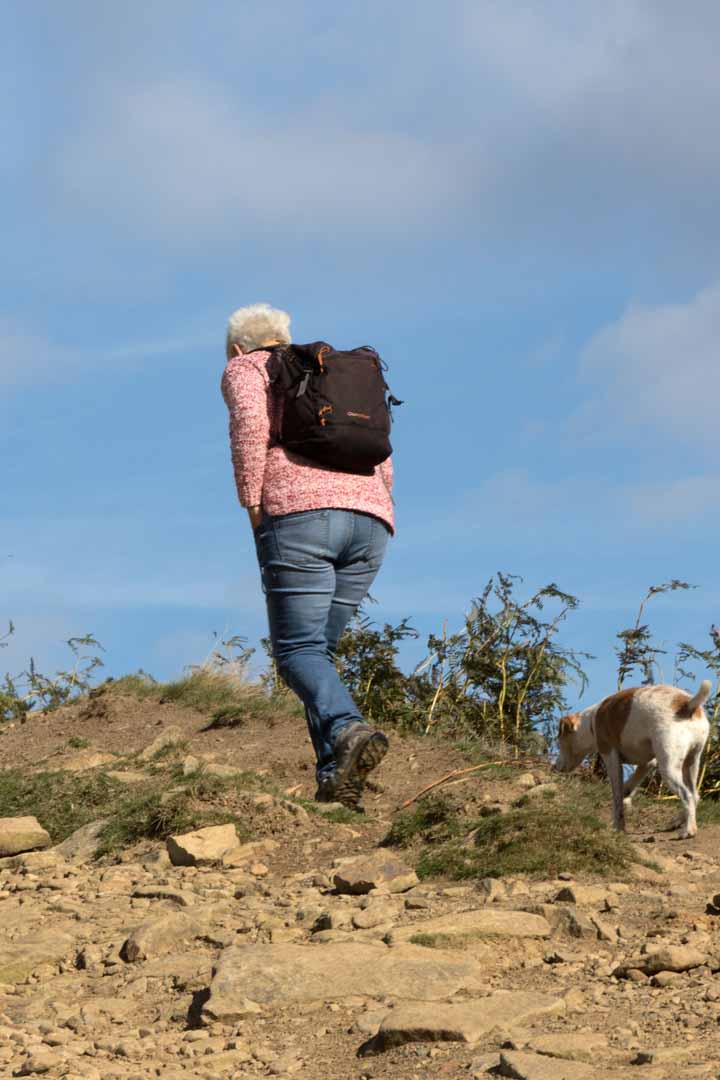 Here, a mid distance one to the south, still in the valley sloping down from the ridge of Barker Bank …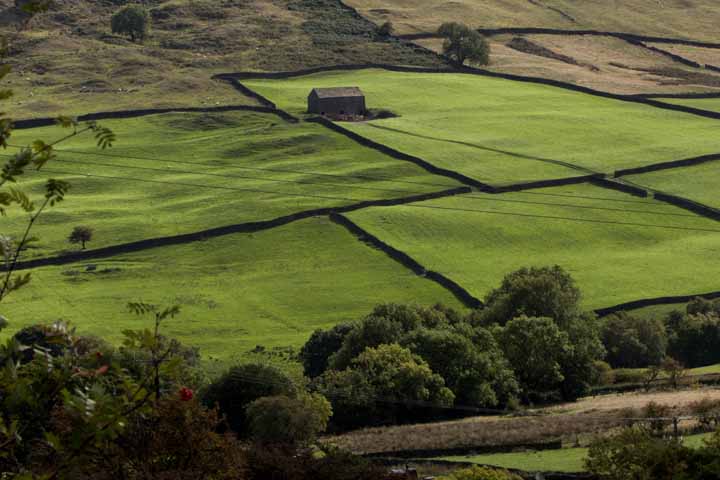 … and here a longer view to the south: the ridge in hazy, half silhouette.
Three more to the south …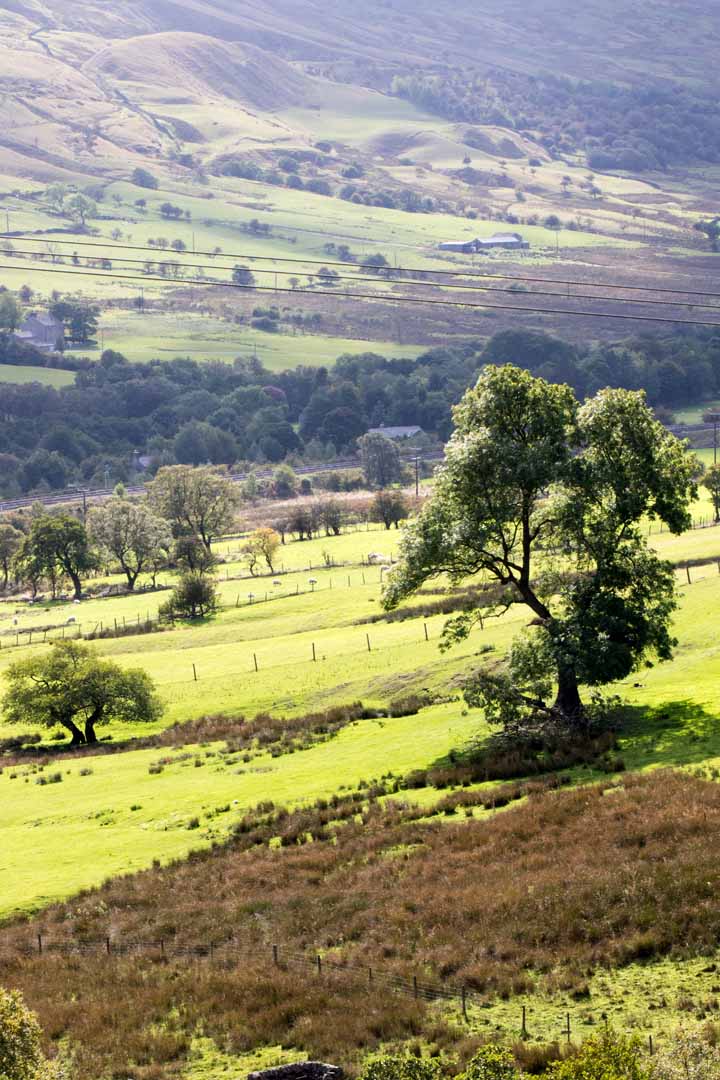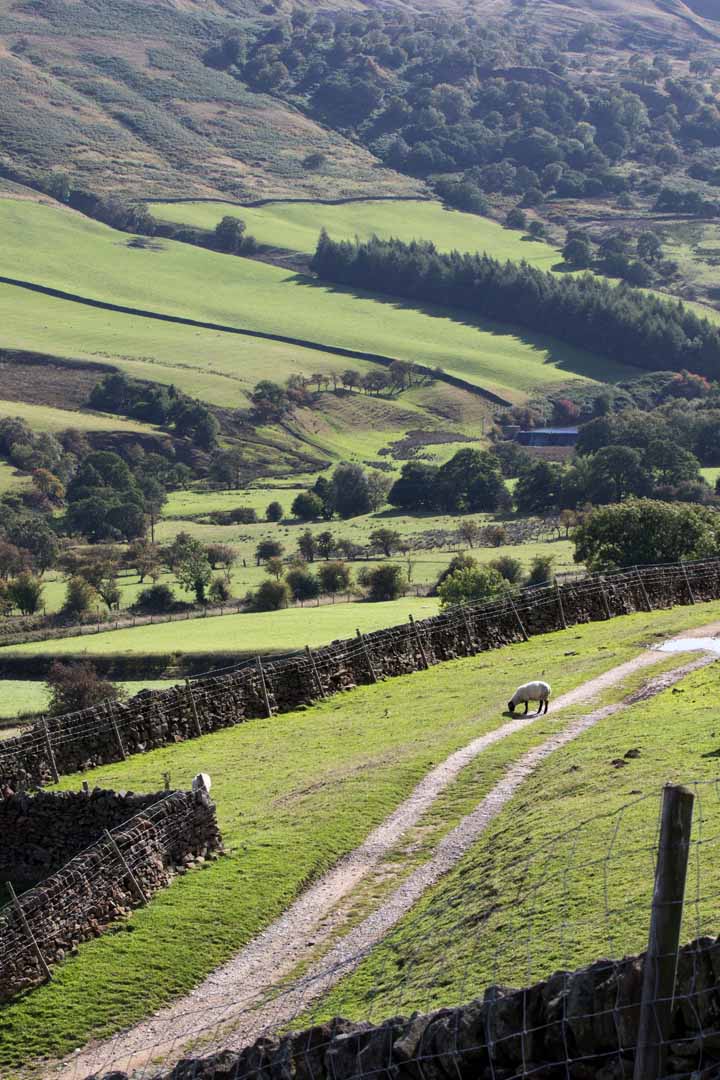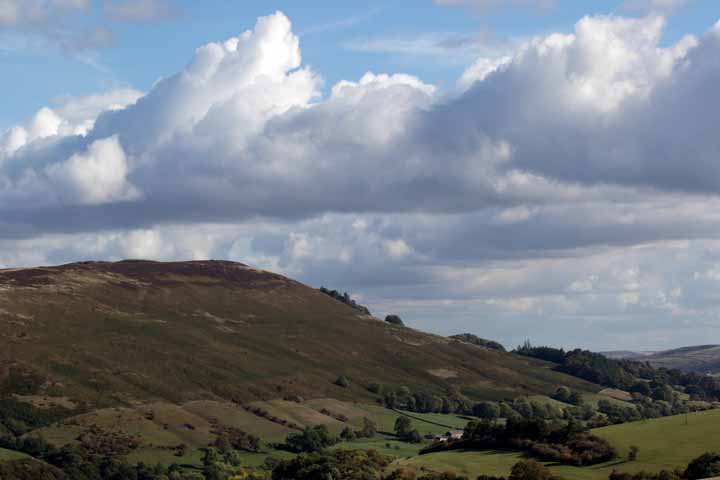 A few closer ups.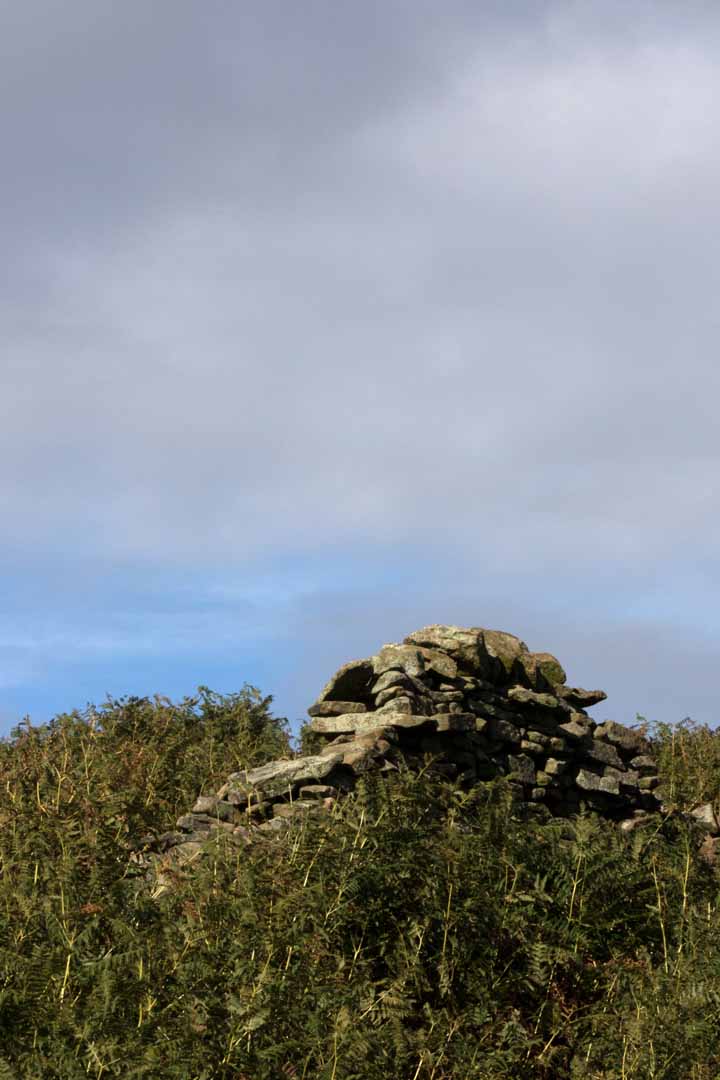 Dominant among the fruits now: the reds of hawberry and rosehip.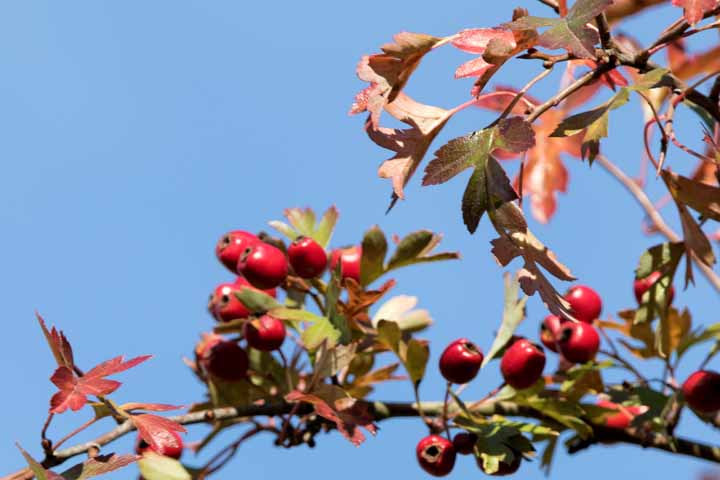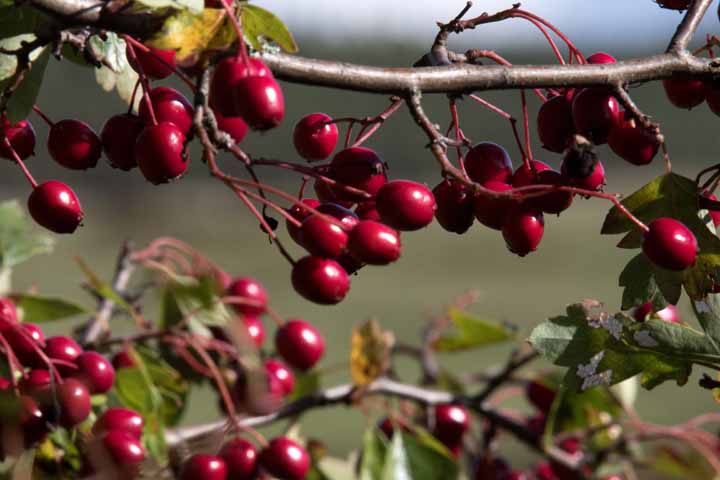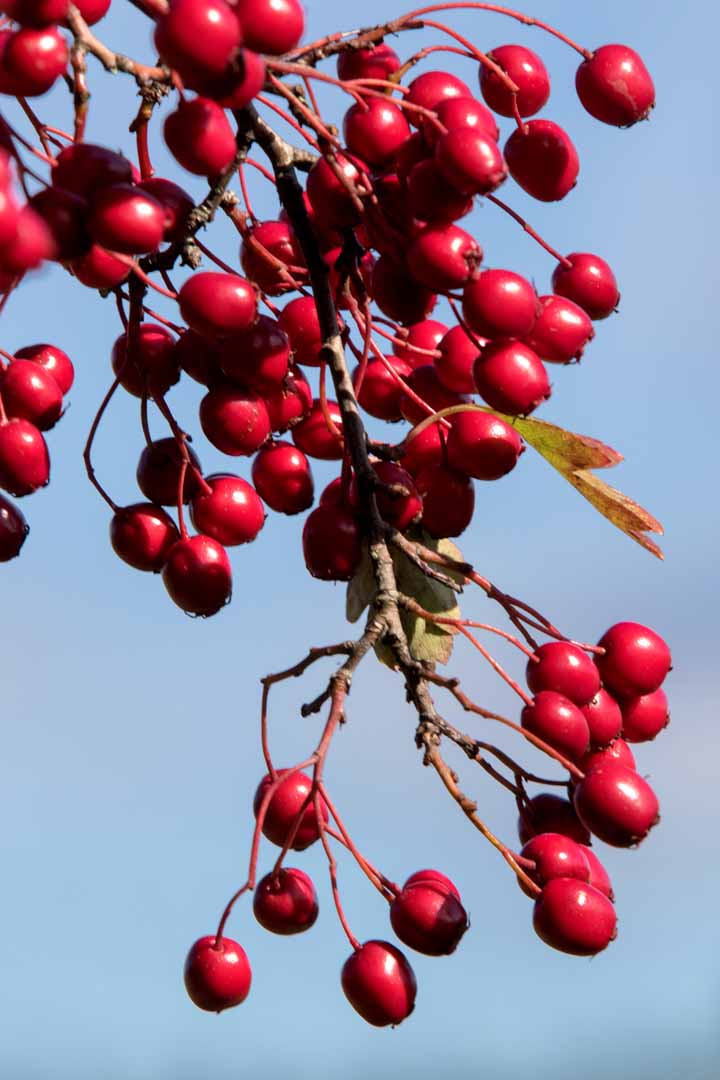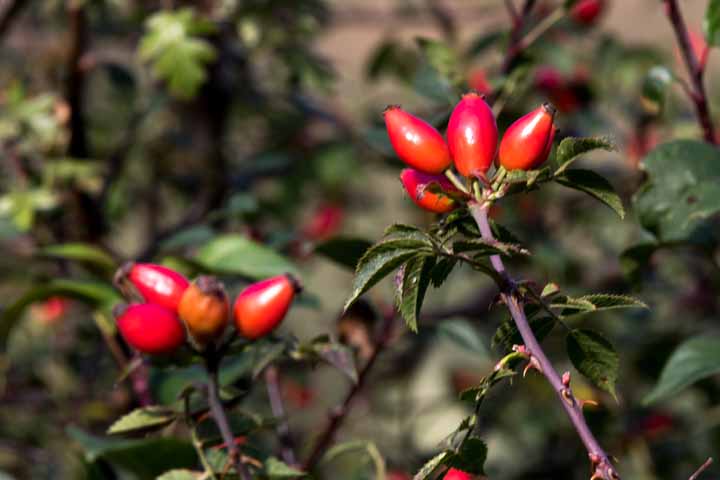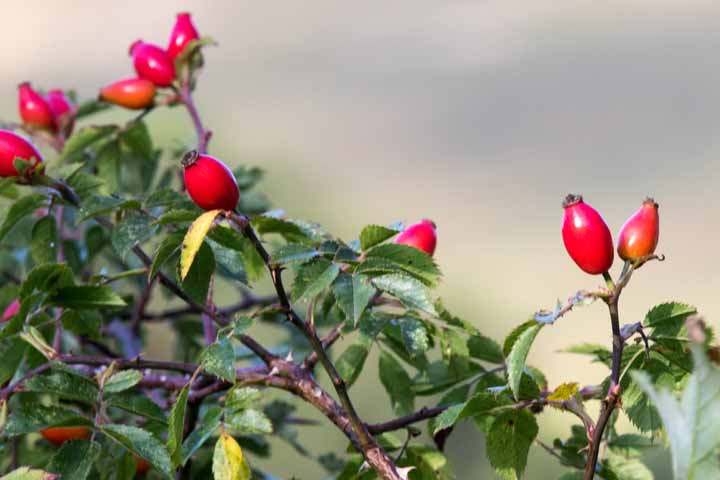 With yellow gorse and what seemed from afar a bank, impossibly late in the year, of primrose. Not till we were within a few metres did they show their true nature as windfall apples.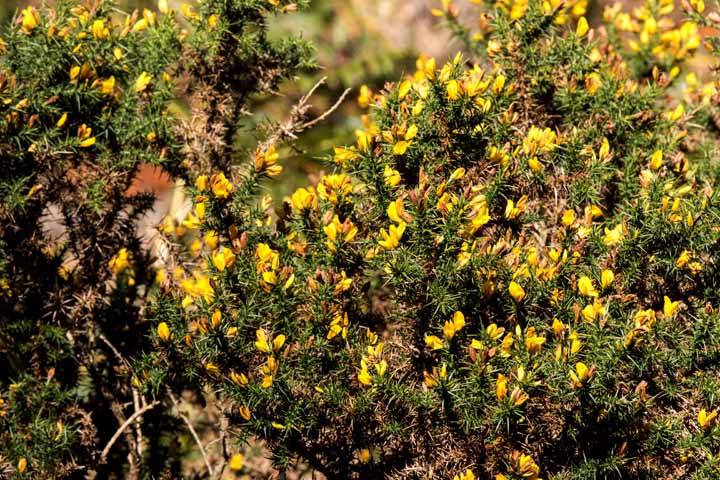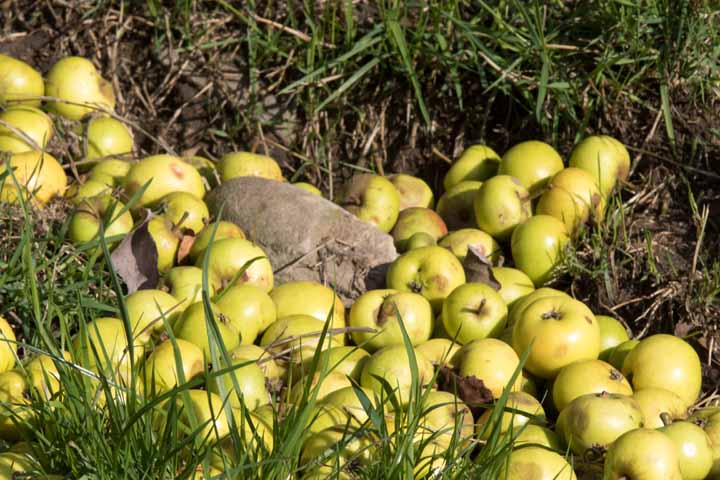 We were now following the River Noe. It's a Class A trout stream, jealously guarded by bailiffs but mark my words; I'll be here soon enough. Not to poach trout – those days are over for me – but to float my kayak. It's a legally grey area, with the few test cases that have gone to court falling both ways. At issue is whether ownership of banks – river bed even – confers ownership of the water itself. Watch this space …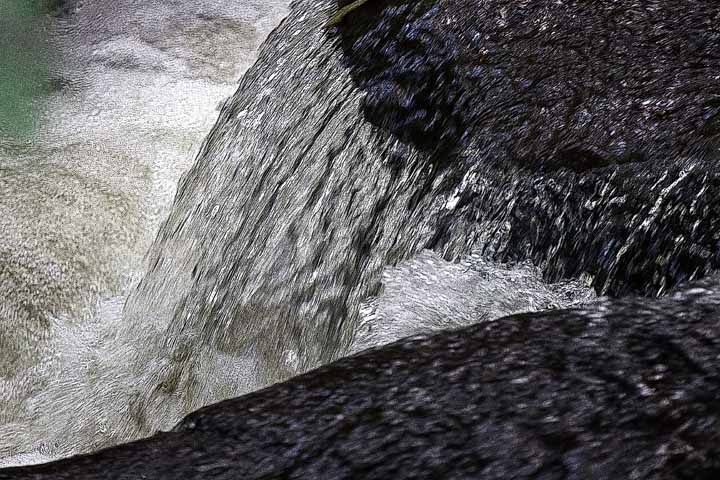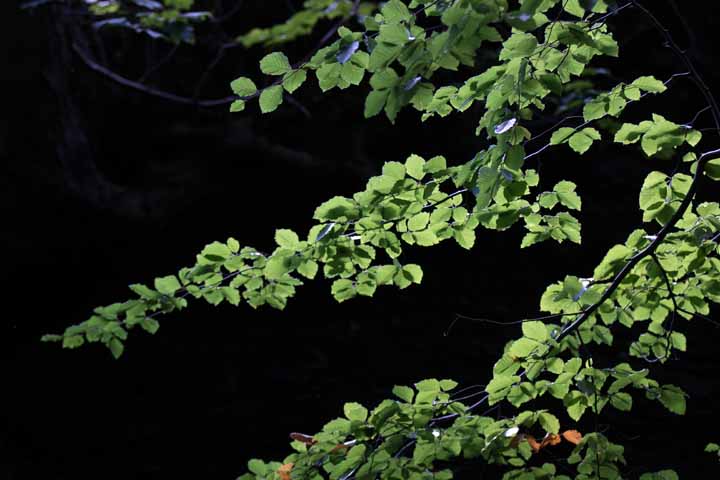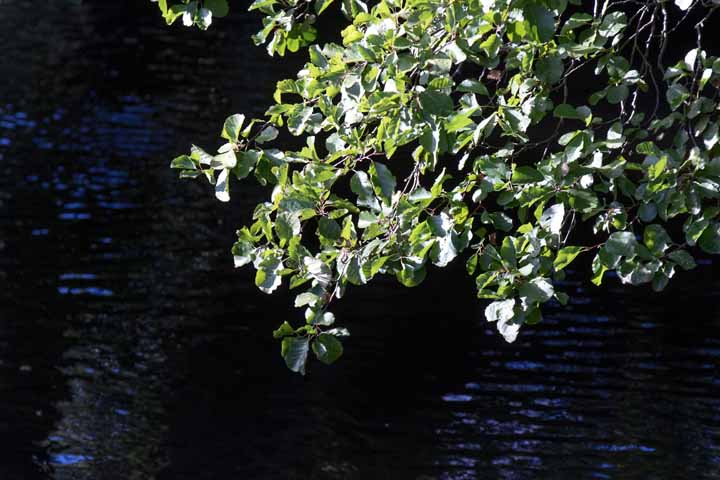 Sue in pensive mode. She's been photographed at this very tree before. Not by me though.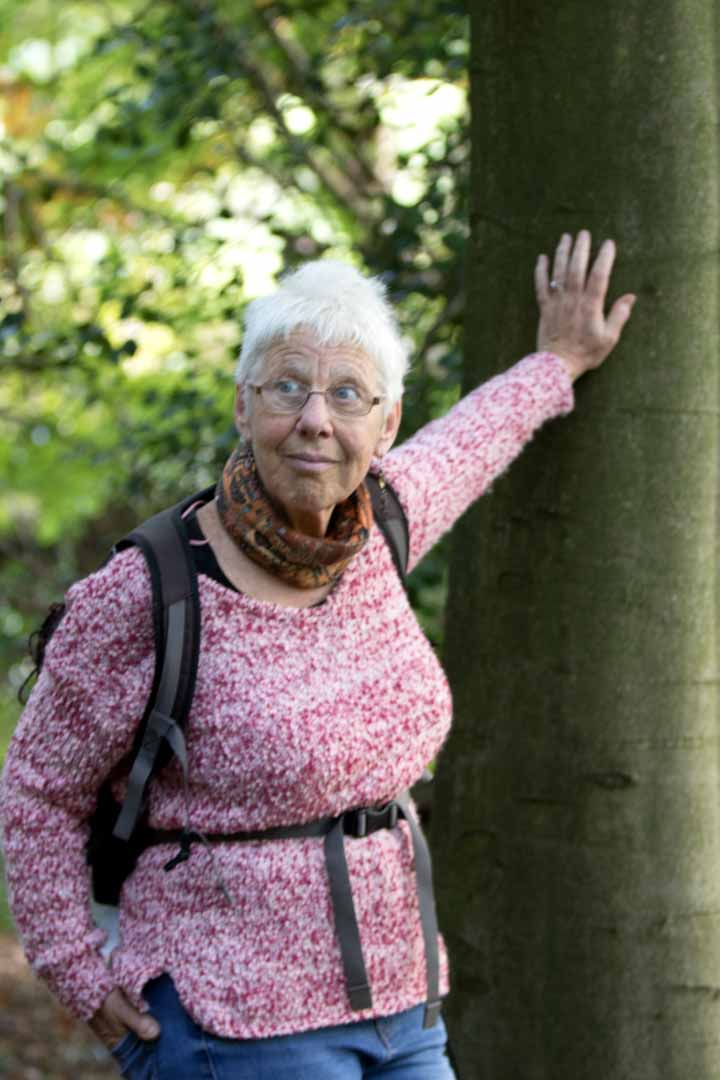 You don't mess with Aries.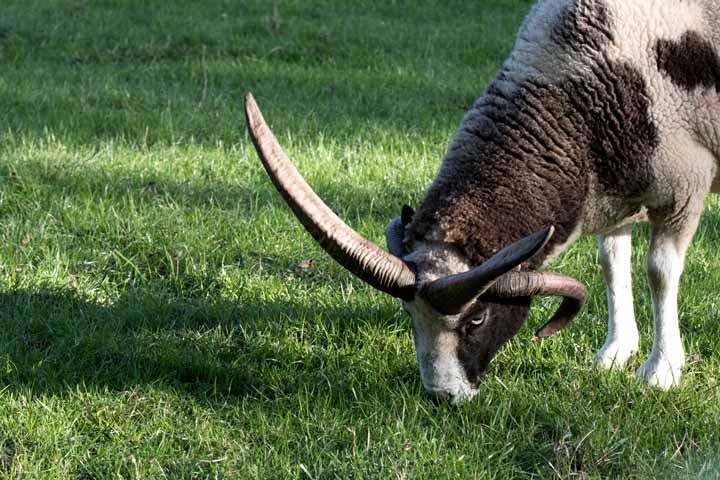 Back to the car, with this view to the south. For those who live in Hope, the cement works came in the sixties on the back of a promise of three hundred jobs. At what price? See my post from the dawn of 2017.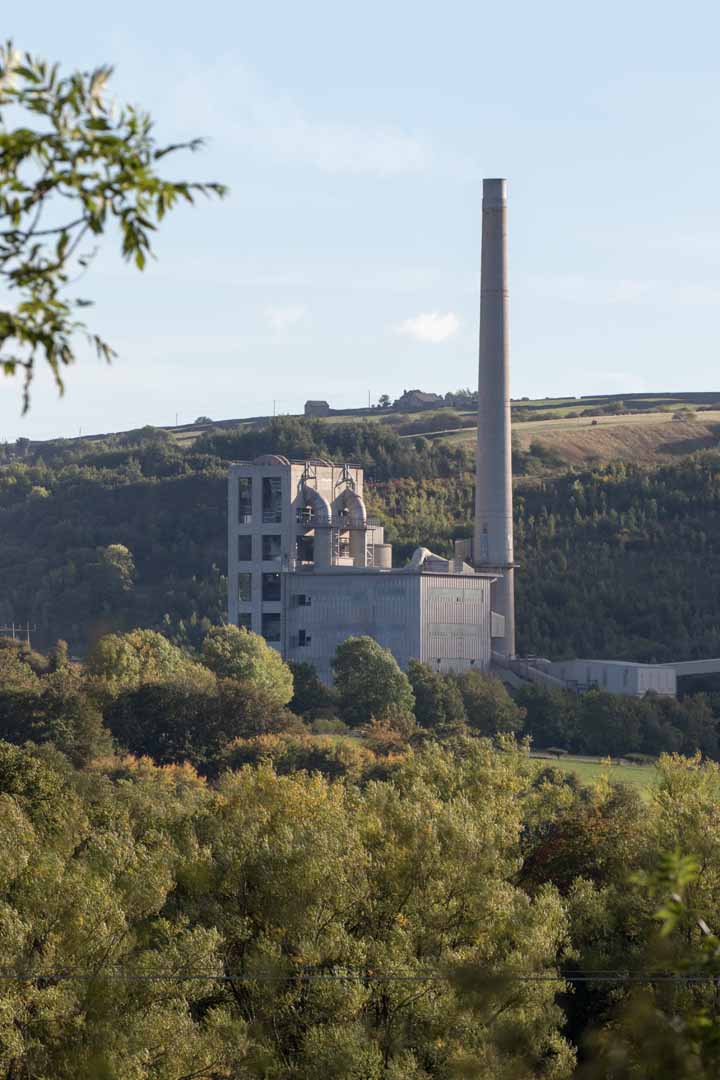 In any case, bet your bottom dollar it isn't three hundred jobs now.
But homewards to Sheffield. In case you were wondering, I seldom drive to the peak district. I more often walk – there's a route out three minutes from my doorstep – or use my bus pass.
*