At the entrance to the Isle of Harris Distillery, the first thing you see as the Skye boat kisses the hydraulic buffers at Tarbert Harbour, an aroma almost malt and almost whisky but not exactly either is breathed in. Those stills, installed four years ago, have yet to yield a dram. When then? There's no telling. The first batch will be ready, one of the distillers told us, when it's ready.
In the meantime they're producing a damn fine gin. I speak with authority as one recently gifted a bottle.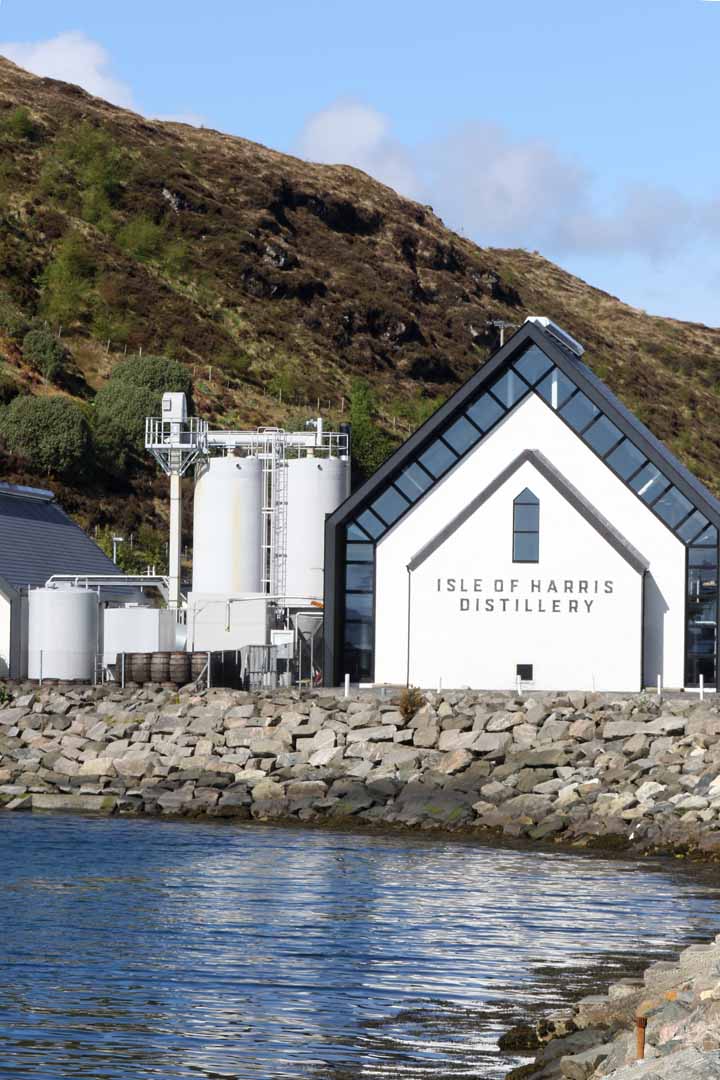 The fact of gin as a stop-gap heightens my suspicion that 'independent minded' Joe Public is yet again being played. Knowing your single malts is so last year. Now the opinion shapers are set on 'educating' new markets for gin. That said, Isle of Harris gin with a sliver of lemon, chunk of ice and a decent tonic – they do their own but I get diddy cans of Fever-Tree in batches of eight – slides down a treat when sun dips below yard arm.
Next to the distillery is the Harris Tweed outlet, its wares smelling as good as they look.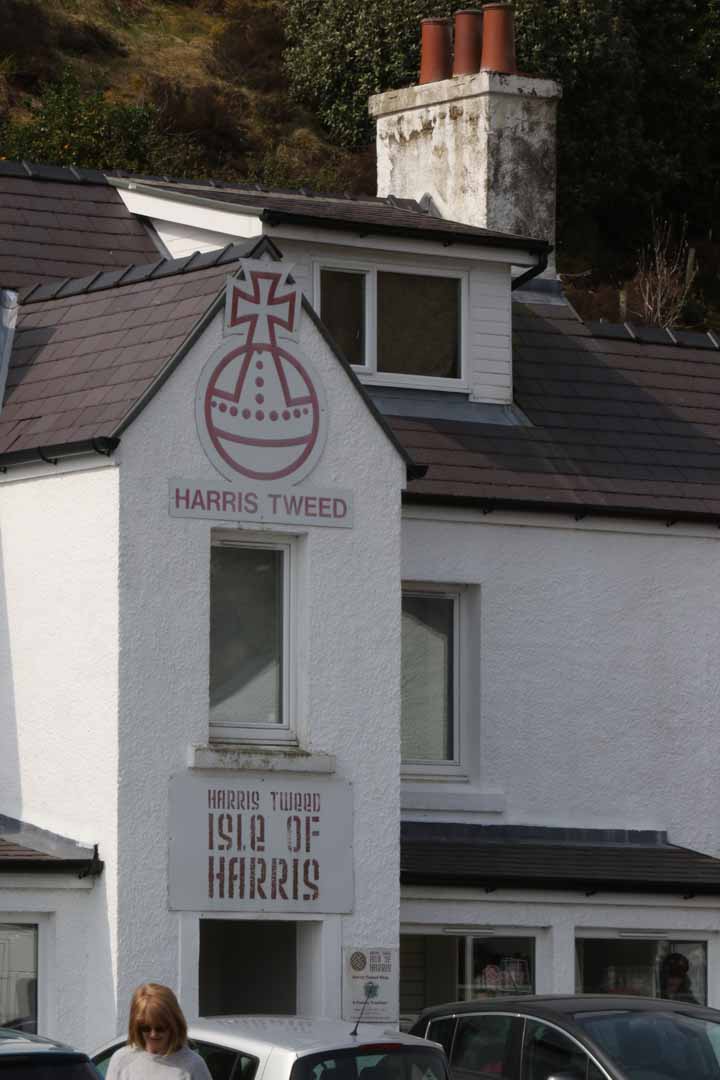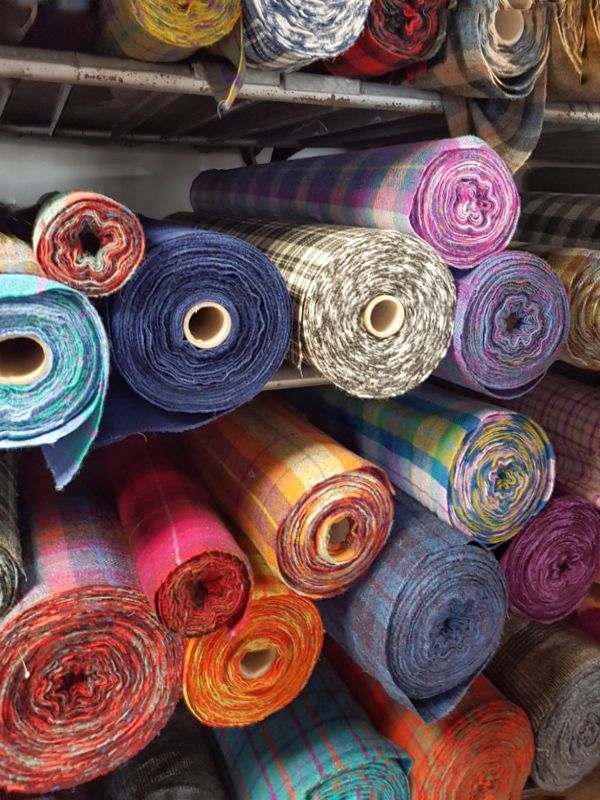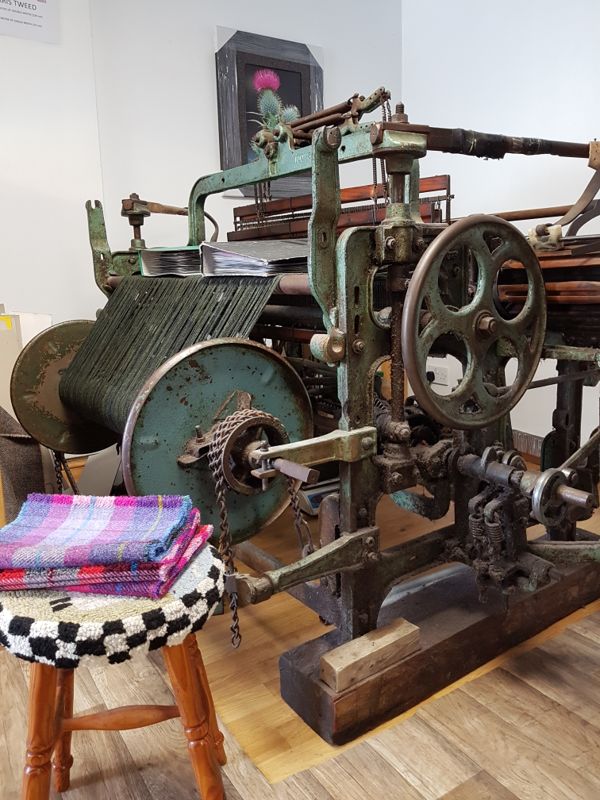 But first things first. Sharing the driving we'd left Steel City House, now a misnomer on account of move to Nottingham, at noon on Good Friday. I'd spent the previous two days in Sheffield's Tribunal Court as the latest round, outcome to be delivered by written judgment, of the highly acclaimed Roddis v Sheffield Hallam – a soap opera with subtle hints of the political – played out.
We had all we needed: four season bags, cooking gear, backpacker as well as family tent; the latter a snip at £80 from Decathlon and on its maiden outing.
Around nine we pitched a few miles outside Pitlochry, at a picnic spot on the road to Rannoch, wild camping being legit in Scotland. Not having to book accommodation left us free to make the call two days before setting off, on the strength of a peachy forecast. This time of year, two days was ample notice to book Jackie, motor and me on the ferry to Tarbert from Uig on Skye.
Next day, Saturday, we 'd crossed the road bridge from Kyle of Lochalsh to Skye. Headed north, we stopped a few miles short of Portree. This burn supplies Talisker Distillery, just off camera. I love those peaty malts, even if I have been 'educated' into such reverence.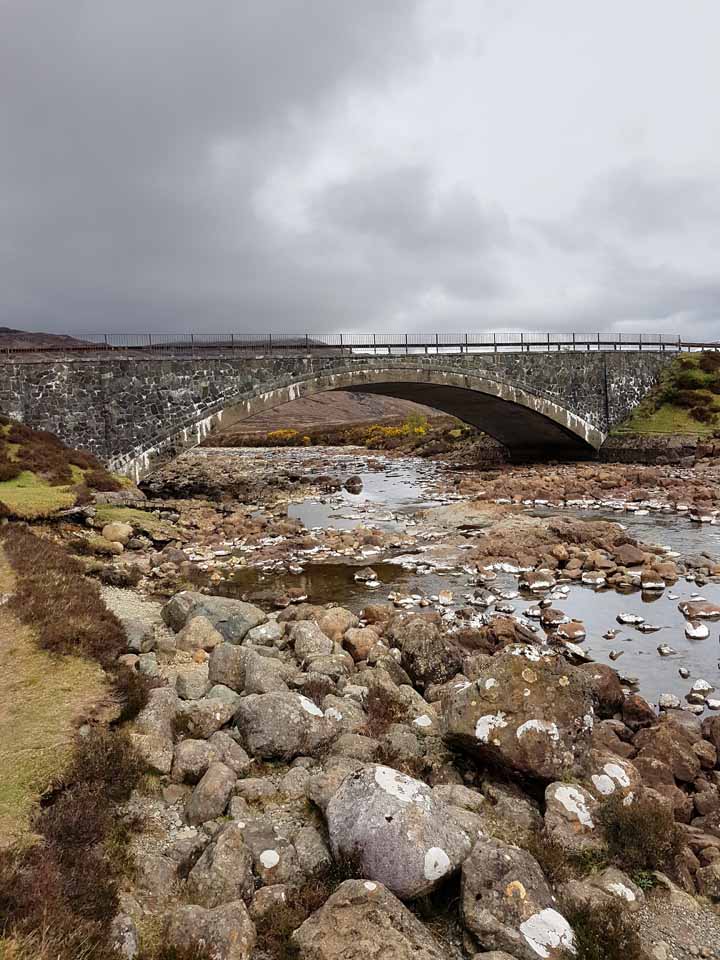 Minutes later we reached Portree, hungry. A walk round the harbour town, with only look and feel to go on, suggested characterful Cafe Arriba. For once, appearances did not deceive. If you find yourself passing through, don't miss it. At busy times you'll wait but, trust me, it's worth it.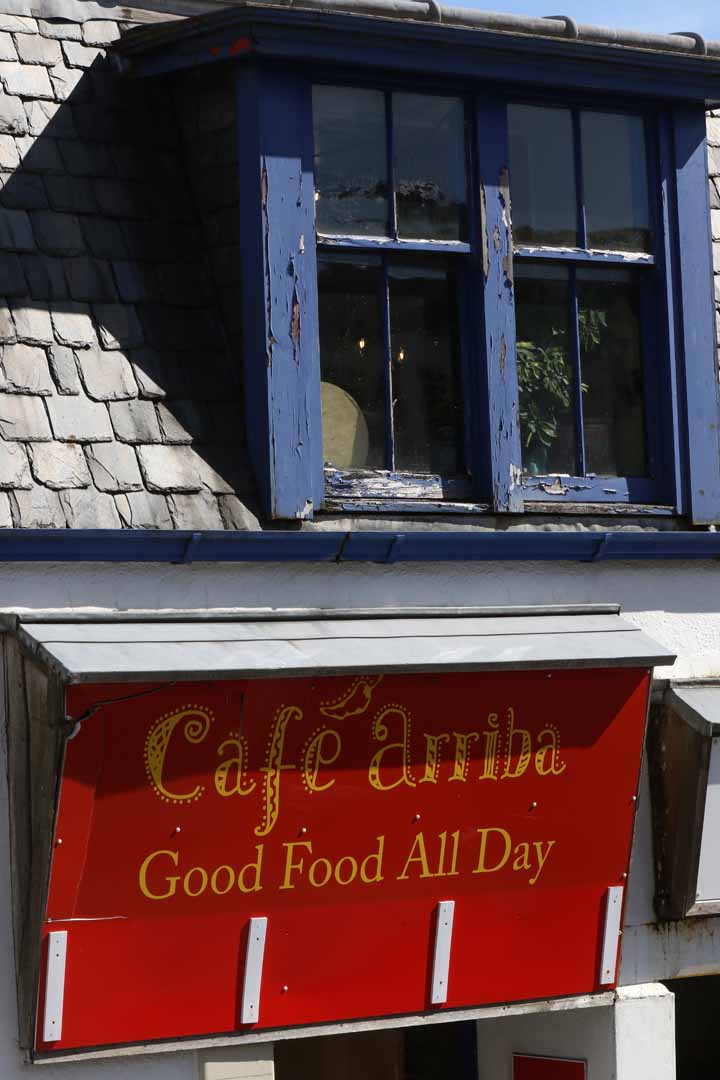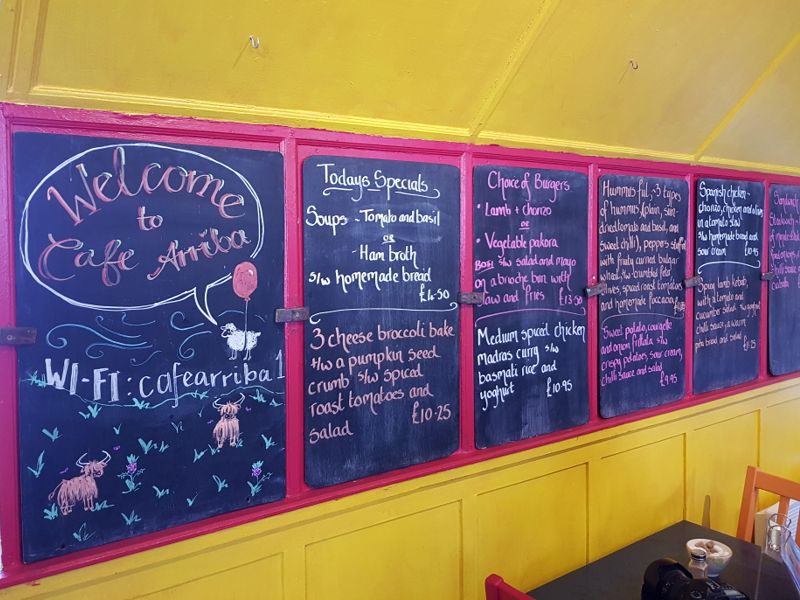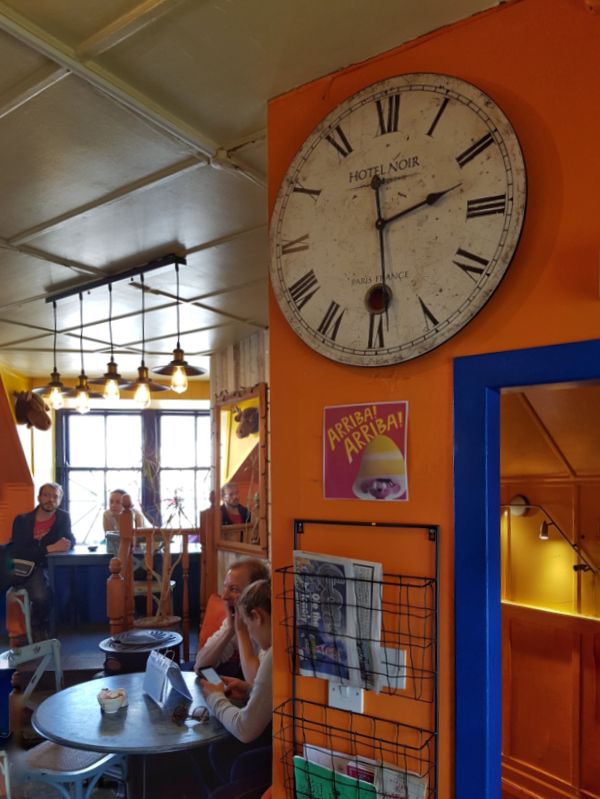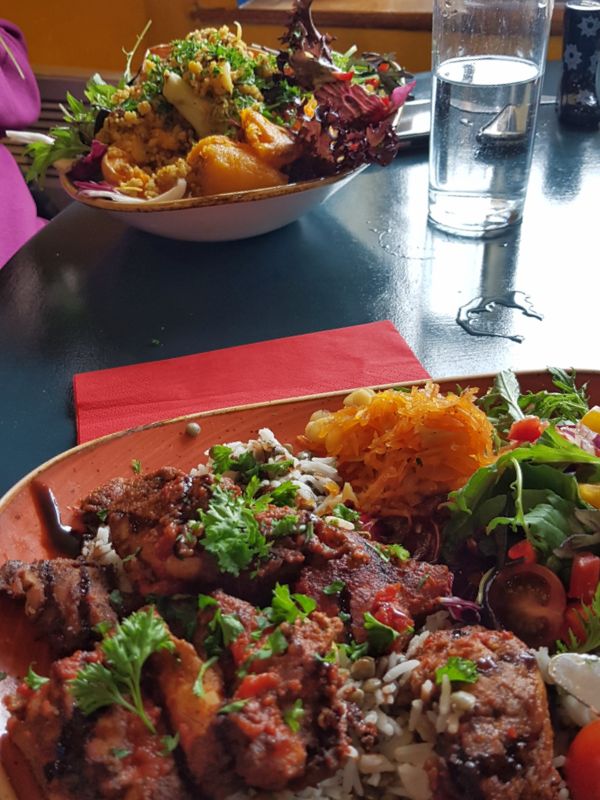 Get yourself a window table, even if you have to wait longer. The views speak for themselves.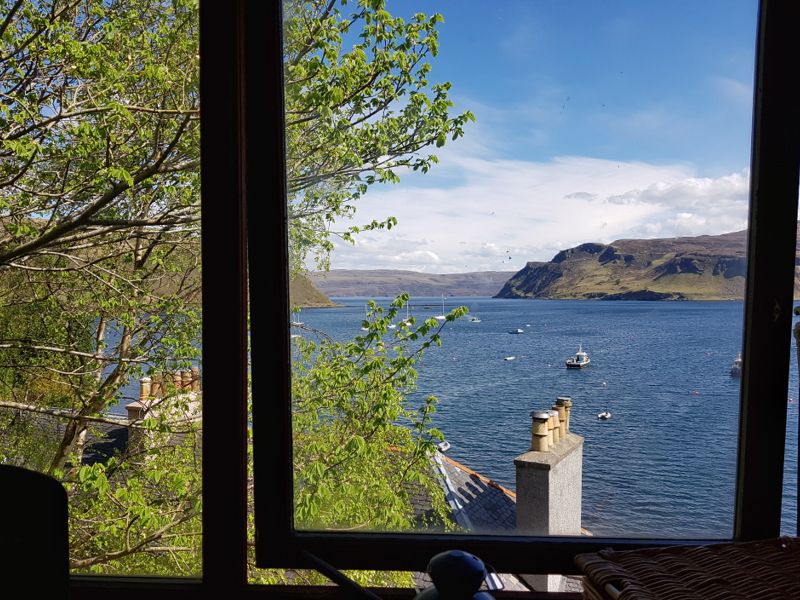 Sailing on the Sunday, we were in no rush to pitch near Uig. A walk in the Quraing was in order. It almost made up for passing on the Cuillin for the second time in fifty-two years. First time? In '67, when we waited three days for stair rod rain to cease. It didn't and, those were the days my friend, yon bonnie boat was the only way on and off Skye.
I digress. Here's a glimpse of dramatic Quraing on a glum but dry Easter Saturday afternoon.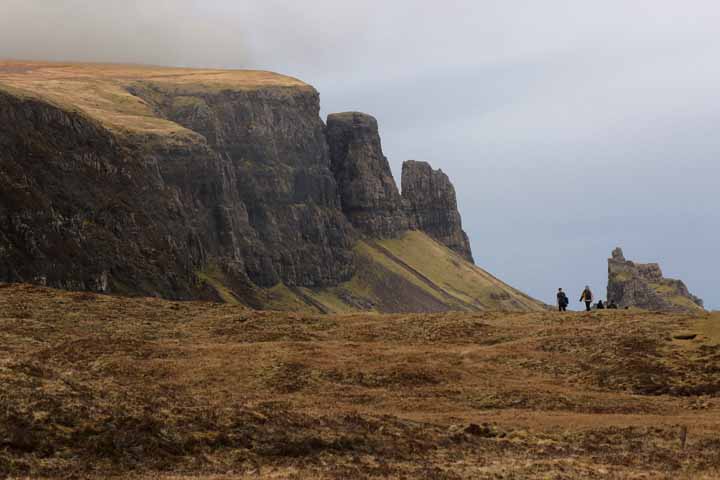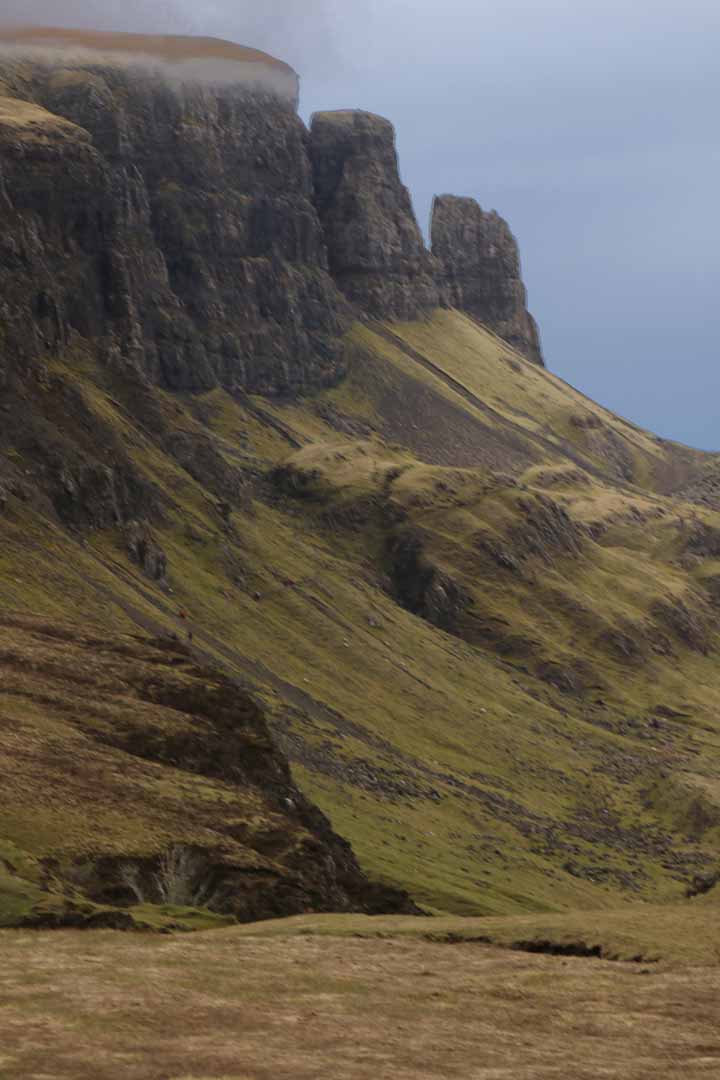 That night we again slept in the small tent, in the lee of hills by the road overlooking the Minch, three miles from the Uig ferry point.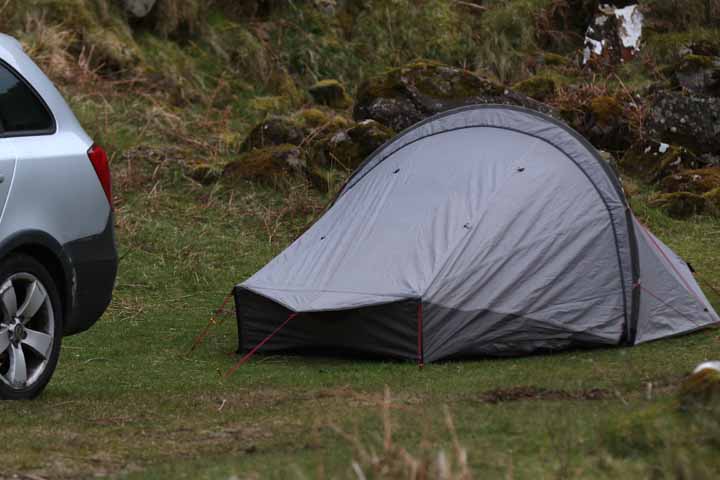 And so to Harris, a two hour, Easter Sunday crossing.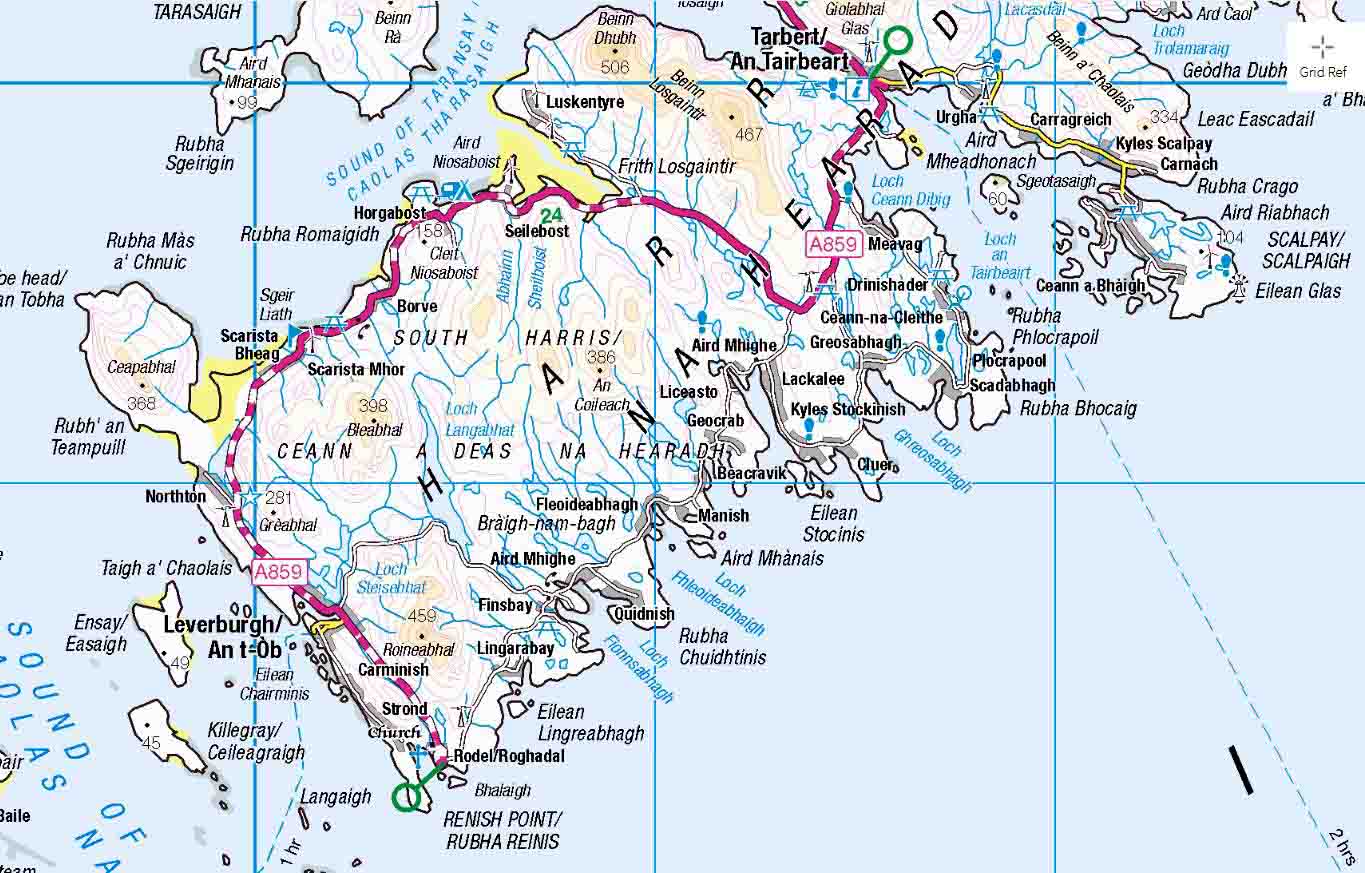 From Tarbert we headed west to one of the island's few campsites, at Horgabost. (Names of Nordic tint abound in Northern Britain.) A sign said closed until May Day but the driveway was open, with two or three camper vans and a solo tent in situ. 'Closed', it seemed, meant no hot showers and no unpleasant parting of hard-earned. I delighted in the latter, Jackie fretted over the former. She needn't have. We'd find three showers, open to the public and within a thirty minute drive. Two opened the rose for a pound in a slot, one did it for free. Guess which I got my kit off for. So what if she did swerve dementedly from freezing to scalding and back? I soon got so I could read her fickle moods.
At Horgabost we pitched the big tent for the first time.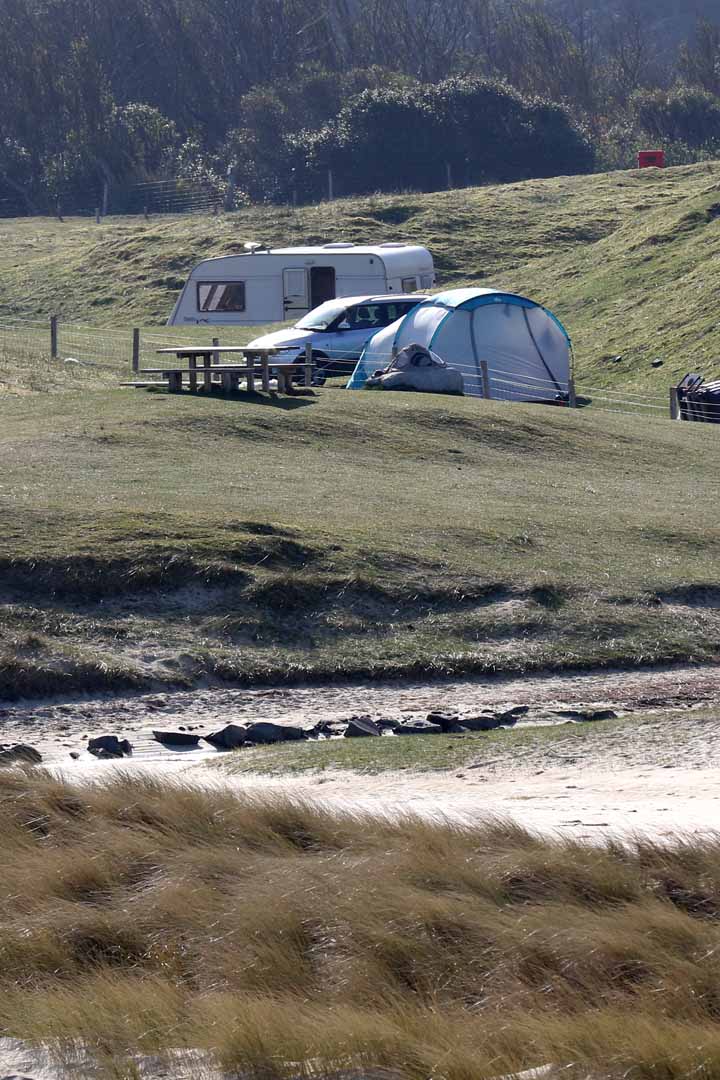 The weather was as good as promised but windy. God it was windy, gusting at 40 mph or more. (See my micro towel, hung out to dry and flapping like a banshee?) Would the tent, skin thin as a condom and offering voluminous resistance, stand up to it? Short answer, yes!
(Long answer, it bucked like a bronco. The first morning, Easter Monday, we were reluctant to leave it, but leave it we did, after shoving sleeping bags in car. We walked the coast all day, returning to find everything intact.)
Now the birds. Oyster catchers everywhere: closely followed, not literally, by quick shags. But would we see an eagle? Short answer, yes!
(Long answer below.)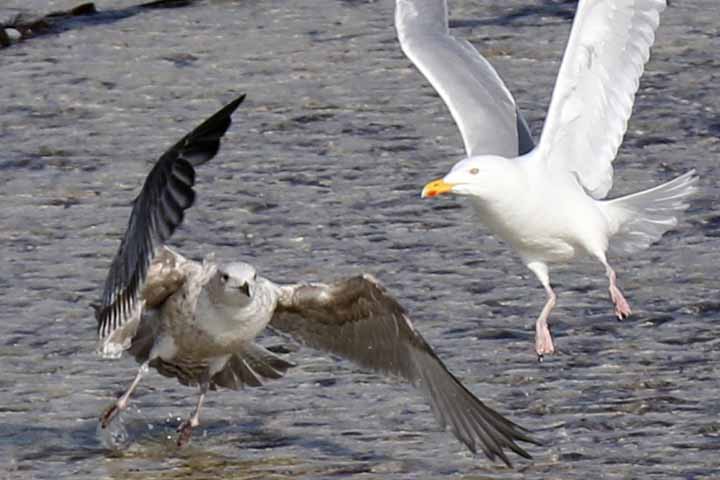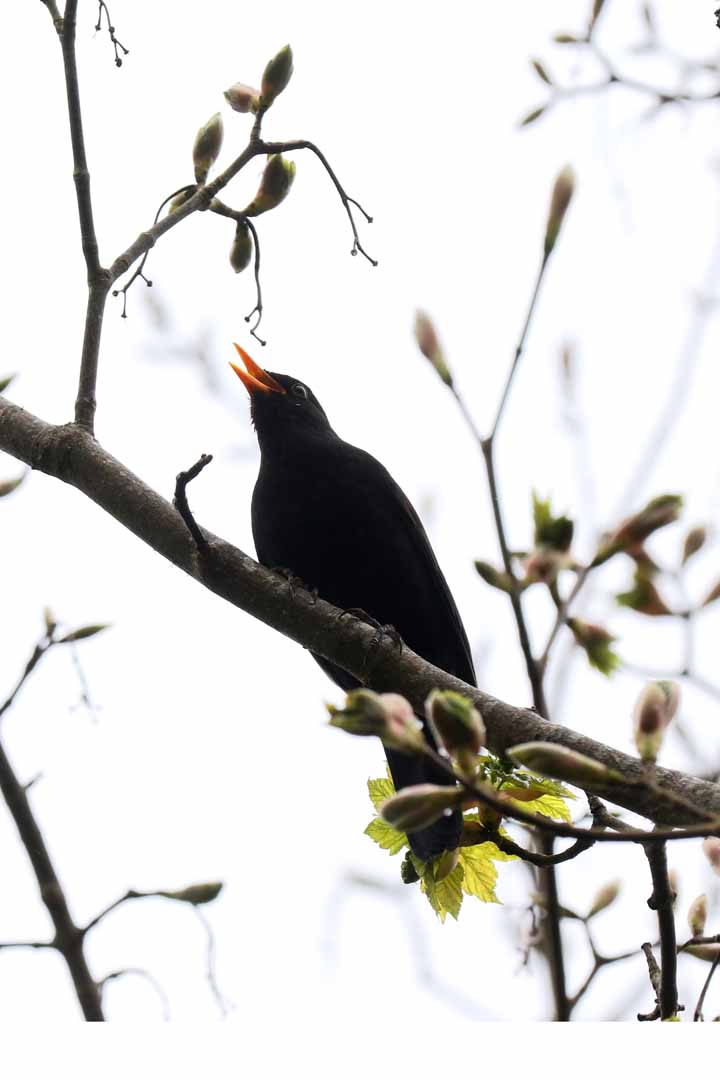 Britain's largest bird of prey – bigger than a golden eagle and bigger too than an osprey – is the white-tailed, aka sea eagle. We were in the south east of the island, driving Leverburgh to Tarbet on a lunar landscape of mountain loch and boulder strewn moorland when we chanced  upon it, perched on a boulder a hundred and fifty yards up the steep side of the pass. My shots won't win any awards but still … a sea eagle!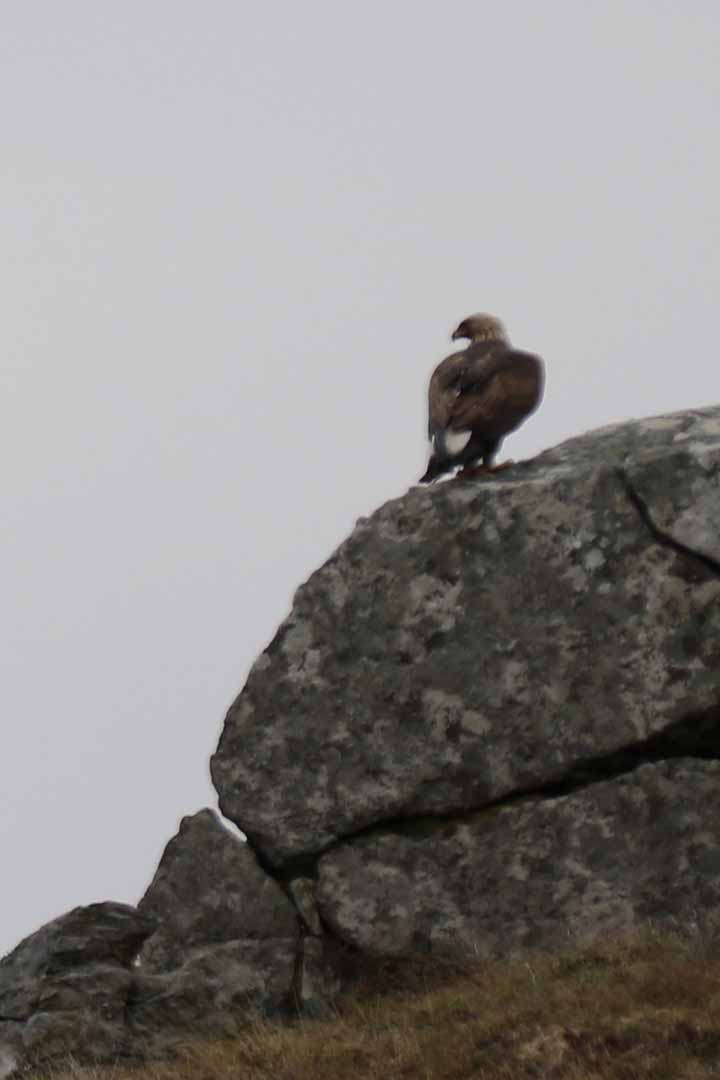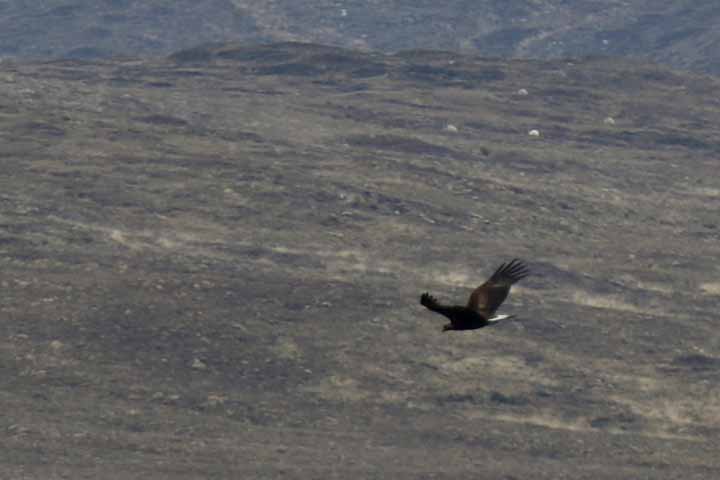 We returned next morning at the same time, just after eight, and there it was again only further away. My shots will do for ID purposes but that's all.
Oyster catchers everywhere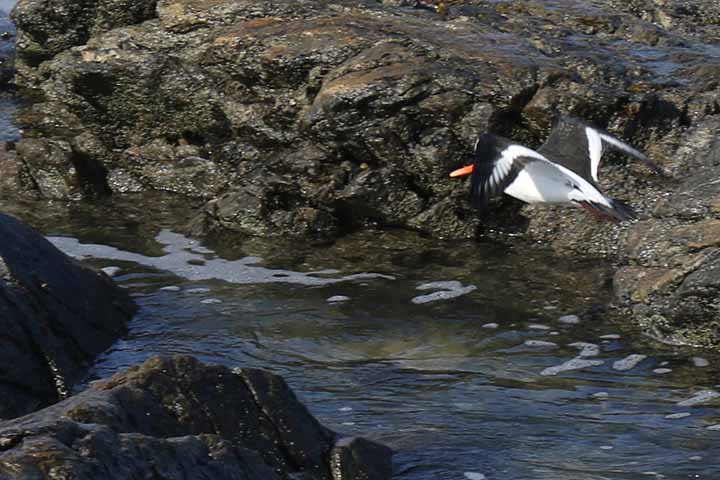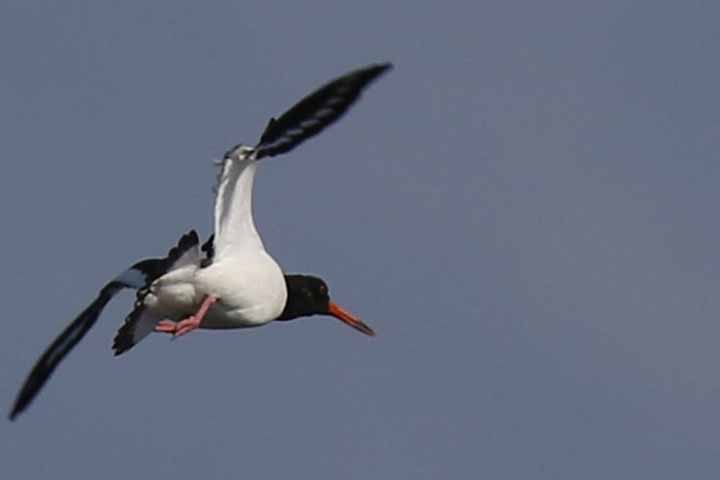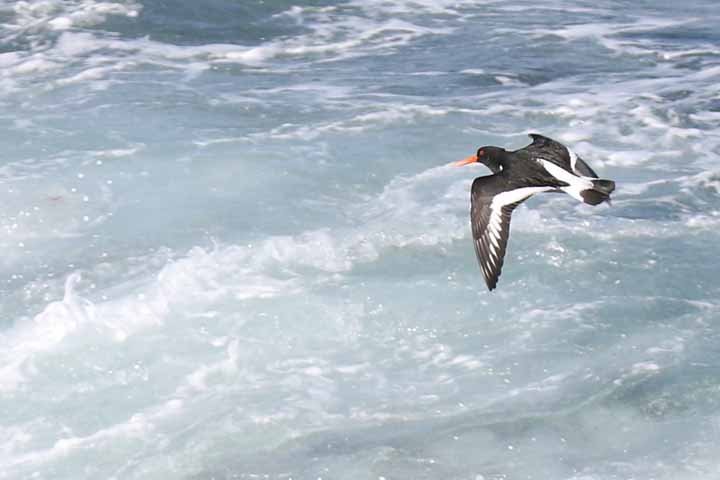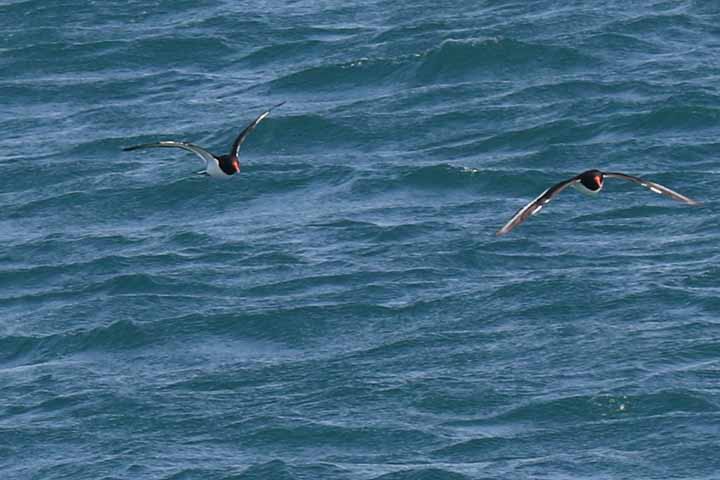 Gannets too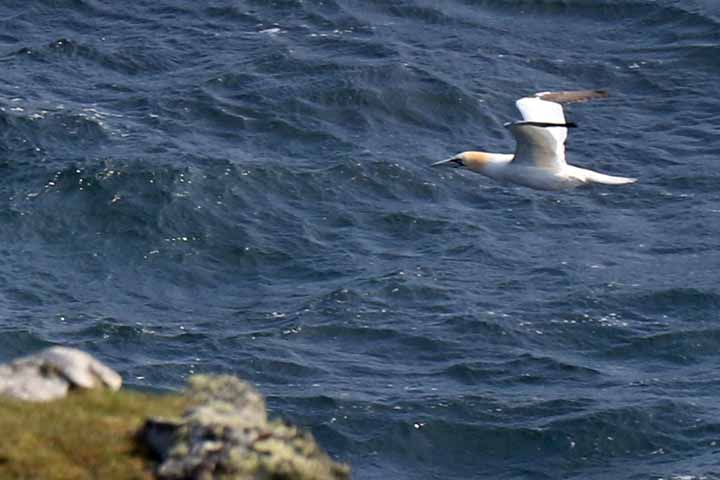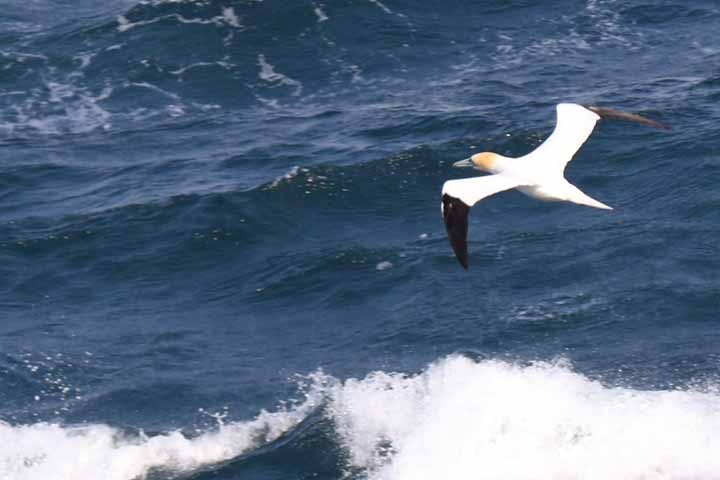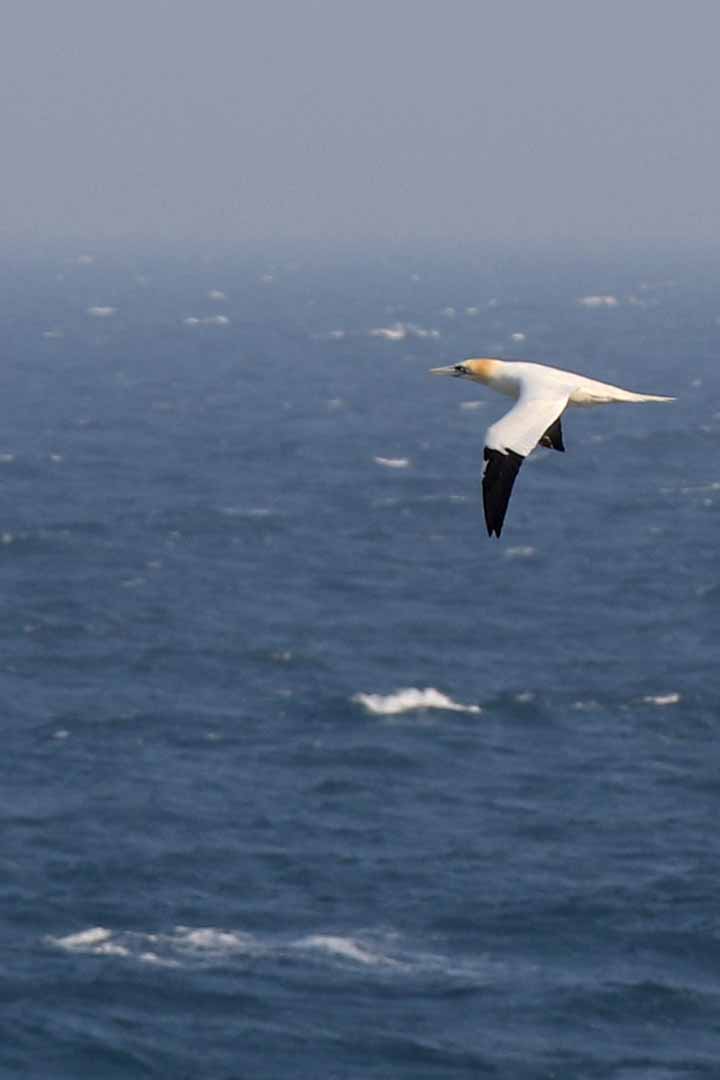 I think these are shags, rather than the more widespread cormorant I see daily at Attenborough but have yet to get a decent shot of. The latter have a wider spread of yellow at the throat.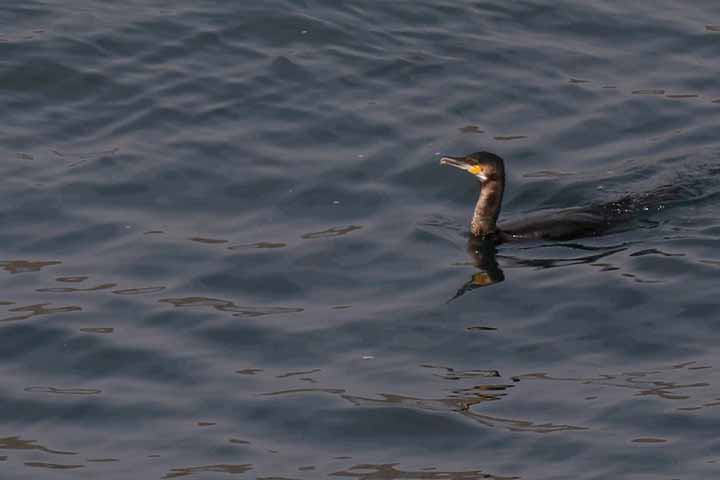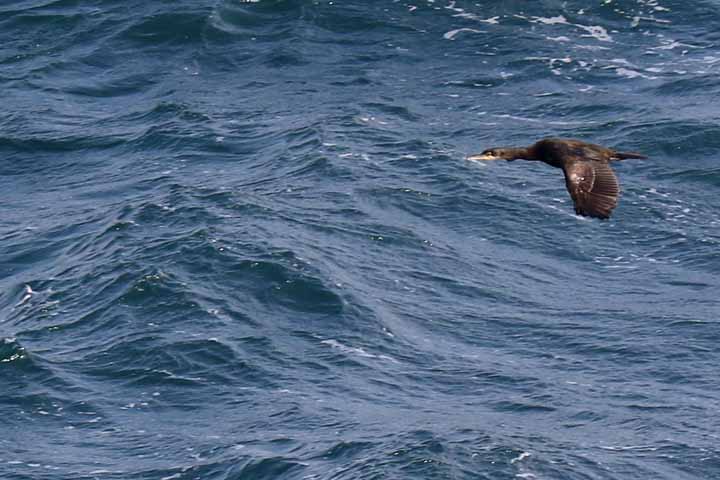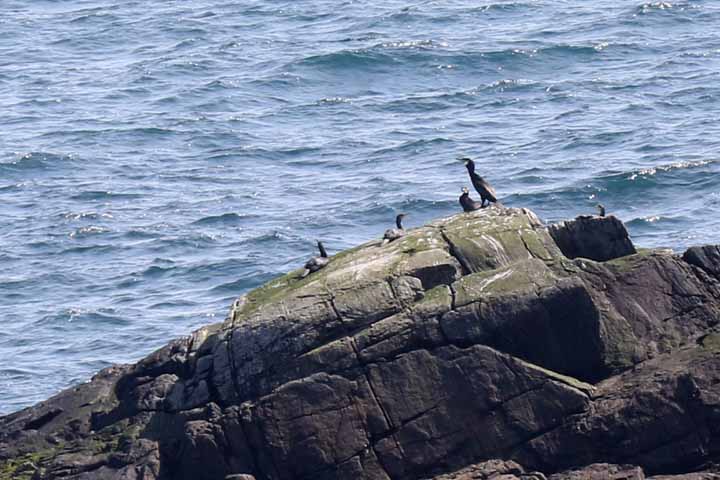 Great northern diver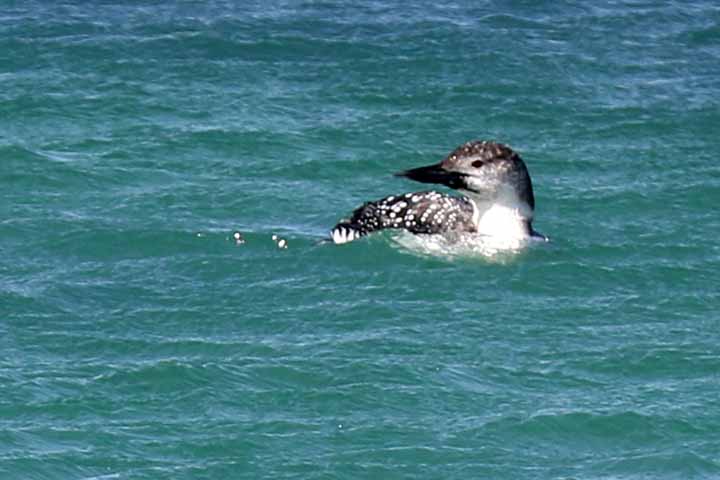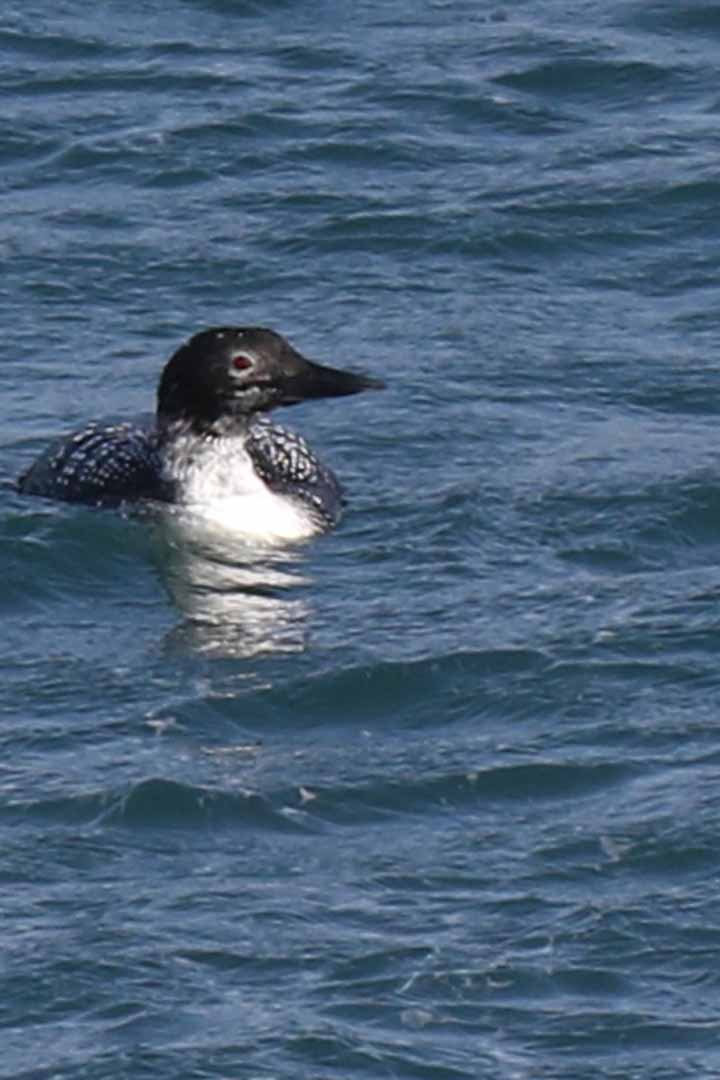 At least one a wheatear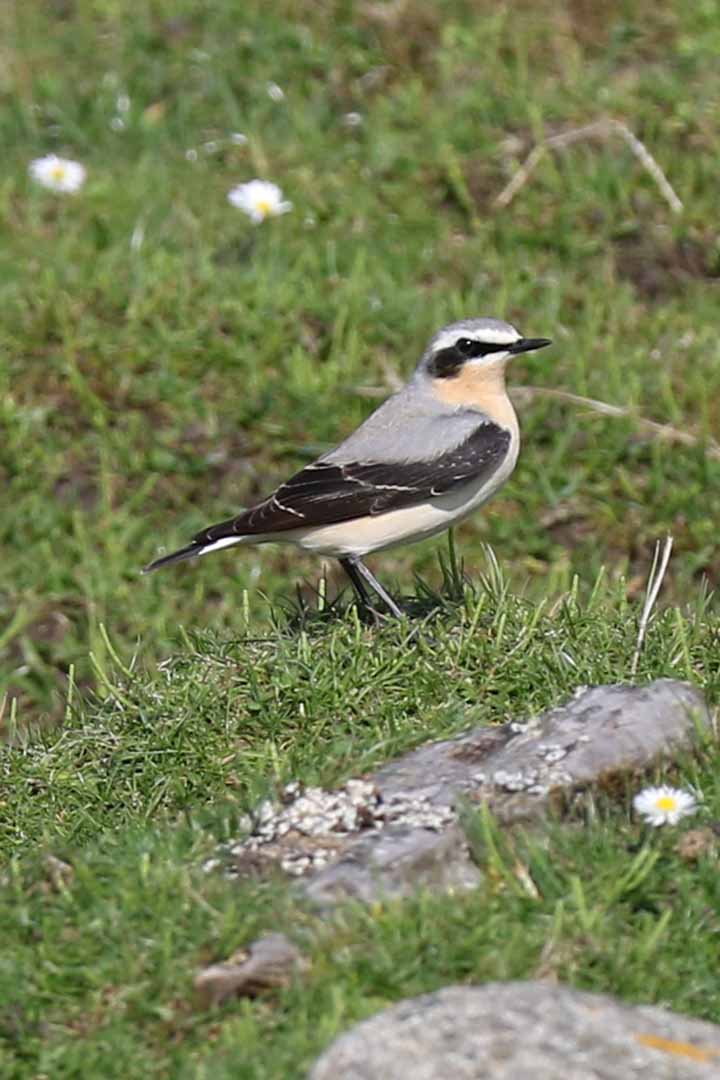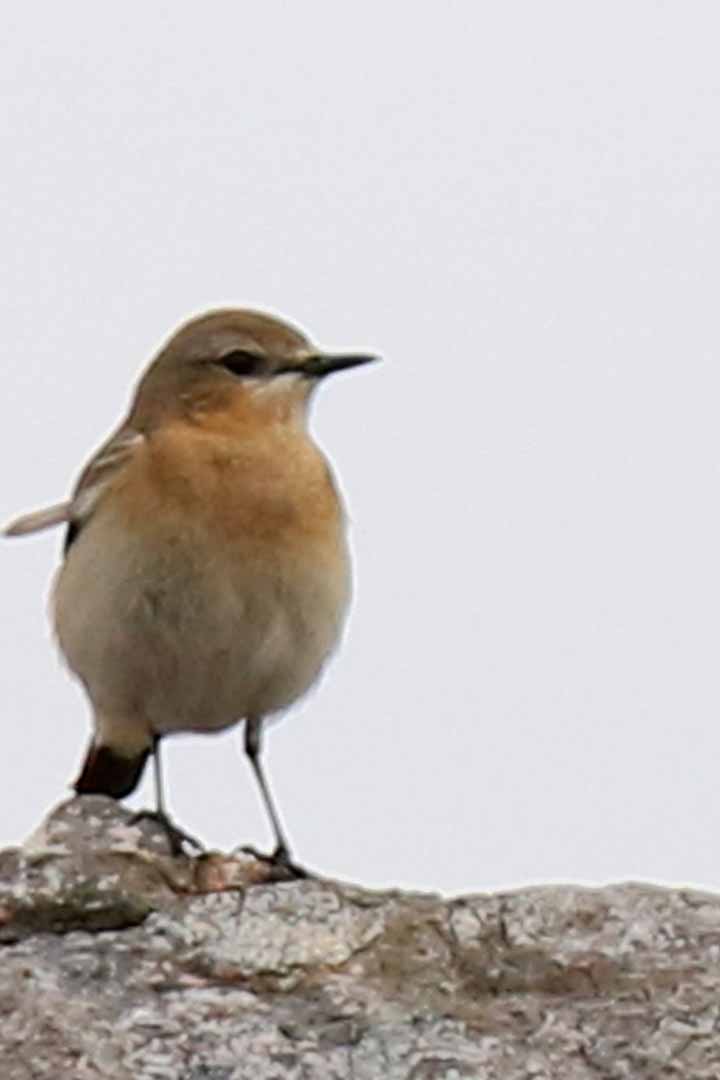 Juvenile wheatear? Too early, surely, though in these days of climate change there's no telling.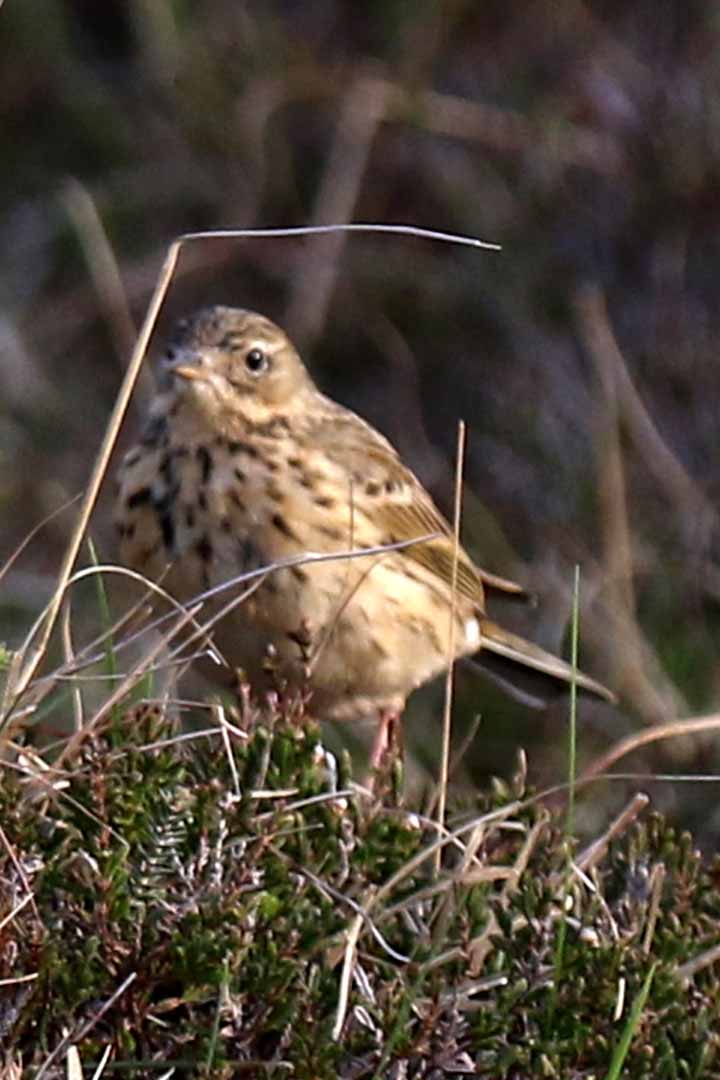 White wagtail … Lapwing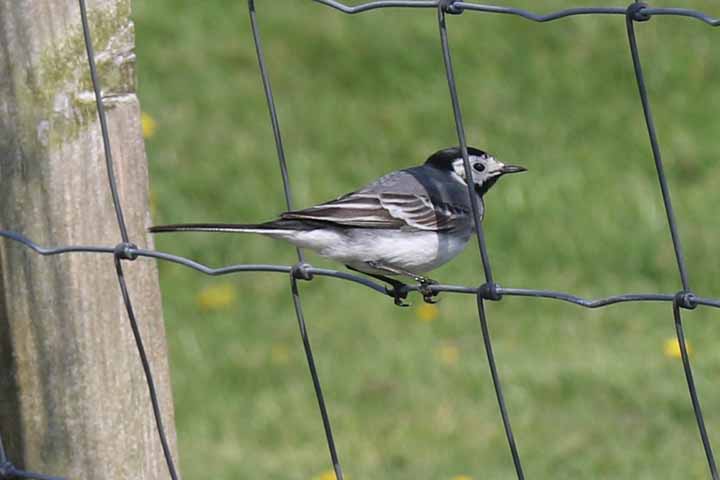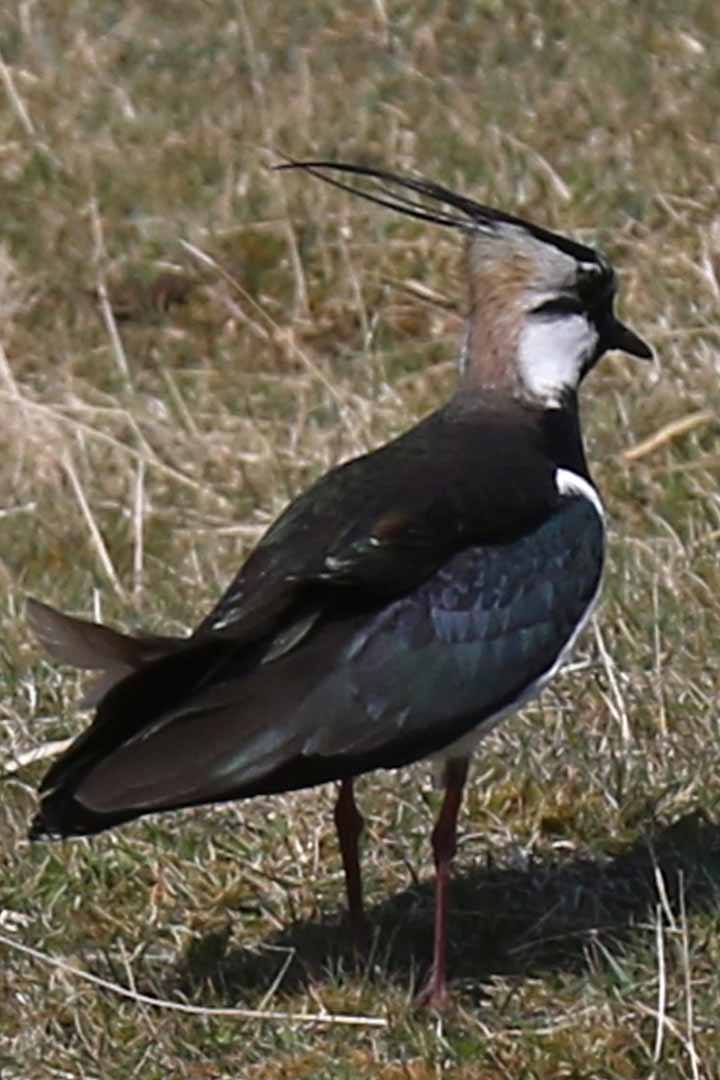 Juvenile seagull?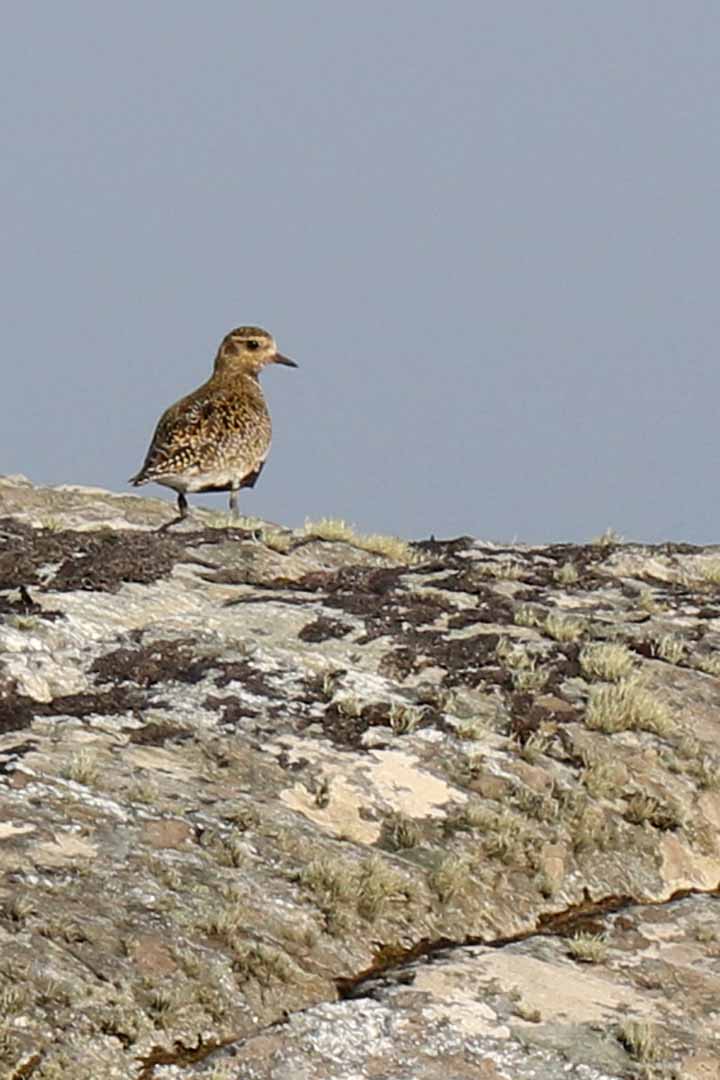 A few more avians before I move on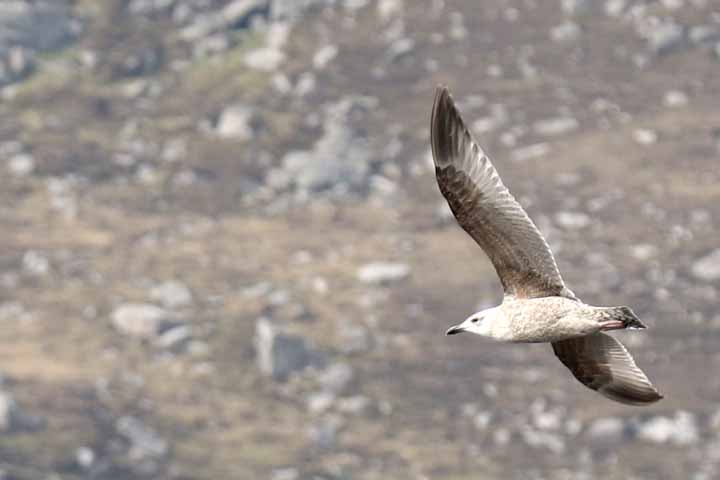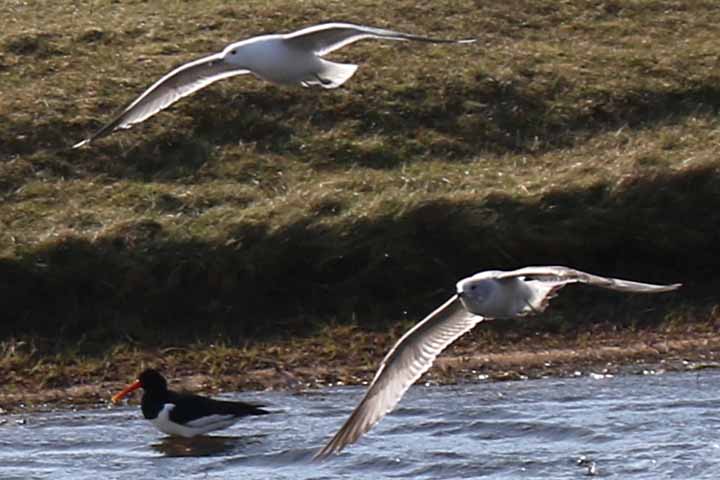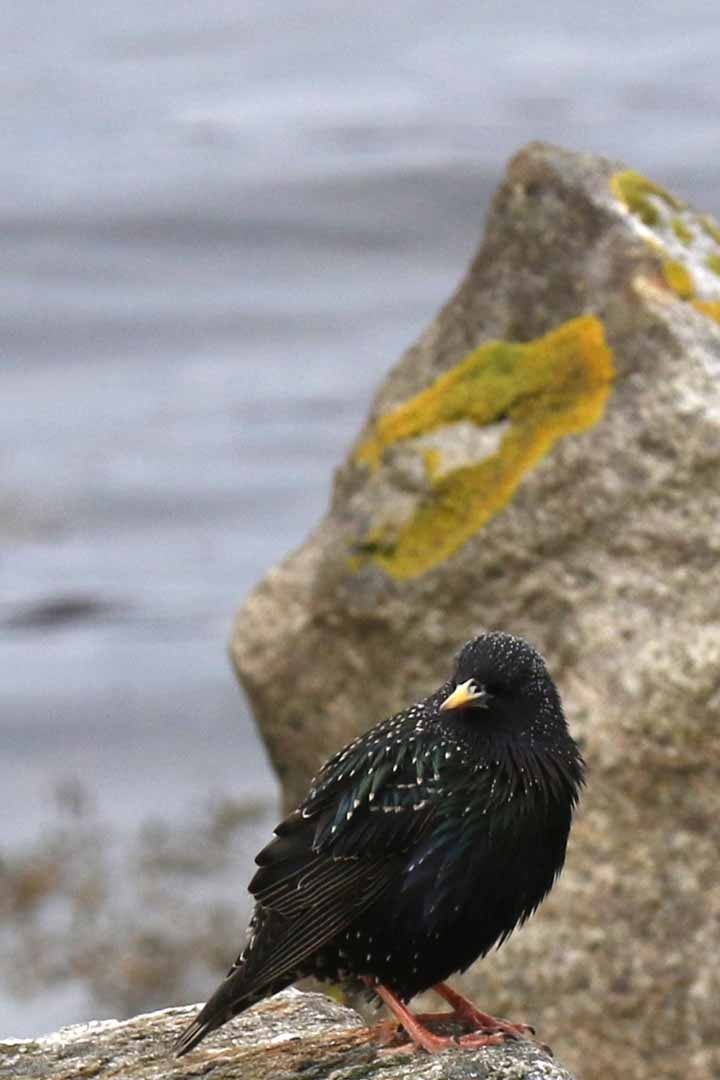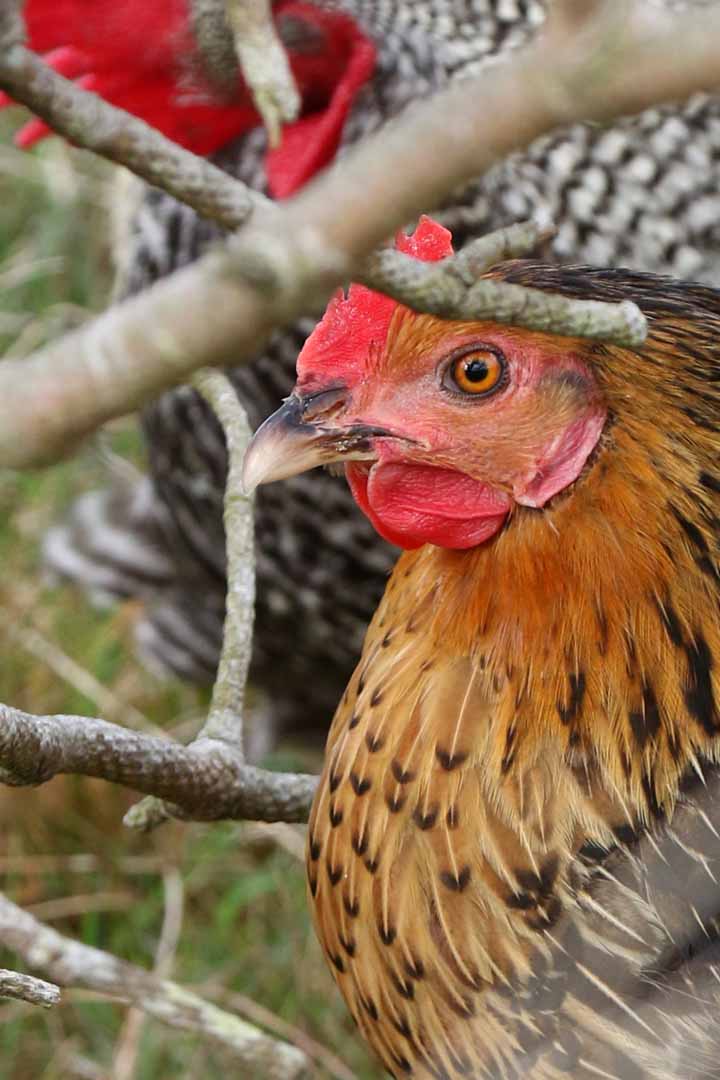 Mammals too live on Harris.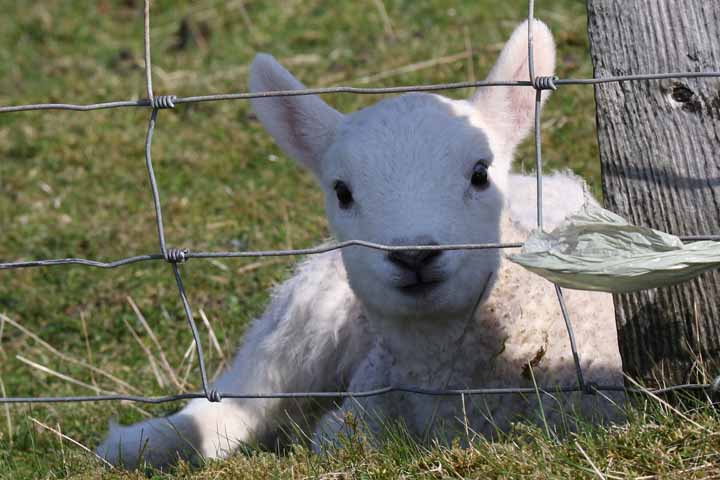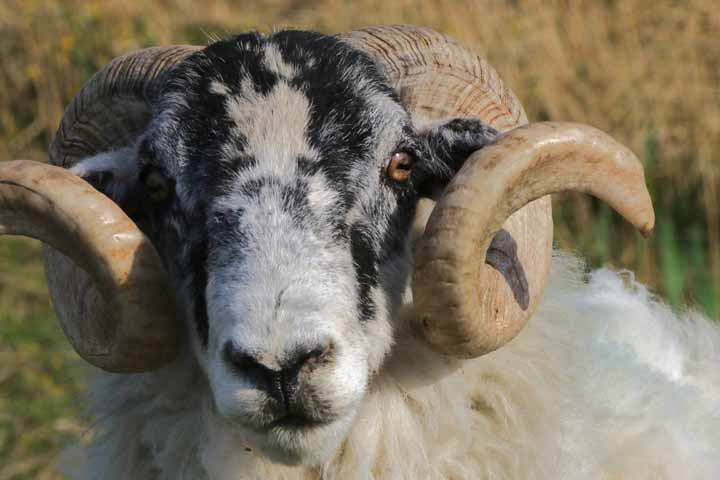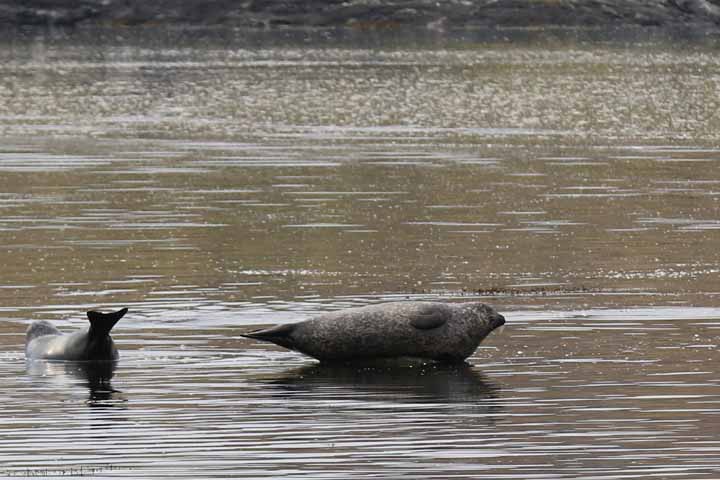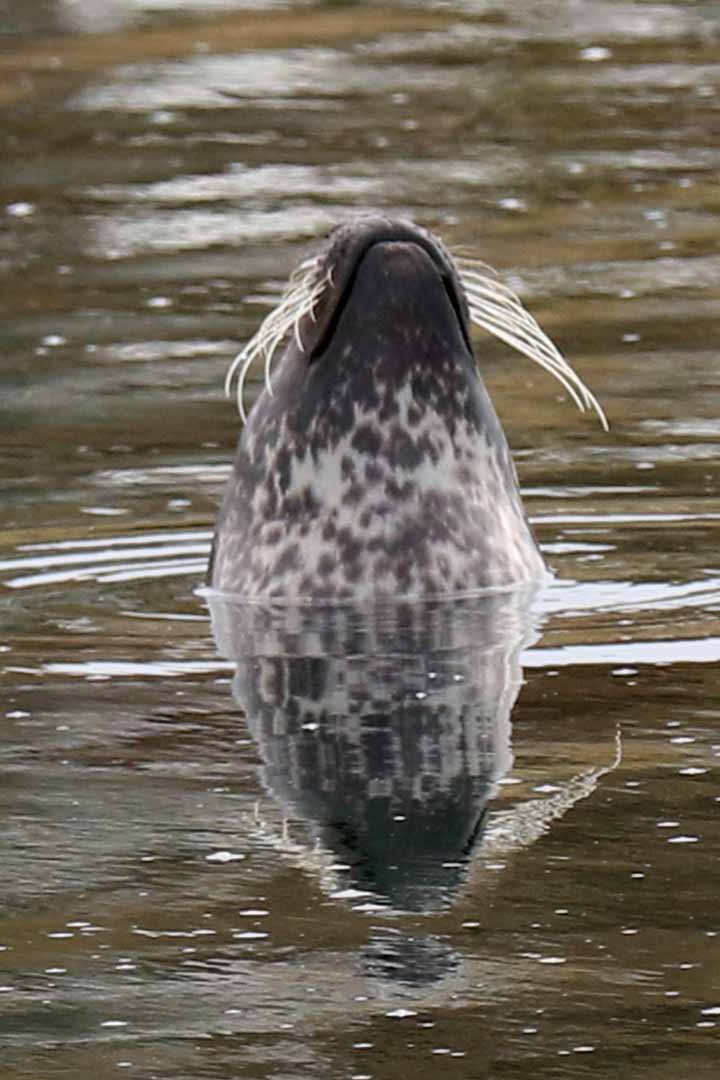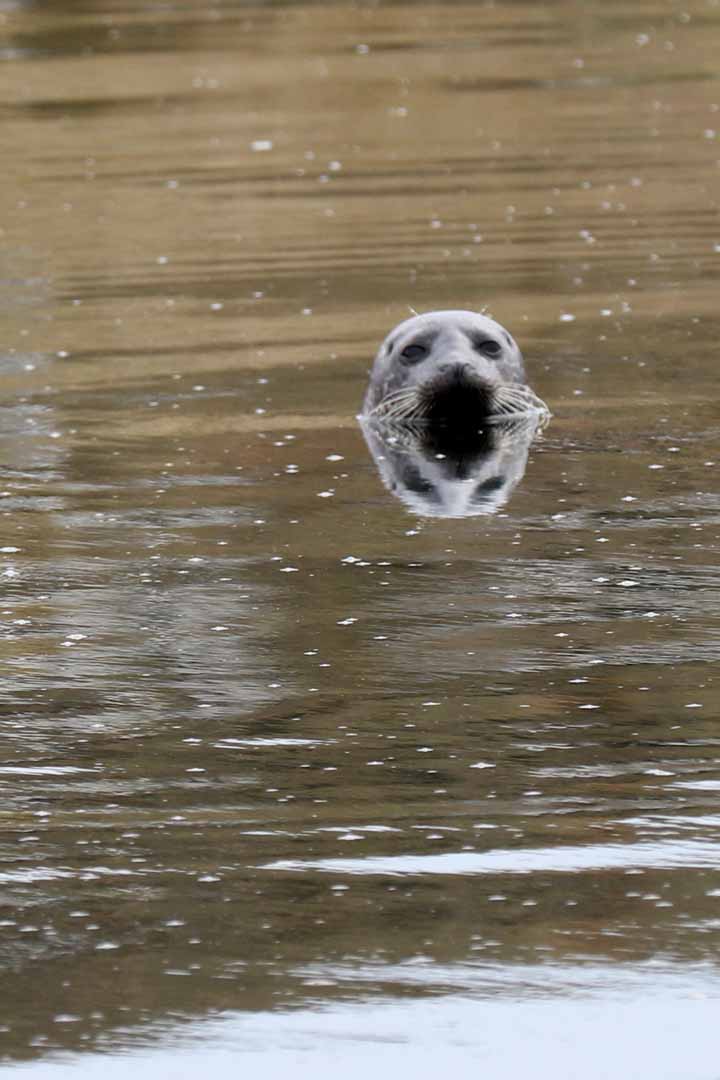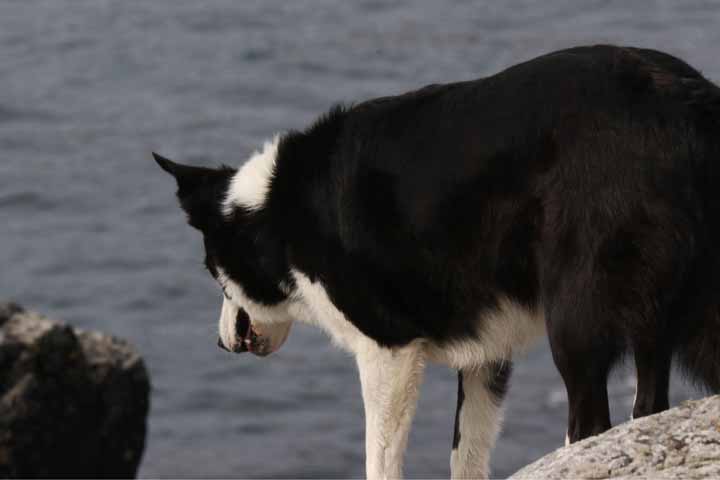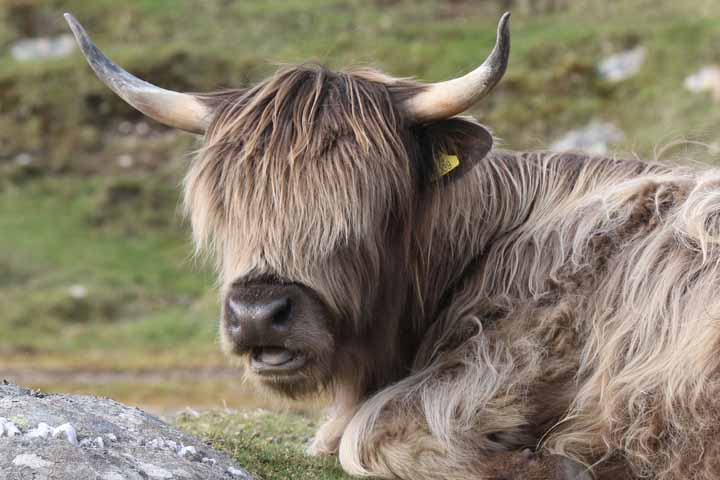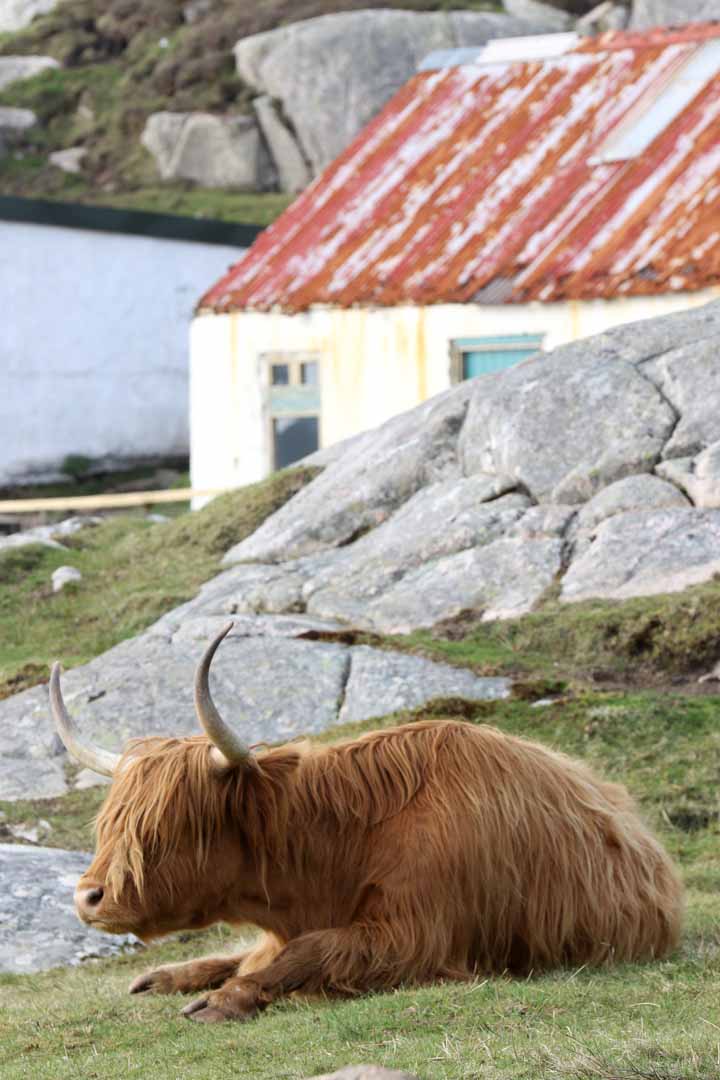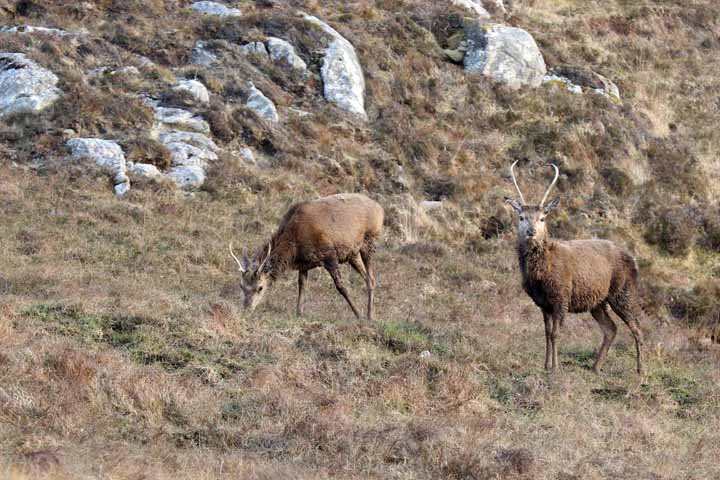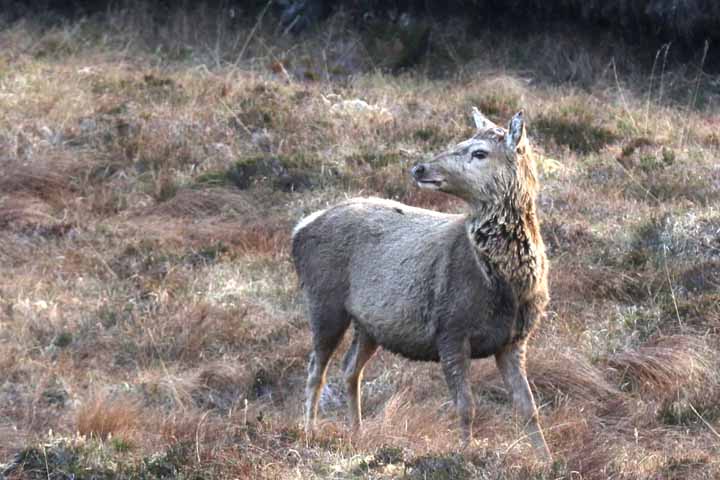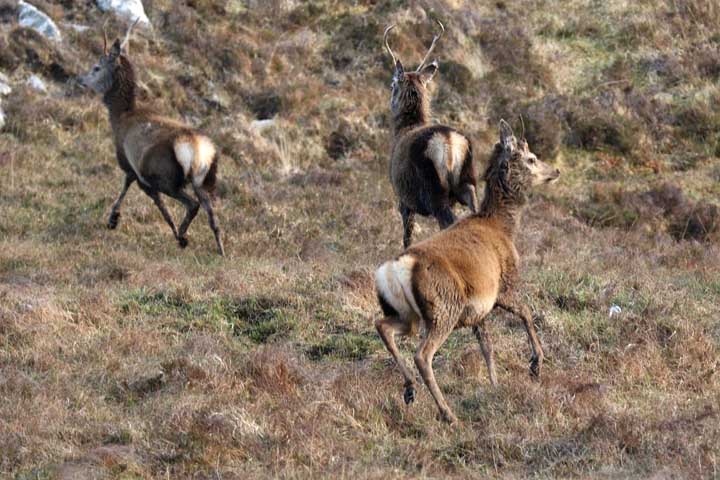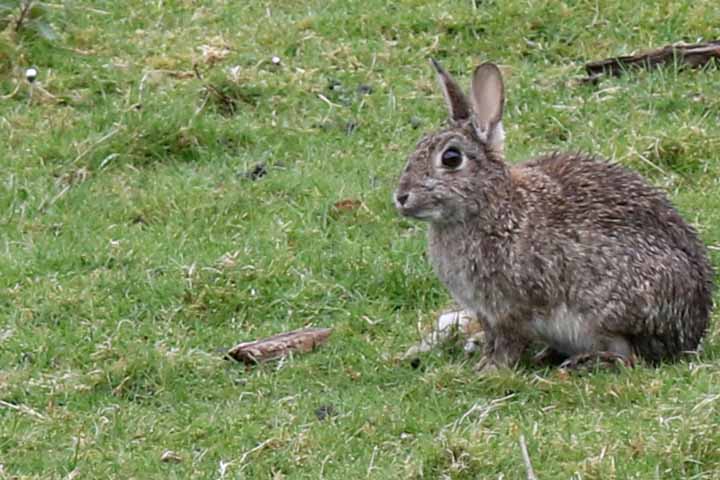 *
Topology? I can only speak for South Harris, its east coast a rocky maze of inlets and sea lochs.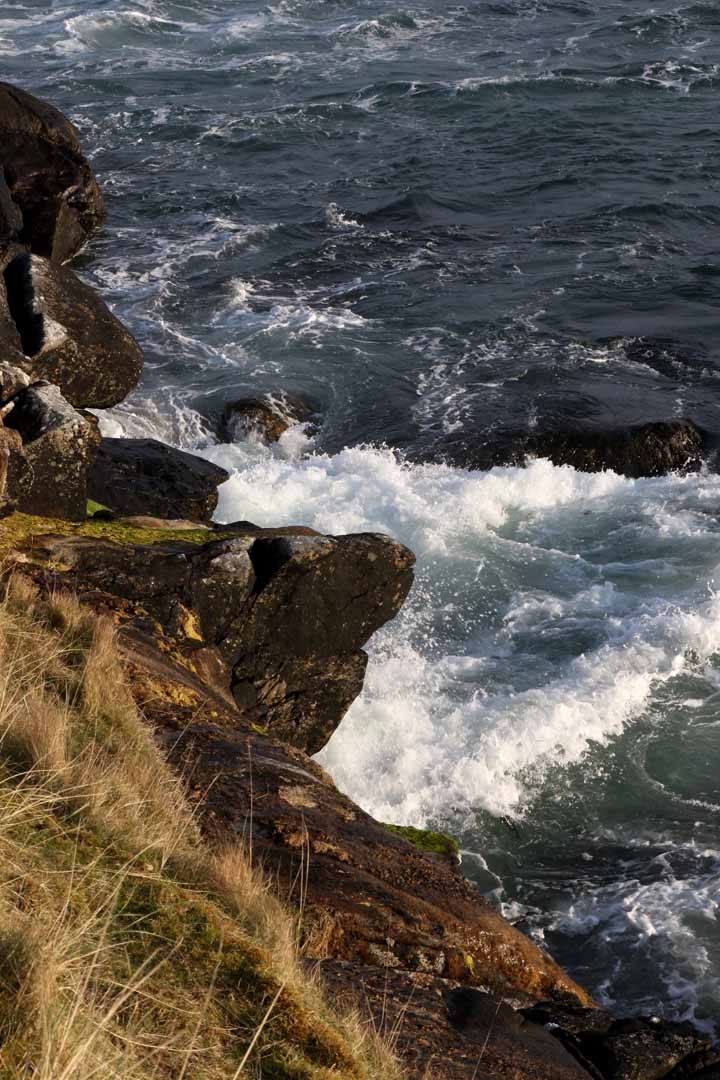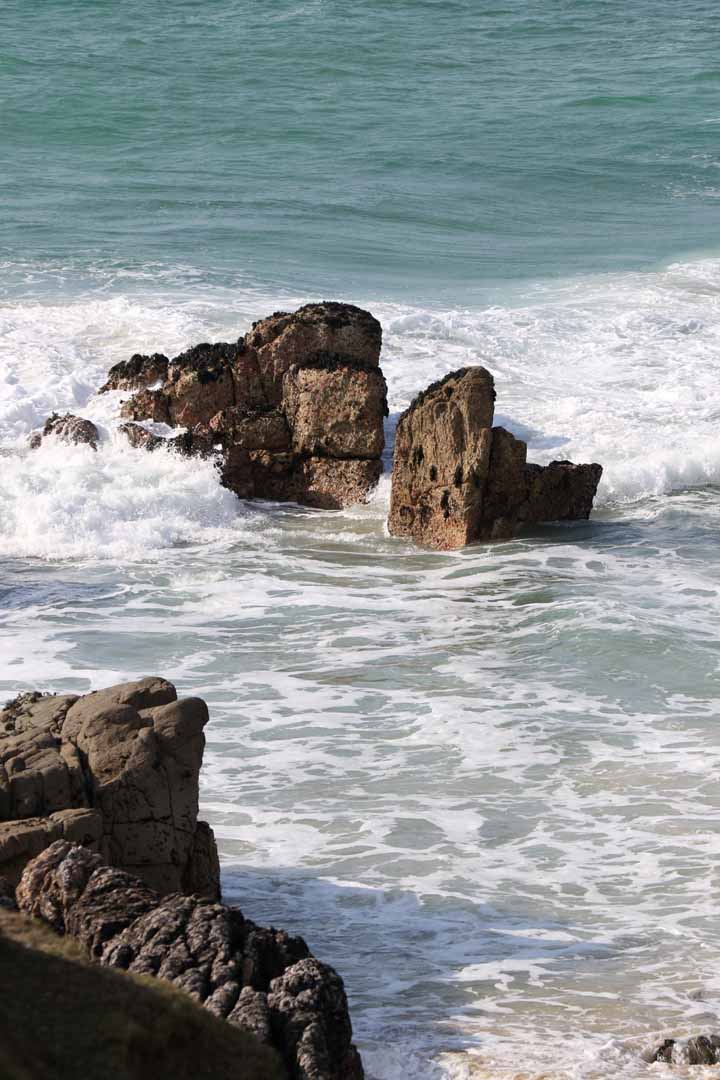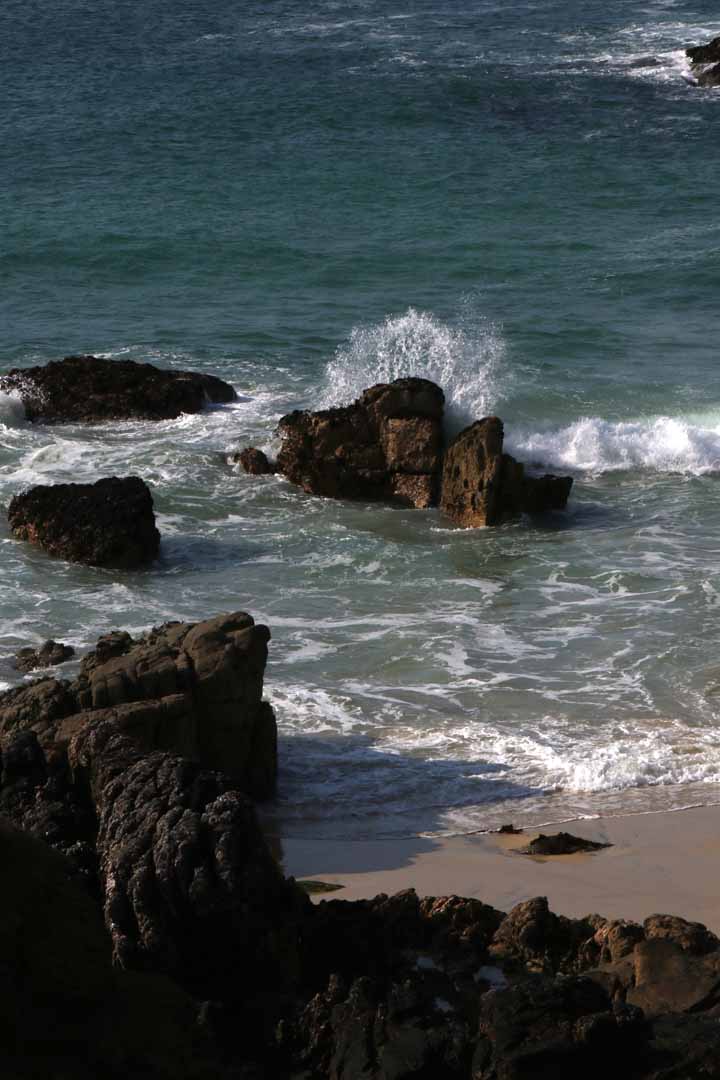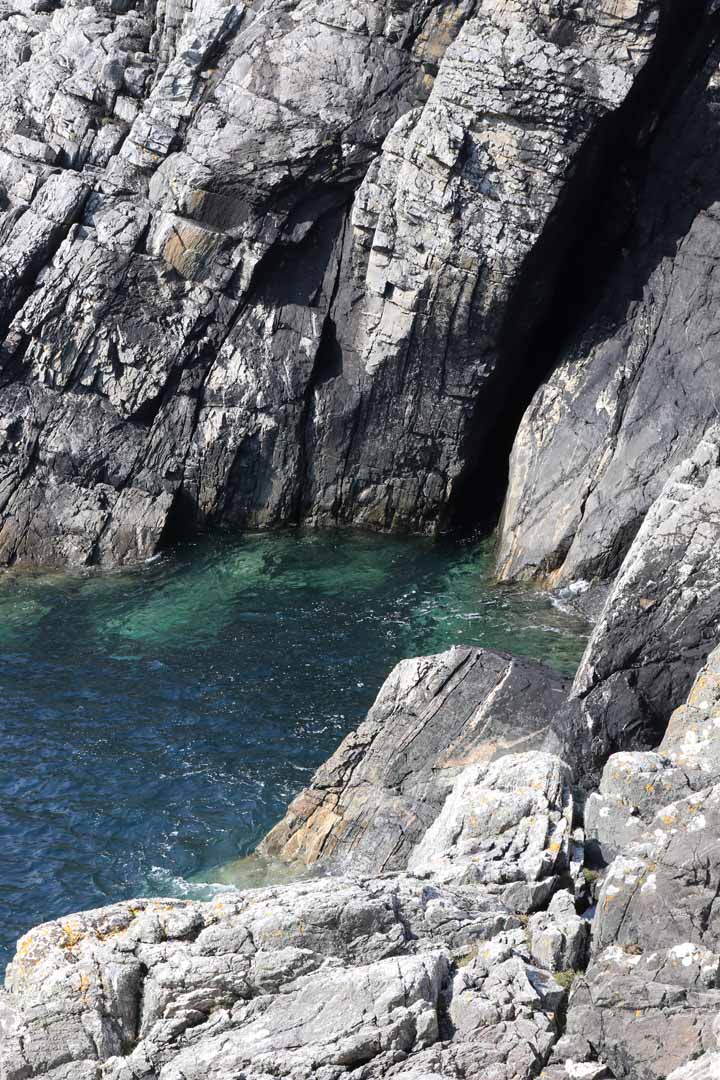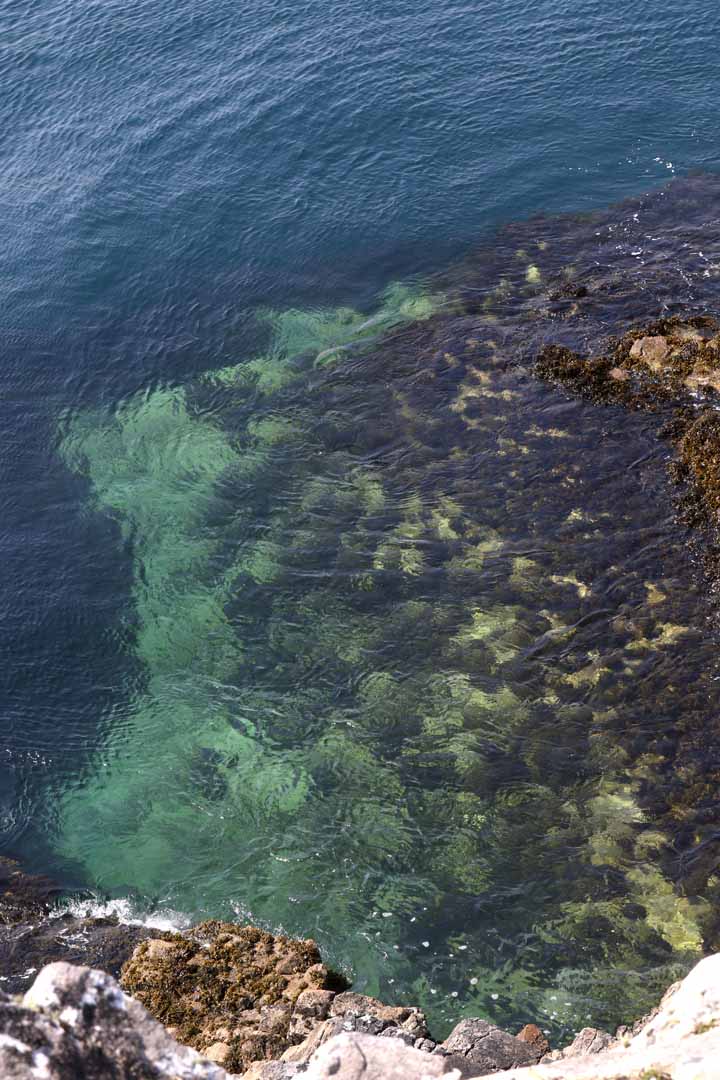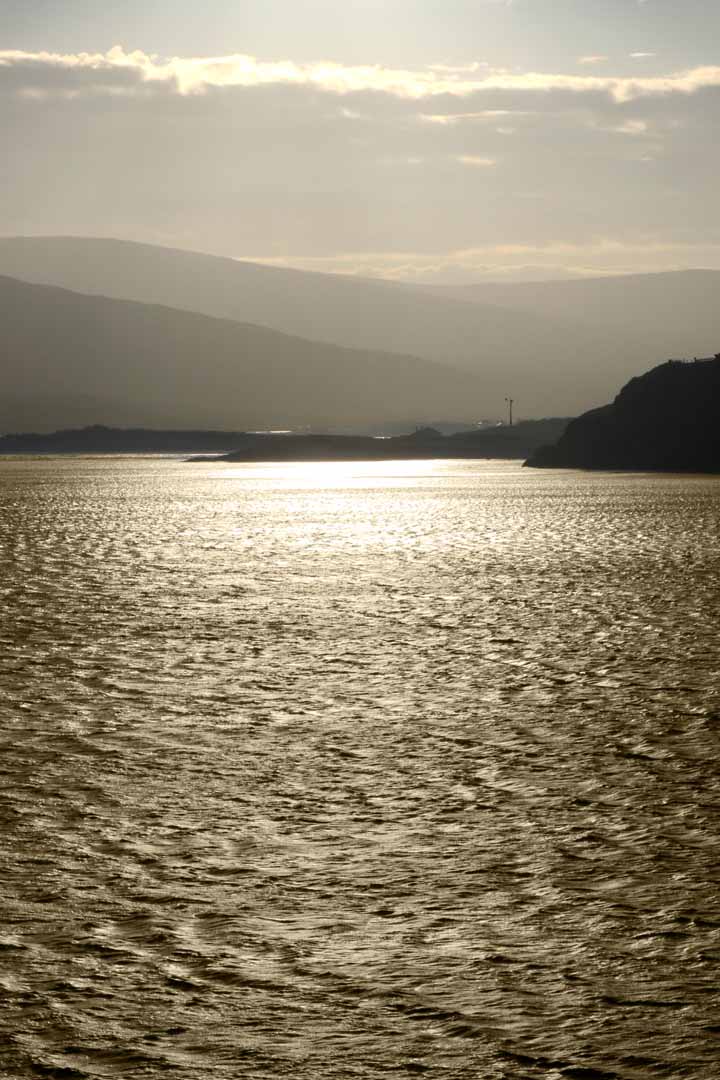 Sea lochs and inlets close to freshwater furnish ideal conditions for otters. We asked for signs. The signs were sent …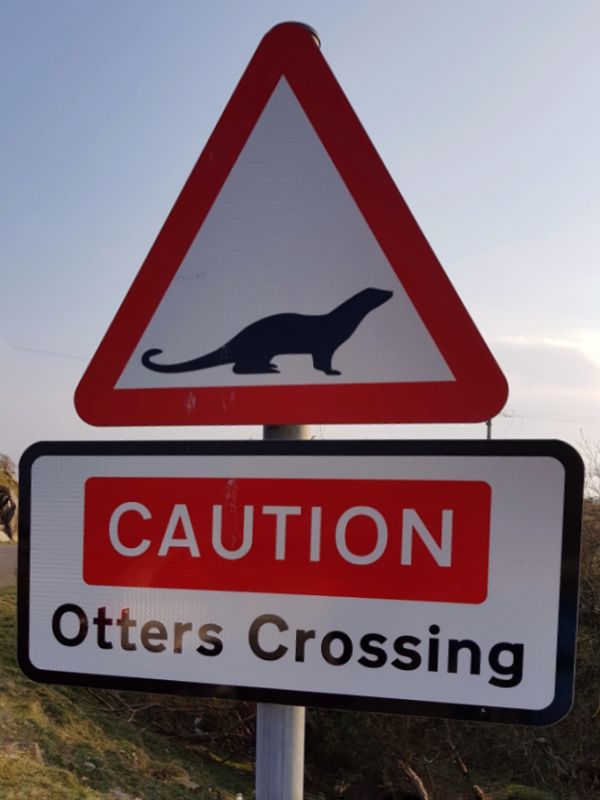 … but otters we spottered not.
The west coast offers dunes and sandy beaches, though there's still plenty of rock.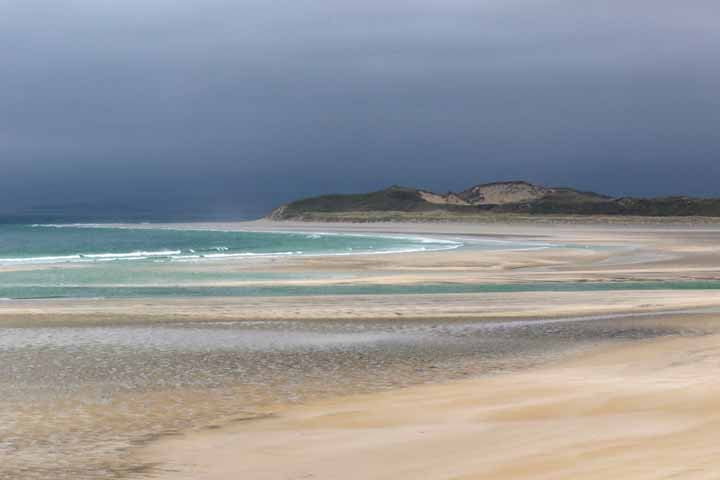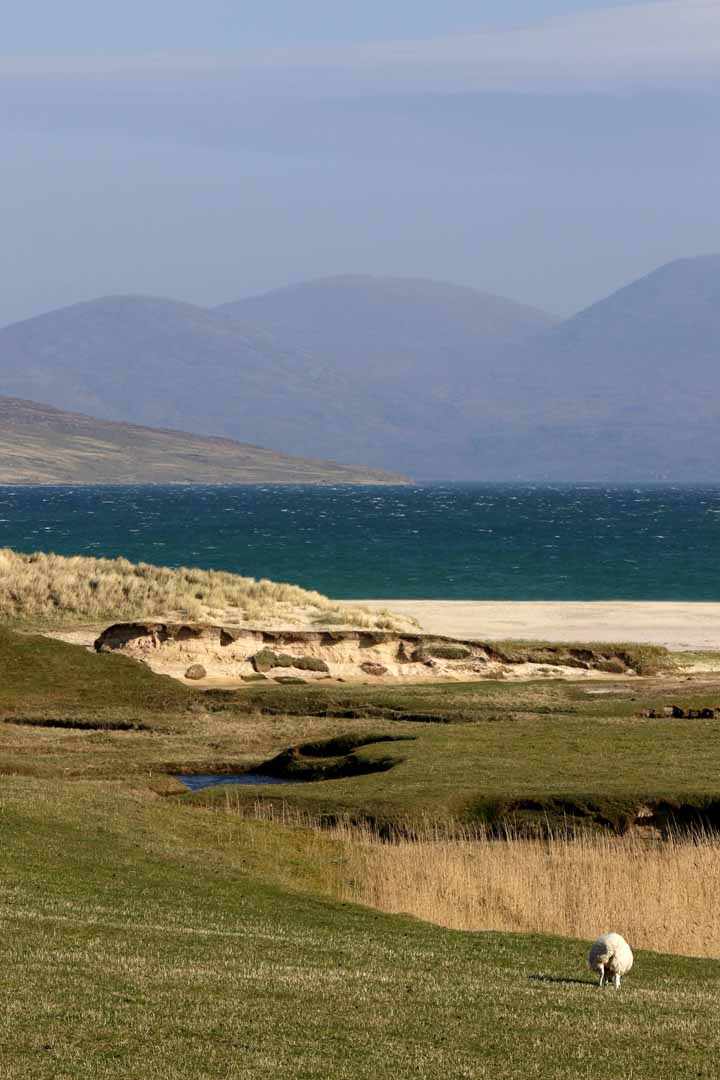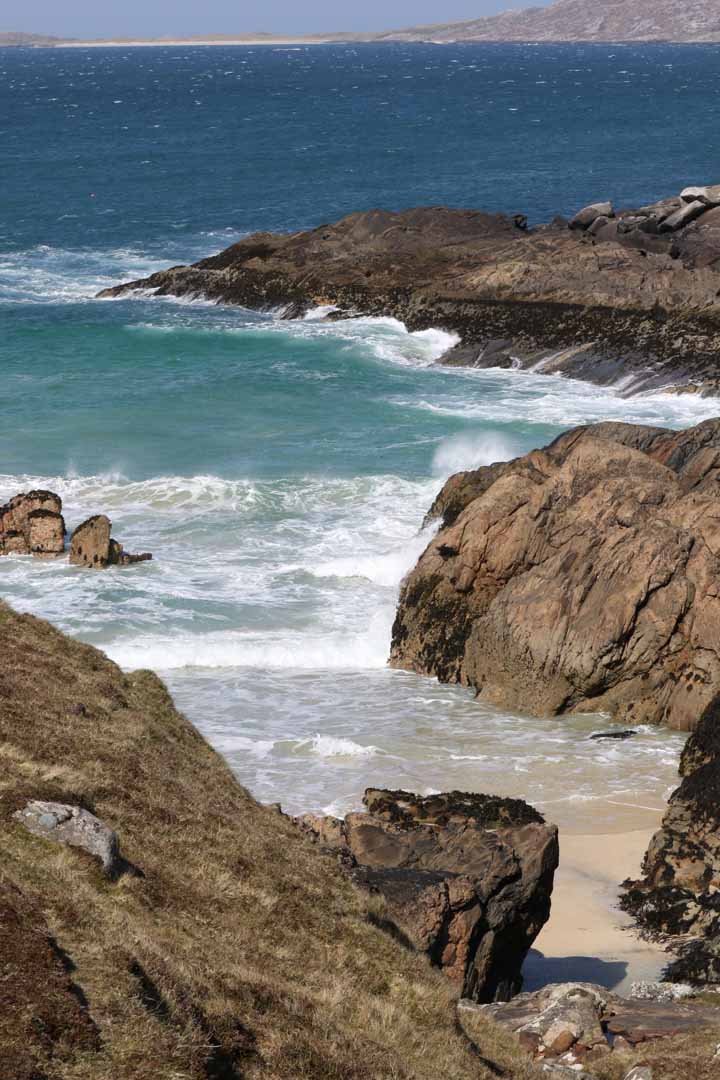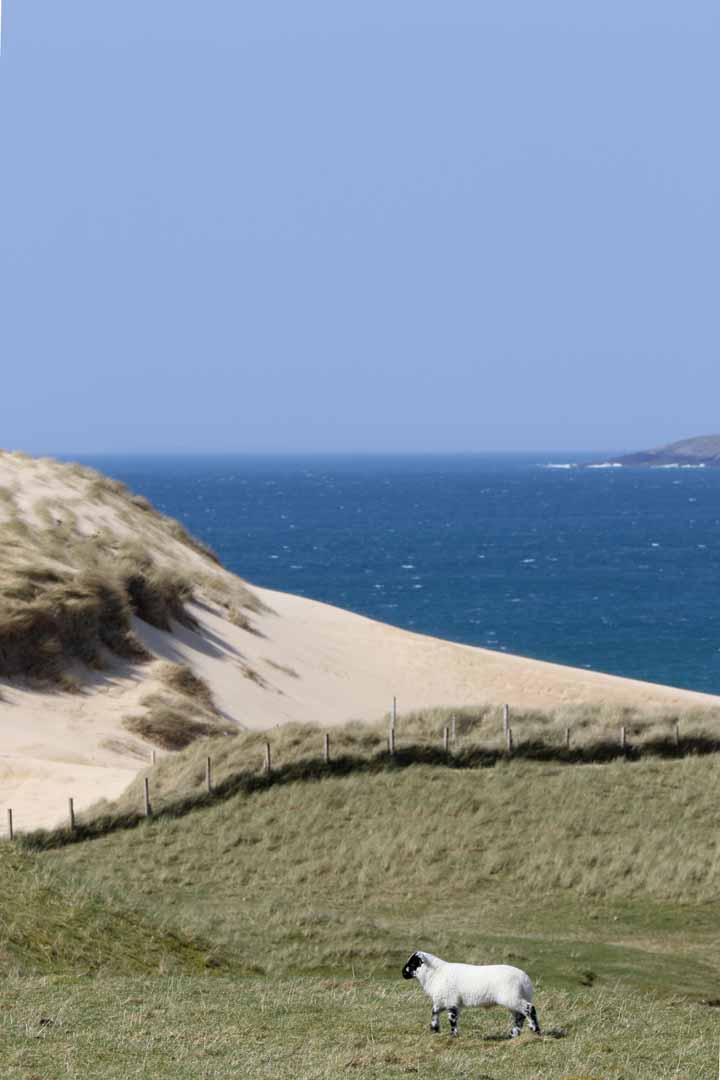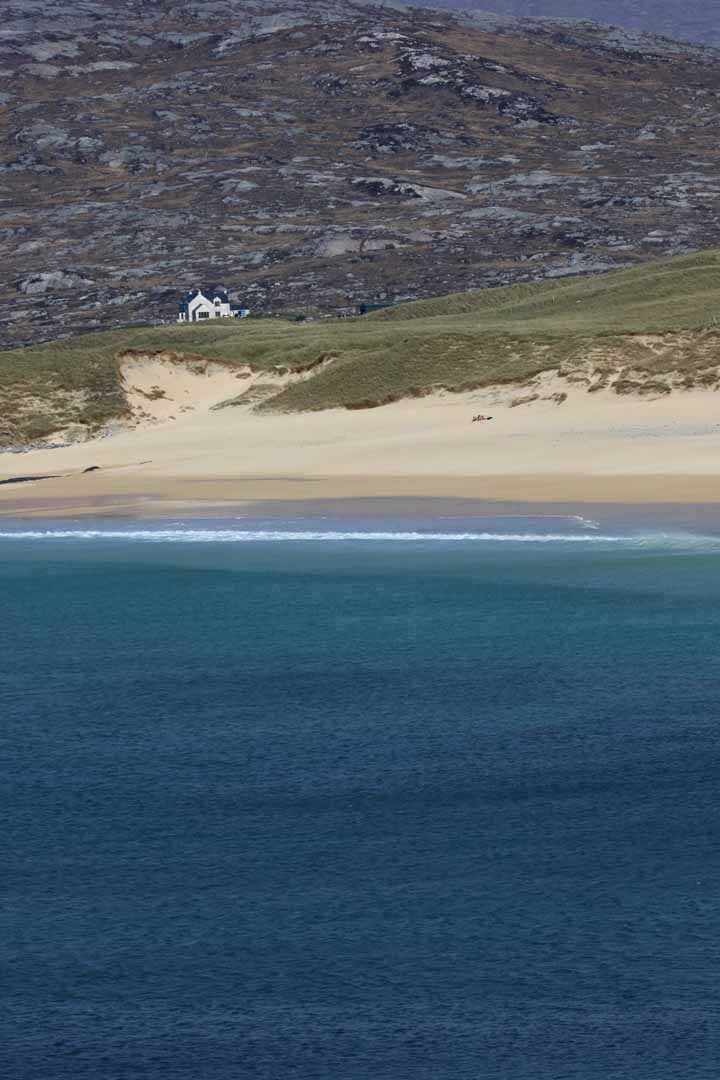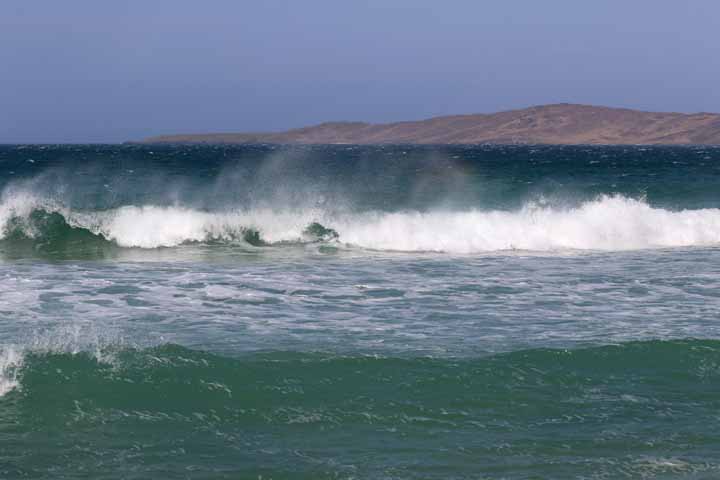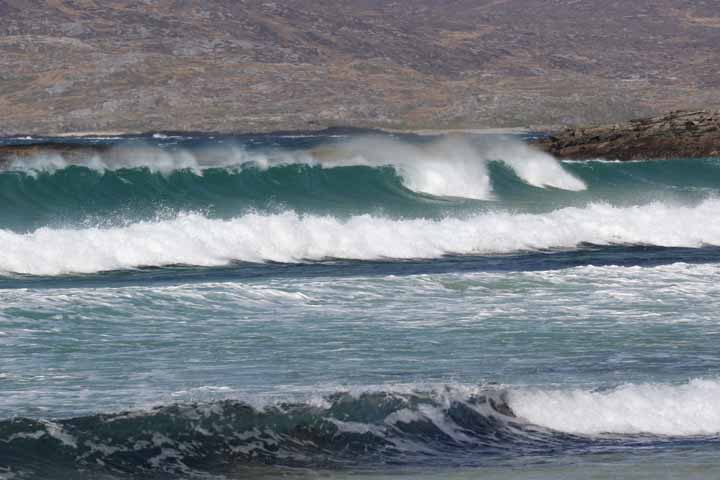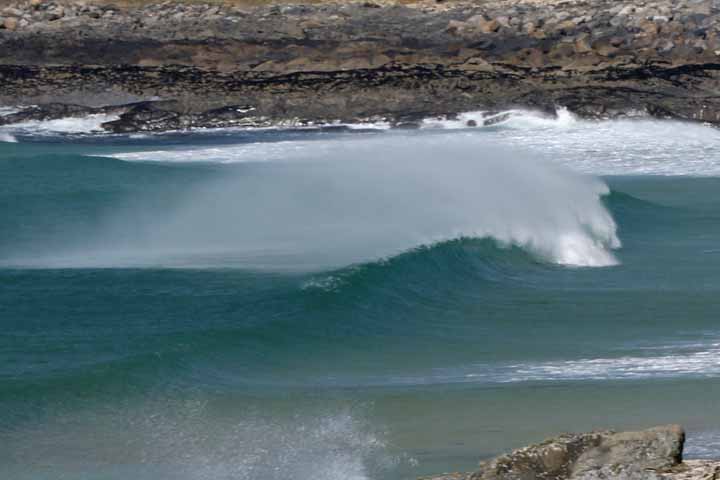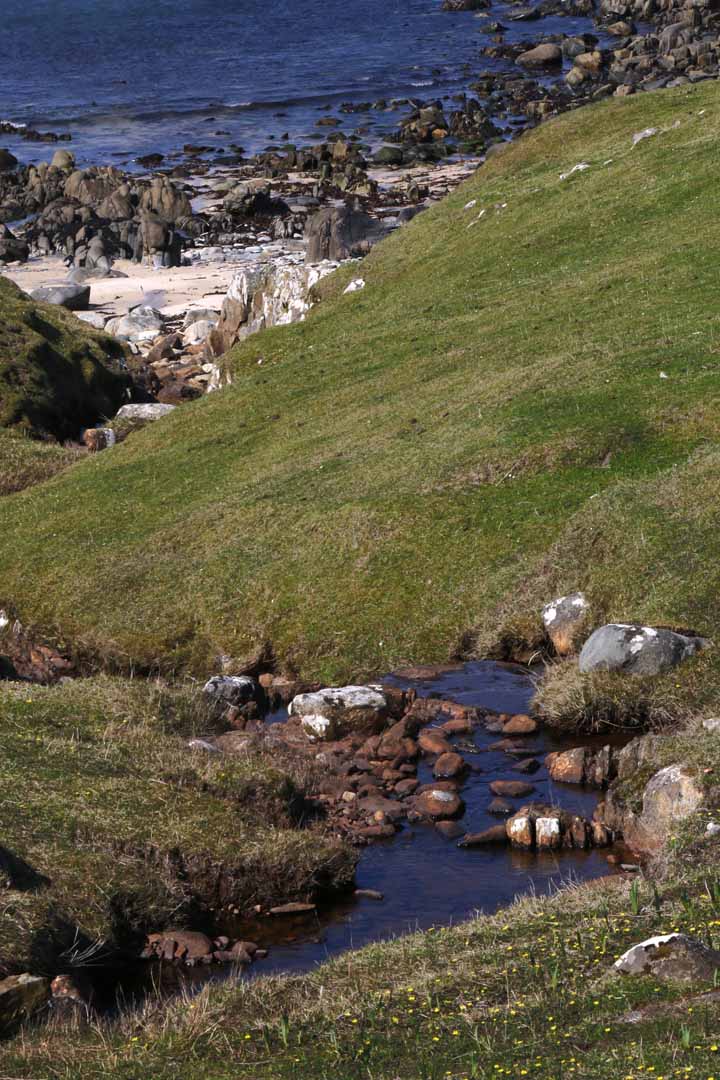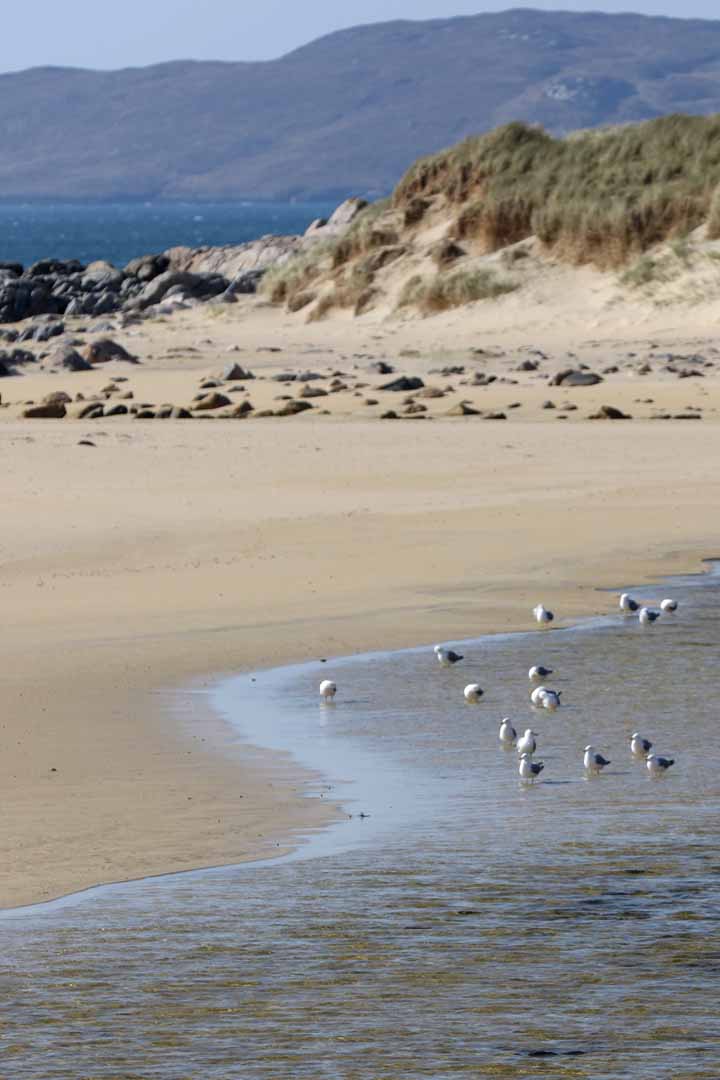 And the interior? Moors, mountains and many lochans. Great hill-walking country, though with just four days on the island we never got round to that. Another visit required.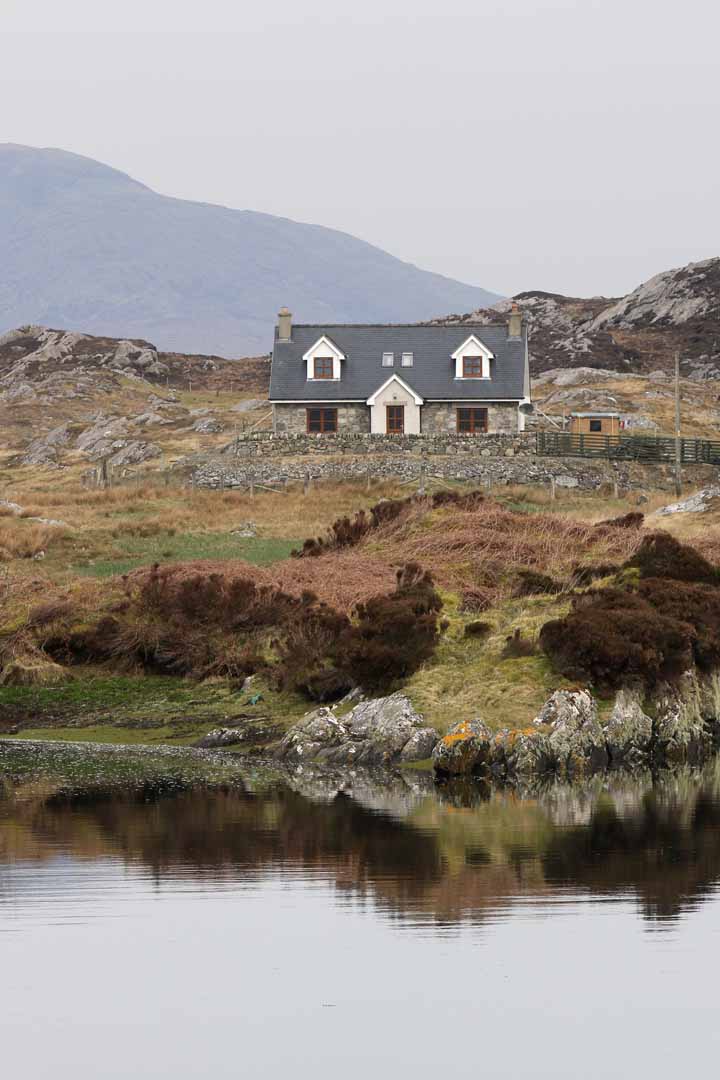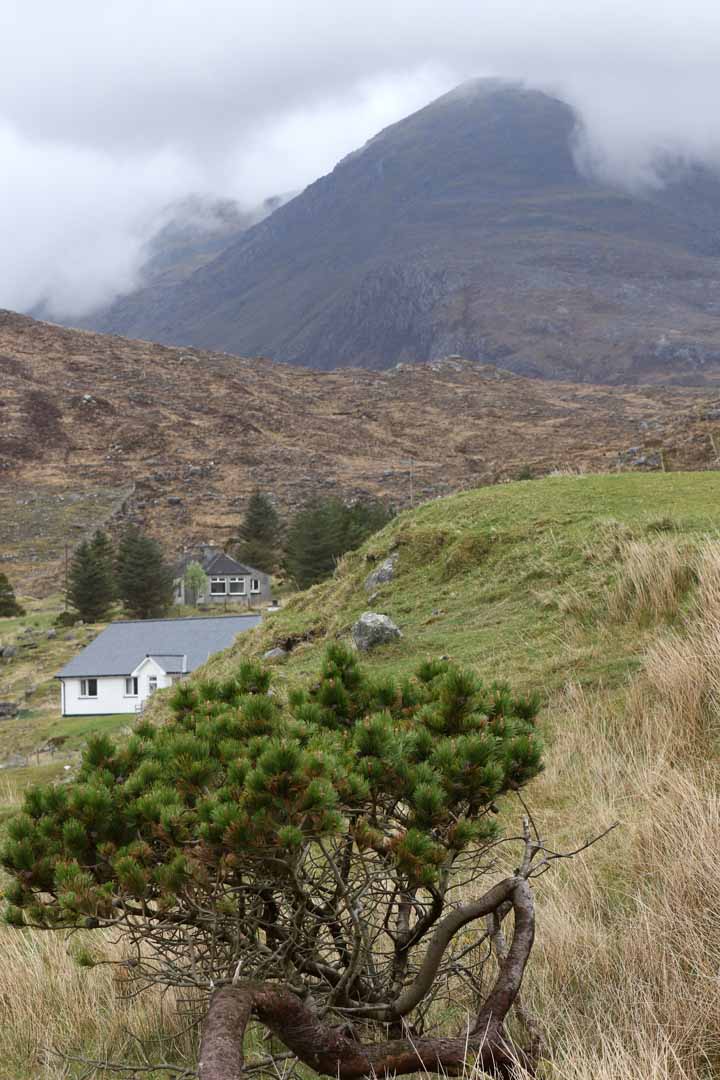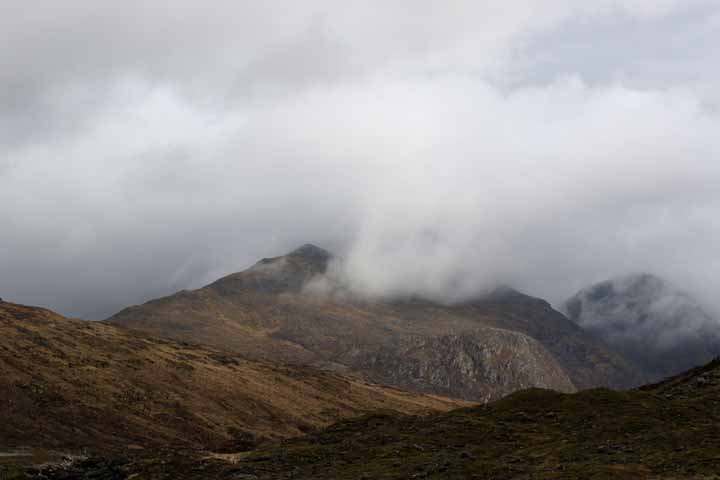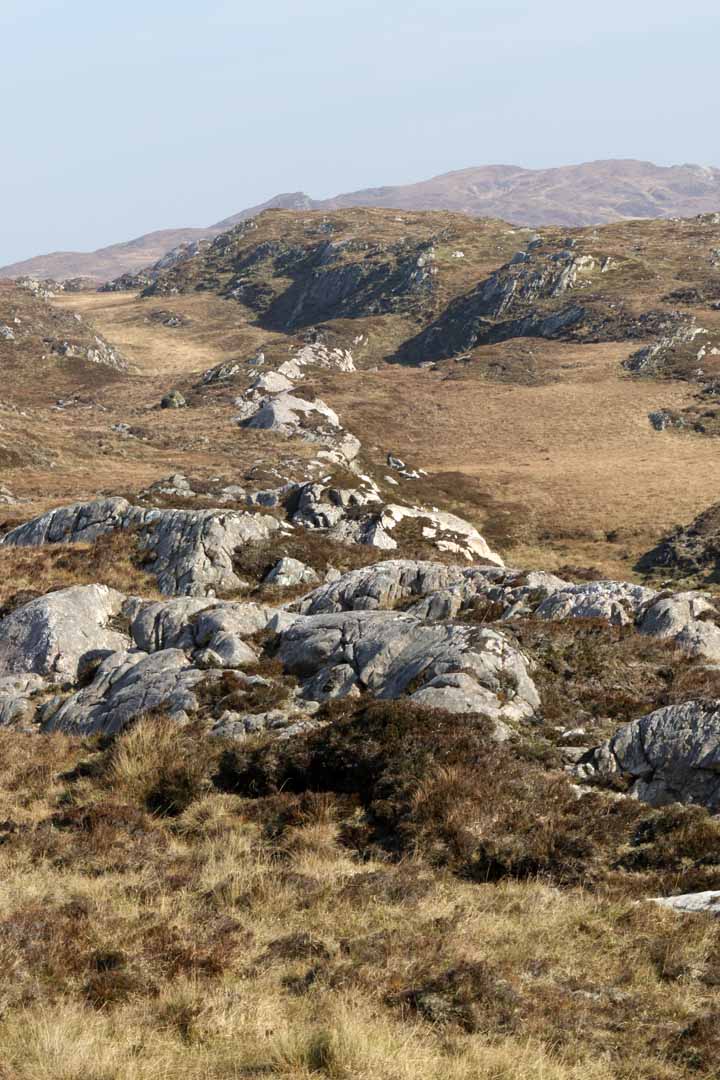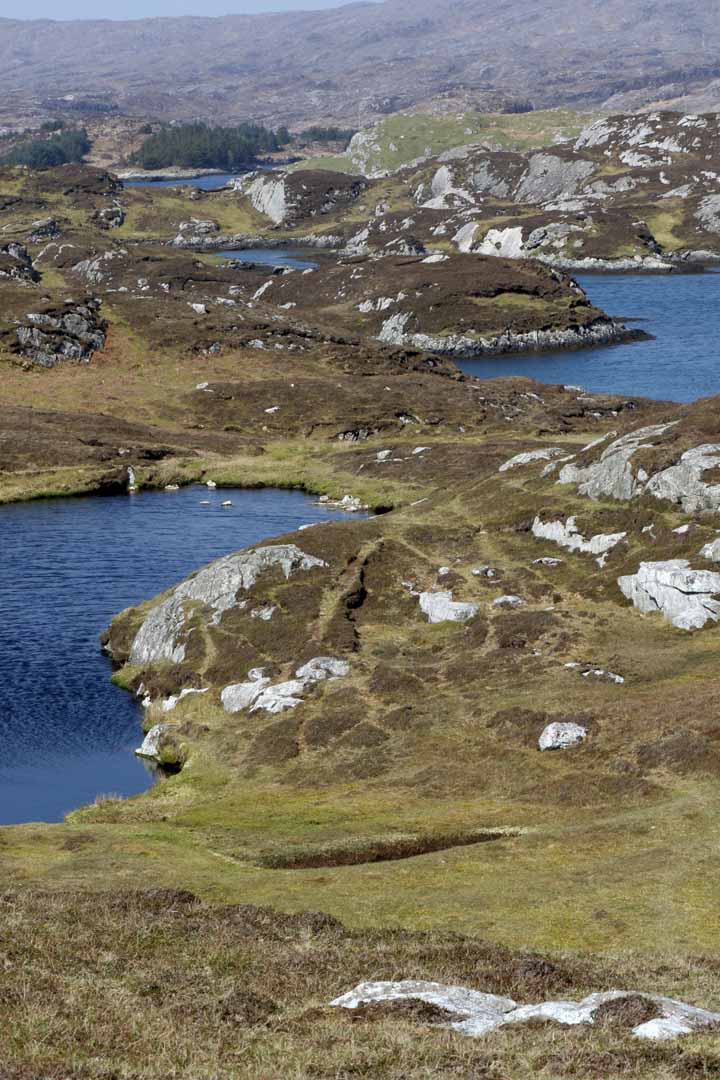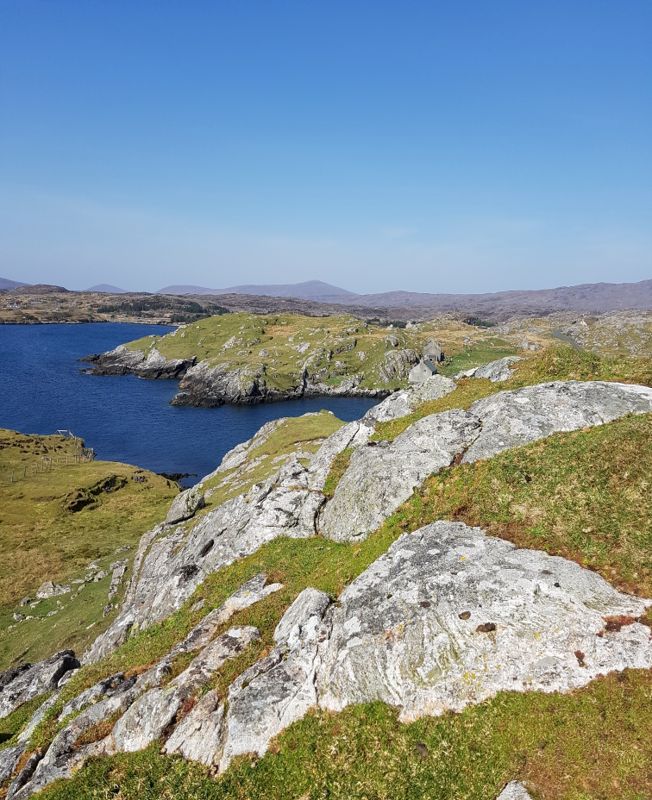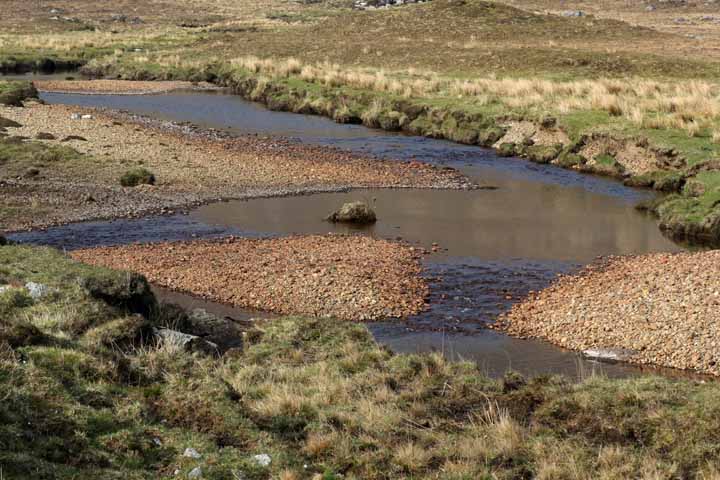 As for vegetation, Harris is too windswept for a huge variety of flora. Still, it has its moments.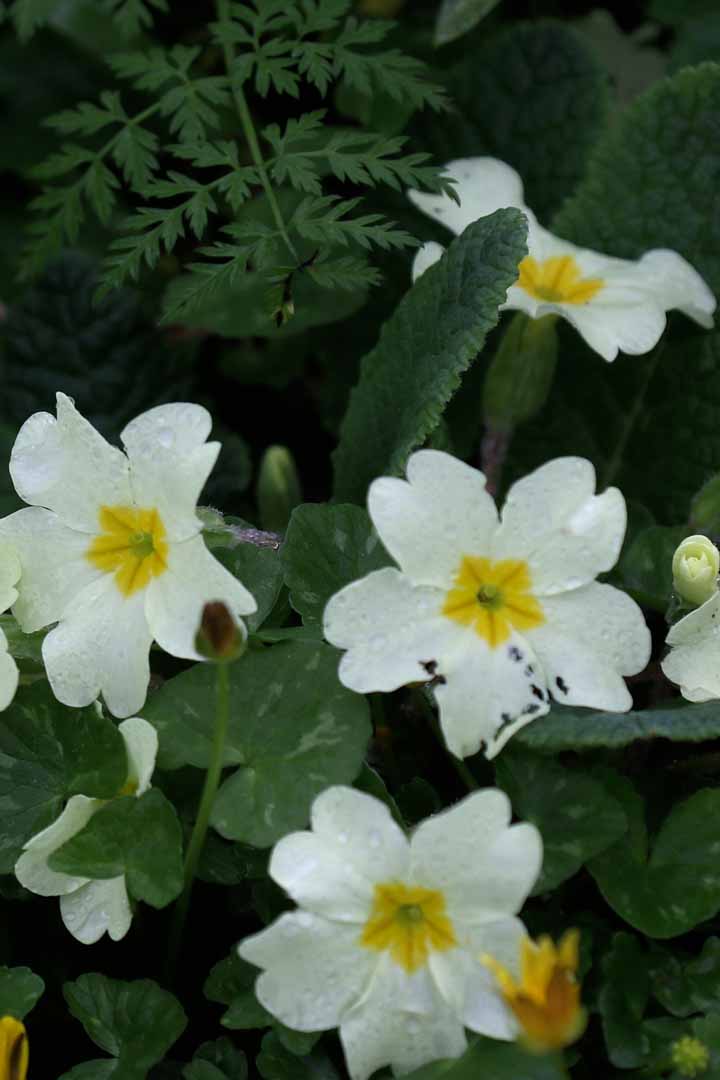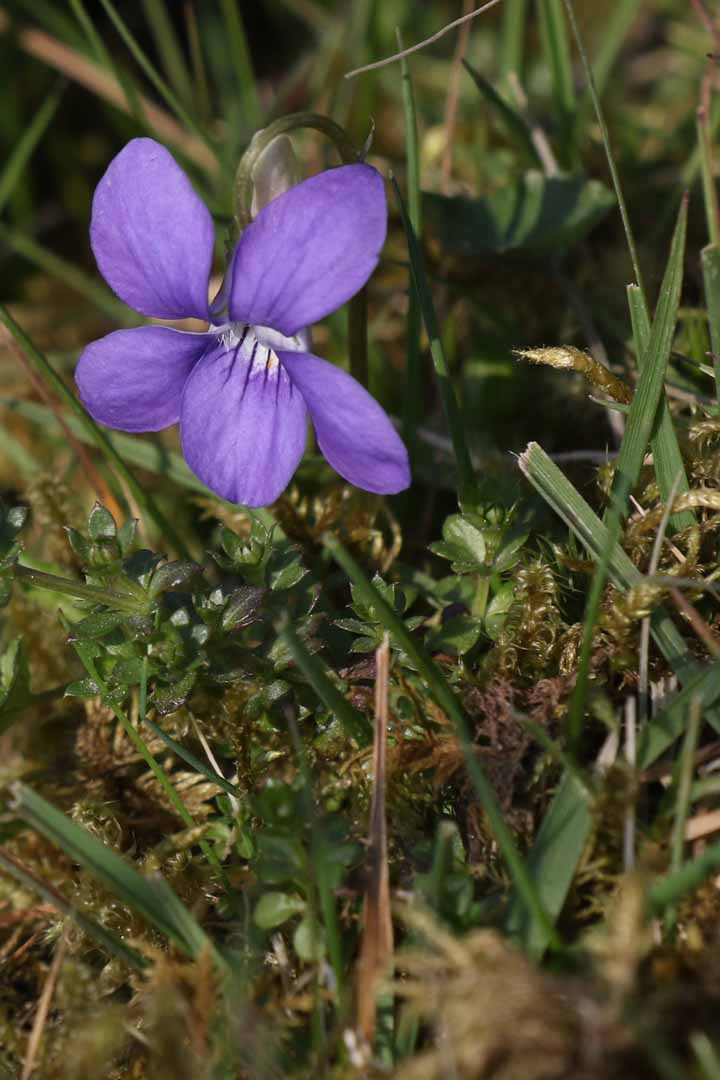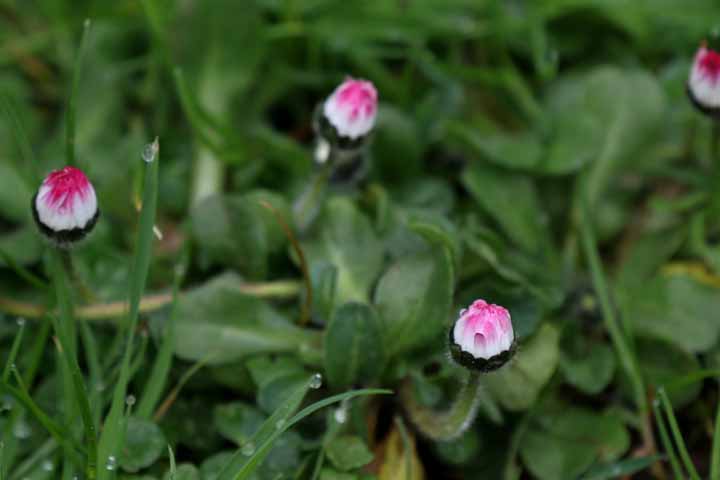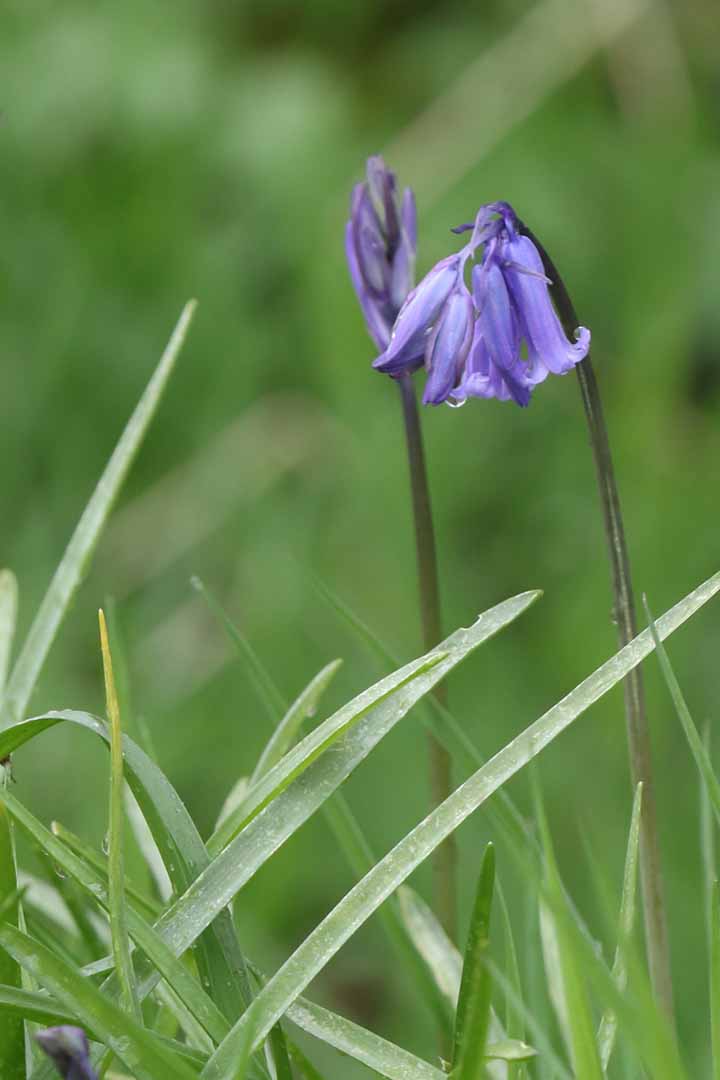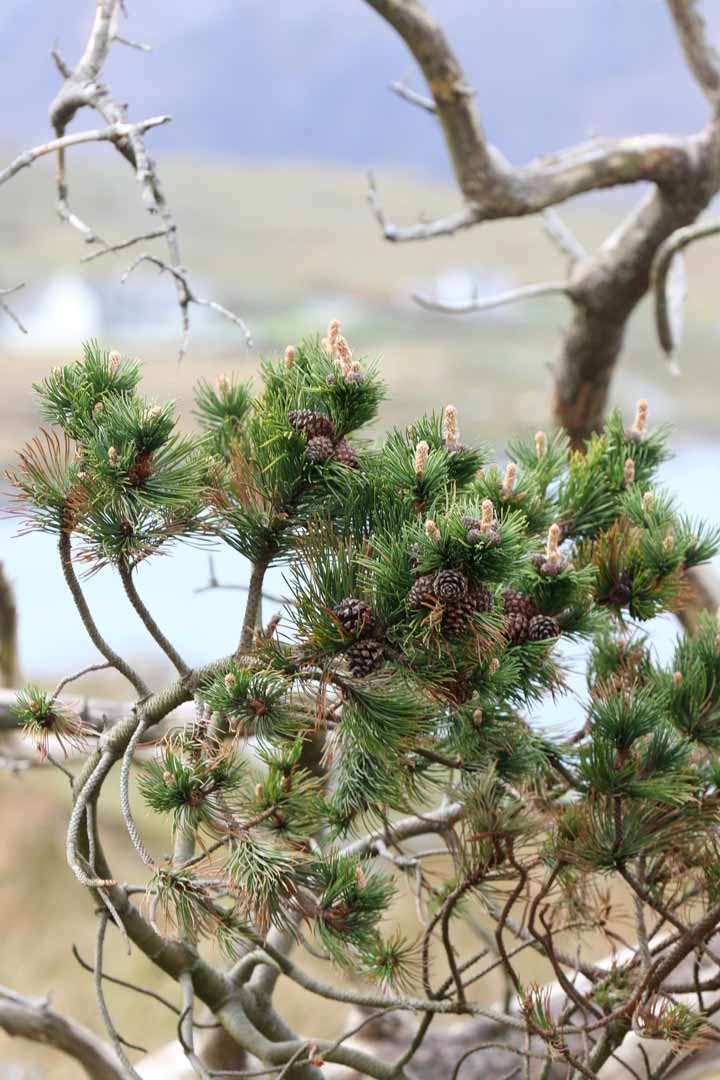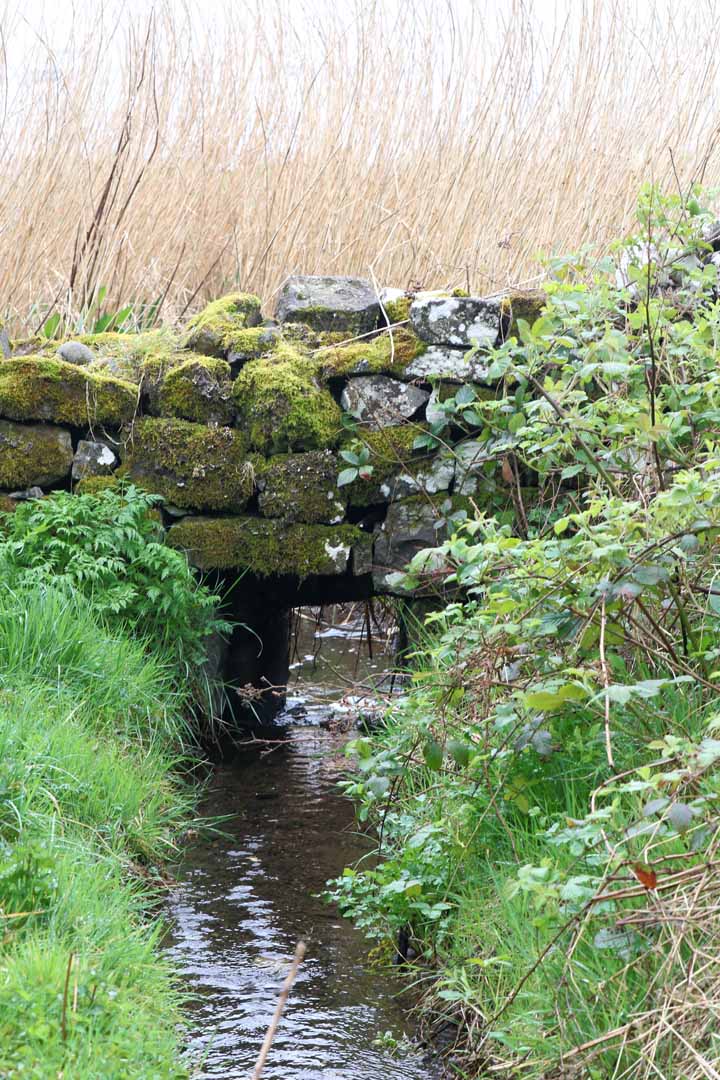 We were too early for the flag iris, due to flower late May/early June – though these days, who can say? But it's prolific on both coasts.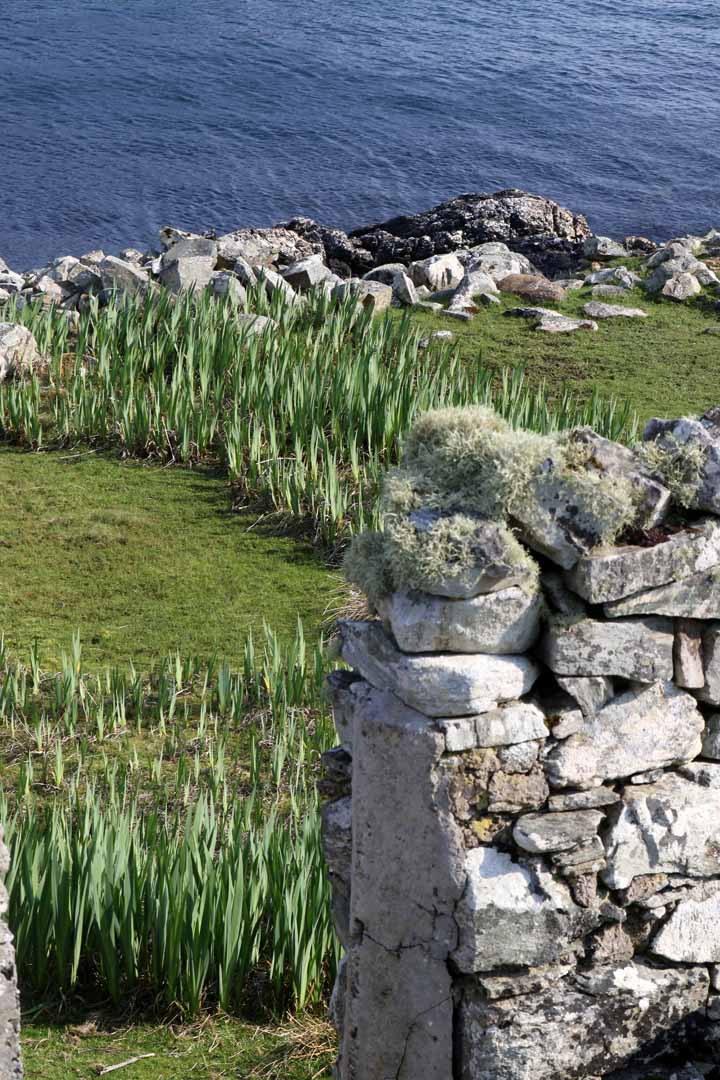 I read that Harris has half the population it had in 1906. It shows.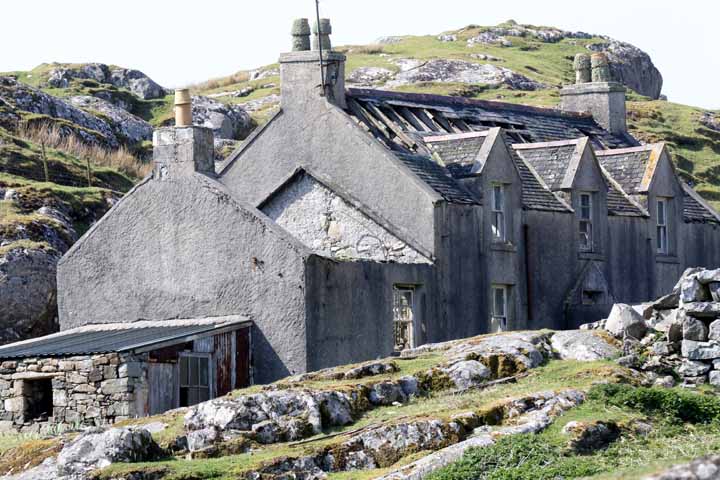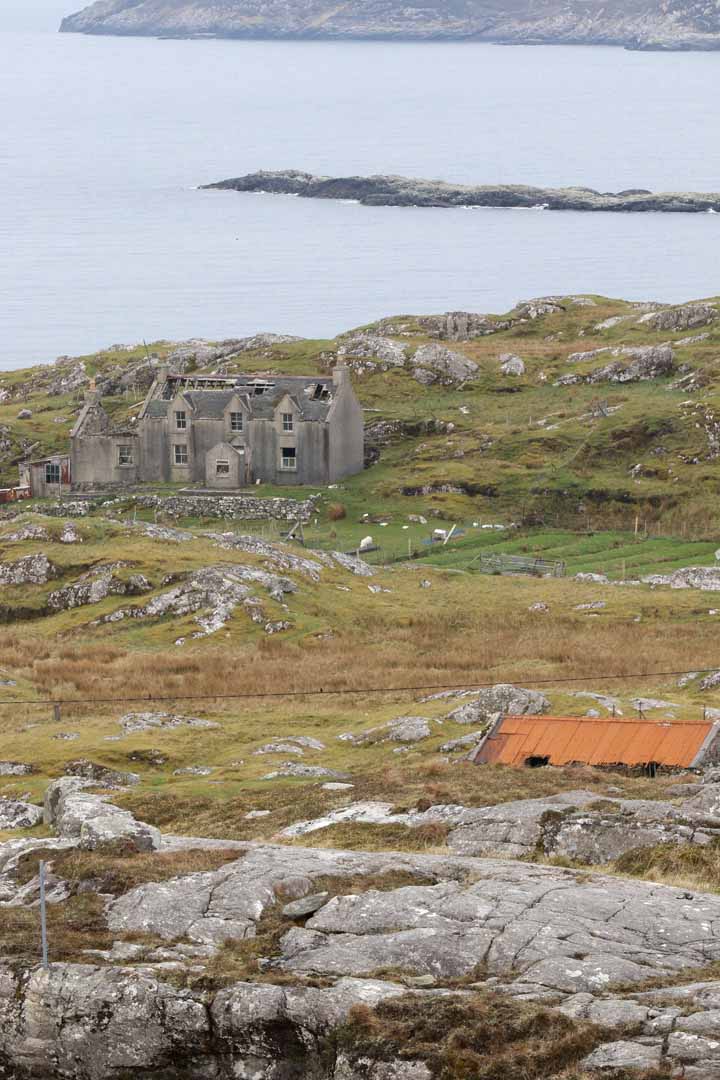 Fishing, sheep and tweed provided a meagre living for islanders. In the early twentieth century a Norwegian family founded a whaling station that operated up to the fifties. The smokestack is all that's left. It's said the stink of blubber never left a worker.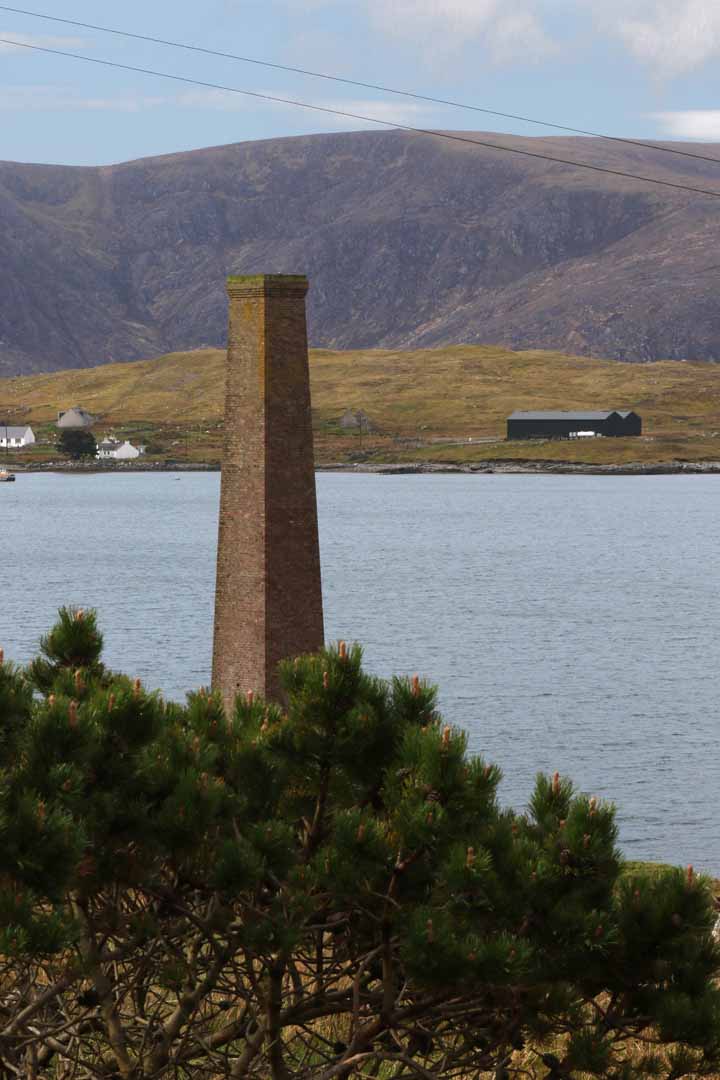 Now there's tourism, though not much, and salmon farming, the latter controversial. But old habits die hard. The morning we saw the eagle a battered van pulled up just past us. Its driver, dour and unshaven, ignored my friendly wave as he beat a path to the side of a loch, collies in tow, peat cutter over shoulder. I'm kicking myself for not getting the picture.
The Island is run by and for its inhabitants, who show forward thinking. The architecture blends nature with design, ancient with modern. Compare the dalek shapes of this holiday let …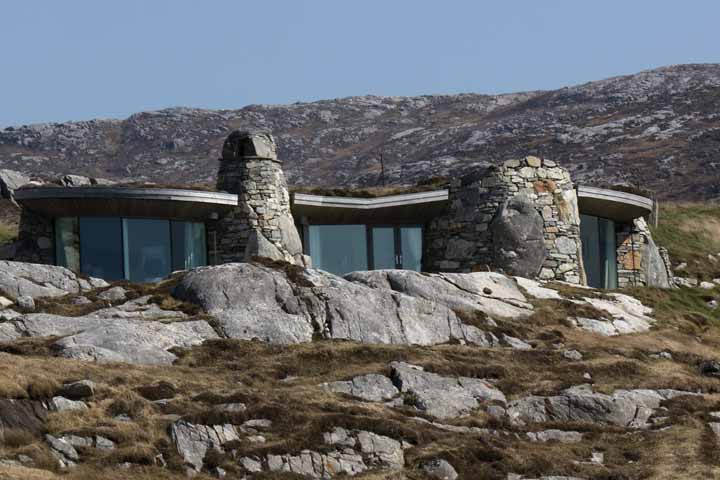 … with this cleit – a construct more common on wild St Kilda – on the southeast coast.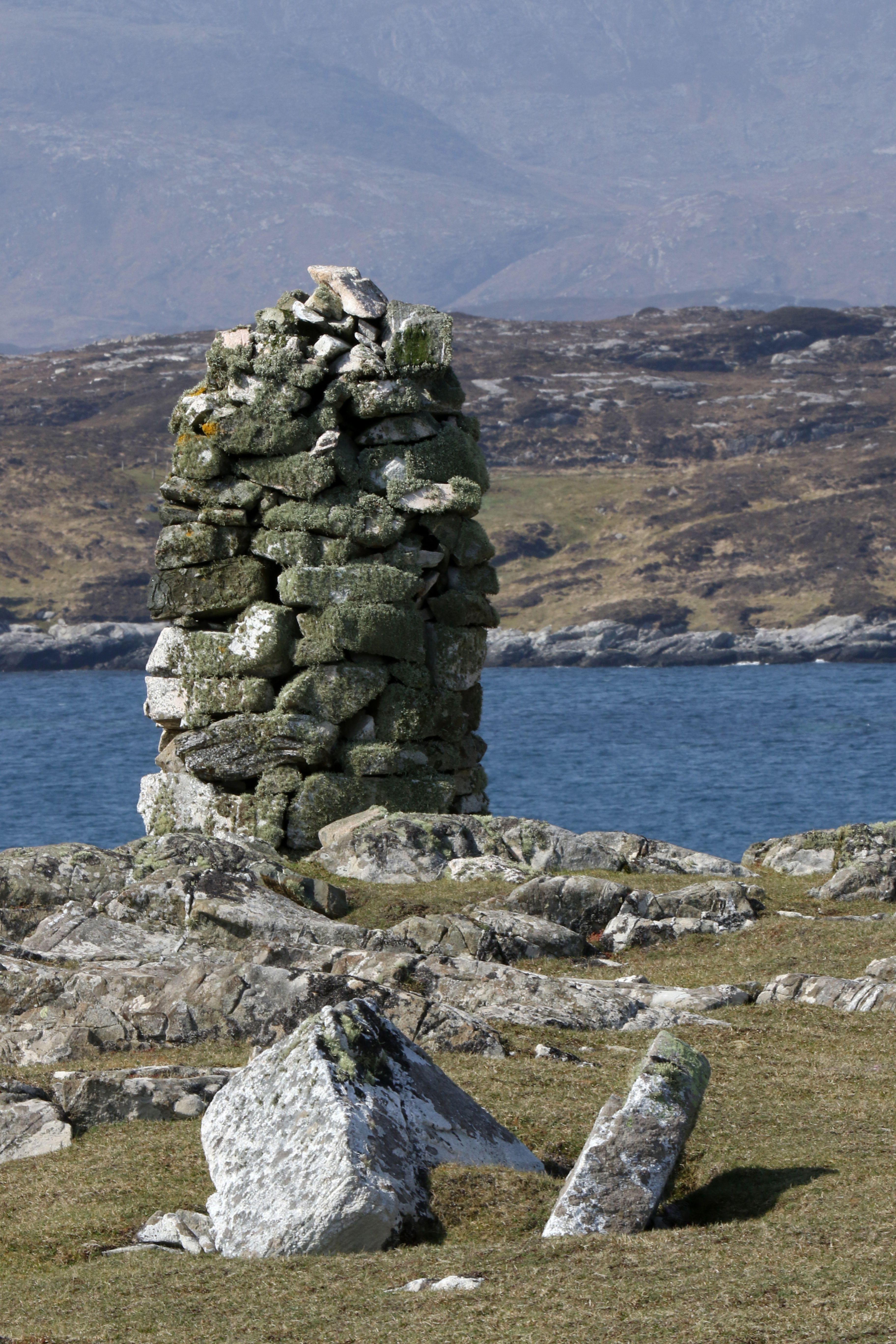 In fact there are some amazing syntheses of old and futuristic on Harris.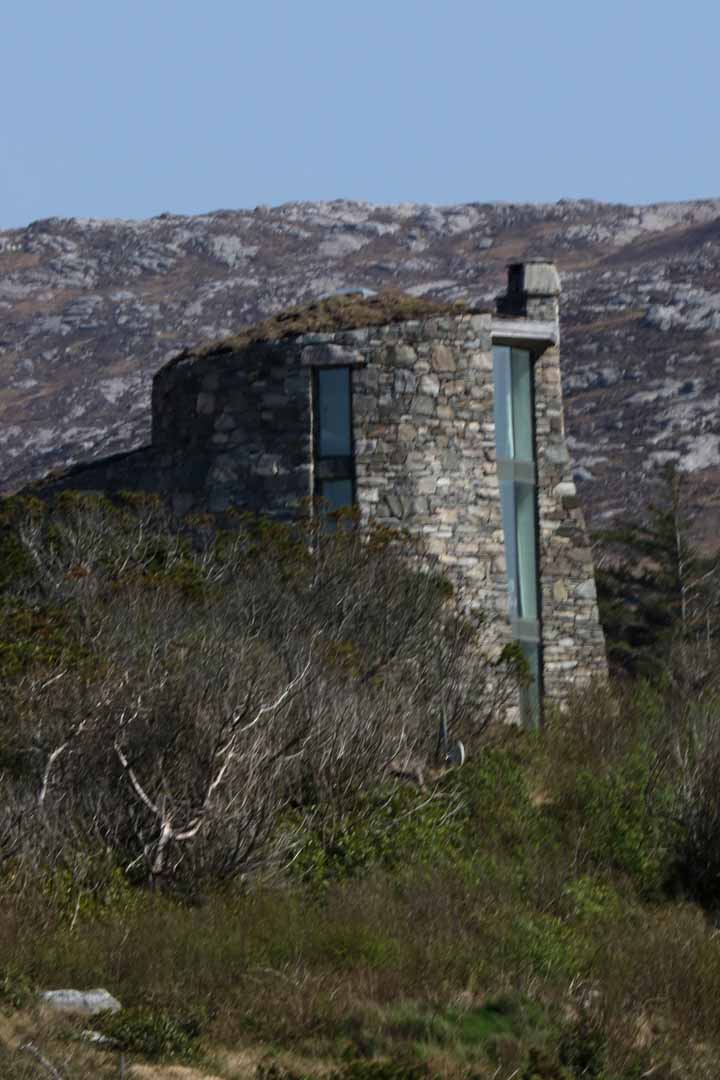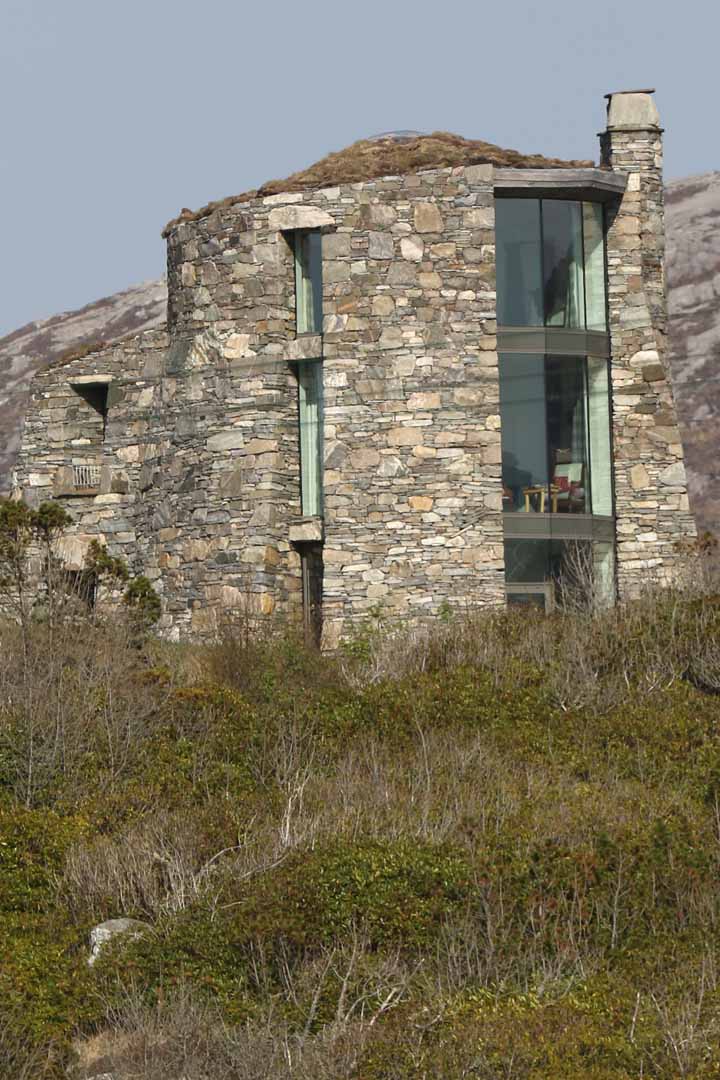 Some buildings harmonise with the terrain, others offer graceful contrast. While the latter are at times banal, few are jarring.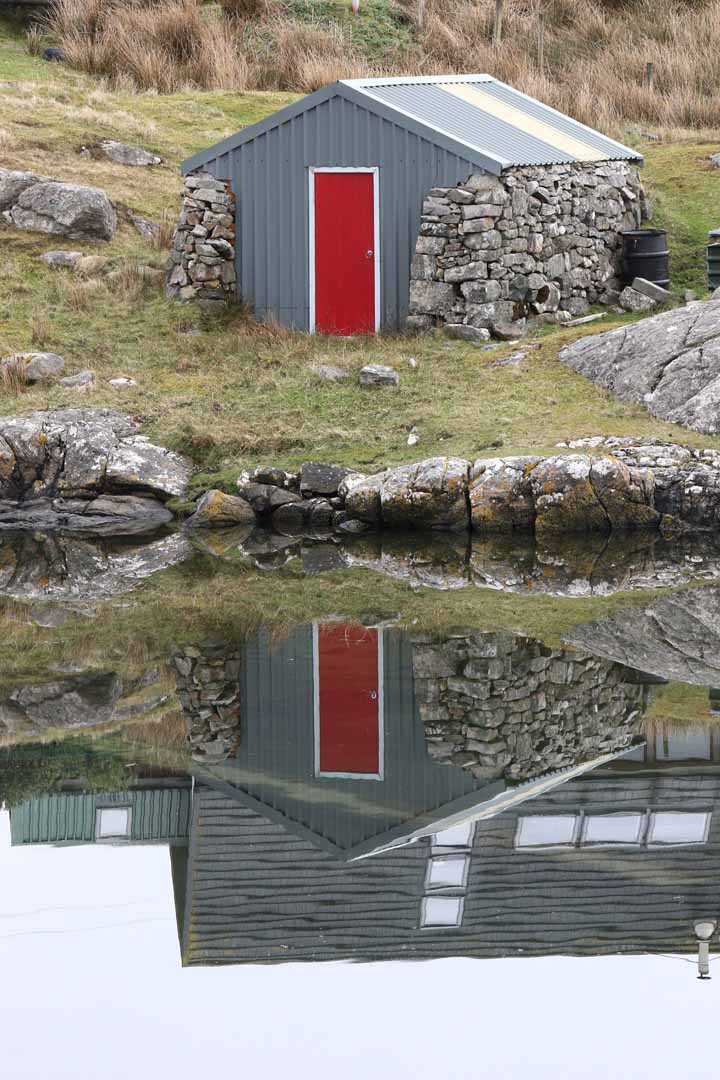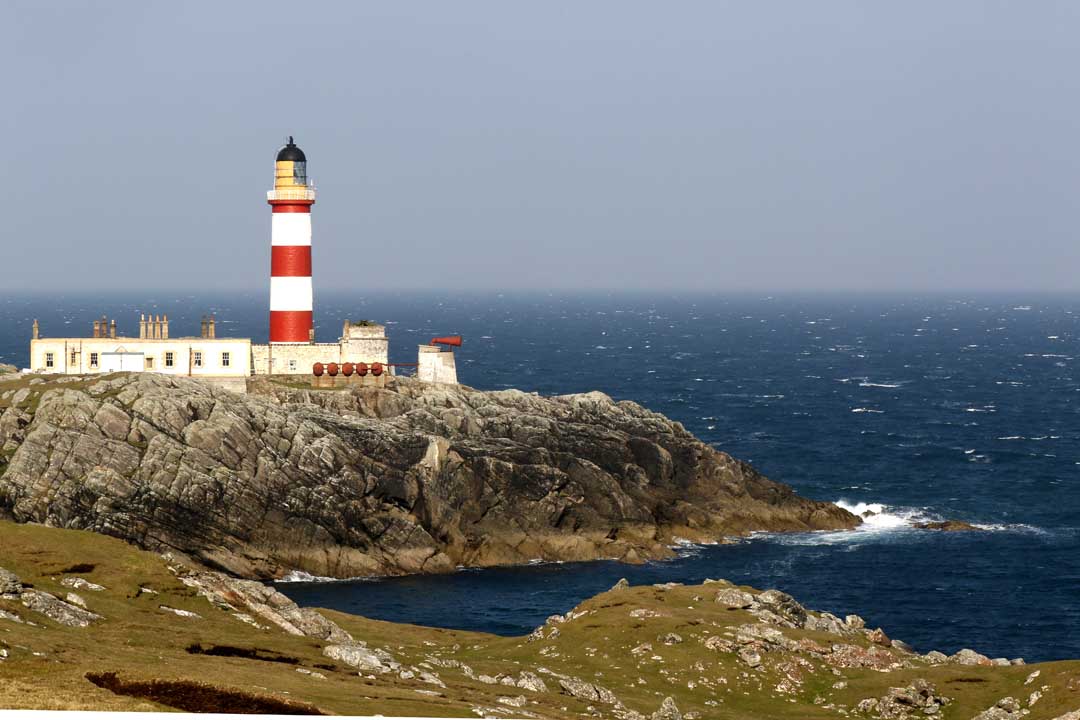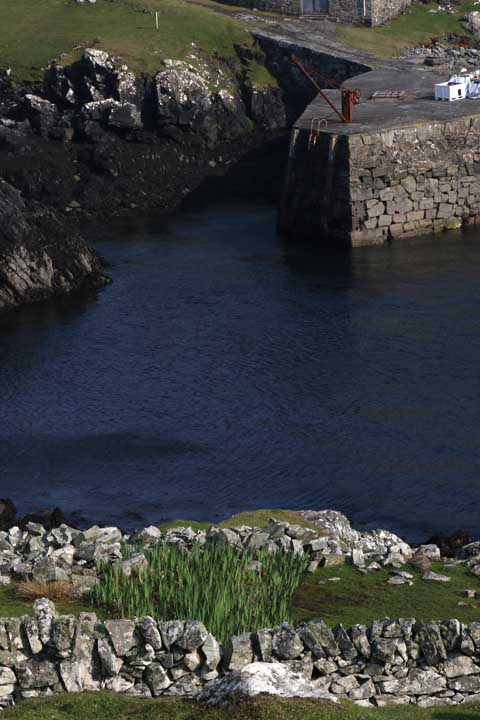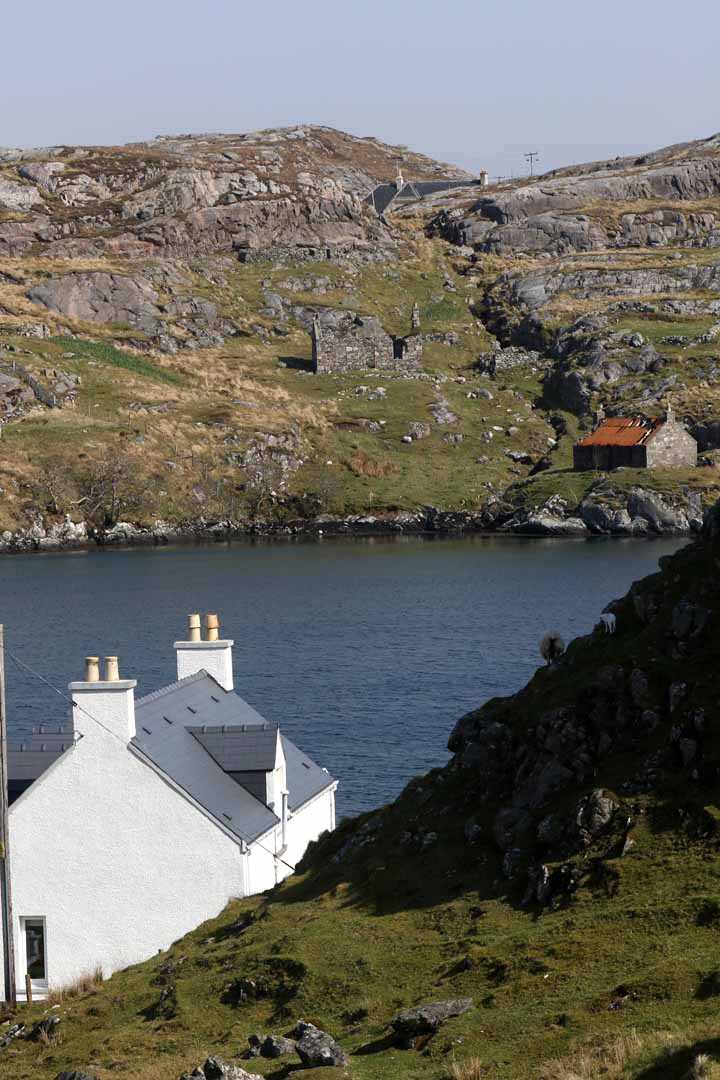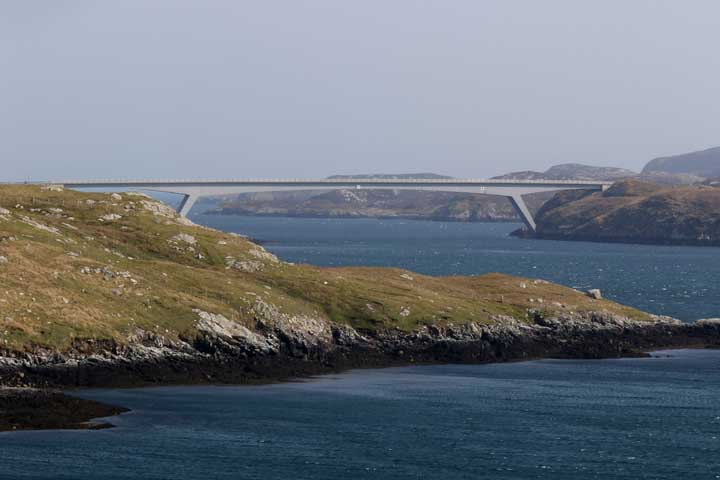 A few people shots – because there were few people – afore I close.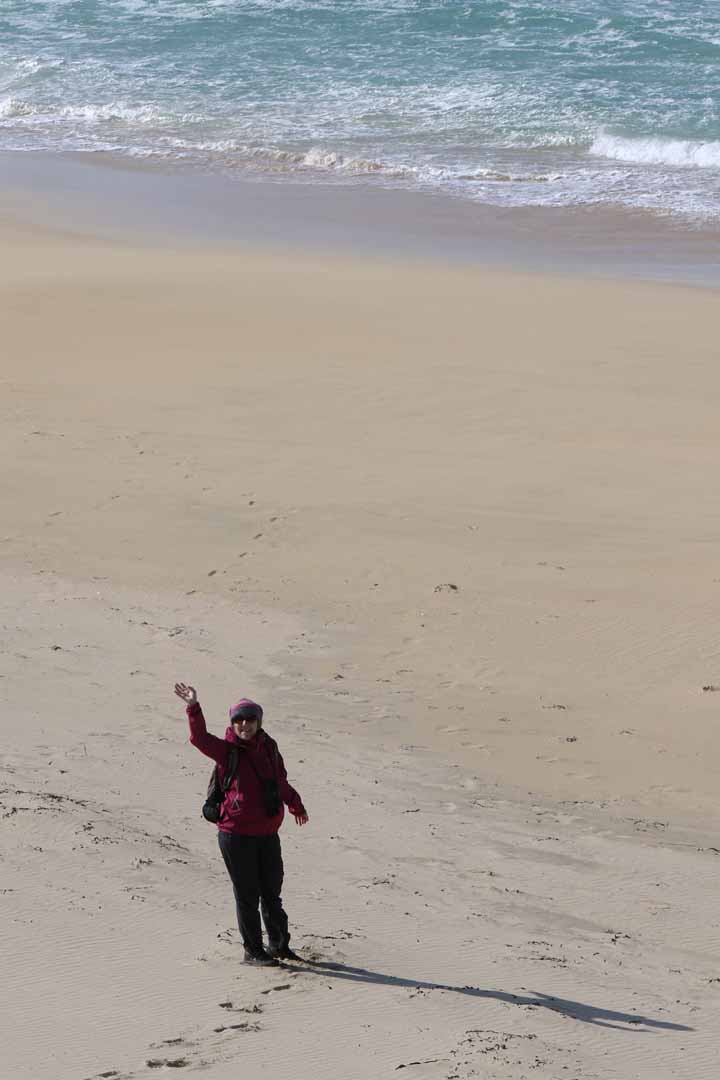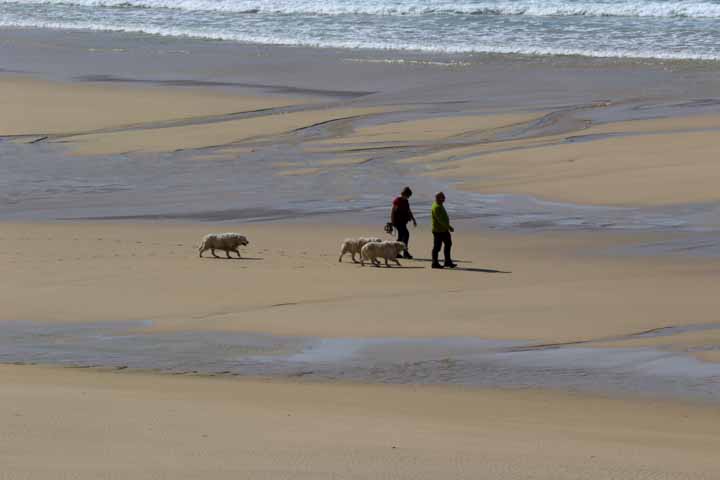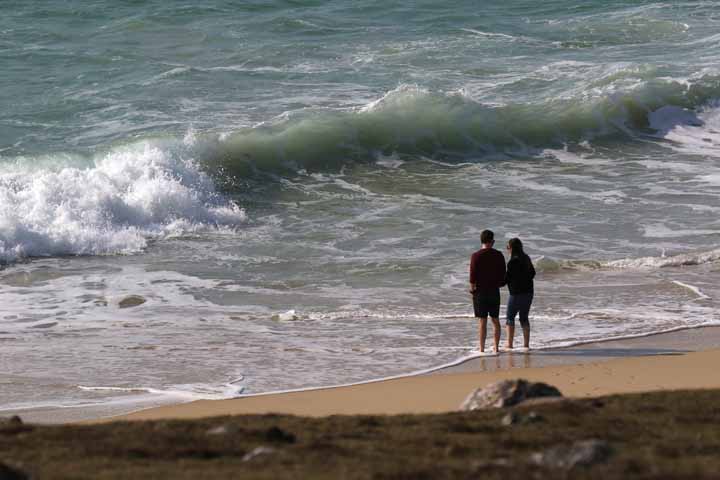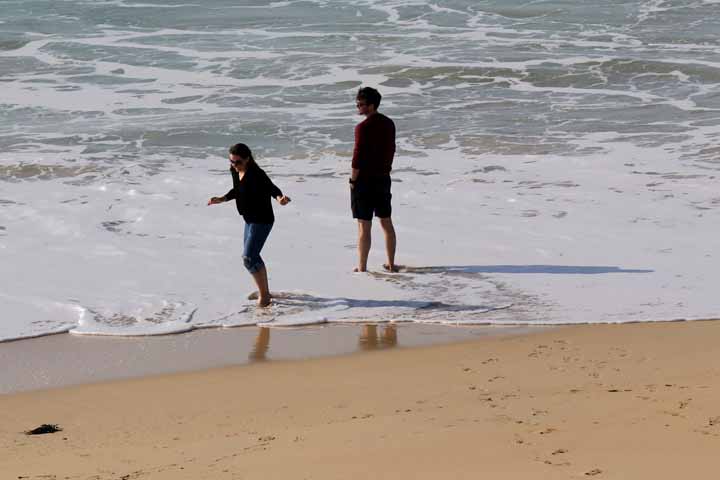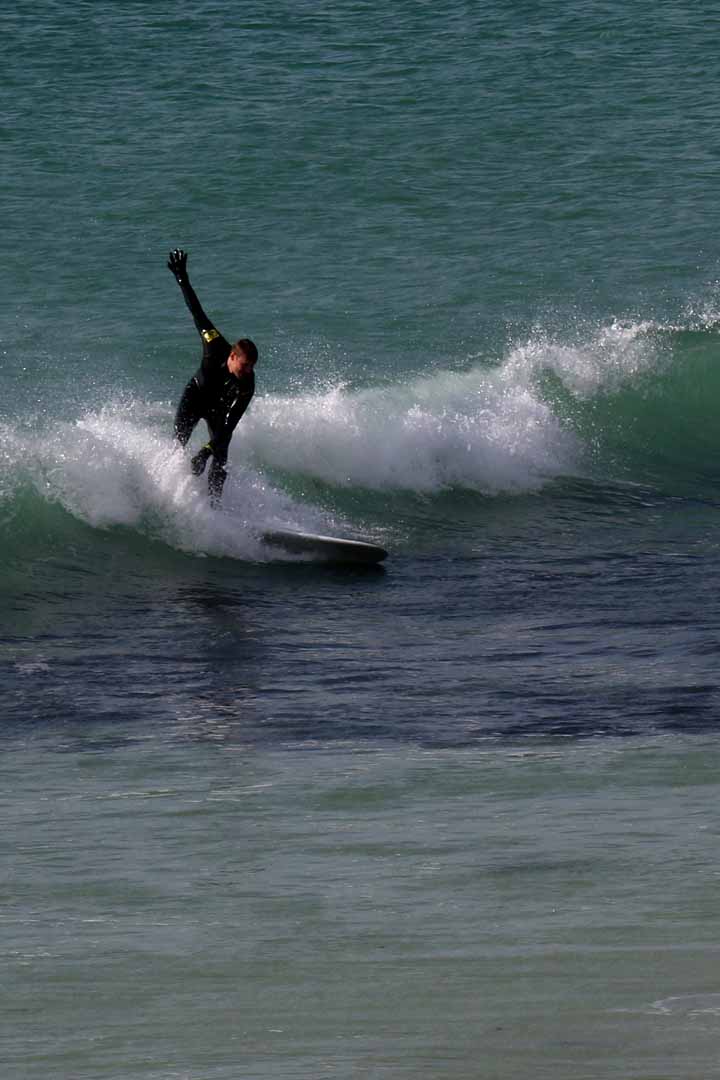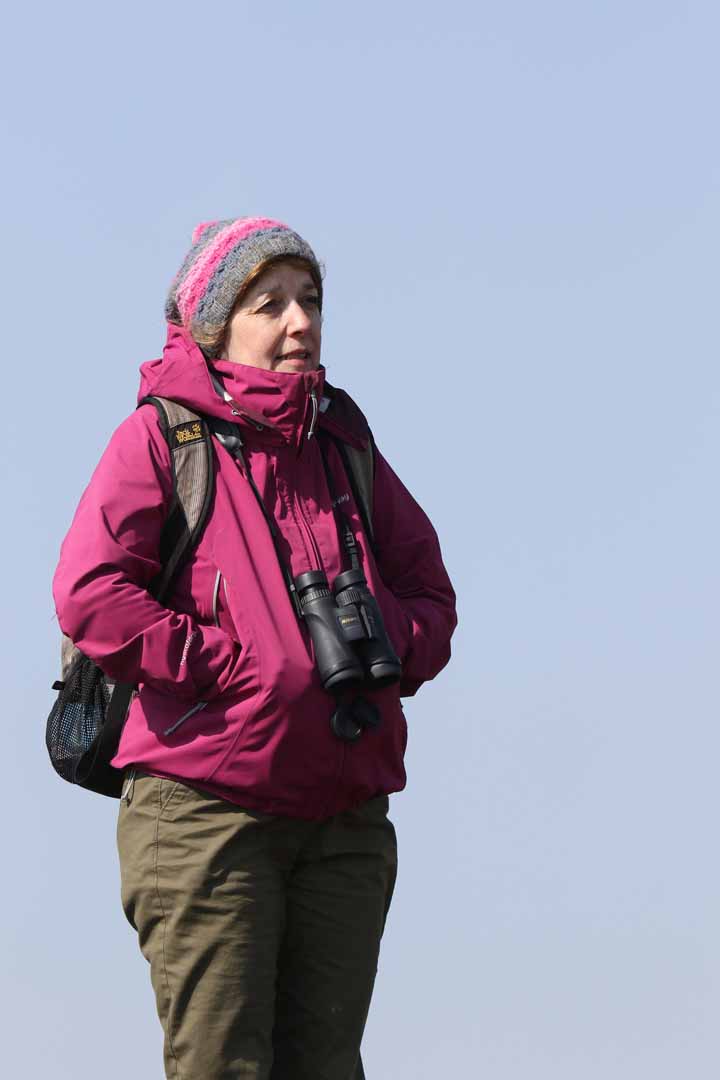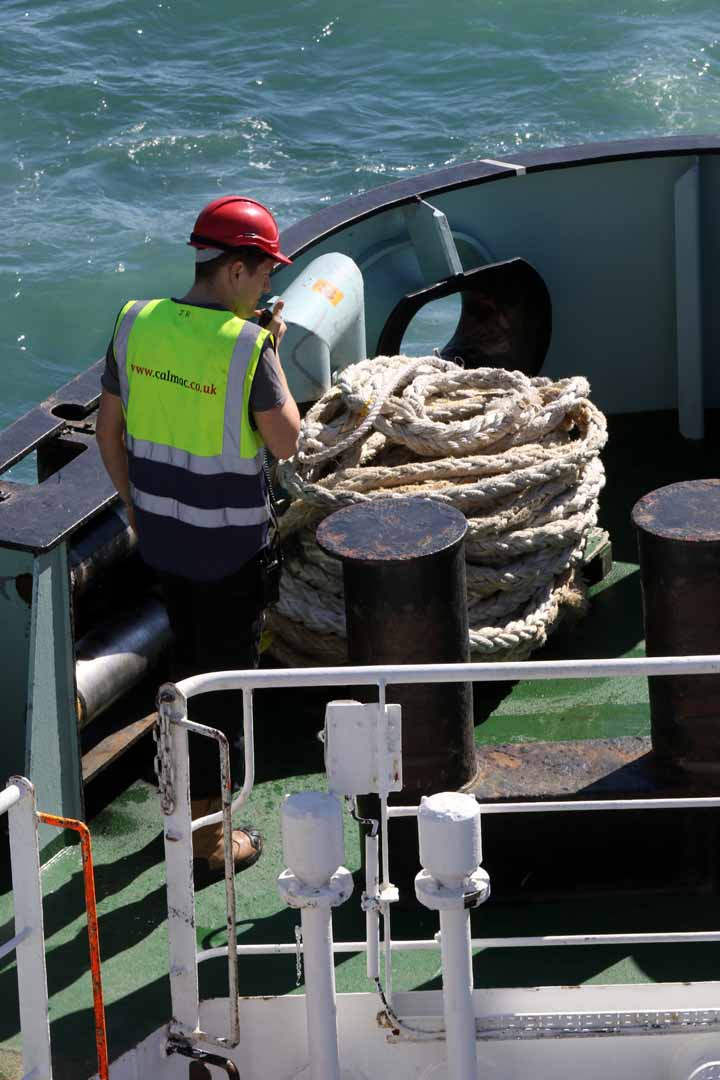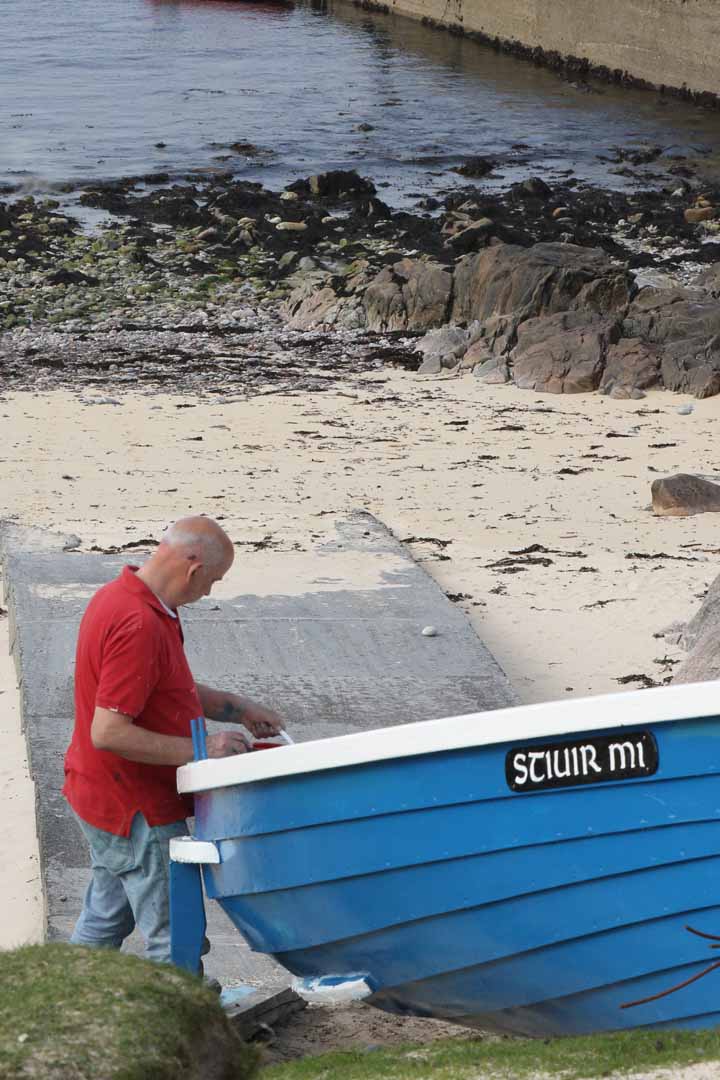 Sadly, there's always – even on idyllic Harris – the criminal mindset.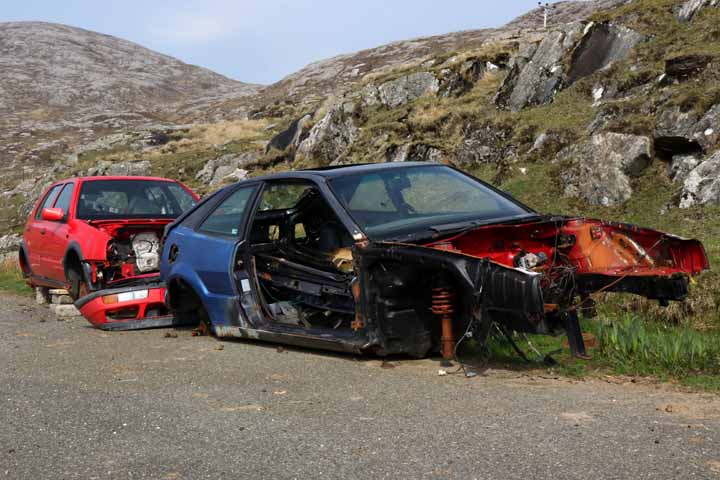 The few roads aren't conducive, you see, to boy racers. Most are metalled though. What's more they are, by Highland standards, veritable motorways.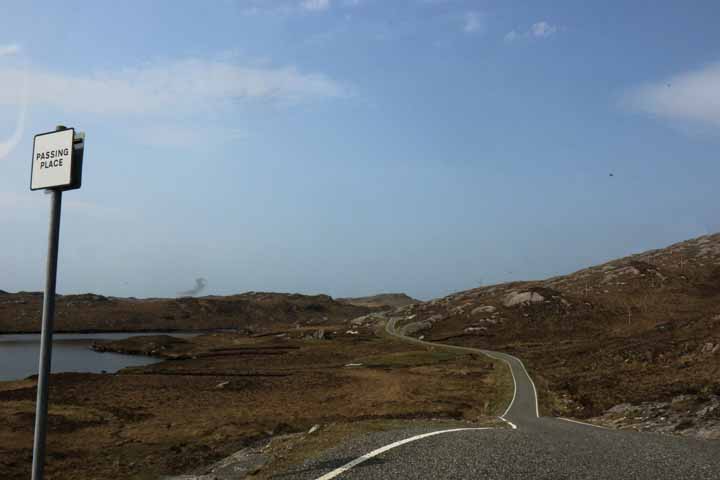 But as George sagaciously observed, all things must pass. Back at Steel City House, with sun sliding below yard arm, it's time for a lemon and tonic, on the rocks with splash of Harris gin.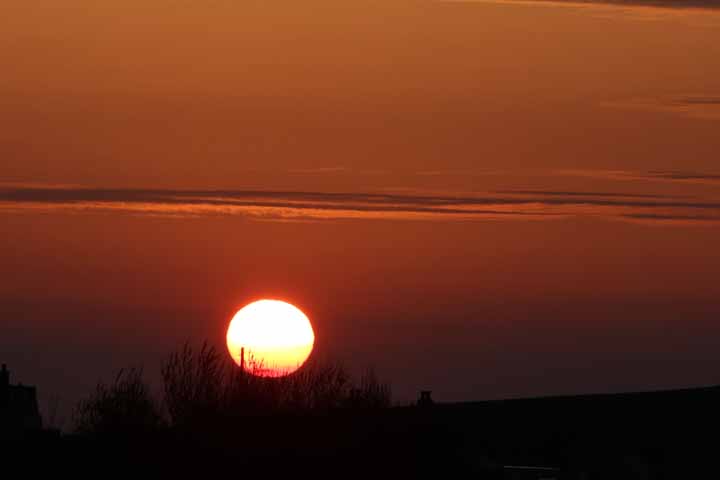 * * *