the first part of this post features on offguardian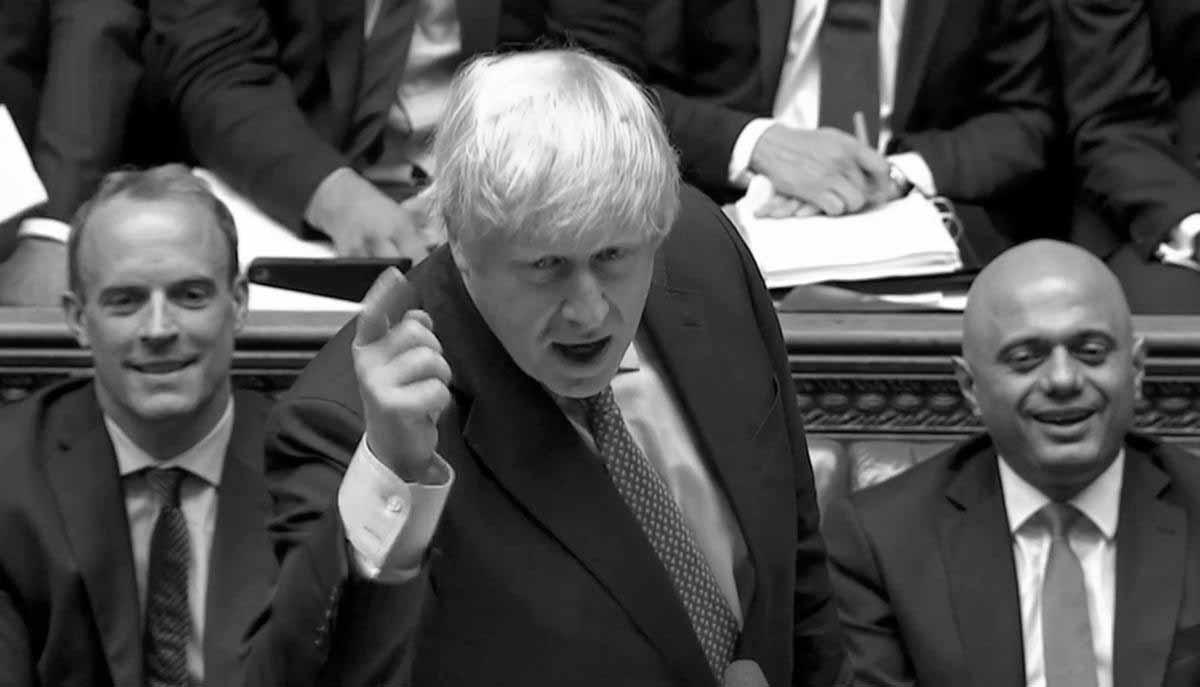 I enjoy schadenfreude as much as the next guy and for the millions of us who detest Boris, last night brought the stuff in spades. I was quite taken by Jeremy Corbyn's comment. Too much the gentleman to refer to BoJo in person, Jezza's was as neat a slice of alliteration as you're likely to come across in a parliamentary put-down.
This government has no mandate, no morals and as of today no majority.
That last being an allusion to Tory member Phillip Lee, who dramatically crossed the floor to sit with the Lib Dems even as Boris was speaking. In those few seconds of theatre a Tory majority of one – and that reliant on May's squalid deal with the creationist and reactionary DUP – went up in a puff of the proverbial.
But Lee's perambulation – one small step for man, one fat smack in the chops for Boris – was but the first strike in a night of triple whammy. Within hours the government – a day of threats, bribes and all round arm-twisting notwithstanding – lost its bid to block a no-deal Brexit vote.
Worse yet, his Plan B – or Plan A? – hit the skids immediately after that defeat, wittily referred to by Scottish Nationalist Ian Blackford as the "shortest honeymoon in parliamentary history" – while a Right Honourable Member off camera calls out, the very moment Speaker John Bercow gives the result, that this is:
Not a good start, Boris.
All good stuff. As Noel Coward would say, I couldn't have liked it more.
For the third hammer blow BoJo can thank a fellow Etonian. T'was David Cameron, whose own reckless complacency got us into this mess,1 who also saw to it that a prime minister may no longer call a snap election as and when s/he sees fit. The Fixed Term Parliament Act of 2015 has put paid to that. Now the Commons will decide whether – and more crucially, when – BoJo gets to grandstand as saviour of the People's Will in the face of a parliament bent on thwarting it.
In plain terms, Johnson can't follow his failure to push through a no-deal option by "going to the country" on a Parliament Versus Democracy ticket at a time of his choosing. Not without two thirds of the House of Commons assenting to it. Which as of this morning looks about as likely as Yemen winning the next world cup.
*
When history repeats itself, Marx observed, it does so as farce. It was Peter Ford, former UK ambassador to Syria, who pointed out BoJo's affectation of aping the hunched shoulder slouch of his hero, Winston Churchill. But one of the most penetrating assessments of this trickster's psychology came from a man whose writings I'm more given to slating – here for instance – if, indeed, I read them at all.
In yesterday's Guardian – a paper I've come, for reasons given in many a post on this site, to detest more than I do the redneck honesty of the Mail – Rafael Behr packs rare depth of insight into so few paragraphs.
I never said the man can't write, nor that he's a fool.
Brexit is not the first thing Johnson has found difficult, but it might be the first difficult thing he cannot simply abandon. The path by which he arrived in Downing Street is strewn with jettisoned jobs, principles and relationships. He finds other people's needs burdensome, and is used to shrugging them off. But now he is yoked to an onerous national duty. His discomfort was obvious in parliament today.
Johnson's traditional repertoire of glibness and bluster served him poorly as his authority and his majority melted away. The first significant test of his command of the Commons resulted in humiliation. He was defeated by a majority of 27, forfeited control of the legislative agenda, desperately threw a general election gauntlet across the chamber and watched helpless as the leader of the opposition dodged it.
… Johnson chose the leave side in the 2016 referendum, thinking it would be beaten. He intended to earn kudos among Eurosceptic Tories while evading responsibility for turning their fantasy into reality. He flaunted his unreadiness to own the result, withdrawing from the subsequent leadership race on the day of his campaign launch. He served in Theresa May's cabinet only as long as he could be idle in a grand office. When the time came to commit to a workable Brexit model, he resigned.
In part, Johnson is captive to the public school cult of effortless dilettantism that despises diligence as vulgar and swotty. He is also a hostage to his own breezy rhetoric. Even now that the technical complexities and economic hazards of Brexit are indisputable, the prime minister pretends that obstacles are trifling or illusory. He claims that leaving the EU without a deal would not be a calamity, but also that the threat of calamity is necessary to persuade the EU to grant a deal.
Nicely observed, Mr Behr. My only carp is with the dishonesty of the final sentence. It asks us to mock the illogicality of threatening the EU with no-deal calamity, while assuring the home fans that no-deal will be no calamity. That slyly fails to distinguish what is/is not a calamity for the EU from what is/is not a calamity for the UK.
Not for the first time – see my post the other day – I should add that I'm (for the time being) a Remainer: albeit one with peg on nose, heavy heart and zero faith that the European Bankers' Club can ever be reformed.2 And albeit one who sees nothing illogical in Johnson's insistence that a no-deal Brexit option is essential to the ability of negotiators to drive a hard bargain in Brussels. As any kid on a tough block knows, you gotta have a nuclear option.
If you don't give my bike back my dad's gonna come round and beat up your dad!
For all his astuteness in assessing BoJo's character, Rafael Behr is less smart at assessing the realpolitik of the fix he's in. For that we'll do better to heed his nemesis from the other side of the spectrum.
But Behr's naivity on this front, like that of many other Remainers, is tinged with disingenuity. His real objection is not simply to the no-deal Brexit Boris says he doesn't want but must have as negotiating card – while Honest Nige insists on no-deal as his price for not standing Brexit Party candidates against the Tories.
Behr, like most Europhiles, wants to stop Brexit. And the problem with making this a goal to supercede all others is that it ignores fifty percent of the population of – let me say this one more time just for good luck – a thoroughly and toxically Disunited Kingdom.
* * *
By "this mess" I refer not to Brexit but to the simplistic terms, and lies on both sides, in which the Referendum question was framed. And to the failure to demand more than a simple majority – two thirds is traditional – for so far reaching and long lasting a change to the status quo. And above all to the deep and deeply frightening divisions of a not so United Kingdom; divisions both reflected and exacerbated by the 2016 outcome.
I feel another post writing itself. Of late I've been seeing FB comments, in some cases by folk whose views on other matters I respect, to the effect the EU is the cause of decades of peace in Europe. Of all the ways in which this is flawed in both its premise and the conclusion drawn, the confusion of correlation with causation is a howler of schoolboy proportions. Wearing big waistline trousers makes you fat. Show me a man with big waistline trousers and I'll show you a fat man.