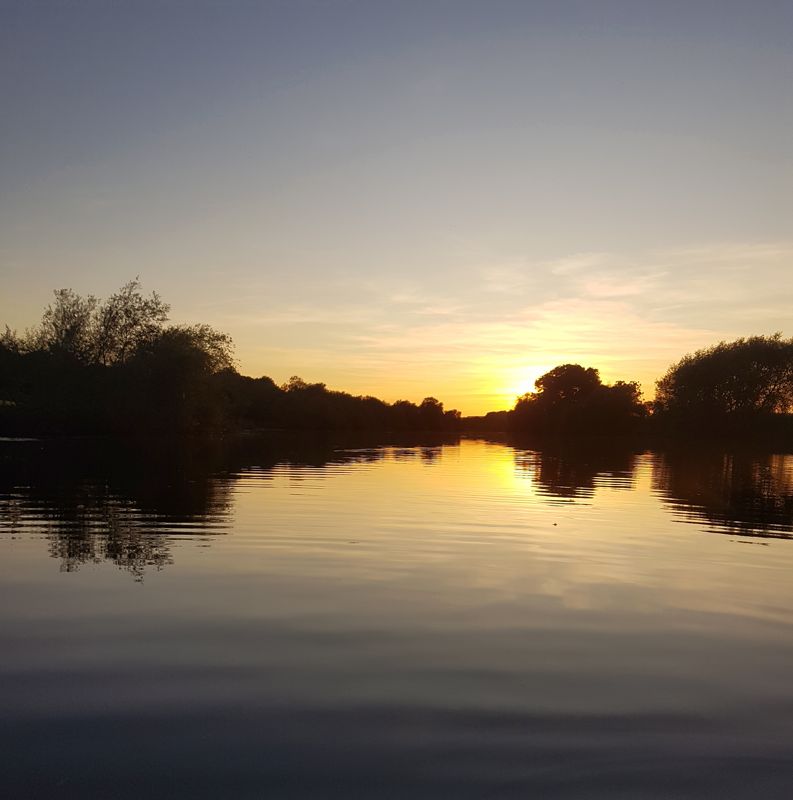 Thursday night wasn't the first time I'd slept on the canoe, just my first time while on the water. These next two images – heavily Photoshopped, to show far more detail than I could make out at nine pm in the second half of September – were taken as I lay wrapped in three layers: silk liner, sleeping bag, bivi sack. Four if we include the three sided air cushion I was wedged into.
As you can see, boat and bivi bag are wet with evening dew.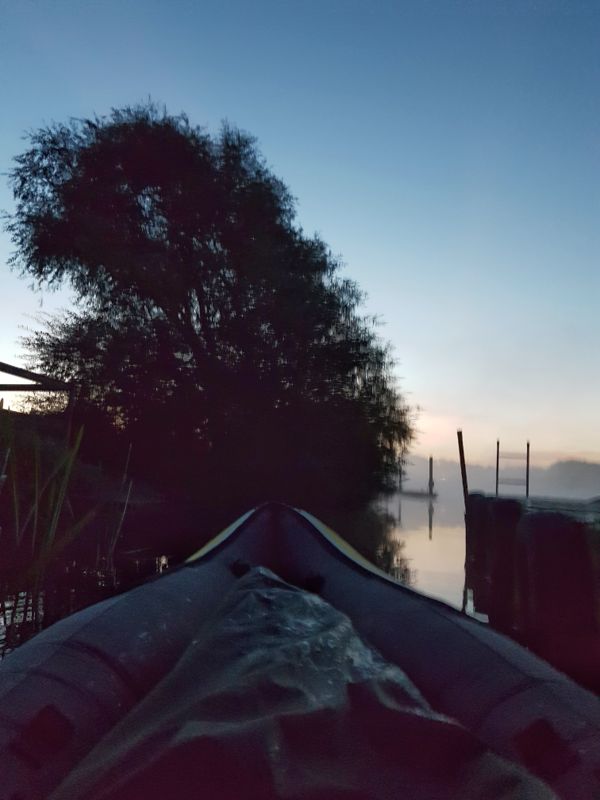 I'd glided into the landward side of a floating jetty running parallel to the shore at Gunthorpe, a mile downstream of Burton Joyce. To my right the Trent, at this point flowing east but soon to turn northwards. To my left a flight of wooden steps, up to a grassed area and car park for the Unicorn Hotel. It was near dark as I tied up at seven-thirty by the "Private-Jetty" sign – subtext, So-Beat-It-Pal – of a water ski club.
It hadn't been my intent to sleep here. Having clocked a sheep grazed meadow on the far bank, my plan had been to eat at the Unicorn then slip across the water in the dark, commando style. In the event, a plate of fish and chips (unfeasibly good for a Thursday Special £6 deal) and pint of Hobgoblin (they were out of Foul Fiend) had me in a lazy mood. Back at the kayak it occurred to me that my chances of being disturbed were acceptably low.
So why row the boat?
It's not easy getting into silk liner, sleeping bag and bivi bag on a floating canoe. At some point in mein kampf the neck of the sleeping bag took a dip. In winter that would be a disaster – but in winter I wouldn't be doing this, would I? I knew the damp patch, some eighteen inches after wringing, would spread by capillary action on the synthetic fibres. (I don't bring my down bag for several reasons, one being that wet down is near useless.) But I also knew I'd trap enough body heat in all these wrappers to make it no big deal.
So there I lay in near total darkness at water level, my reed fringed den still as a pond, shielded from the main current by a pontoon that had ceased its bobbing after my exertions, and where rucsack and paddle rested as if on a bedside shelf.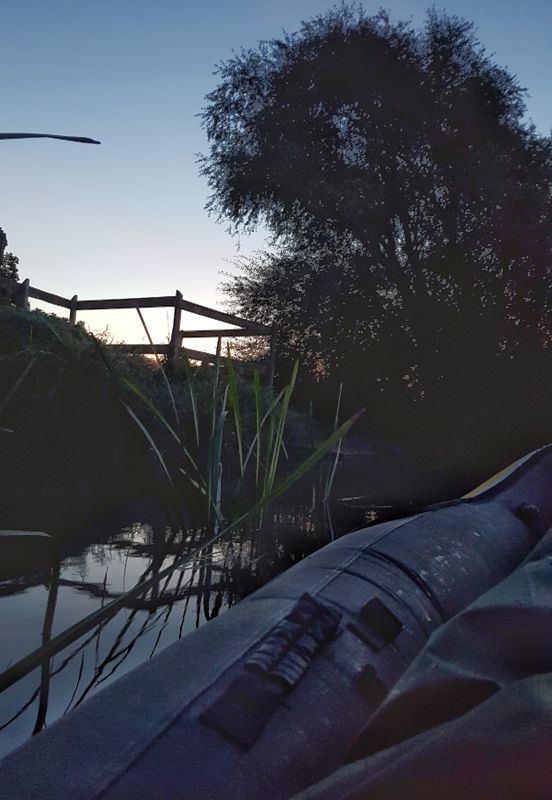 It was only just nine pm. I could have put in bluetooth earpiece for music, or read on my backlit kindle. But with the lights of the Unicorn blocked by the bankside, and weather dry and clear, the night sky gave all the entertainment I needed. Above and only slightly to my left – north – the Plough hung clear as a neon sign amidst stars and nebulae I couldn't begin to identify.
I read somewhere, sometime, there are more stars in our galaxy than blades of grass on earth, and more galaxies in our universe than stars in our galaxy.
In childlike wonder I contemplated the vastness of space, vowed to read up on astronomy, and gazed upwards until – maybe it was an hour, maybe two – sleep came to me. With three inches of air below and ten on each side, the whole encased in three tough innertubes and outer shell of marine grade neoprene, I was on and in a water bed.
Here's the view at 06:15 on Friday.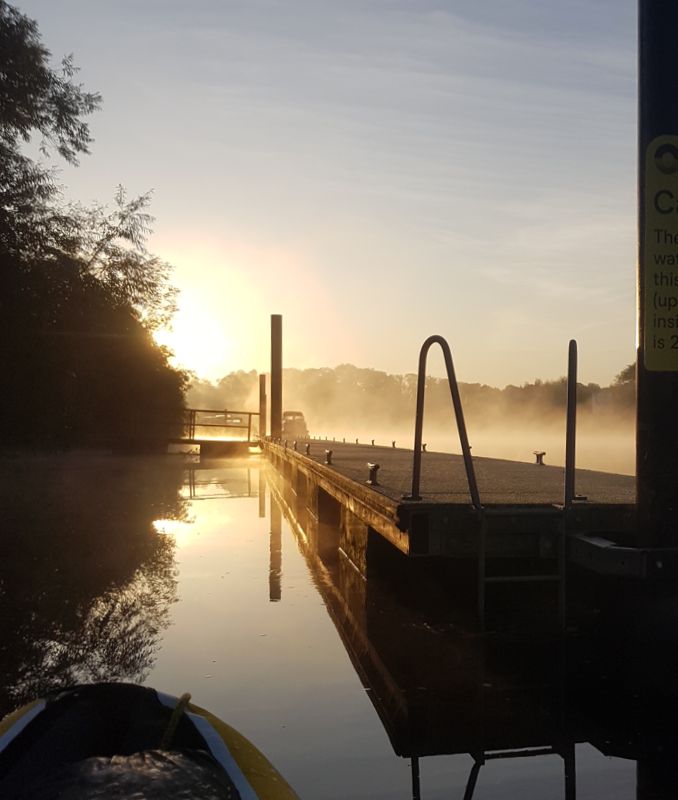 *
Late morning on Thursday I'd taken bus and tram to put in at Victoria Embankment.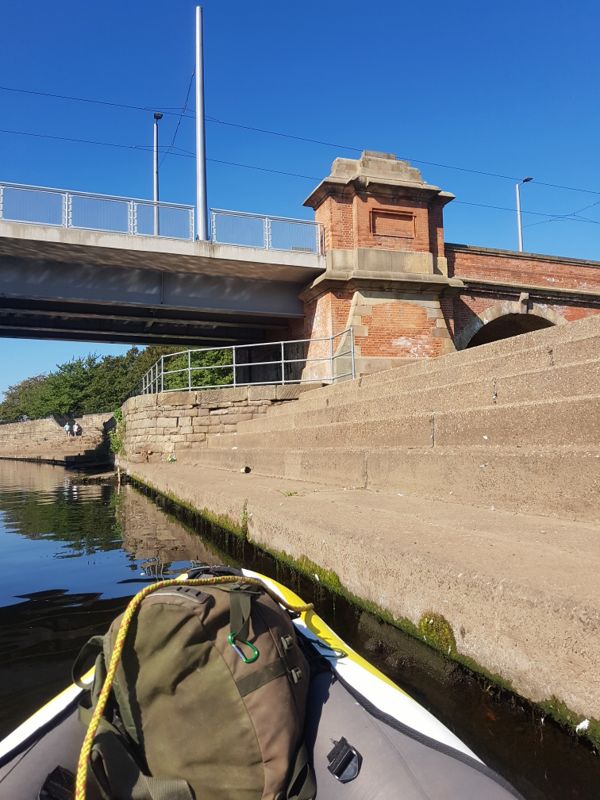 With two days free I reckoned I'd make Newark, twenty-four miles downstream, sometime on Friday – not too late, I hoped, to get home by bus.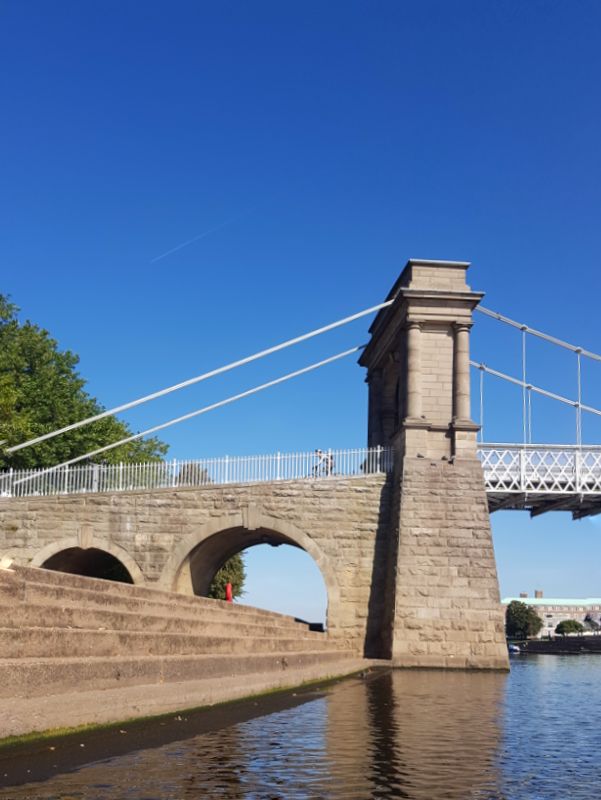 A mile in, I pass the Notts Forest stadium. You can't in this image read the white on red lettering on the stand facing us. It's the name of the only man both Notts Forest and Derby County fans idolise.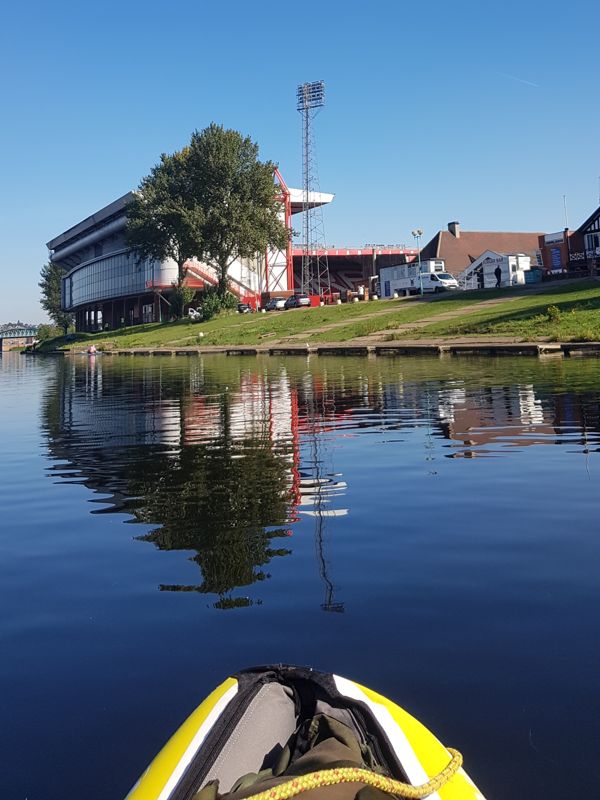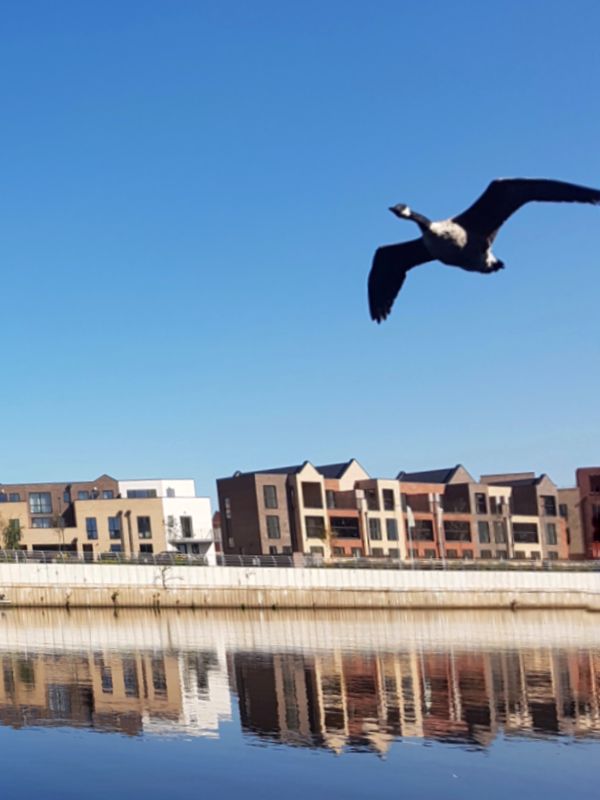 A boom prevents inadvertent passage over my first weir, at Holme Pierrepoint. I may be wrong but don't think it's named after the three man dynasty of British hangmen.
Seventh cylinder from right stands a cormorant.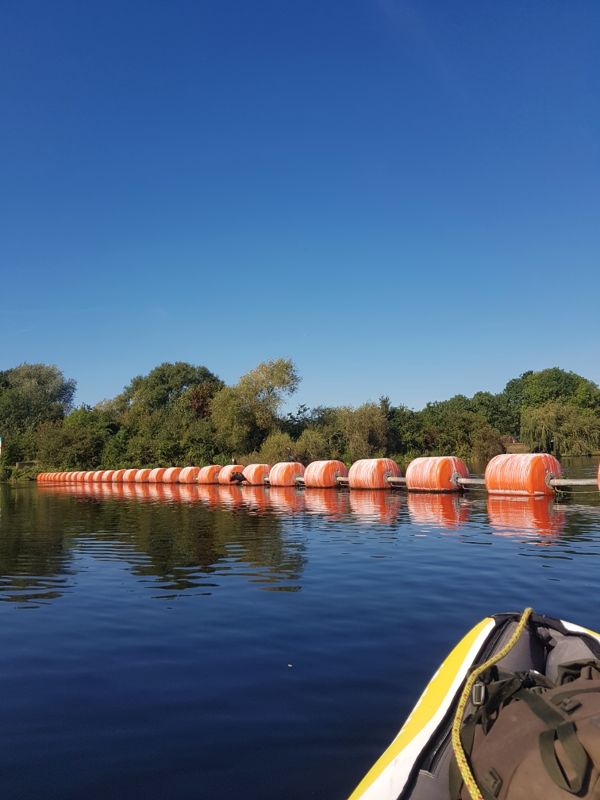 There are three ways forward for a canoeist reaching Holme Pierrepoint. First is to go left over the weir. No chance, not with kayak laden with kit, and large signage at the lip making it clear British Waterways will accept no liability for those who disregard its advice on the matter.
Second is the middle passage, the only option for most traffic, along the few hundred yards of lock and canal cut that bypass the shallow rapids.
The third way is down the slalom course to the right. It too rejoins the river downstream of the weir, but offers a few thrills of its own along the way.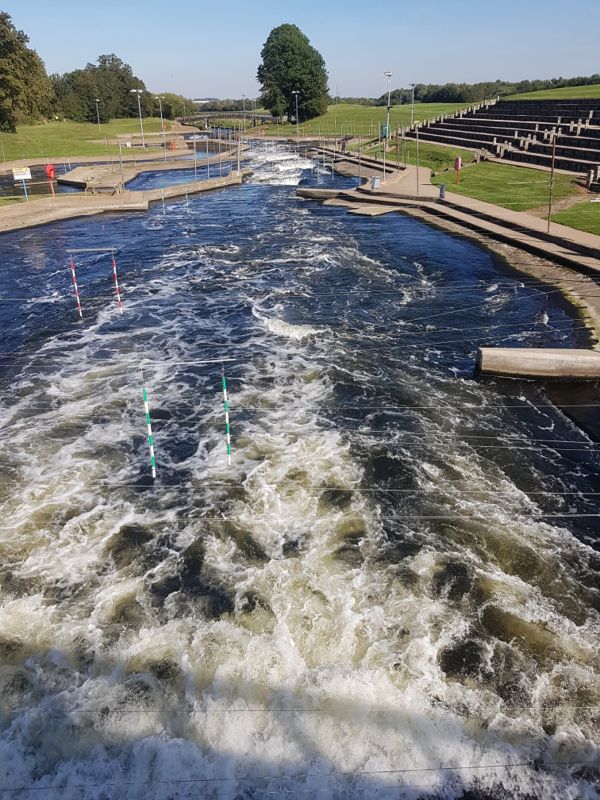 Did I go down it? You bet. Only for the most seriously turbulent section, just over a hundred metres long, did I take the precaution of unloading everything bar self and paddle. What a ride! I'll be back, solo, or with a fellow thrill seeker.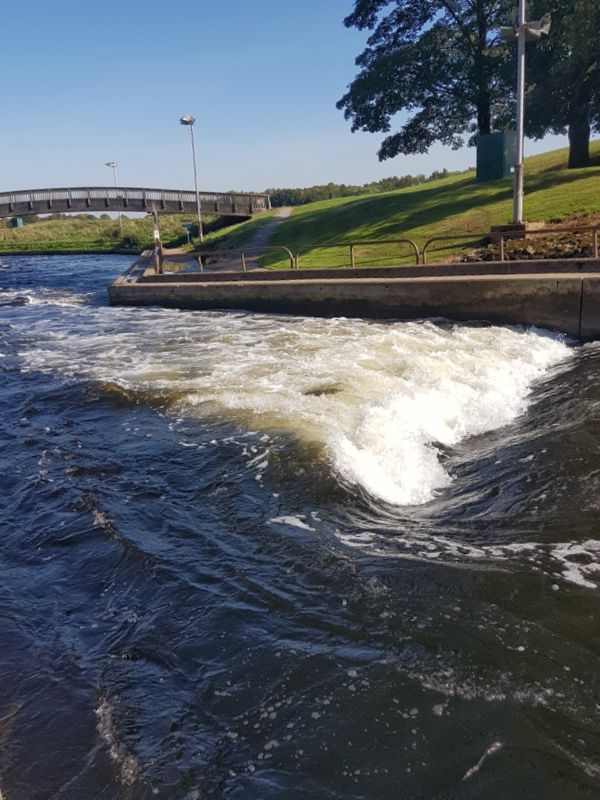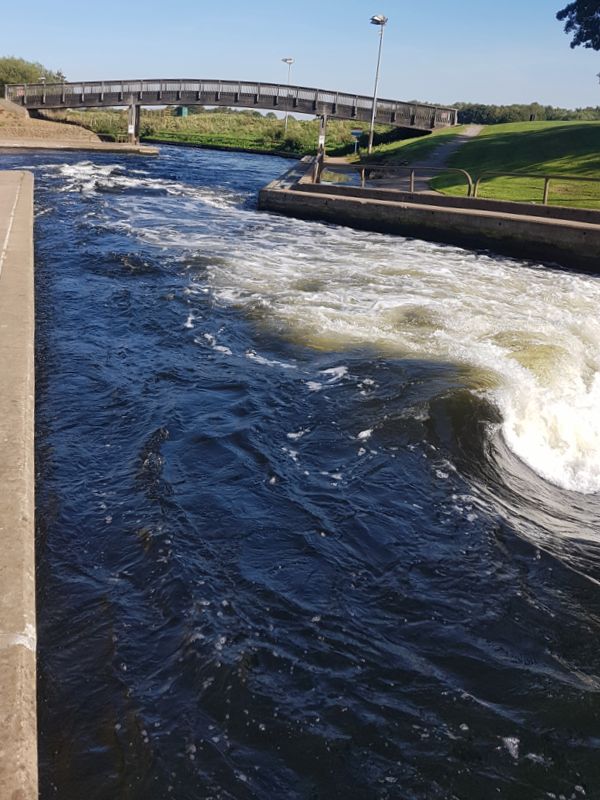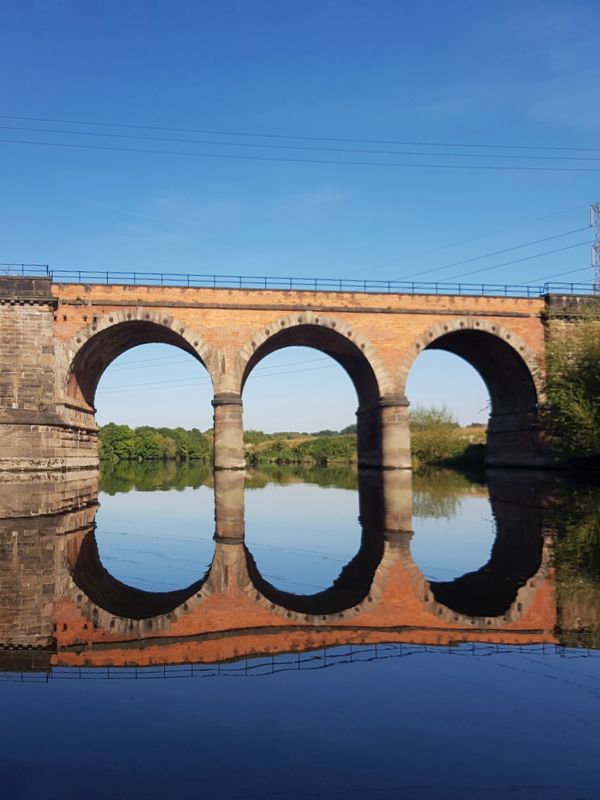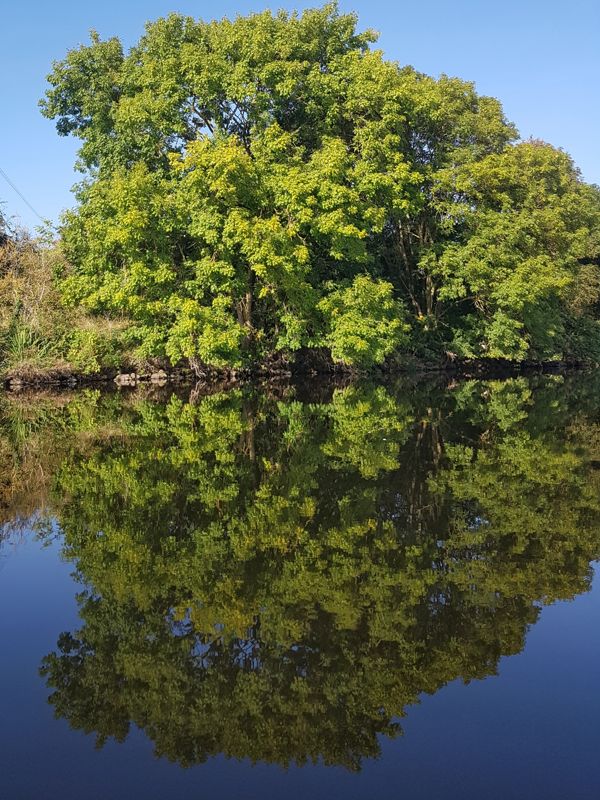 Latest addition to my highly acclaimed Drowned Bicycle series.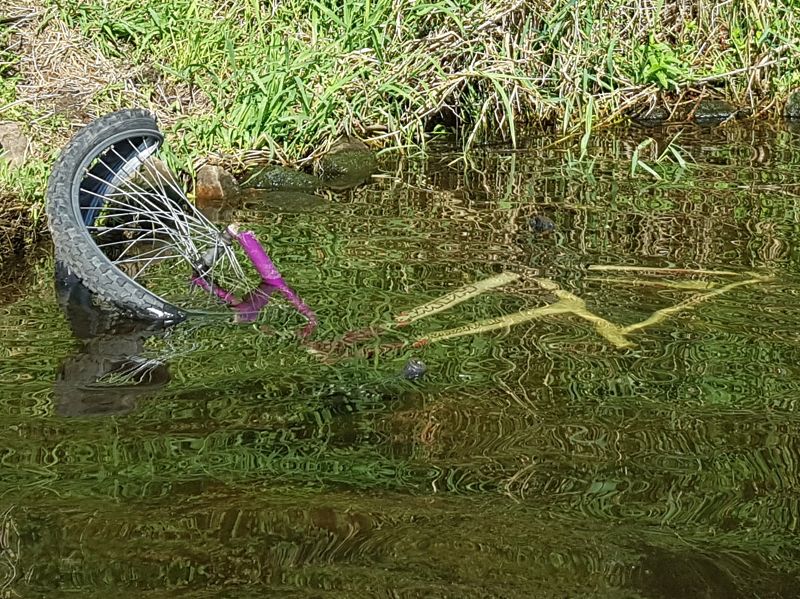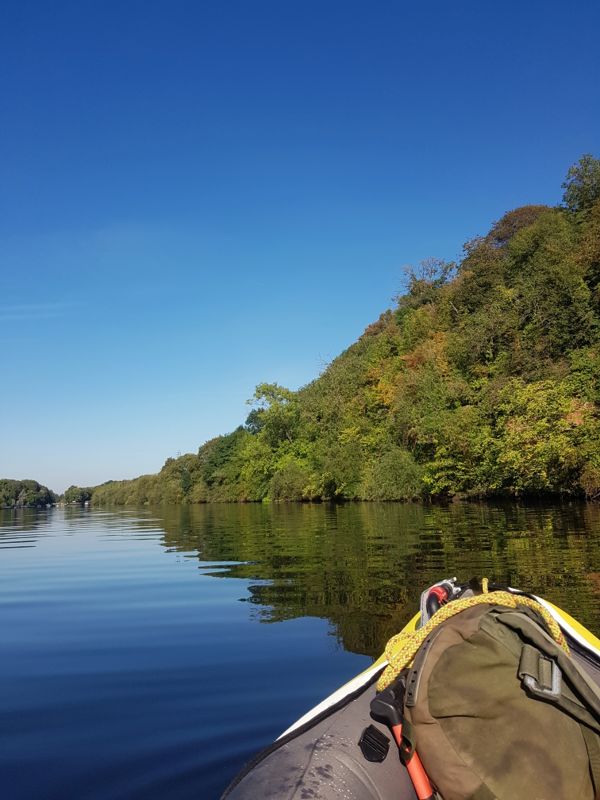 Locks on the Trent are fewer and further between than on the canals in these parts, but are also more challenging. It's those high sides, you see. Of course, the lock proper must have high sides when the water is let out. But the Trent's locks, unlike those of most canals, have high sides on the approaches too. It is here the canoeist must disembark.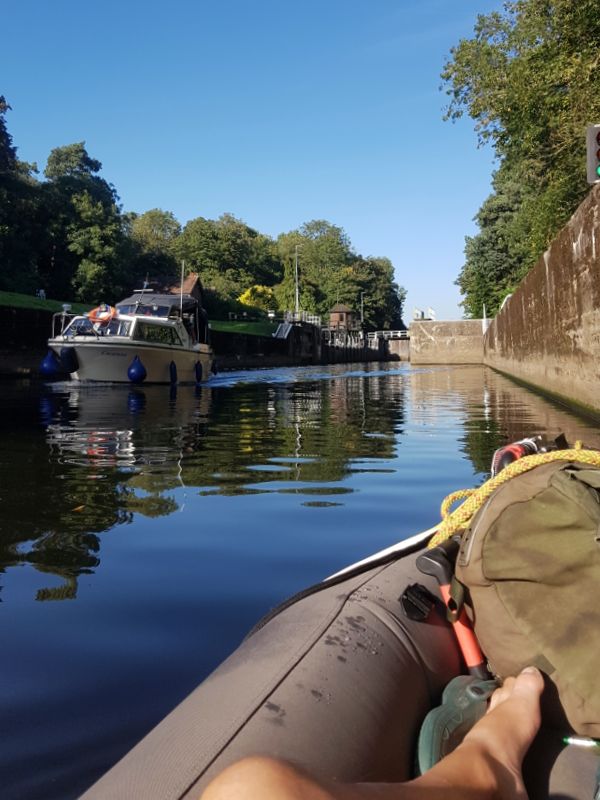 They do have metal ladders, set into recesses, that descend low enough for the kayaker. Once you've shinned up them, vertically hauling fifteen kilos of boat after you is not a problem either, not when you have three metres of painter rope – and don't let go of it on the top rung.
I nearly did, because by the time I'd reached said altitude I had but six inches of the stuff in my fist. For so short a trip I'd left the five metres of spare in the garage at Steel City House. I shan't be doing that again. There were a couple of scary moments.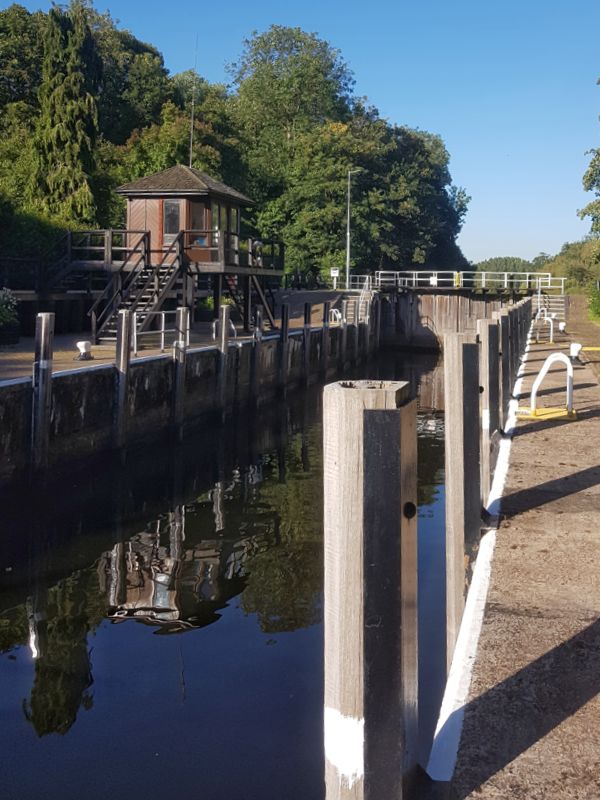 Once you're passed tipping point, you can stop hauling and simply press the front of the boat downwards to lift the rear end up and away from the lock side. In fact you have to, on pain of flicking the skeg off and into the water. I've done this so know what I'm talking about. On a lock this steep I reckon I'd be a good ten minutes lowering the boat, getting back in, and paddling to wherever it floated.
But even without such mishaps, what makes these steep lock sides such a hassle – not for the day canoeist but for the canoe camper – is standing up on a bobbing canoe with one hand on a rung, the other getting the rest of your kit up a wall that's taller than you.
It's doable, of course it is. You have to take care is all, and tidy the kit in situ else risk knocking it into the water or, worse, tripping over it. On Friday I was ten hours on the river. It's easy to make mistakes when tired. You need a little algorithm:
Approach foot of ladder.
Thread painter through lowest rung and back to midway canoe handle
Secure with double knot.
Stand, carefully, and grip a shoulder height rung.
Rucsack on back, housing all hard or fragile stuff, ascend and deposit well back from the edge.
Return for smaller soft items, which may be swung up and over in dry sacks.
Push said small items well back from the edge, and tidy up.
Return to untie boat and climb, holding painter.
Pull up boat.
But this can take a good half hour, depending on how far you have to portage ("portarge") from top of ladder to downstream put-in, bearing in mind you've two trips. One with canoe, one with kit and paddle.
I consider it deferred gratification. The Trent's locks serve but one purpose. They bypass weirs. In all cases, five or six on the stretch I was canoeing, you can put back in directly below the weir for a spot of whitewater. (Not so all the Derwent's weirs, which is one of a few reasons for my backpedaling on a much heralded trip down that stream from Ladybower to the Trent.)
Which goes no small way towards compensating for the faff, risk and all round malarkey.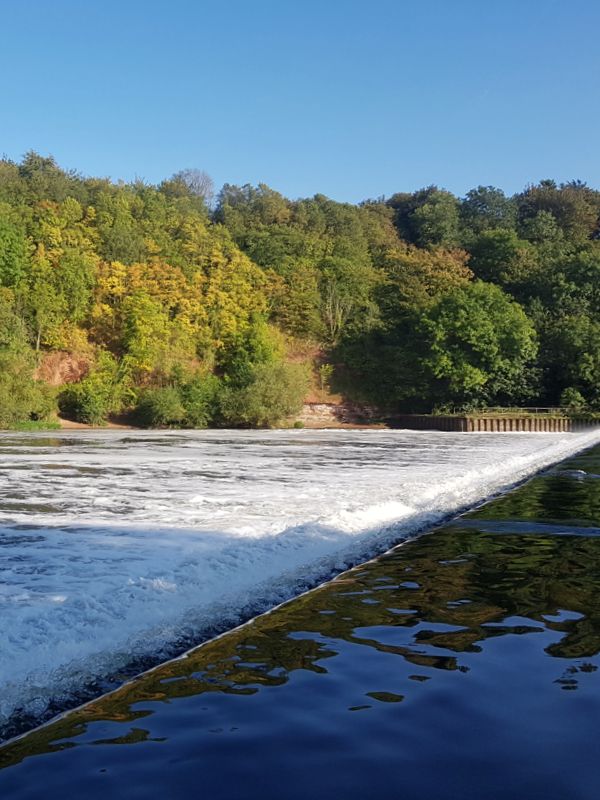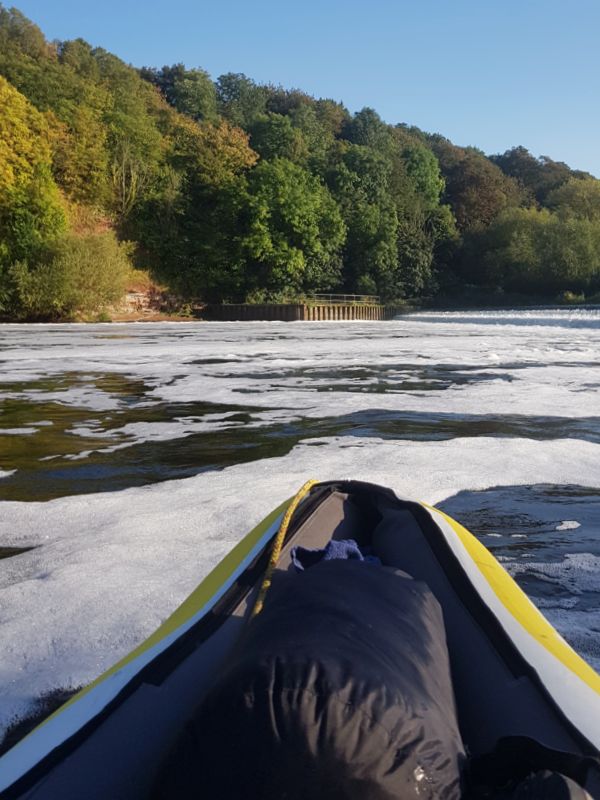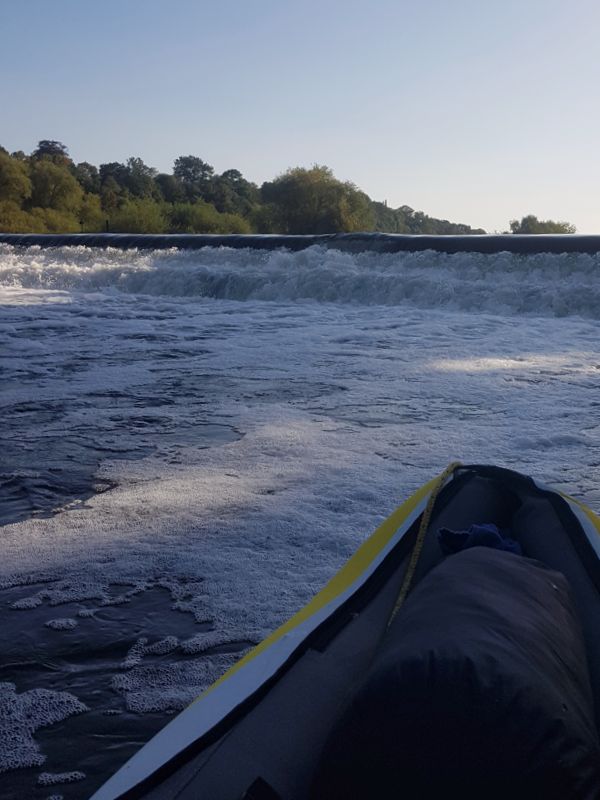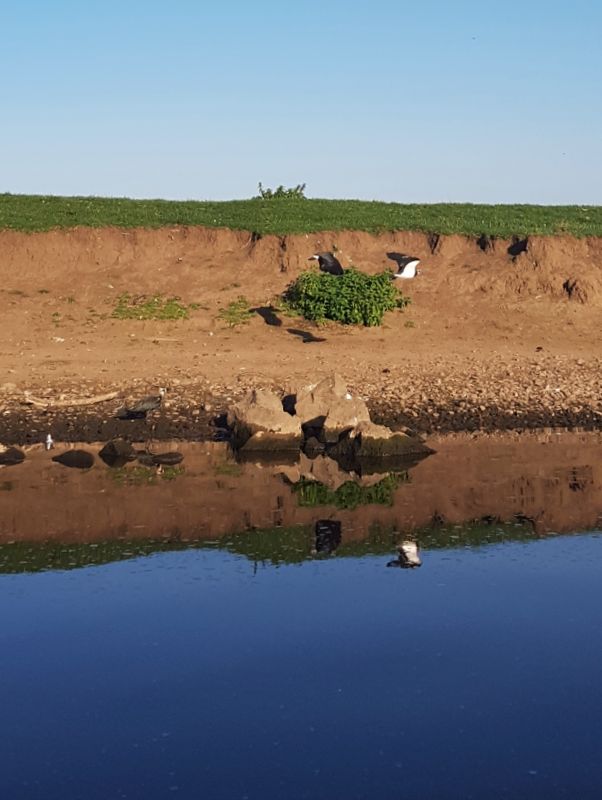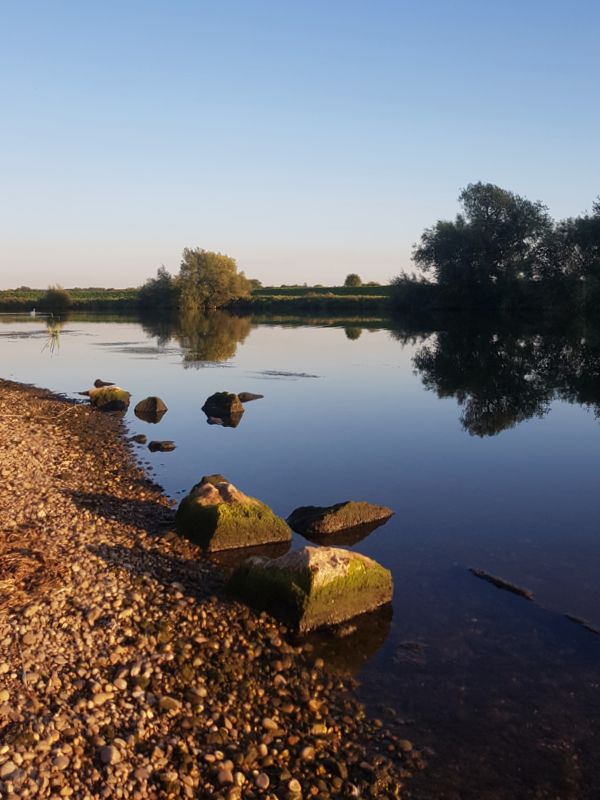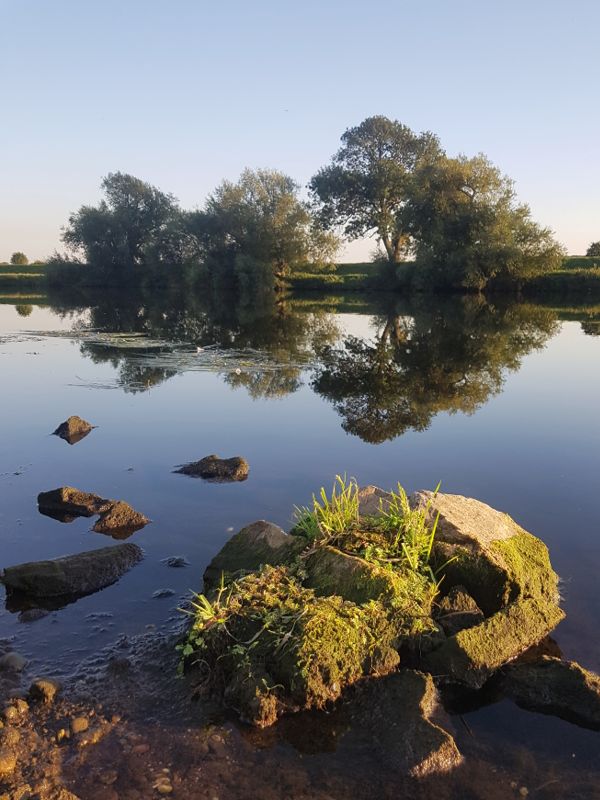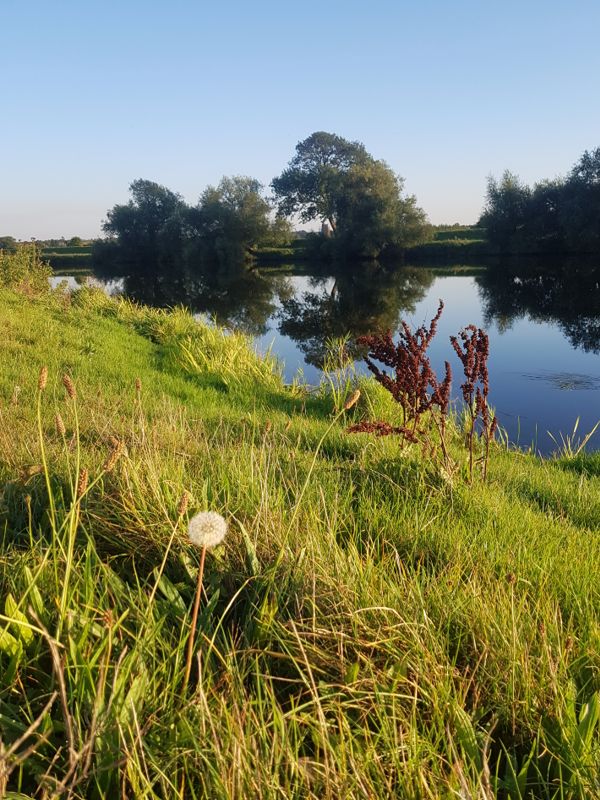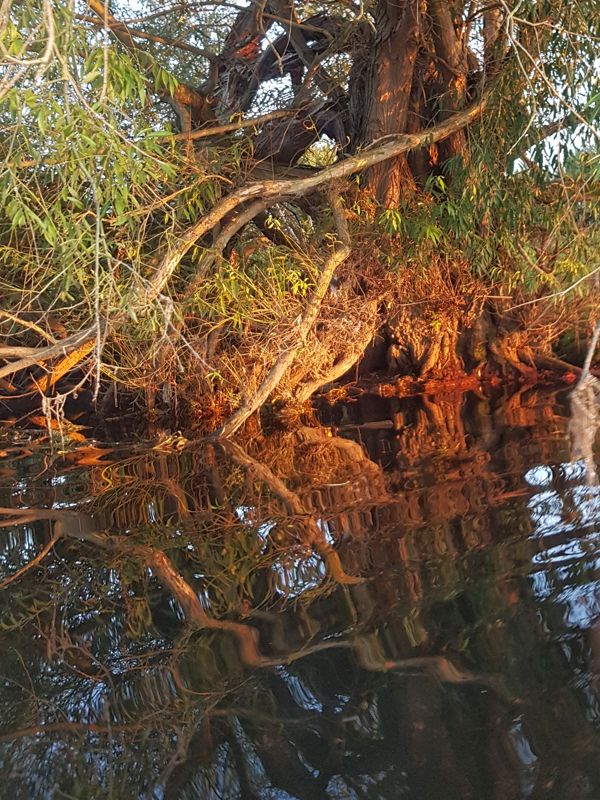 And so to Gunthorpe, where I began with this picture.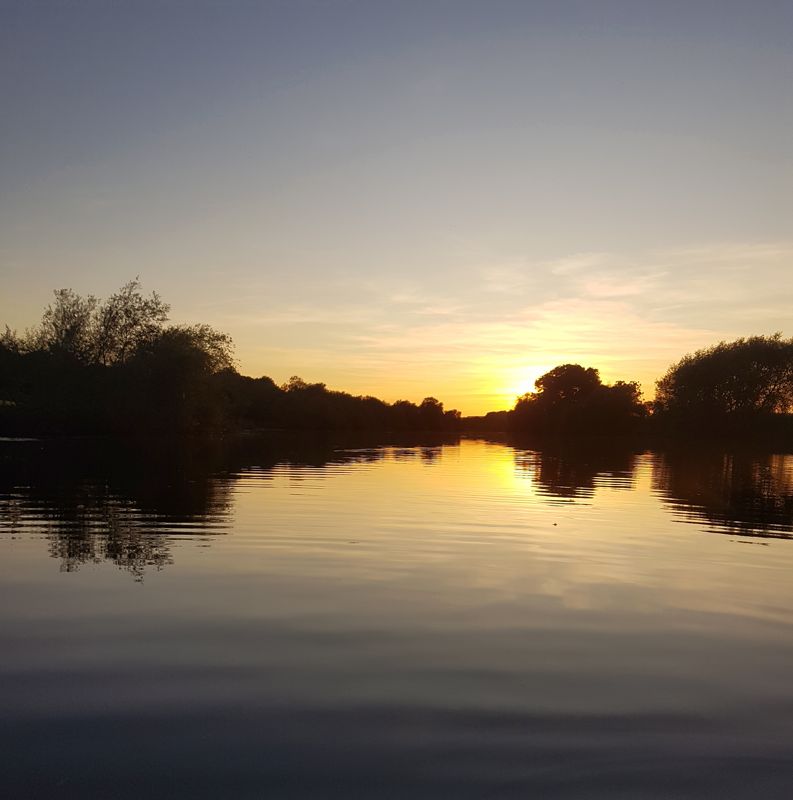 *
On Friday I'm out of my floating bed at six, washed, caffeined and on the water by seven.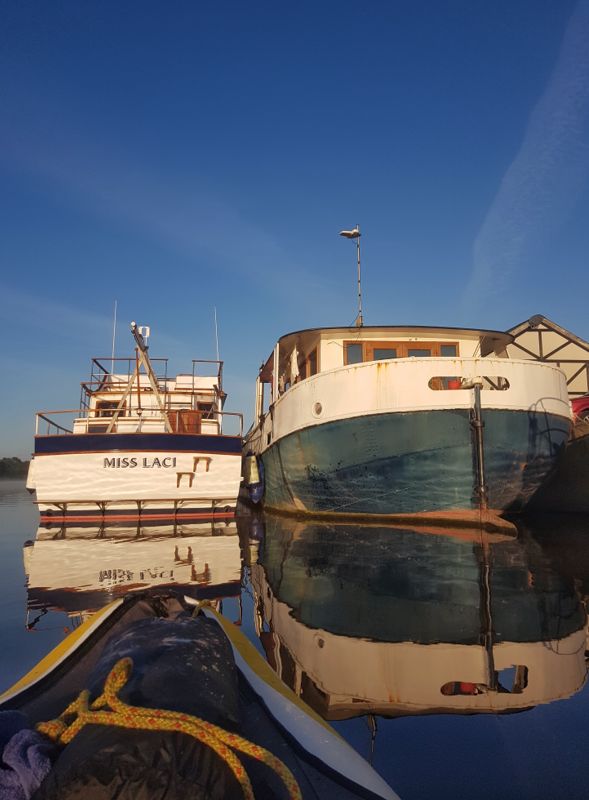 A mile on, I reach my first lock of the day, tackled fearlessly in the manner described.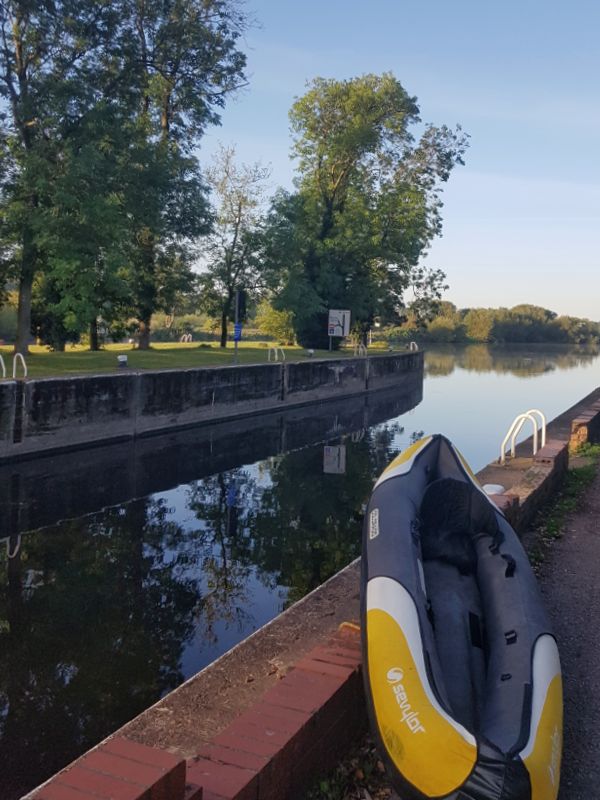 The above image exemplifies most locks on the Trent, in having a strip of grass, woodland and brambles between canal cut and river. The previous day a lock keeper, who'd kindly come out to help get my gear up the side, had a bowl with blackberries freshly picked.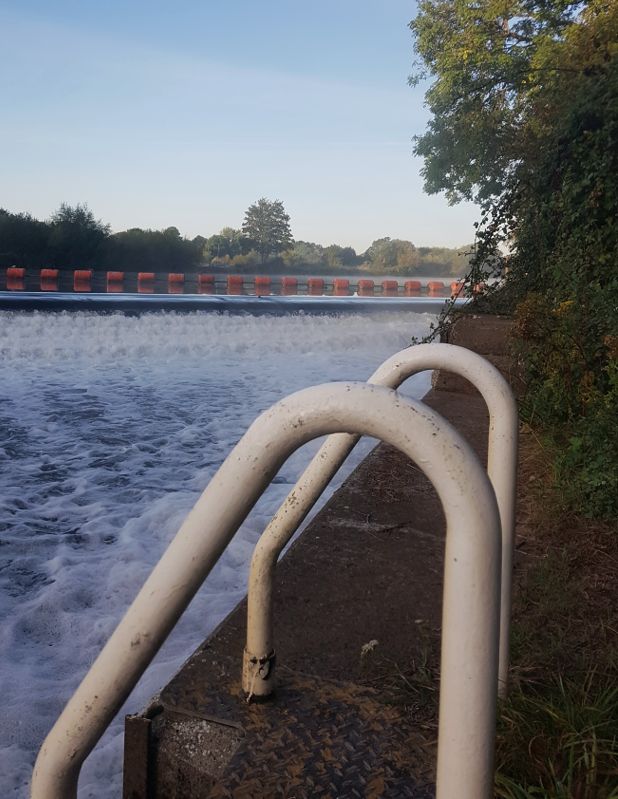 But here I see several tents, cooking stoves and serious fishing gear. Hard blokes in camouflage are camping. I could write an essay on how the angler's brolly of my sixties boyhood evolved, over the decades of consumerism to follow, into something you can comfortably sleep in.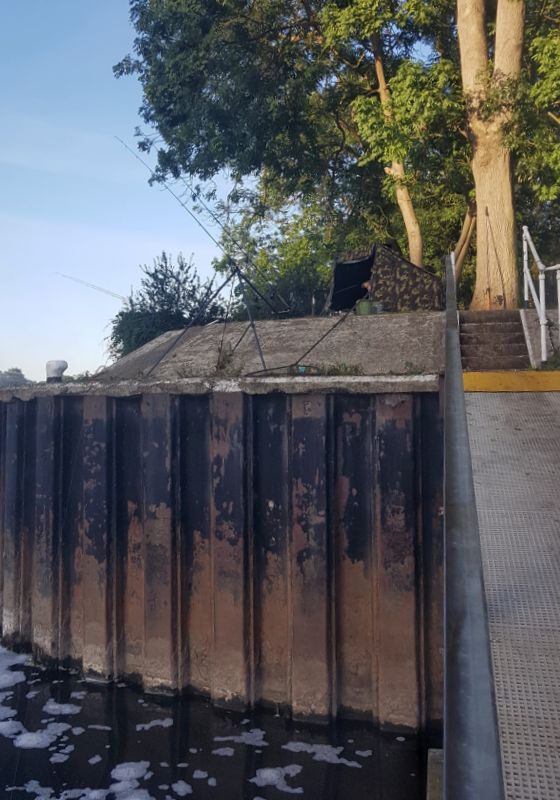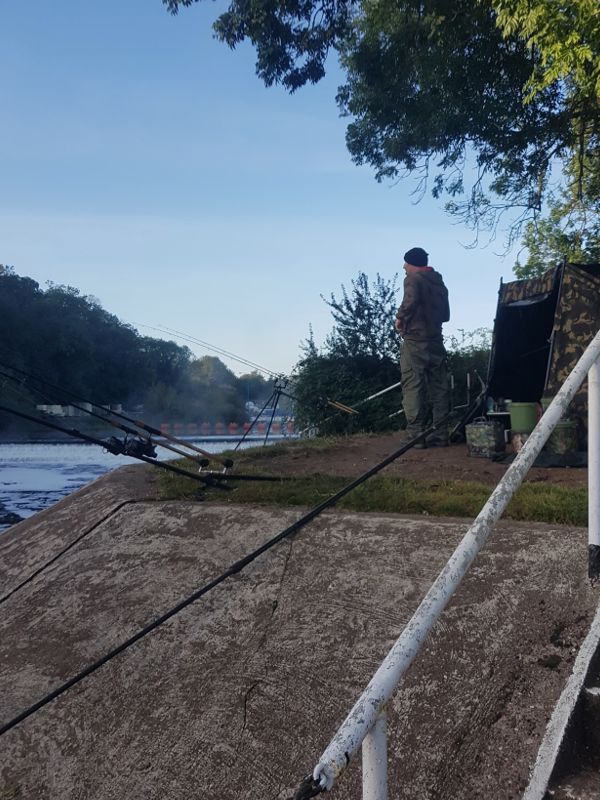 I stop for a chat once I've ferried all my gear round for the put-in. They're after barbel, weight for weight Britain's most powerful freshwater fish. That's a sign of the times. The Trent of my childhood, where I'd watched anglers at Newark pulling half dead roach from water you could barely see for the carpet of mucky foam, is gone. Like all the rivers that run through population centres and areas of former industrial activity, it now stands redeemed.
There are otters, and salmon are said to be back, though I've seen neither. One angler I passed had a four kilo catfish the day before. The common carp is doubly so in slow stretches, barbel in fast, pike in both. A few hours after my dawn encounter with the barbel men, the brilliant sunlit blue of a kingfisher shot across the water, a foot above the surface, right in front of me. Herons and their white egret cousins, cormorants and swans, geese canada and geese grey-lag were seen, and often. Likewise smaller birds: terns, and many sand martins still active. Grey wagtails too. Late afternoon on Thursday I saw a small flock of lapwings (peewits). Up to the seventies it was common to see these birds in vast numbers on A1 roundabouts. Then they all but vanished. Now it seems they too are back.
This river is thriving.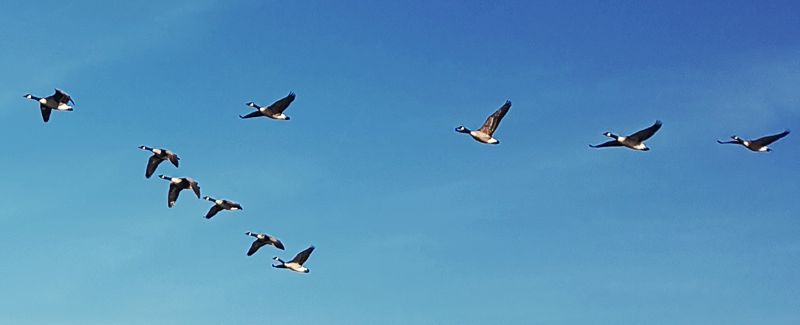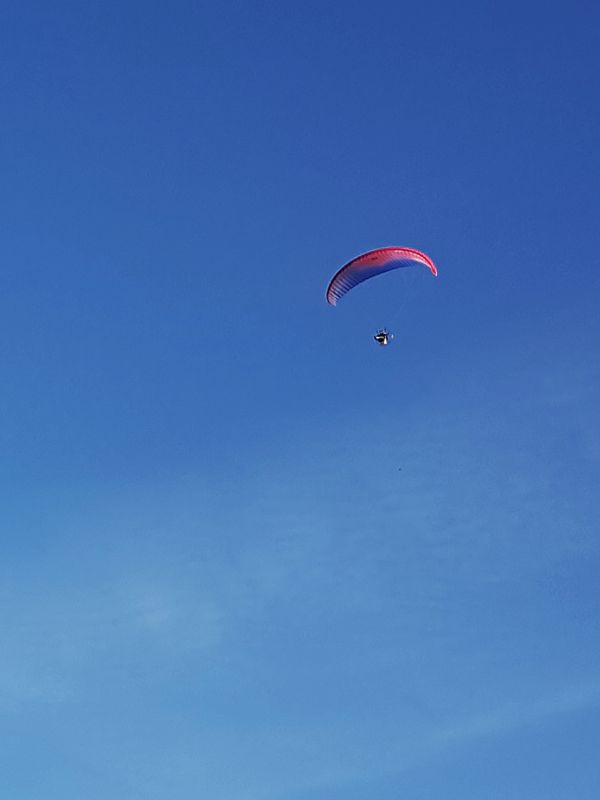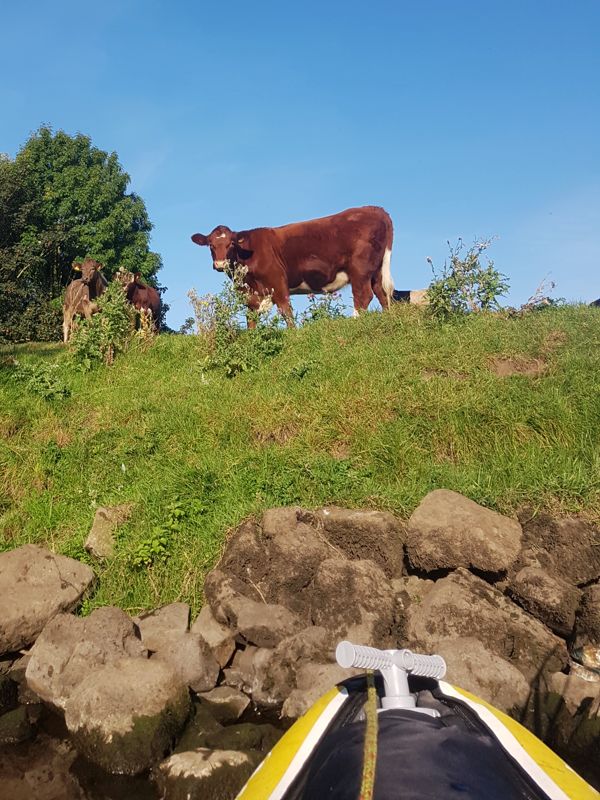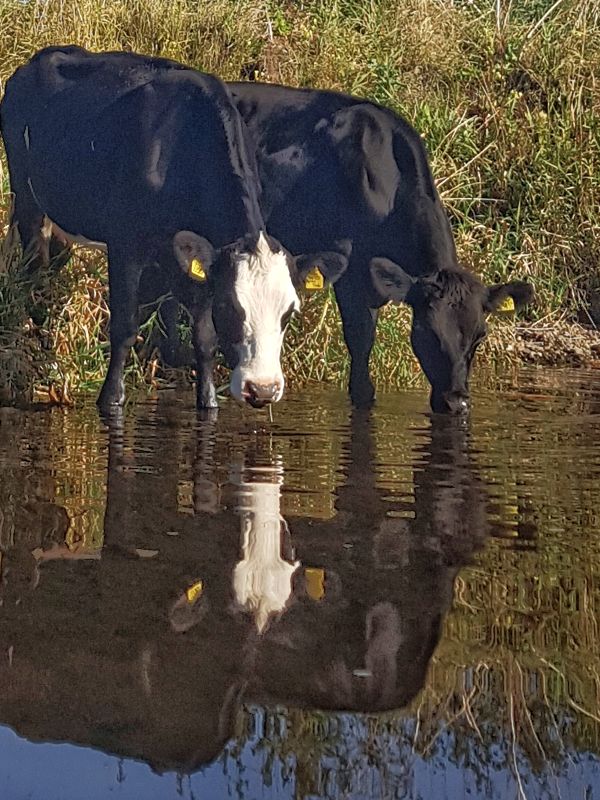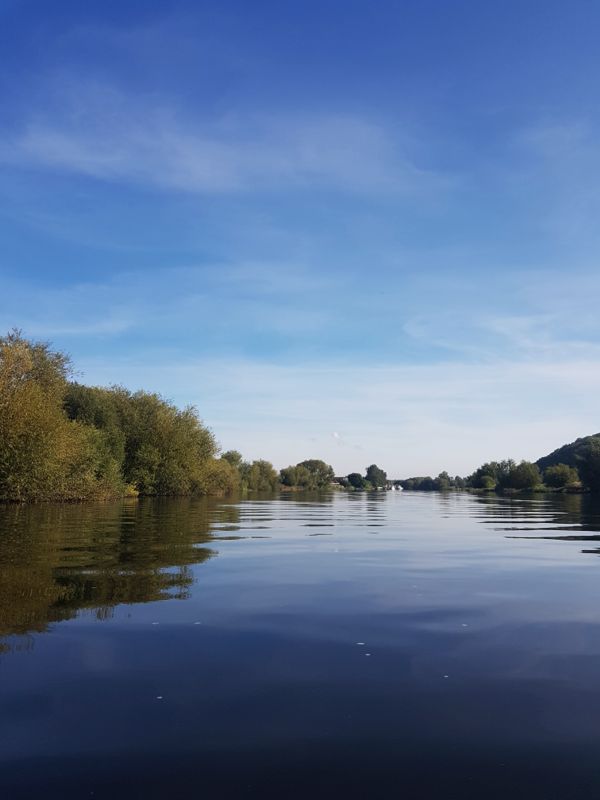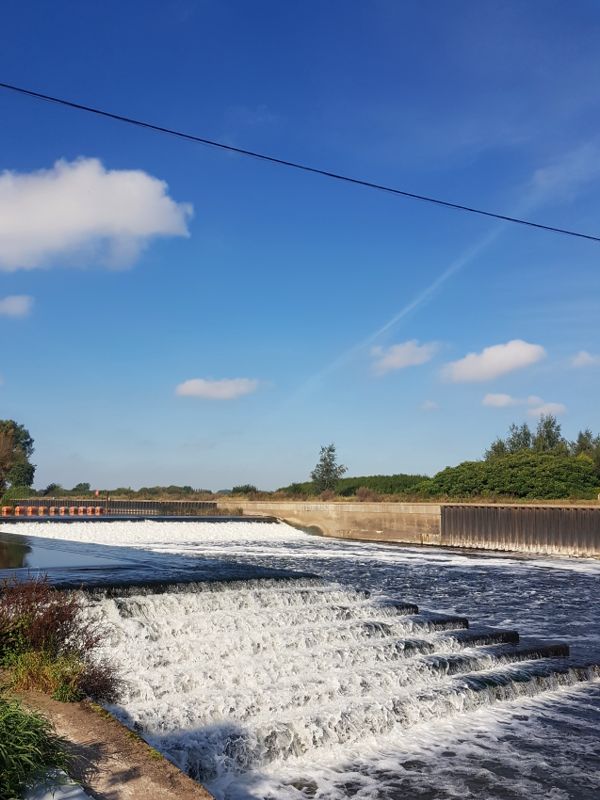 This foam is of a different order from that provided in the fifties and sixties by Burton brewers, and detergent flushed out from the factories of Nottingham, Newark and Gainsborough. This is legit foam, thrashed into being by weirs. Transient, it lingers a few hundred metres then bursts into ethereal sparks of nothingness.
As if by magic.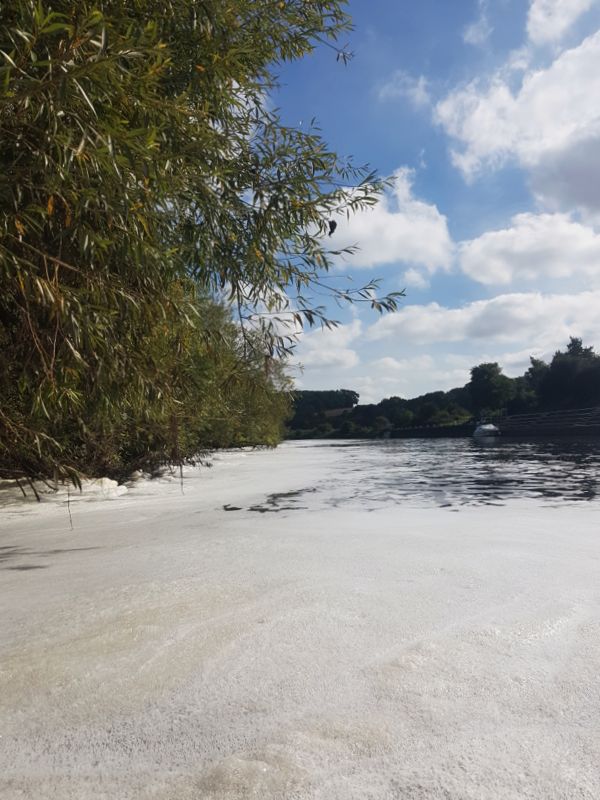 The river then resumes its clarity, easily comparable to that of our big rural waterways like the Severn, Border Wye and Great Ouse. Maybe I'll take a skinny dip. The day is getting hot.
For now though I'll take it easy.
Merrily merrily
Merrily merrily
Life is but a dream.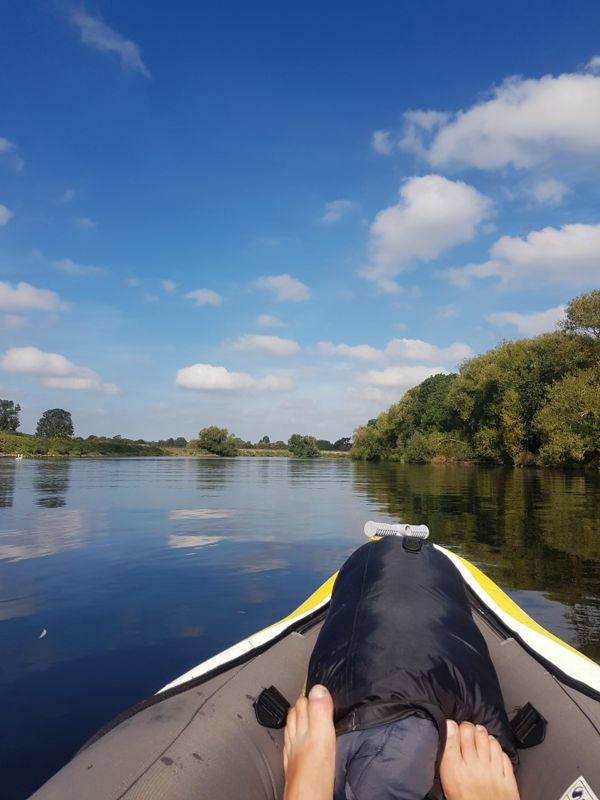 Approaching Fiskerton. I once fished here as a clueless lad, tutored by a short fused dad.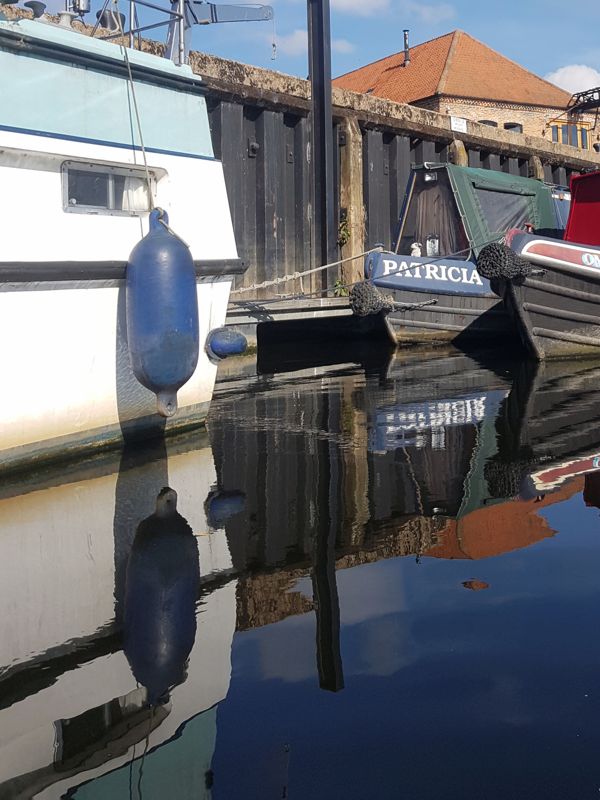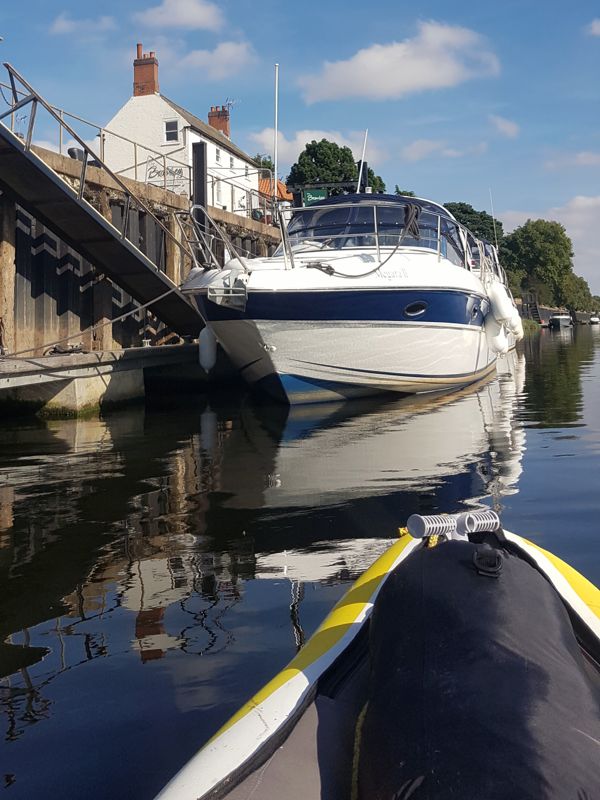 Most of these pontoons are private but I find one that's public. Oddly enough its steps lead up to a pub. Though I've the makings in my rucsack, I opt for a flat white served with biscuit and rough hewn lumps of brown sugar, sipped in the sunshine at a table overlooking the river.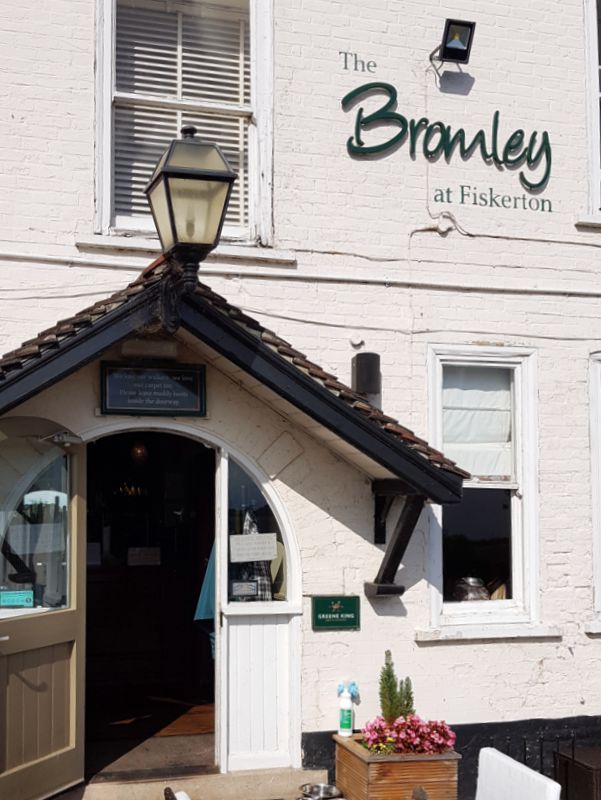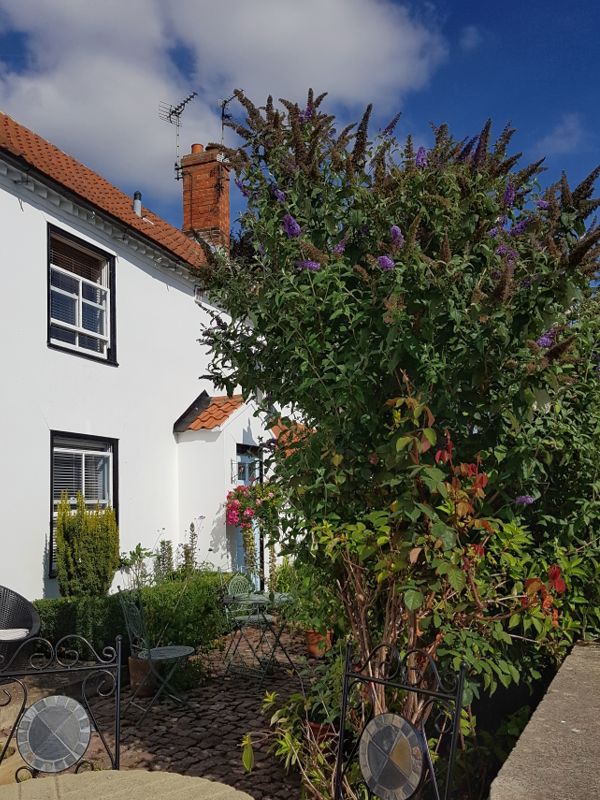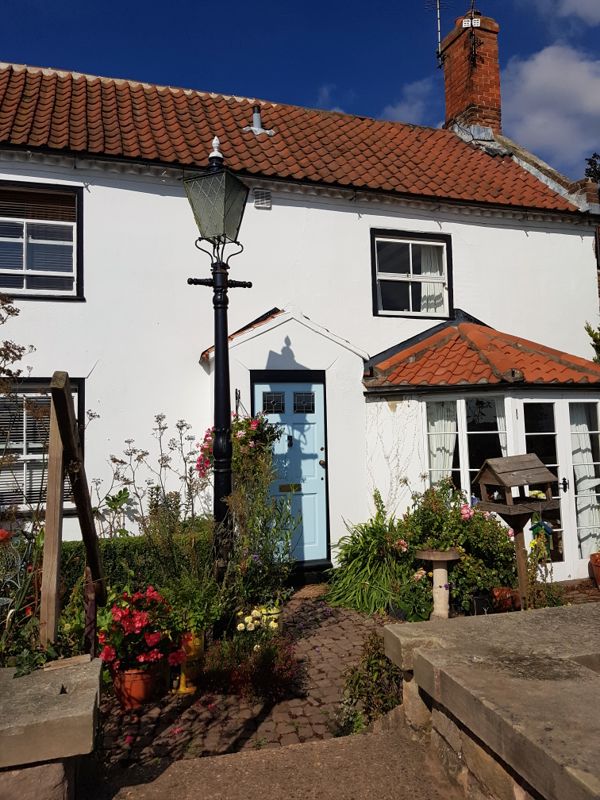 Then it's back on the water.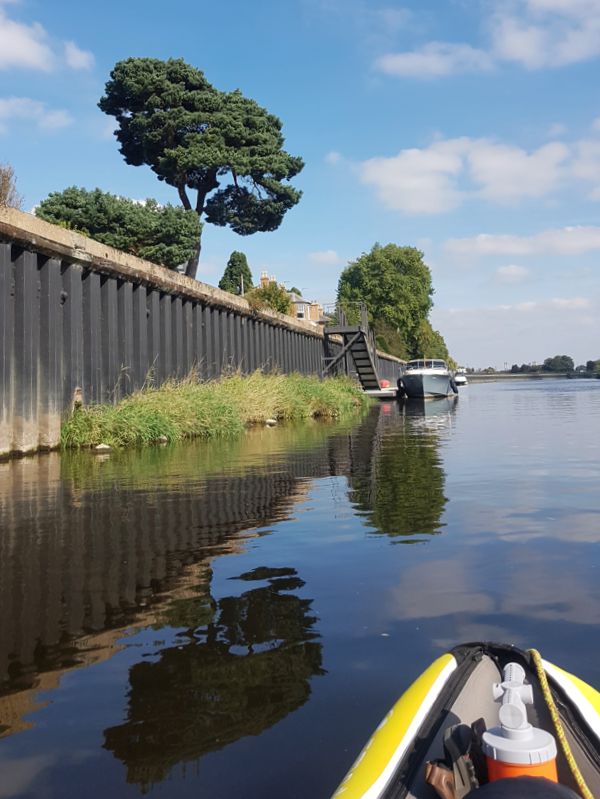 Around two I pull into a secluded spot for that dip, followed by lunch. Gloopy stuff you wouldn't dream of serving up for a dinner party tastes divine in these circs, when ravenous from hours of blissful but at times arduous paddling.
(Head winds can easily negate the advantage of a downstream vector. With an inflatable this is especially so. You're riding high and offering more resistance. I'm not complaining, understand. Just saying. In fact the real problem is that this is such fun, it's easy – as with dancing and sex – to disregard your body's protests. This morning, Saturday, mine aches everywhere and I have a mildly sprained wrist. Regrets? Don't be ridiculous.)
So here's my gloopy tucker: Mexican Beans in sauce from Lidl – it comes in a pouch – with two packs of Lidl dried minestrone stirred in and cup of water added as I heat up. Ambrosia.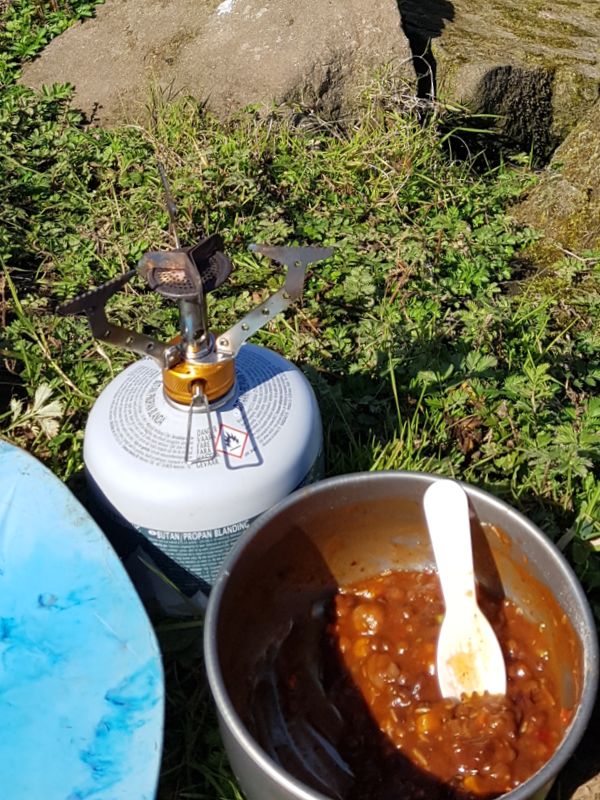 A Nakd bar (lemon drizzle flavour) is followed by a long draught from my bottle.
Then it's back on the water.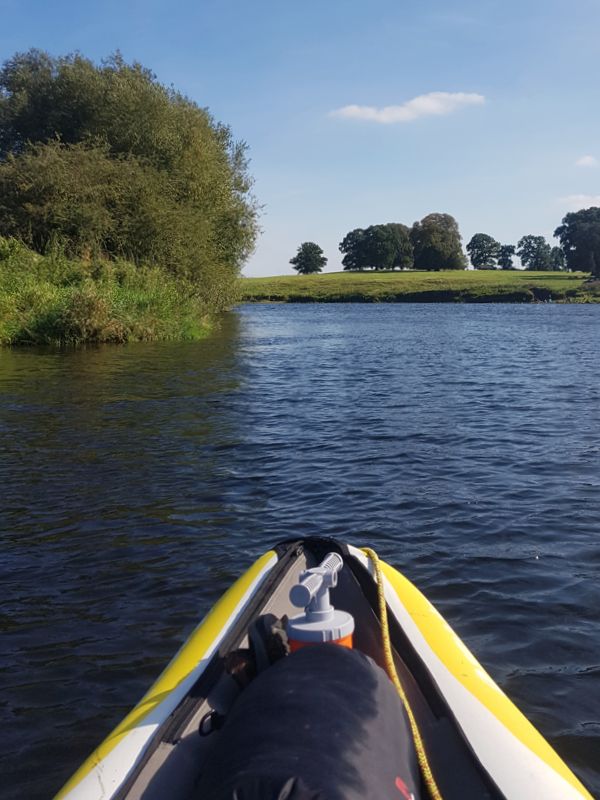 By four-thirty I'm approaching Newark.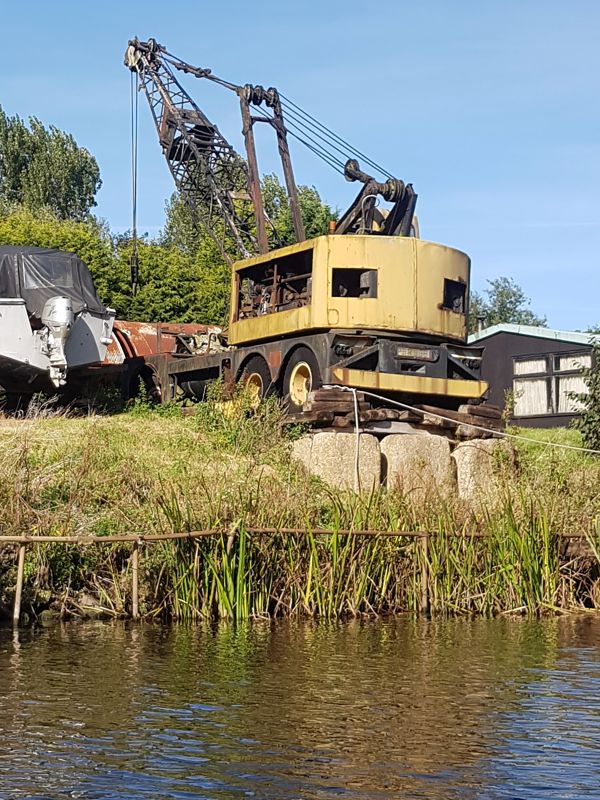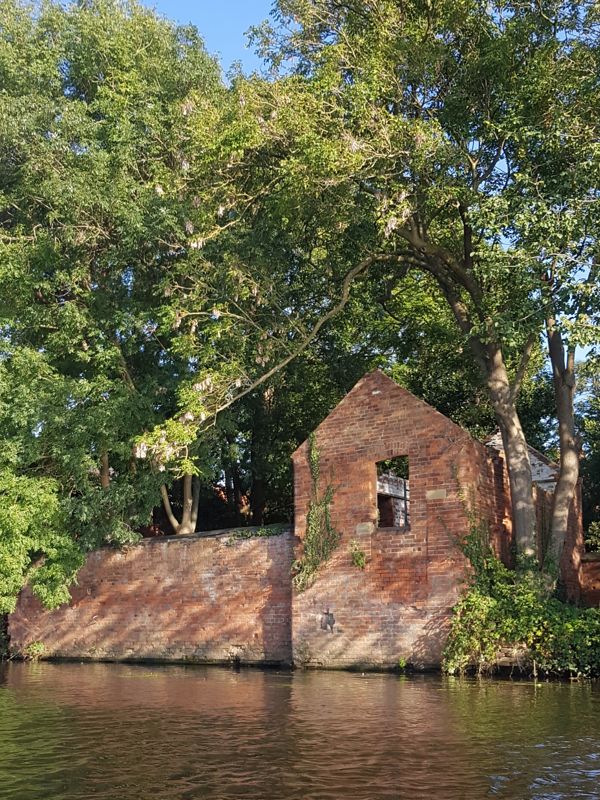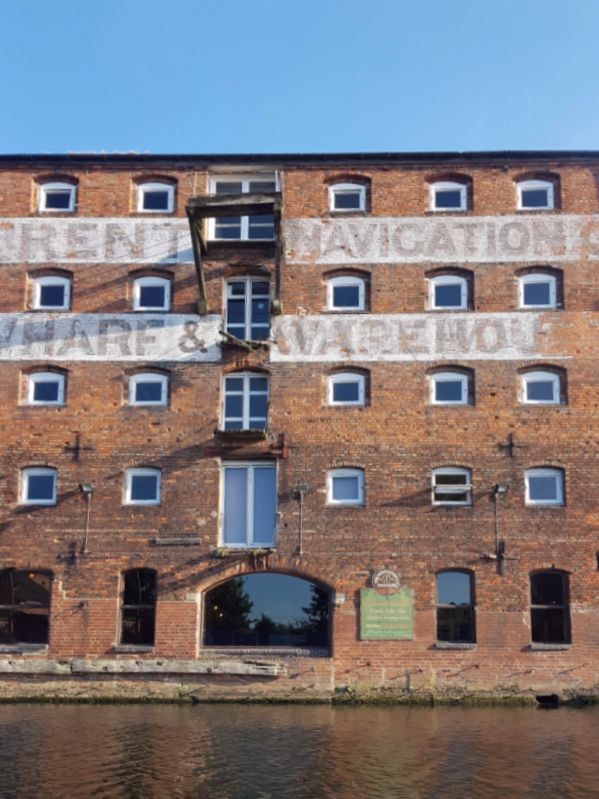 With Newark Castle, heavily cannon-balled in the Civil War, in full view I glide along the final cut, necessitated as always by a fast stretch of river. But now I won't be portaging. This is it for me. Tomorrow, early afternoon, I pick up Jackie on her return from China and Malaysia.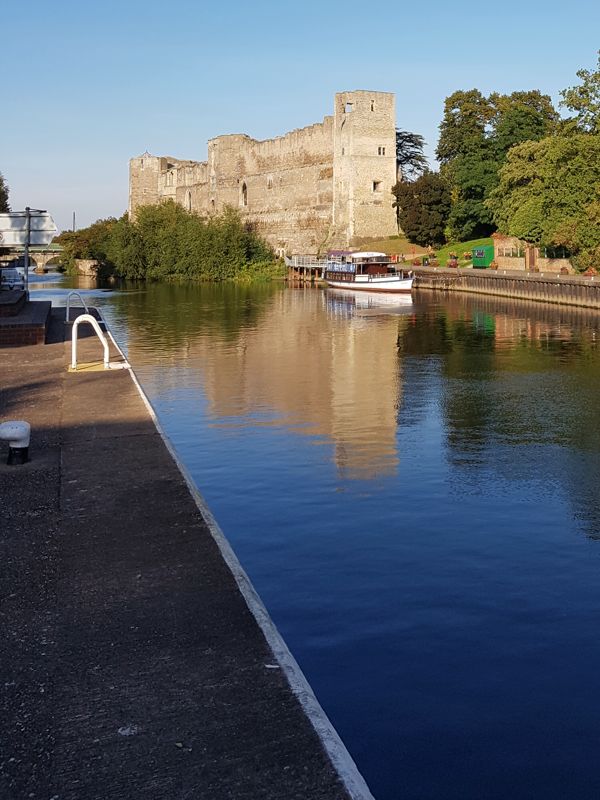 As boat dries in the wind and late afternoon sun, I stuff all bar the paddle into my rucsack. It's heavy but I haven't far to carry it. Google Maps tells me I have a few minutes walk to the bus station, once I've deflated and rolled up the canoe for strapping onto its trolley.
The 18:30 for Nottingham leaves at 18:30.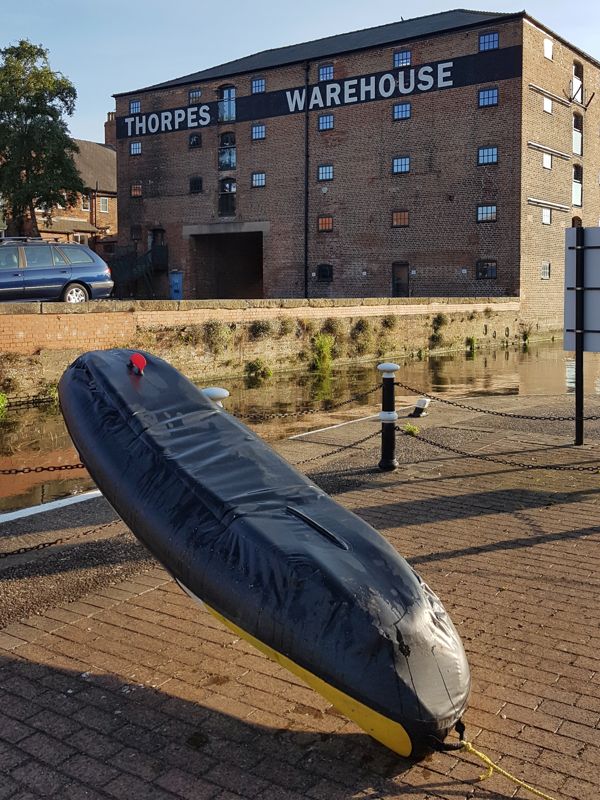 Ta for reading.
* * *