I enjoyed yesterday's trip down memory lane. Judging on number of visits, comments below the line and private emails sent in response, so did others. Though a scribbler all my life, I only really found my stride fifteen years ago in my early fifties. In film reviews, then in travel writing and not least in my battles with Sheffield Hallam, I discovered that what interests me most as a writer is the striving for an impersonal perspective on personal experience.
Yet here I am, back to the anvil with another post on covid-19. In response to a recent reminder that no one who doesn't want my e-alerts need receive them, two (of close to 150) recipients asked to be removed. Both were courteous and warm. One said "my politics differ from yours". (Note to self: write that post on matters of fact erroneously deemed to be matters of opinion.) The other said my corona posts aren't helping her calm the children. I can't and wouldn't want to argue with that.
Many more responses urged me to 'keep on keeping on', while unusually high site traffic shows no shortage of people wanting to contextualise and analyse what is unfolding, and prepared to hear – not necessarily endorse, mind – what I and others have to say.
I've focused on two aspects: whether the covid-19 threat is overstated and (without assuming a yes or no to that) the exposed inability of capitalism, especially nations furthest down the road of no-such-thing-as-society neoliberalism, to respond effectively to the kind of pandemic many experts have warned is a question of "when rather than if".
On that first, experts who in rising numbers question the extent of the threat do so at no small risk to reputation. The current climate, marked on all sides – though not by all participants – by inability to hear opposing arguments is unconducive to inquiry. Nor have genuine sceptics been well served by that section of an excitable commentariat which assures us, on the basis of God knows what levels of expertise and reasoning ability, that the whole thing is a "scam", a "hoax", a set up by "elite bankers who rule the world" to deprive us of hard won freedoms.
In my view such claims fail the cui bono test and do not explain, other than through elaborate convolutions of cause and effect which fail another test – Occam's razor – Chinese, Russian and Cuban involvement. But those sceptics I refer to do not suppose conspiracy. Rather, they say covid-19 is being overegged out of a panic more contagious by far than any virus.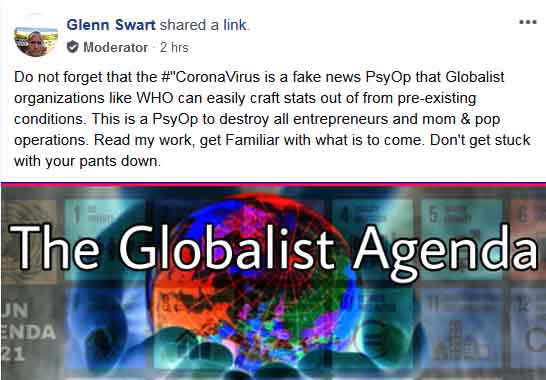 I'm open to that view and, if you'll allow me to say so, so should you be. Even if our rulers didn't cook this up, they have form on leveraging panic to their advantage. We should be wary, super wary, of all moves by a class-governed society to encroach on our liberties. And even if they do genuinely believe their own pronouncements on covid-19, the cure, as I noted in this post, may be worse than the disease. Recessions kill, and they do so by the million.
With this in mind I urge you to read the posts OffGuardian has been running on covid-19. All if you have the time. Otherwise I suggest the following:
Perspectives on the Pandemic – interview with Stamford medicine and epidemiology professor, John Ioannidis
12 Experts Questioning the Coronavirus Panic and 10 More Experts … Coronavirus Panic
It seems to me unfortunate that those who question the mainstream assessment of the covid-19 threat, and those who target advanced capitalism's no-such-thing-as-society inability to mount an effective response to pandemic, aren't doing much talking to one another. And they're doing even less listening.
But that needn't stop you. May I recommend the many posts on the latter aspect of this matter as put out on World Socialist Website (not for the first time I stress that I have no affiliation to the Socialist Equality Party which hosts it), in CounterPunch (for all its growing tendency to run pieces more at home in the New Statesman) and other Left sources.
These for instance:
European Union summit on coronavirus ends in acrimony
Washington Uses the Pandemic to Create a $2 Trillion Slush Fund for Its Cronies
Stay safe.
* * *