Science matches theories with evidence and attempts to falsify them, so they can be refined to better match reality. A theory from a group of scientists is just that: a theory. Believing the opinion of that group without critical verification is just that: a belief.
Dr John Lee in The Spectator, April 12, 20201
A Brit friend of close to fifty years, who's lived in Barcelona since Franco checked out, called the other night. He's depressed. You'd be depressed too, in his shoes. Lockdown is more severe in Spain. Not that he, more Catalunyan than the Catalunyans, regards himself as living in Spain.
But he's subject to Madrid laws. Which on lockdown, with an eight hundred euro fine for being out without a narrowly defined purpose, he grudgingly supports. In his sixties, with respiratory issues, he has a daughter working as a frontline carer in the city's biggest hospital. She tells him no one has seen the like of it. Services cut to the bone2 are at breaking point. Without lockdown to flatten the curve, he in turn tells me, capacity to respond would collapse.
Maybe it would at that. But whenever I open Facebook I'm met by serial posters telling me The Science supports their view that Lockdown Must End Now.
Maybe it should at that. But several things strike me:
As noted in other posts on Covid-19, and on Syria, uncertainty on important matters begets quasi religious polarisations.3 Humans aren't good at accepting that we don't know, and non scientists now wrap themselves in the cloak of science much as earlier generations claimed to have God in their corner.
A corollary is the gratuitous abuse – as yah-boo idiots and scaredy-cats – of the false idolaters of the Wrong Faith. Of agnostics too. I've been accused of failure to commit. My crime? An insistence that any firm position, either way, on Covid-19 as overstated has insufficient evidential support4 and is an act of faith. Or akin to soccer tribalism.5
Widespread epistemological naivety. One manifestation is a confusion of science with the opinions of scientists. The two are quite different even where there is widespread consensus of (relevant) scientific opinion. Here we don't even have that, but that does not stop True Believers posting endlessly the views of scientists who share (or whom their selective skim readings lead them to believe share) their faith. Posting the views of such scientists is a good thing and I do it myself, here and here for instance. As is calling out censorship. Follow the second of the two links just provided and you'll see that the video of Knut Wittkowski, epidemiologist of first rate credentials and a critic of lockdown, has been taken down by Youtube Thought Police. Whatever our views on lockdown and Covid-19 severity, we should all cry foul. But what of the Wittkowski fans who ignore equally credible epidemiologists of opposing view? That's not in the same league of infamy, I'll grant. For cherry-picking of evidence and reasoned opinion to cause alarm, as distinct from mere irritation or amusement, it must be done by the powerful. Those I have in mind are not powerful. Nor are they savvy evangelists, else they'd use a different pulpit. (I'd liken their chances to those of a Man U fan urging City followers to switch brand.) FB is for preaching to the choir, not for winning hearts and minds. Least of all by recycling, with little or no critical input of our own, the musings of those we currently champion.
Like my Barcelona pal I find myself, if not exactly depressed, a tad dismayed. I suppose I could blame lockdown, but doubt that's accurate. I'm not adversely affected, you see. On a modest but adequate pension, I'm for the foreseeable future financially secure.
And socially? I've grown introvert with age. The things which give most satisfaction I do alone. I walk, write, take photos, read and watch telly. Occasionally I do a jigsaw.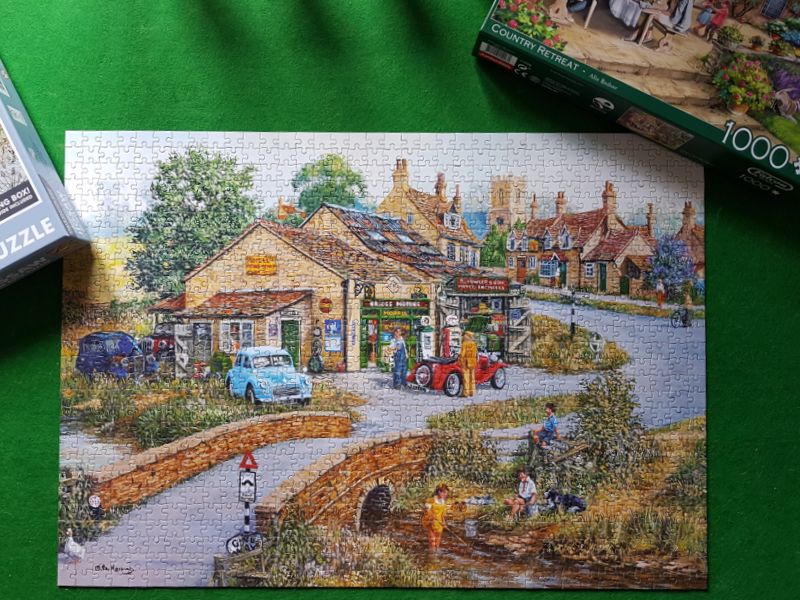 Sure, the household shop takes me longer, and once in a while I lament the days of breaking up a walk with leisurely pint in idyllic pub. But that's the extent of it, and I remind myself that even in the UK there are those – the precariat in particular – who are paying a higher price.
As they will in the event, heaven forbid, of Lockdown-is-Madness devotees being plain wrong. With a return to work looming …
For what it's worth I suspect lockdown will end soon because that combination of hit to capital, and divisions within the scientific community, will make the case for ending it irresistable. That would not, from a people's safety perspective, make it right (or wrong) to end it … simply that, as always, the voice of profit carries the greatest weight.
Steel City Post, Science for the righteous
… those at risk will be the poor and marginalised. Not for them the virtual workspace, the car or cycle ride down leafy lanes. They will have no option but crowded public transport to and from crowded workplaces. They'll be hardest hit, too, by the fallout should the economic price – I'll not insult your intelligence with potential mortality rates – of a second wave prove greater than that of lockdown.
Fear porn? I think not. In any case, as with other accusations currently in vogue, little boys in glass houses really shouldn't throw stones.
So what have I to be dismayed about? Just the divine gleam of folk who don't know enough to have one tenth of the certainty they claim .. the naivety of those who can't tell science from the opinions of fallible experts .. and the strawmannery (not always or even usually intentional) of those who declare, as if laying down the ace of spades, that "eighty-five percent of those who get Covid-19 suffer only mild illness".
On that last, Stephen Gowans – Syria watcher and author of Israel: a Beachhead, reviewed by me last July – has this to say. I offer it not because Gowans is an expert, nor because I share his certainty on the matter at hand. I offer it because he has a valid response to the "no big deal for most of us" school:
To be sure, the overwhelming majority of those infected won't die, and the fatality rate is miniscule, but a miniscule fraction of a large number (the world's 7.6 billion people) can be surprisingly large. Only 3% of the world's population was killed by the Second World War, but we would hardly blithely accept a reprise of that conflict simply because most of us would make it out alive.
May 16: If you think lockdown worse than the disease …
And the antidote? I'm reading up on what is, and what is not, known of SARS COV-2. (Here's a current sample.) On what is, and what is not, known of the epidemiological implications. And on what is, and what is not, known of the economic consequences of lockdown, versus those of its premature ending. (Here's an especially daunting current sample.)
It's hard work though. Jeeze, if only I wasn't such a commitment phobe …
* * *