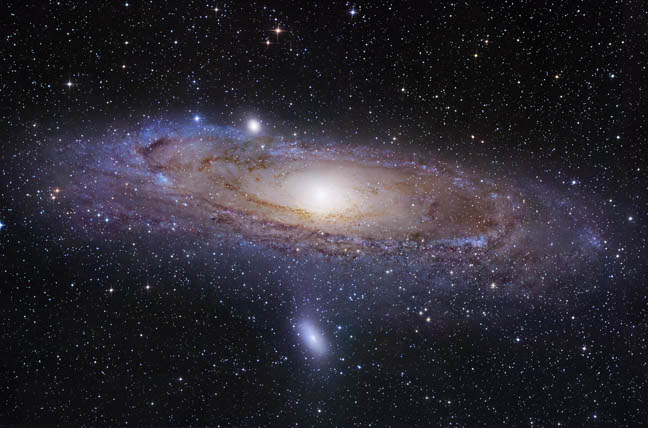 Mathematician and astronomer Fred Hoyle rejected the big bang theory (coining that term in a radio interview put-down) in favour not of creationism but of panspermia – the idea that life on earth originated in micro-organisms arriving from outer space.
Which put Hoyle on a collision course – more on collision courses in a moment – with physics orthodoxy but not, in its fundamentals, with the idea of evolutionary change occurring through the natural selection of random genetic mutation.
He wrote – or co-wrote – decent sci-fi, most famously A For Andromeda, originally as a 1961 TV drama starring Julie Christie with support from Frank Windsor (Sergeant John Watt to Stratford Johns' Inspector Charlie Barlow in the Beeb's ground-breaking cop drama, Z-Cars). A year later, A For Andromeda was published as a novel.
(It was on my school reading list in 1964-5. I enjoyed it even though, with the exception of John Wyndham, I was not as a child much drawn to the genre.)
In 2006 it returned to the screen as a film for television starring Tom Hardy: mesmerising as the Jewish gangster in Peaky Blinders, and in Taboo as the resourceful James Keziah Delaney, thorn in the side of the East India Company and its machiavellian chairman, Sir Stuart Strange, better known as Jonathan Pryce. It also featured Paul McCartney's old flame, Jane Asher.
Of course, these actors have done bigger and arguably better but aside from Pryce and Christie (not the murderer nor the auctioneers, but she of the Madding Crowd) the roles I cite are what made them household names in Britain. But see how I rabbit on! Bet you didn't know there are more stars in our galaxy than blades of grass on earth. Still less that there are more galaxies in our universe than stars in our galaxy.
One being Andromeda, once thought to be a nebula – an embryo galaxy – but now recognised as the real deal.
Bet you didn't know, either, that at 2.5 million light years away,1 Andromeda is the most distant object visible – when night sky conditions play ball – to the naked eye. Though, of course, what we are seeing is how things stood in that neck of the woods two and a half million years ago.
And its even less likely you knew that Andromeda's on a collision course with our Milky Way. Not the chocolate bar but the galaxy housing our solar system. This crunch is set to happen a mere 4.5 billion years hence.
Why the media silence? Does nobody care?
* * *
Getting our heads around the vastness of space is famously difficult. I found a site that converts light years to miles but the resultant figure contained way too many commas and nought-strings. We get some idea of how far 2.5 million light years really is from the fact that, since light travels at approximately 180,000 miles per second, it takes a shade over five and a half seconds to do a million miles. Give it a full hour and it will clock up a respectable 648 million miles. How many miles in two and a half million light years? A tidy few so, if you're tagging along, take plenty of victuals and don't count on being home before nightfall is my advice.