Demand for a follow up to my sloe gin post of five months ago is now approaching denial of service attack levels. My public, insistent on a progress report, must be appeased.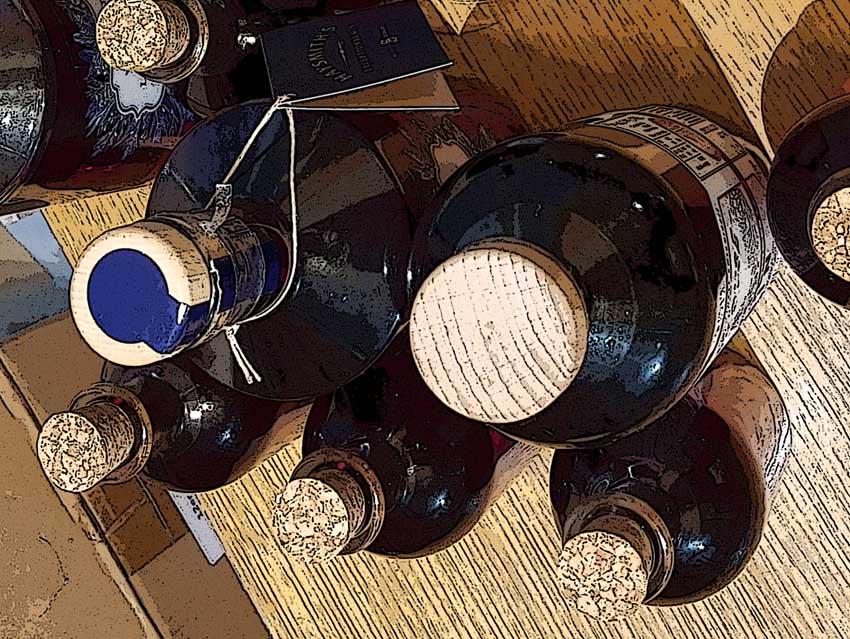 Just after nineteen hundred on the evening of Sunday, March 7, I assembled my kit. A moderate southwesterly had calmed with the setting sun. Countryfile had ended on BBC 1. I went down to the garage, its concrete floor always thick with dust. Hitting the light switch and throwing open the door from the hallway, I slid one foot after the other into the croc knock-offs permanently stationed just inside. Electric beams cast the interior in eerie slabs of light and shade as my eye took in first the contours of an Edwardian wardrobe, its polished walnut shrouded in bed linen. Then repurposed study desks, straining under the weight of camping and canoe kit, decorating gear and garden accessories. On the west wall tenon saw and screwdrivers, pincers and pliers, chisels and sundry tools (a few from the fifties) hugged the naked breeze block, pinned there by screws and kingsize cup-hooks in holes 25mm deep and 8 diameter: all lovingly power-drilled and rawl-plugged in the first flush of steel city arrival, October 2018.
I turned ninety degrees to take two bold strides along the north wall.
Against it and taking up almost half of its length stood a chipped IKEA room divider, its sixteen pigeon holes housing sundries: light bulbs and sandpaper, unloved ornaments and bike tools. On the top, near where its eastern edge butted against a mock Welsh Dresser (small camping items in colour coded dry sacks) stood three 1.4 litre kilner jars. All were full to the brim: one with Haysmiths gin, one with Gordons and one with Smirnoff vodka. In each jar the liquor had the hue of a deep claret; having not only lain on a generous bed of sloes this past five months, but undergone upending: once a day, with all due pomp and ceremony for the first few weeks, once a week thereafter.
My recipes – a mix and match from Jamie Oliver and another chap less fussy – had stipulated bottling after three months but I'd had it on good authority a longer wait is better still. Hence the two month stay of execution on the strain and bottle front. But now the hour had come.1
As memory jogger, here's one of the batch as snapped in early October, still in the kitchen but about to be consigned to the cold, dark and dungeonesque.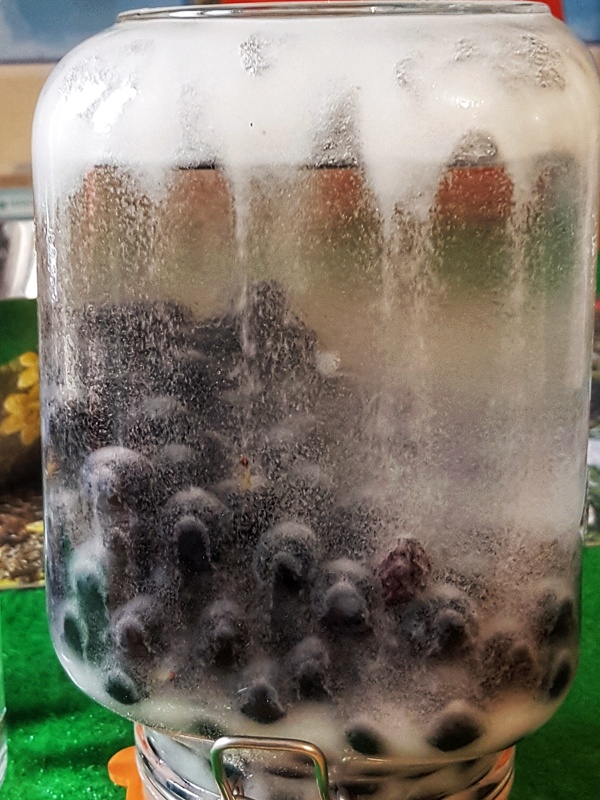 But back to the evening of Sunday, March 7, 2021. Willing my hands steady I reached for the first jar – Gordons as it happened, though I'd no order of preference. Cradled in both palms, like a firstborn, I clasped it unto my bosom before tip-toeing to the door. I felt like James Bond.
Four trips were needed: one for each kilner, its contents too precious for ride sharing, then one for the empty bottles; cleaned, stoppered and stored with the product, nigh on half a year ago. Up in the kitchen, all joined the other actors in the unfolding drama: one large pyrex jug, wide of neck … one foot square of clean muslin for straining … one large bowl for the spent sloes … one nylon funnel on its maiden outing.
In turn the jars were strained into the jug. The latter's capacity being less than the former's, two passes were needed for each batch. The sloes being still intact – for all the inversions, and five months of pressure from the spirits above – squeezing was uncalled for. A slight tightening on the neck of the muslin bundle sufficed to capture the last few drops.
Who says men can't multi-task? With each filling I switched adroitly from sloe-straining to the mission critical pouring of jug contents, through the funnel, into the next bottle in waiting. At job's end I had:
1.5 litres of sloe gin à la Haysmiths (a Lidl brand in the second costliest quartile) 2;
1.5 litres of sloe gin au  Gordons (cheaper than Haysmiths);
1 litre of sloe Smirnoff in four 250ml cork stoppered bottles purchased online;
sufficient overspill to allow generous tastings of each of the above.
The following morning being bright, sunny and International Women's Day, I saluted Red Rosa with a glass of chilled sloe vodka, then snapped the previous evening's yield.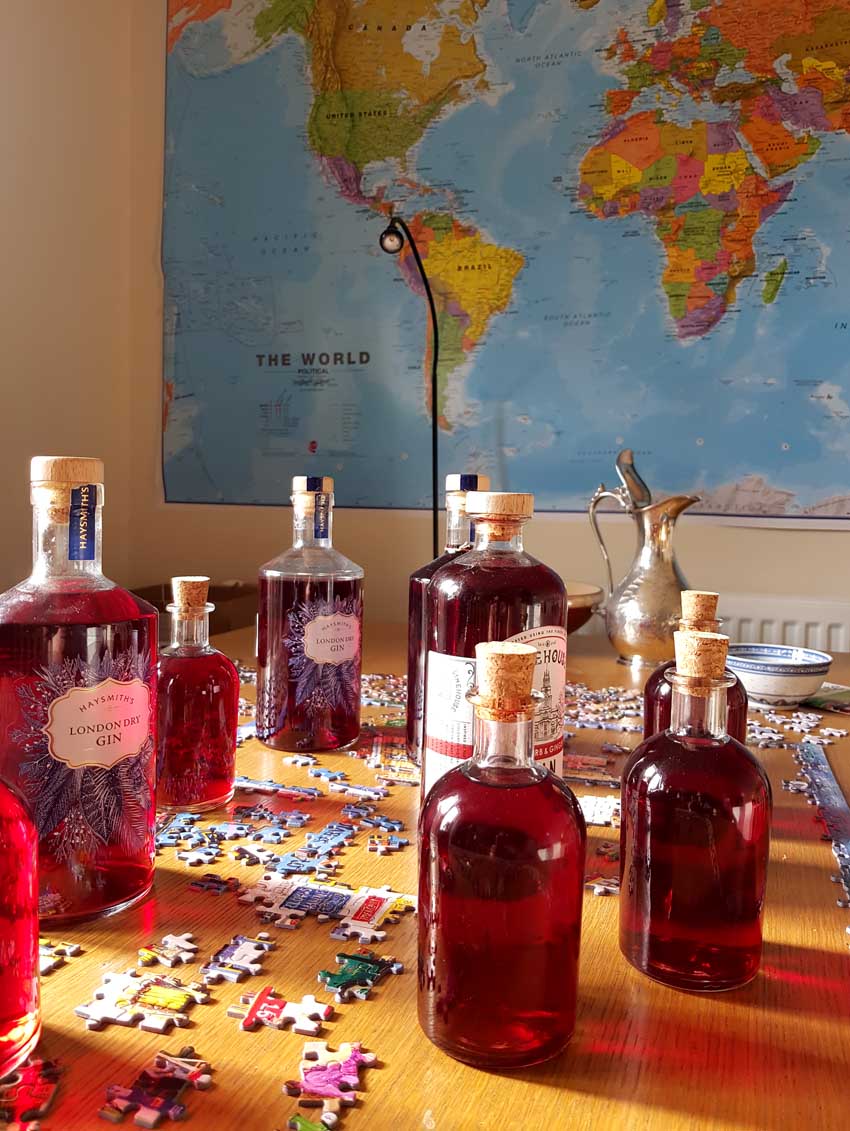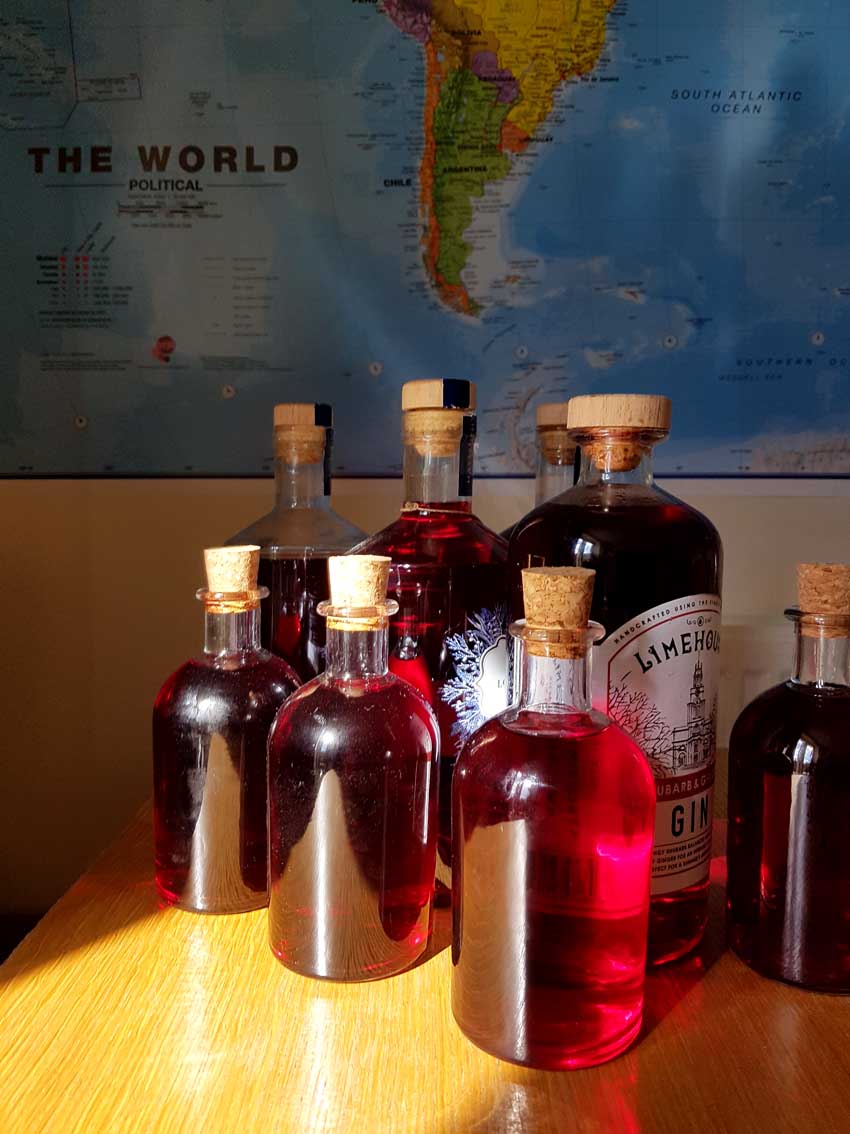 That evening, in the interests of culinary science, I tasted the Gordons and Haysmiths. Verdict? Well I've never been one for bragging but all went down like nectar and look set to sweep the board in the much coveted Steel City House liquor of the decade awards.
In blind tastings I can't yet tell, and likely never will, Gordons from Haysmiths. And though both of my shamelessly cherry-picked recipes said the strained and bottled may be drunk right away, they also said a year's wait is good – and two years divine. As for the sloe Smirnoff – only made because my pal Mick gave me to understand it would not disappoint – that, my friends, danced from berries to bottle in notes of liquid velvet. The viscous neutrality of Russia's sublime gift to the world makes for a marriage in heaven with the damson-in-distress, bitter-sweet overtones of sugared sloe.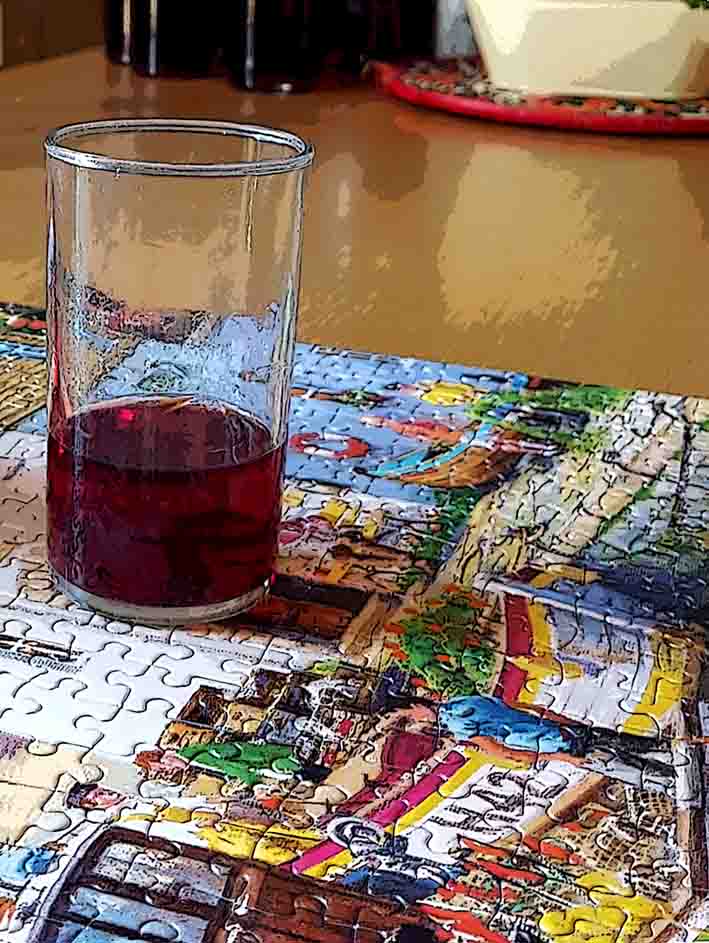 *
Portscript. No way could I bring myself to discard the liquor steeped berries. But for the stones I'd have frozen them, to serve with posh but simple ice cream at the next Steel City Banquet.3 I found online a recipe for sloe 'port'. By now the vodka and gin lees were no longer separate – my willingness to keep track of every conceivable variable has its limits – so their division into three batches, each a little over half a kilo, introduces a note of mystery to the vintage, with the precise ratios of gins and vodka an unknown quantity.
The three piles were placed inside the once again empty kilners. To each a bottle of cheap red wine and 100gm of sugar were added, leaving the surface two or three inches below the brim. Now back in the garage, the jars will be upturned daily for three weeks as Copperhead Road plays on my portable bluetooth speaker. At start of week four I'll add 200ml of brandy to each jar, and wait at least three months before straining and bottling. Updates will be released in the fullness of time.
* * *
Since writing this post I've come across this from one Stuart Cantrill: "… you'll notice a light pink colour quite quickly and it will get darker over time until it reaches a deep ruby red. Of the first batch I ever made, I filtered one jar after 3 months, another after 6 months and the final one after 11 months. The 3 months was good, the 6-month great and the 11-month batch amazing. I'd draw the line at 12 months; it may be a case of diminishing returns at that point."
See my October post for comments on whether to go for cheap gin or fancy. I'm no gin-savant but do know, from talking shop at Hoi Anh market, Vietnam, with a fellow photographer – except this young man was a pro, who photographed food for them – that Lidl often scoops spirit retailer of the year awards.
It now occurs to me, belatedly since every last spirit-steeped berry now sits on a bed of slowly dissolving Tate & Lyle beneath 70cl of cheap red, that the alcohol rich sloes, thawed in small batches, might be served, après le dîner, with chunks of strong dark chocolate, each guest given a small bowl for stones lovingly sucked dry as sparkling witticisms are batted back and forth across the steel city table. Next year perhaps.