Capitalist pharmacy produces suboptimal health outcomes, if not outright harm. Seeing the problem as production for private profit, under governments led by plutocrats, is the first step to a solution. A second is seeing that planned production by publicly owned enterprises – under governments guided by human need not profits – offers whatever hope humanity has for solving its most daunting problems: pandemic, climate change, terminal war, and the needless poverty of most of humanity. [Abridged from final paragraph below]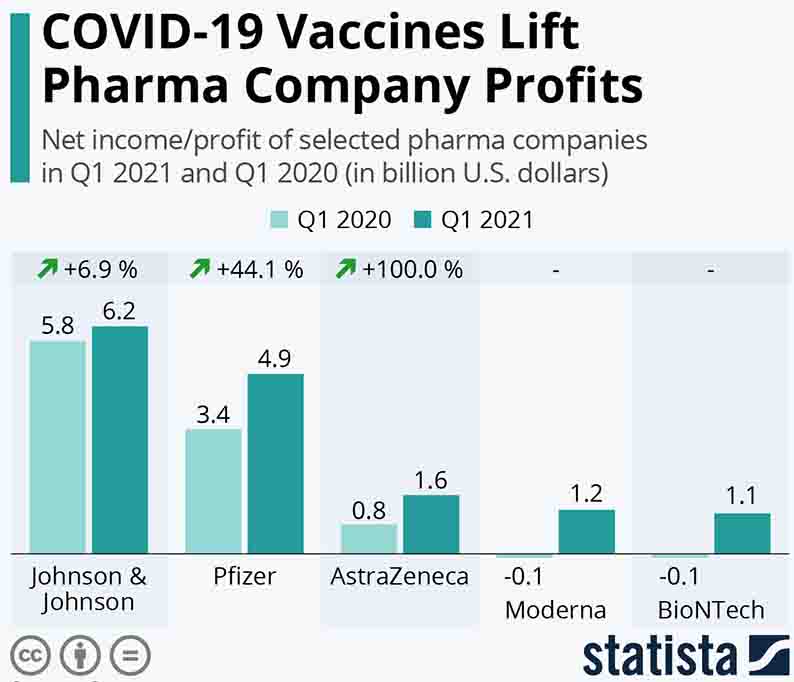 On August 18, Stephen Gowans wrote:
The Moral Scandal of Vaccine Inequality Has a Name: Capitalism
In a new editorial the British Medical Journal thunders against the monopolization of life-saving vaccines by rich countries, calling it a "moral scandal" and "crime against humanity." Vaccine makers and "their political allies" are flayed for turning a "blind eye" "towards the innumerable deaths in disadvantaged nations" caused by their refusal to share vaccine technology with poor countries, while at the same time presenting themselves as the greatest servants of humanity. What they are really doing, the editorial fumes, is "making a killing", both figuratively (in massive profits) and literally (in preventable deaths.)
According to the BMJ:
Vaccine preventable deaths and illness are occurring across Africa, Asia, and Latin America at an unprecedented speed and scale" because there is an artificial shortage of vaccines, and what vaccine doses are available are being sold to the highest bidders—the rich countries.

Contrary to claims, it is possible to make enough vaccines for the world" by sharing vaccine know-how, making vaccine technologies open source, and allowing any company, anywhere in the world, private or public, to produce vaccine doses.

Let us be clear what is causing these deaths," the BMJ fulminates: "a free market, profit driven enterprise based on patent and intellectual property protection, combined with a lack of political will.
In other words, capitalism. The editorial doesn't use the C-word, but if the argument is followed to its logical end, capitalism is the inevitable destination.
Deaths and illness are occurring in low-income countries which could be prevented if vaccine manufacturers shared their technology with poor countries and allowed them to produce the vaccines themselves.
Only one percent of people in low income countries are fully vaccinated, according to Our World in Data, while over 50 percent of the residents of rich countries have received two vaccine doses (and in some countries three. About one million residents of the United States have received three vaccine doses while health care workers, the elderly, and infirm in the world's poorest countries have yet to receive even one.)
The disparity is due to two causes …
Read the full piece on Stephen's What's Left site …