In an opinion piece last month, Hu Xijin, editor of China's English language daily, Global Times, wrote that:
The risk of a China-US military confrontation has increased, and mutual trust dropped to almost zero. If the wind blows the door shut now, each side would believe the other has slammed it shut. If an incident like the 2001 collision in the South China Sea 1 happened again today, it is difficult see how they could cool the incident and resolve it peacefully.
China has no way to retreat. The one-China principle is a fundamental we insist on. When [Taiwan's] Democratic Progressive Party wants to promote "Taiwan independence", how can we not stop it? If the US really doesn't want conflict with China over Taiwan it should first pressure the DPP authority, not allow it to make trouble. If both mainland and US are against "Taiwan independence," the DPP will chicken out. Second, the US should stop interfering. It should not intervene if the Chinese mainland launches attacks against Taiwan secessionists. In that case, no conflicts will erupt between China and the US.
*
My baby-boomer generation, the first to grow up in a thermonuclear world, was raised on three core understandings:
That the world's sole user, and at the time sole possessor, of atomic weapons did so to avert even greater bloodshed by ending the second world war.
That the USSR posed an ever present threat to global peace and The Free World.
That while the risks, once the USSR and other nations went nuclear, of Armageddon were terrifying, this housed its own bleak comfort in the form of the "MAD" guarantee of mutually assured destruction. It would be MAD for any state to deploy its nuclear weapons, the argument went, so they'd never be used. At least, not deliberately.
The first was false. We know this from senior US soldiers and politicians including Eisenhower, who was both. Washington wanted (a) to be beholden to no ally for Japan's defeat – which is to say, wanted no check on its power to refashion the far east in the interests of the dollar – and (b) to show the Soviet Union, as World War II segued into Cold War I, what it and it alone could do. Both are explored and evidenced in my post on the 76th anniversary of Nagasaki.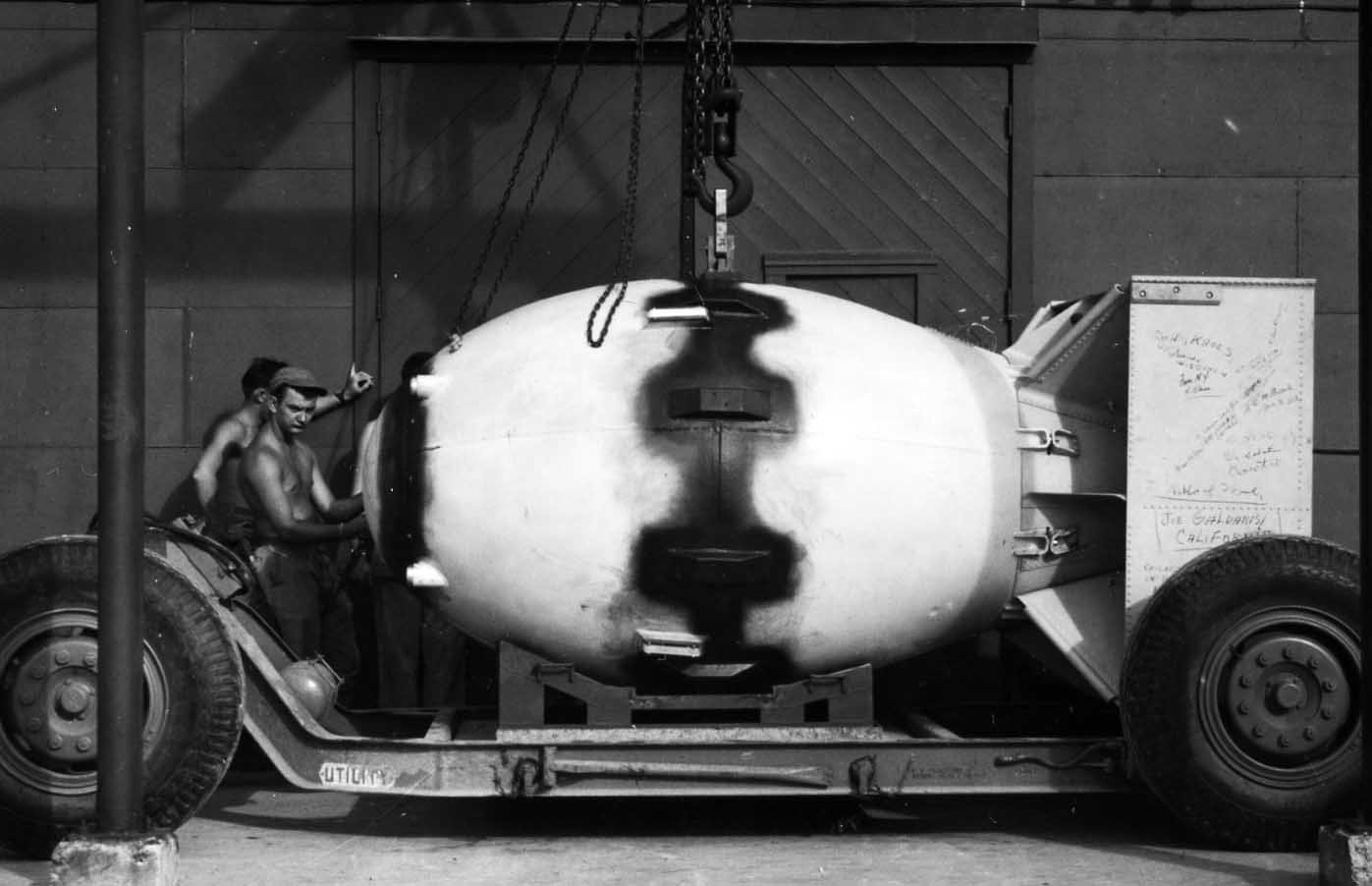 Nagasaki bound: bomb No. 2, "Fat Man"
The second was also false. One way of showing this is that after a brief hiatus while Yeltsin did whatever Western investors (Washington and IMF) told him to do, Russia resumed bogeyman status when Putin took the helm. See my post of August 2017 after Trump, put on the back foot by the Russiagate lies and facing deep state opposition, u-turned on his stated aim of working with Moscow to defeat Islamist terror. 2
America did not use Little Boy and Fat Man 3 out of hard-headed but humanitarian calculation – utilitarianism if you like. Nor was the first cold war (or rather, Cold War Part 1) about Defending Our Freedom. It was driven by capital's systemic inability to tolerate a sixth of the world's land mass, its vast resources and markets, being closed off to private profits.4
So what about that third understanding?
… while the risks were terrifying, this housed its own bleak comfort. It would be MAD to deploy nuclear weapons so they'd never be used. At least, not deliberately.
The caveat implicit in that last sentence has driven several James Bond plots – though when we really get down to it there's just the one 5 – and, after three decades of being sidelined by other terrors, is once again moving in from the Far Side of our nightmares.
But even if we set to one side that haunting caveat, how substantial was the MAD guarantee? A Washington Post article had this to say in August 2019.
Nuclear catastrophe was avoided … because Washington and Moscow … recognized that if an opponent had nuclear forces that survived a strike, they could respond to a nuclear attack with their own and inflict unacceptable damage on the aggressor. This was the essence of mutually assured destruction (MAD) and the cornerstone of true deterrence …
[But] nuclear believers like those in the Trump administration looked for ways to eclipse MAD with capabilities for fighting and winning a nuclear war. Key to these nuclear warfighting mind-sets is the idea of "escalation dominance," where one side thinks it can use nuclear weapons but somehow prevent the other side from doing the same. This conceit increasingly drives U.S. nuclear policy. President Trump and his advisers have strongly embraced this risky set of policies and seek new, "low-yield" nuclear weapons to make these threats easier to carry out.
WashPo is somewhat disingenuous in its use, not for the first time, of the tangerine narcissist as whipping boy. Whipping boys, recall, were chastised in Tudor times whenever the boy prince – his own subjection to corporal punishment an unthinkable act of lese majeste – transgressed. 6
So does Trump serve as whipping boy for a deep state America which never let go of its dream of winning a nuclear war? When Reagan said in April 1982 that
a nuclear war cannot be won and must never be fought …
it's conceivable he really meant it. I'm not as a rule given to quoting Mrs Thatcher approvingly, but here I'll make an exception. Returning from her first visit to Washington after Reagan's 1980 swearing in, she told future Foreign Secretary Hurd – finger tapping temple to underscore the point – that "when you look into his eyes, Douglas, there's nothing there …"
I even leave room for the possibility of that WashPo writer, though not WashPo itself, genuinely believing Trump to have ditched a MAD consensus less unanimous than he supposes. But facts, as we Brits say, are stubborn things. I recall in mundane detail the grey afternoon in March 1983 when that genial Irish-American peered calmly from my TV screen to inform me, eleven months after his can't-be-won-and-mustn't-be-fought piety – and just two after the birth of my first child had given me a stake in a future beyond my own 7 – of his SDI ("Star Wars") project:
I call upon the scientific community in this country, those who gave us nuclear weapons, to turn their great talents to the cause of mankind and world peace, to give us the means of rendering these nuclear weapons impotent and obsolete.
As if immunising the USA from a nuclear strike could ever have been defensive! He may have been too dim to realise it but the Star Wars program was a calculated attempt to wreck MAD and restore America's status – loss of which had sent the Rosenbergs to the electric chair – as the world's sole de facto nuclear power.
There are several reasons for my welcoming the rise of Eurasia. Some were given in a recent open letter. Here's another. In a FB exchange last month, one Robert El Sabio noted that:
The modern missile systems Russia and China have deployed make surface fleet vessels USELESS. Russia's hypersonic missiles hit Mach 10. There is no defence against them.
My own forays into weapons-spottery suggest Russia's hyper missiles idle through the skies at a more sedate Mach 7 – a mere 5,250 mph or 8,400 kph. I nevertheless replied:
True. And a big reason why Russia's arms spend – a tiny fraction of America's – secures better weapons is that Russia (like China) calls the shots vis a vis its arms sector. In the US it's the other way round: the primary goal of that bloated military industrial complex is not to produce weapons. It is to produce profits. So the US game plan – destroy most of Russia's fighting capacity with a massive first strike, then take the remnants of her response out of the skies with ABMs and 'star wars' technologies – is in tatters.
So MAD is back. Hip hip hooray! I'll take such solace as can be gleaned from these sorry times. All we need worry about for now – though we can rest assured Uncle Sam is working night and day on restoring his deranged sense of 'balance' – is the Hu Xijin observation I began with:
If the wind blows the door shut now, each side will believe the other slammed it shut …
… and with footnote 4 of my post, Who wants a war with China over Taiwan?
I do not suppose many of the West's rulers consciously want war with a China which, like Russia, can ably defend herself. (Some do, however. And as with war on Russia, that DC contingent which believes a nuclear war can be won has moved from lunatic fringe to mainstream if minority status within the US ruling class.) I sense a greater danger from the brinksmanship currently played by three of the Five Eyes – USA, UK, Australia – triggering a miscalculation on either side.
* * *